update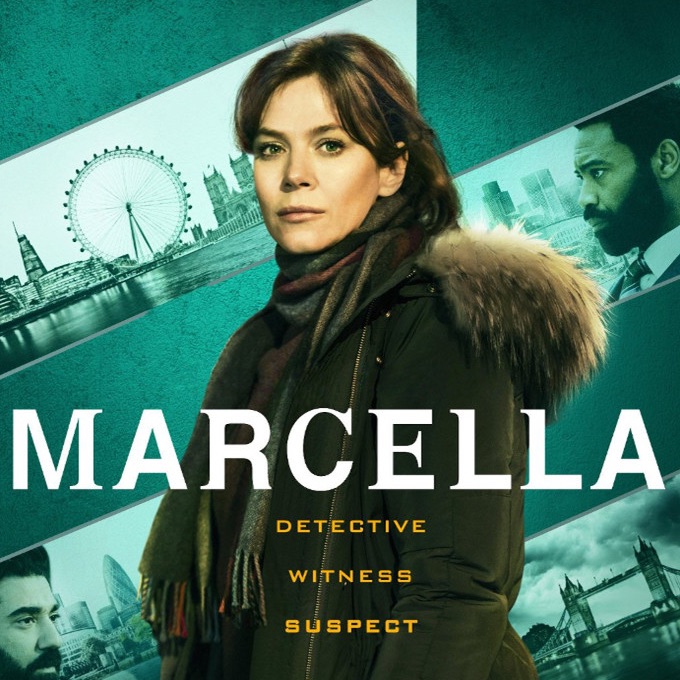 Season 0
Friday, February 9th, 2018

1: The Story So Far

A quick round-up of the story so far, ahead of the second series.
Season 1
Monday, April 4th, 2016

1: Episode 1

After 11 years' absence away from the force, DS Marcella Backland finds herself drawn back to police work following the return of the Grove Park Killer, her last case before she left to start a family. In 2005, the killer tied the victims' hands and feet with cable ties before taping a plastic bag around their heads. The case went cold. But now, over ten years later, it seems he has returned.

Monday, April 11th, 2016

2: Episode 2

The Gibson family are in a state of panic when Grace is discovered missing, and Marcella tries to make sense of the previous evening's events, scouring CCTV footage in an attempt to discover more about her disappearance. Cara returns home from her latest job, in which she has stolen a watch, some earrings and a bracelet, but is unaware of their significance and the danger she's put herself in, with all of the items recognisable as trophies taken by the Grove Park Killer.

Monday, April 18th, 2016

3: Episode 3

Grace's body is discovered by the police and Marcella tries to keep her head and hide the fact that she was one of the last people to see her alive. Sylvie is distraught at the loss of her daughter and her dismay is further compounded when she learns that Grace and Jason were having an affair, while Henry tries to find comfort with his friends Matthew and Yann. Meanwhile, Peter is released from open prison and makes a beeline for Maddy, who lies to him about having a boyfriend.

Monday, April 25th, 2016

4: Episode 4

An aborted attack on an elderly man gives the police a new lead in the Grove Park killings, while Marcella tries to track down the taxi driver from outside Grace Gibson's house, fearful that he saw her on the night of the murder.

Monday, May 2nd, 2016

5: Episode 5

Mo holds the police responsible when Hassan is shot, while Marcella triumphs over Peter Cullen and finally gets the information she is after relating to Grace's death. Jason manages to get his job at DTG back - but at what cost? - and deliveryman Ronnie makes the mistake of his life.

Monday, May 9th, 2016

6: Episode 6

The killer's next victim is a six-year-old girl, which devastates Marcella, and a DNA match gives the police team its strongest lead yet. Meanwhile, DI Tim Williamson investigates Andrew Barnes' death - was it really suicide?

Monday, May 16th, 2016

7: Episode 7

Mo confronts Marcella after finding his brother dead, while the detective has her doubts as the police continue to investigate Yann. Tim starts to look into the curious circumstances surrounding the death of Andrew Barnes, bringing him into contact with Jason.

Tuesday, May 17th, 2016

8: Episode 8

In her desperate hunt for Matthew, Marcella questions Henry at his home. Meanwhile, the pressure mounts on Jason as Tim's investigation into the murder of Andrew Barnes gathers pace, and the killer is finally revealed, causing shockwaves among the entire team.
Season 2
Monday, February 19th, 2018

1: Episode 1

Marcella investigates when a body is discovered inside a wall, clothed in a school blazer and surrounded by soft toys. The detective soon works out that the victim is Leo Priestley, who had been abducted a few years beforehand and was a friend of her son Edward.

Monday, February 26th, 2018

2: Episode 2

Dr Fairclough tells Marcella that it might be a good idea to go back to the root cause of her blackouts - Juliet's cot death. But when she tries to relive that moment at her home, the resulting stress levels put her into another fugue state. Meanhile, the team is called out when the driver of a car abandons his vehicle after a fatal collision with a cyclist and police attending the scene open the boot to discover a body surrounded by the same stuffed toys found with Leo.

Monday, March 5th, 2018

3: Episode 3

Marcella digs deep in her attempts to take down Phil Dawkins, but her dogged pursuit has tragic consequences, causing her to question everything. Meanwhile, her ongoing blackouts mean she has to face up to the threat of losing her children.

Monday, March 12th, 2018

4: Episode 4

Marcella needs to take control of her blackouts urgently or risk losing her children. Meanwhile, her pursuit of Phil Dawkins ends with tragic consequences.

Monday, March 19th, 2018

5: Episode 5

Marcella learns the horrifying truth about the scale of the killer's crimes when she discovers the murderer's lair.

Monday, March 26th, 2018

6: Episode 6

The arrest of Vince Whitman causes massive fallout between Tim and Marcella. Meanwhile, Postfeed24's internet viral video leads the team to discover another body much closer to home.

Monday, April 2nd, 2018

7: Episode 7

Marcella heads to Nigel Stafford's house to question him. As she walks around the house she finds a small grave before heading inside the unlocked door. Inside she's confronted by Nigel, holding a knife.

Monday, April 9th, 2018

8: Episode 8

Marcella has no time to lose as the killer has Edward. Following leads she races to the killer's house, but finds it empty except for a ringing phone. However, a premonition offers up clues, but can she get to her child before it is too late?
Season 3
Tuesday, January 26th, 2021

1: Episode 1

Eighteen months later, Marcella has a new life as a deep undercover operative in Belfast, spying on a powerful family that's running a shady business.

Tuesday, January 26th, 2021

2: Episode 2

Marcella is recognized on the street, and later finds an odd note on her windshield. When DCI Sangha arrives in Belfast, Bobby must cover his tracks.

Tuesday, February 2nd, 2021

3: Episode 3

Marcella receives an anonymous package. At Jessie's vigil, DCI Sangha spots an eerily familiar face. Finn finds out who sold Jessie the heroin.

Tuesday, February 9th, 2021

4: Episode 4

The Maguires arrange for Bobby to leave the U.K., but the plan goes awry en route to the airport. Katherine sends a threatening message to Marcella.

Tuesday, February 16th, 2021

5: Episode 5

Her stalker's latest threat leaves Marcella suspicious of Frank. After recognizing one of Bobby's abductors in police records, she tracks him down.

Tuesday, February 23rd, 2021

6: Episode 6

Marcella recalls how Frank rescued and reprogrammed her 18 months earlier. When Stacey flees from the Maguires with her baby, Marcella must find her.

Tuesday, March 2nd, 2021

7: Episode 7

Finn uses Rory's phobia to bully him into an alliance. Marcella confronts Frank with a discovery about his past. DCI Sangha learns of Stacey's arrest.

Tuesday, March 2nd, 2021

8: Episode 8

Marcella's latest blackout leaves her with an unexplained corpse. Wondering why DCI Sangha is still in Belfast, Jack decides to investigate on his own.