update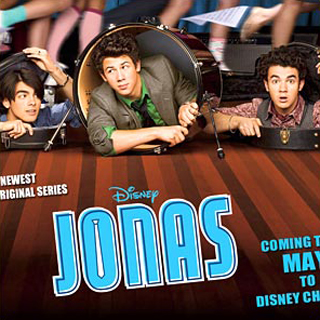 Season 1
Saturday, May 2nd, 2009

1: Wrong Song

When Nick writes a love song for a girl he likes, his brothers try to convince him that he's moving to fast. Meanwhile, after something leaves the boys stripped of their stage costumes, Stella finds a way to stop it from happening again.

Saturday, May 9th, 2009

2: Groovy Movies

The boys plan an awesome surprise for their mom's birthday. While making part of it the home movies are ruined. To make it up to their mom the boys decide to surprise her with new home movies.

Saturday, May 16th, 2009

3: Pizza Girl

Joe, Nick and Kevin develop a crush on the delivery girl from Picarillo's pizza, and each try to make an impression to win her over.

Sunday, May 17th, 2009

4: Keeping It Real

Hundreds of adoring fans surround a thrift store which the guys slipped into to avoid them.

Sunday, June 7th, 2009

5: Band's Best Friend

The brothers find out an old friend's visit is mainly to use their fame for his advantage. Meanwhile, Macy believes her potato chip resembles Joe.

Sunday, June 14th, 2009

6: Chasing the Dream

The band is put in an awkward position after a talentless Macy auditions as a backup singer for their next album. Meanwhile, Frankie designs a t-shirt for the band, but used his own face.

Sunday, June 21st, 2009

7: Fashion Victim

Stella commits a crime of fashion after Joe ruins her chances of going out with a popular jock.

Sunday, June 28th, 2009

8: That Ding You Do

Joe develops a crush on a cello player who dislikes rock stars, so he decides to play the triangle in the orchestra. Nick and Kevin try to help Joe by also joining the orchestra. Meanwhile, Macy and Stella have a bet on who can go longest minus their so called obsessions: Macy can't say JONAS and Stella can't text.

Sunday, July 5th, 2009

9: Complete Repeat

Part of Nick's really bad day includes a bad case of writer's block. While asleep he dreams he has written a great song, but when Nick awakens he can't remember it, causing Joe and Kevin to try and recreate Nick's bad day to help him remember.

Sunday, August 2nd, 2009

10: Love Sick

Joe becomes cautious around Stella after his brothers suggest that Stella wants to be more than friends with him after she keeps asking Joe to hang out with her a lot. Macy is thrilled that Randolph wants to take her on a date, but he begins to regret asking her when she tries to turn him into a Nick Lucas look-a-like.

Sunday, August 9th, 2009

11: The Three Musketeers

Kevin, Joe & Nick audition for play "The Three Musketeers" and land the lead roles, but then Joe gets stage fright and he decides to drop out of the play. Joe immediately regrets his decision as he becomes very jealous of Stella's crush on the school jock Van Dyke Tosh, who replaced him as the third musketeer in the play. Meanwhile, Macy loses her good luck charm and she thinks it is the reason behind her losing streak.

Sunday, August 16th, 2009

12: Frantic Romantic

Joe is linked by a magazine with a celebrity named Fiona Skye (Sara Paxton). When Fiona begins to follow Joe, he and his brothers realize that something must be done.

Sunday, August 23rd, 2009

13: Detention

Joe's classmate Abby is unfairly punished for an accident with a fire alarm at school that they both had a part in and he is determined to make it right.

Sunday, September 6th, 2009

14: Karaoke Surprise

For their 15th Friendship Anniversary, Joe suggests throwing a party for Stella and enlists the help of Macy. The time Joe and Macy spend together makes Stella suspicious and jealous, and she believes that the two are dating. Meanwhile Nick and Kevin bet who's better at Hackeysack and Kevin takes a kung-fu twist to the competition.

Sunday, September 20th, 2009

15: Home Not Alone

Kevin, Joe and Nick are left home alone for a week. They try to behave and impress their parents, but when Frankie throws a party, their plans go into a tailspin. Meanwhile, Stella unwittingly "takes control" of the JONAS fan club from Macy.

Sunday, September 27th, 2009

16: Forgetting Stella's Birthday

Joe, Nick, and Kevin forget Stella's birthday so they try to plan a party for her but schedule it at the same time as a "big interview".

Sunday, October 11th, 2009

17: The Tale of the Haunted Firehouse

Kevin thinks there is a ghost in the firehouse so he enlists Stella, Joe and Nick to help find it.

Sunday, November 8th, 2009

18: Double Date

Van Dyke asks Stella on a date to El Meat, a new, all-meat restaurant. A jealous Joe crashes the date with Macy. Kevin has an addiction to Nick's cookies and Nick tries to teach Kevin about self-control.

Sunday, December 6th, 2009

19: Cold Shoulder

Kevin's old girlfriend, Anya, joins their school, but the kids in the school make fun of her because they find her eccentric. Meanwhile, Joe, Nick, Stella and Macy try to find out who has been taking picture of Jonas and uploading it on Macy's website

Sunday, January 24th, 2010

20: Beauty and the Beat

The boys judge a beauty contest. Stella decides to be part of the contest.

Sunday, March 14th, 2010

21: Exam Jam

As the JONAS World Concert Tour draws closer, Joe and Stella come to terms with being apart from one another over the summer. Meanwhile, Kevin and Joe devise a plan to help Nick ace his geometry test after their dad threatens not to send the brothers on tour unless they pass all of their school exams.
Season 2
Sunday, June 20th, 2010

1: House Party

When the guys arrive in LA for a summer of relaxing and, for the first time, independence, they get talked into throwing a big house party.

Sunday, June 27th, 2010

2: Back to the Beach

Macy refuses to work for the band after Nick prevents her from helping Stone with his website. Joe finds out that he is not the only one being considered for the lead role in "Forever April".

Friday, July 2nd, 2010

3: Date Expectations

Stella decides to keep mum about her date with Ben, but that choice backfires on her and the boy when Joe finds out. Kevin and Nick vie for the last spot in a charity ping pong match.

Sunday, July 11th, 2010

4: And... Action!

Joe arrives late to the set, which does not make the director happy. Macy gives DZ a makeover to prepare him for his first date.

Sunday, July 25th, 2010

5: America's Sweethearts

Stella tries to play it cool when she hears that Joe and Vanessa will be sharing a kiss for a "Forever April" photo shoot, but her facade quickly melts after she learns that Vanessa has feelings for Joe. In exchange for the secret of being a great director, Mona gives Kevin the impossible task of combing the beach to find a missing piece of jewelry.

Sunday, August 1st, 2010

6: The Secret

Kiara blackmails Nick after discovering the truth about him and Macy. Joe refuses to feel guilty when he accidentally injures Kevin.

Sunday, August 8th, 2010

7: A Wasabi Story

History repeats itself for Joe and Stella, when Vanessa and Joe take Ben and Stella out to dinner. Kevin and Nick bet the house on a game of golf with Macy.

Sunday, August 15th, 2010

8: Up In the Air

Stella decides to put what she learned designing outfits for the band to good use by creating costumes for the movies, but her first assignment has her working on the clothing for "Forever April". Nick tries to come up with the perfect present for his lady love.

Sunday, August 22nd, 2010

9: Direct to Video

The boys hatch a plan to prove to their Father that Kevin has what it takes to direct the band's latest music video.

Sunday, August 29th, 2010

10: The Flirt Locker

Joe tries to show what a Casanova he is by charming a blogger during an interview. Nick attempts to impress a music industry big wig with his new songs.

Sunday, September 12th, 2010

11: Boat Trip

Joe and Stella are not speaking to each other so Nick and Macy come up with a plan to get them to talk: A boat trip. Meanwhile, David Henrie challenges Kevin to a reality show competition on the beach

Sunday, September 26th, 2010

12: On the Radio

Is the band breaking up? Will each Lucas brother go in their own direction? Jonas goes on KLOP Madman Marty in the Morning radio show to clear the air.

Sunday, October 3rd, 2010

13: Band of Brothers

Will Joe Lucas make it to the airport in time to stop Stella from leaving? Kevin's cooking oil powered car has issues. Will all the Lucas brothers make it to their concert?