update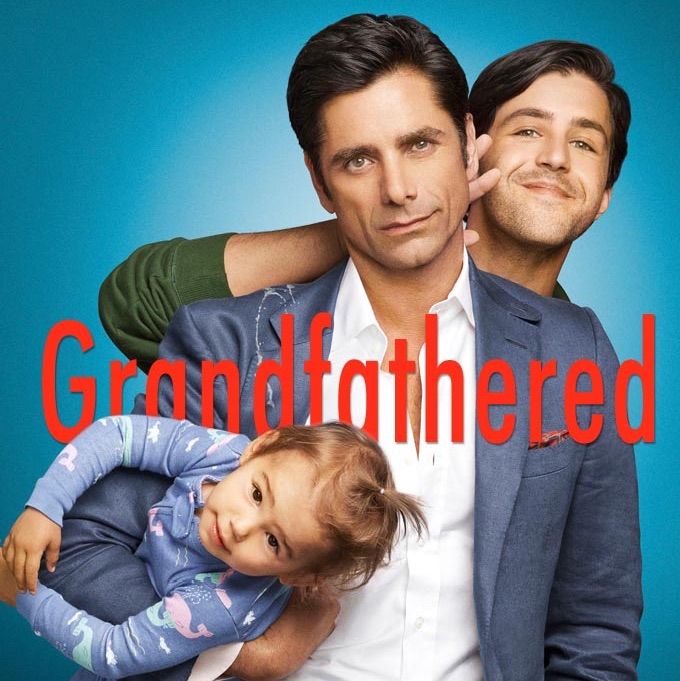 Season 1
Tuesday, September 29th, 2015

1: Pilot

Successful restaurateur and man-about-town Jimmy Martino is used to being the most suave, most handsome and most single person in the room. But everything changes with the surprise appearance of Jimmy's adult son, Gerald, and his baby daughter, Edie. Now Jimmy has to unlearn a lifetime of blissful selfishness and grapple with the fact that he went straight from single to grandfather in six seconds flat.

Tuesday, October 6th, 2015

2: Dad Face

While Jimmy struggles to adjust to his newfound family, Gerald surprises him with plans for the family's first trip to the beach, which excites everyone - except Jimmy. When he decides to bail on the outing in favor of a glamorous pool party nearby, he drags Gerald along, leaving Vanessa and Sara with a chance to get to know one another, for better or for worse.

Tuesday, October 13th, 2015

3: Guys' Night

When Jimmy realizes that he doesn't know much about Gerald, he decides to take him out for a night on the town. Meanwhile, Annelise hires a new mixologist to spice things up at the restaurant.

Tuesday, October 20th, 2015

4: Deadbeat

After Jimmy misses Edie's second birthday party, he decides to throw her a big bash at his restaurant to make it up to the family. When Sara's brother shows up, he brings the party to a screeching halt by confronting Jimmy about leaving Sara to raise Gerald on her own.

Tuesday, November 3rd, 2015

5: Edie's Two Dads

When Gerald can't make it in time for Edie's interview at the most elite pre-school in the area, Jimmy steps in to help out. But once he meets the admissions counselor, he accidentally starts a lie that takes on a life of its own.

Tuesday, November 10th, 2015

6: My Amal

In a quest to find his own Amal Clooney, Jimmy goes out with Sara's co-worker, but when she is not impressed with his smooth moves, Jimmy turns to Sara for pointers. Meanwhile, Gerald and Vanessa decide to become friends with benefits.

Tuesday, November 17th, 2015

7: Sexy Guardian Angel

In hopes of helping Gerald score with the ladies, Jimmy takes him out for a swanky night on the town. But when Gerald falls for a party girl, Jimmy fears she may be into Gerald for the wrong reasons. Meanwhile, Vanessa starts a mentorship with Annelise.

Tuesday, November 24th, 2015

8: Gerald's Two Dads

Jimmy plans his annual Malibu Thanksgiving day with one of the hottest stomach models on Instagram, but his plans get derailed when he swings by Sara's house for an obligatory holiday visit and feels threatened by the return of her ex-boyfriend, Bruce.

Tuesday, December 1st, 2015

9: Jimmy & Son

Jimmy hires Gerald as the new host at his restaurant and gives him a crash course in hospitality. Meanwhile, Vanessa teaches Sara how to take sexy photos for Bruce, and Annelise encourages Ravi to crack down on the comedy in the kitchen.

Tuesday, January 5th, 2016

10: Perfect Physical Specimen

After hearing that Jimmy hasn't been to the doctor in more than 10 years, Sara and Gerald trick him into seeing their family doctor for a routine physical, which results in an unsettling discovery. Meanwhile, Gerald and Vanessa stress over Edie's upcoming surgery, and Annelise and Ravi stumble upon Jimmy's secret safe.

Tuesday, January 12th, 2016

11: The Sat Pack

When Jimmy reunites with his old buddies in the "Sat Pack," Ronnie gives him a hard time about his new life as a family man. Meanwhile, Bruce springs big news on Sara, and Gerald is blindsided by Frankie's confession.

Tuesday, January 19th, 2016

12: Baby Model

Vanessa and Jimmy get Edie involved in baby modeling - without Gerald or Sara finding out. Meanwhile, at the restaurant, Annelise loses her composure when she falls for a restaurant staff member.

Tuesday, January 26th, 2016

13: Tableside Guacamole

In an effort to beef up the cool factor of his restaurant, Jimmy throws a party for Chason Fairwick - one of the biggest pop stars around - which includes decking out his restaurant in full '80's garb. Meanwhile, Ravi believes the secret to boosting reservations lays in tableside guacamole.

Tuesday, February 2nd, 2016

14: Budget Spa

In an effort to prove that he doesn't always need validation from women, Jimmy spends an evening at a Korean spa with Ravi, Gerald and a few guys from the restaurant. Meanwhile, Sara, Vanessa and Annelise go out for a girls' night at the hottest new bar in Los Angeles.

Tuesday, February 9th, 2016

15: The Biter

When Edie is bitten at school, Jimmy and Sara go to great lengths to find out who did it. Meanwhile, Ravi sets up a meeting for Gerald and Vanessa to meet a flashy tech investor named Kirk, but once they meet him, they are not so sure they'd like to do business with him.

Tuesday, February 16th, 2016

16: Gerald Fierce

When Gerald starts getting online threats from a bully, Jimmy tries to protect him. Meanwhile, Sara and Vanessa take matters into their own hands and pay a visit to the bully's mother - which only makes things worse.

Tuesday, February 23rd, 2016

17: The Boyfriend Experience

When Sara invites Jimmy to accompany her to an ex's party and play the role of her "boyfriend," Jimmy realizes his feelings for Sara may be deeper than he thought. At home, Gerald and Vanessa panic about their parenting abilities when Edie starts acting out.

Tuesday, March 1st, 2016

18: Catherine Sanders

Jimmy finds himself out of his element when he falls for a stunning, powerhouse CEO who always manages to be one step ahead of him.

Tuesday, March 8th, 2016

19: Some Guy I'm Seeing

Jimmy navigates the realities of being in a real relationship, while Gerald and Vanessa try to find work/life balance.

Tuesday, April 26th, 2016

20: Jimmy's 50th, Again

When Jimmy has trouble admitting that he's 51, he throws himself a second 50th birthday party. The party triggers flashbacks of where he was a year ago, showing Jimmy what a difference his family has made in his life.

Tuesday, May 3rd, 2016

21: The Memorial

Jimmy plans an emotional memorial service while processing a painful loss. Meanwhile, Sara is faced with a difficult decision after Craig asks her to take the next step in their relationship.

Tuesday, May 10th, 2016

22: The Cure

Jimmy and Sara wonder if they should give their relationship another shot, but Sara is hesitant to put herself in a position to get hurt again. Meanwhile, Gerald plans an elaborate proposal for Vanessa.