update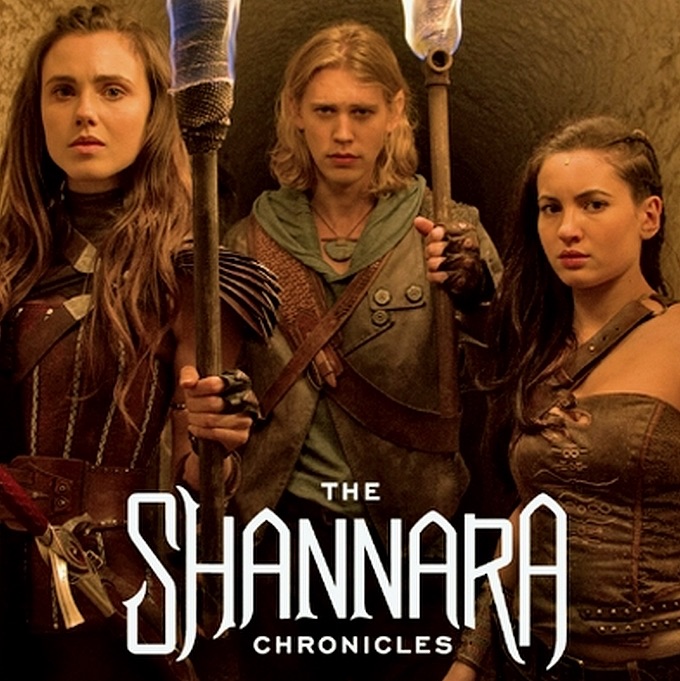 Season 0
Saturday, July 11th, 2015

12: Official First Look

Watch an exclusive first look at 'The Shannara Chronicles,' a new scripted series based on Terry Brooks' best-selling fantasy books. This preview originally debuted inside "The Shannara Chronicles" panel discussion at San Diego Comic-Con 2015.

Thursday, August 20th, 2015

2: Exploring New Zealand

Explore the beautiful country of New Zealand in this behind the scenes first look at the amazing landscapes and sets of The Shannara Chronicles.

Thursday, August 27th, 2015

3: Terry Brooks on MTV's Adaptation

After 30 years, author Terry Brooks reveals what it's like to finally see 'The Shannara Chronicles' come to life on screen.

Thursday, October 22nd, 2015

4: Behind the Scenes

Go behind the scenes with the cast and executive producers of 'The Shannara Chronicles'

Saturday, October 31st, 2015

5: Making of the Elf Ears

The costume designers behind "The Shannara Chronicles" reveal how they created its characters' iconic elf ears.

Friday, November 6th, 2015

1: Making of the Ellcrys Tree

See how set designers from "The Shannara Chronicles" created the show's vibrant centerpiece, The Ellcrys Tree.

Monday, November 16th, 2015

6: Time Lapse

Wednesday, November 18th, 2015

7: Meet King Eventine and his Sons

Meet King Eventine, played by John Rhys-Davies. Flanked by his sons Arion and Ander, played by Daniel MacPherson and Aaron Jakubenko, Eventine has ruled over the Elven kingdom of Arborlon for decades… but can he keep the Elven people safe from emerging dark forces?

Wednesday, November 18th, 2015

8: Meet Wil

Meet Wil Ohmsford, played by Austin Butler. Wil is a half-human, half-elf, and the last survivor of the Shannara bloodline. Can he live up to the weight of his family name when the Four Lands needs him most?

Wednesday, November 18th, 2015

9: Meet Allanon

Meet Allanon, played by Manu Bennett. As the last remaining Druid, he knows something incredibly important has begun when the Ellcrys Tree begins to die. Can he help save the Ellcrys and livelihood of the Four Lands?

Wednesday, November 18th, 2015

10: Meet Amberle

Meet Amberle, played by Poppy Drayton. After becoming a member of The Chosen, she must accept a responsibility to protect the legendary Ellcrys Tree. But when the Ellcrys begins to die, she realizes her latest induction is only the beginning of a dangerous journey. Can she handle what lies ahead?

Wednesday, November 18th, 2015

11: Meet Eretria

Meet Eretria, played by Ivana Baquero. A member of the thieving Rover clan, Eretria is a delicate balance of strength and sensitivity… but can the others trust her?

Tuesday, December 8th, 2015

13: Visions

Tuesday, December 8th, 2015

14: Ellcrys Tree

Where she came from, why she works the way she does, and why Amberle was chosen to become the new tree!

Wednesday, December 9th, 2015

15: The Four Lands

Explore the Four Lands as the writers take you behind the scenes on a bigger, bolder, more intense season two.

Monday, December 14th, 2015

23: Fight or Fall (Allanon)

Monday, December 21st, 2015

24: Fight or Fall (Eretria)

Monday, December 28th, 2015

25: Save The Ellcrys

Tuesday, January 5th, 2016

16: Meet The Dagda Mor

Actor Jed Brophy discusses his character, The Dagda Mor, and the challenges he faces in "The Shannara Chronicles."

Tuesday, January 5th, 2016

17: Crafting the Druid Language

Cast members from "The Shannara Chronicles" talk about learning the Druid language and the dialects that influence it.

Tuesday, January 5th, 2016

18: Making of The Dagda Mor

Get a behind-the-scenes look at Jed Brophy's transformation into The Dagda Mor.

Tuesday, January 5th, 2016

26: Meet The Dagda Mor

Tuesday, January 5th, 2016

27: Crafting the Druid Language

Tuesday, January 5th, 2016

28: Making of The Dagda Mor

Wednesday, January 6th, 2016

29: This Season On (Trailer)

Wednesday, January 6th, 2016

30: Binge The First 4 Episodes

Thursday, January 7th, 2016

19: Meet Bandon

In this sneak peek of Episode 3, Wil, Amberle and Allanon discover a mysterious prisoner named Bandon.

Thursday, January 7th, 2016

31: Meet Bandon

Thursday, January 7th, 2016

32: The Rover Camp

Thursday, January 7th, 2016

33: Amberle's Vision

Thursday, January 7th, 2016

34: Eretria Enters Arborlon

Tuesday, January 12th, 2016

20: Wil's Horse Stunt

Get a behind-the-scenes look at how Austin Butler and his stunt double pulled off a dangerous stunt in Episode 3.

Tuesday, January 12th, 2016

21: Bandon's First Scene

Get a behind-the-scenes look at how Marcus Vanco brings Bandon to life in his first scene.

Tuesday, January 12th, 2016

35: Wil's Horse Stunt

Tuesday, January 12th, 2016

36: Bandon's First Scene

Wednesday, January 20th, 2016

22: The Demonic Sanctuary

Take a behind-the-scenes look at how set designers created the Demonic Sanctuary seen in Amberle's visions.

Wednesday, January 20th, 2016

37: The Demonic Sanctuary

Wednesday, January 20th, 2016

38: Eretria Saves the Day
Season 1
Tuesday, January 5th, 2016

1: Chosen (1)

Thousands of years after the fall of Humankind, the Four Lands is in grave danger. The fate of the world rests on the shoulders of an unlikely trio: an Elvin Princess who dreams of a life outside of the palace walls, a beautiful, wild and wily Human Rover and a half-elf, who knows nothing of the great destiny that runs through his veins.

Tuesday, January 5th, 2016

2: Chosen (2)

Having seen an apocalyptic vision of the world's destruction, Amberle leaves the palace in search of answers. But when Wil and Allanon realize that she is the key to saving the Four Lands, they set out to find the princess before the Dagda Mor's Demons hunt her down.

Tuesday, January 12th, 2016

3: Fury

Wil and Amberle are kidnapped by Eretria and Cephalo while returning to the palace. But the Rovers are the least of their worries –Wil must learn how to use the Elfstones before a bloodthirsty Fury kills them all.

Tuesday, January 19th, 2016

4: Changeling

While Amberle embarks on a deadly task to prove her worth to the Ellcrys, the Dagda Mor sends the Changeling, an ancient, shape-shifting Demon, to kill her and anyone in its way. But when a demon can take shape of anyone in the palace, finding it won't be easy.

Tuesday, January 26th, 2016

5: Reaper

Amberle, Wil and Eretria are forced to overcome their differences to survive the perils of their quest, including the nightmarish Reaper. At the palace, Ander attempts to recruit help from an unlikely ally to find the Dagda Mor - his brother's murderer, Slanter, a Gnome assassin.

Tuesday, February 2nd, 2016

6: Pykon

On the run from the relentless Reaper, Amberle, Wil and Eretria take shelter in Pykon, a snowy Elvin outpost that houses a grisly secret. Meanwhile, Ander and Slanter make a devastating discovery about the Dagda Mor's forces.

Tuesday, February 9th, 2016

7: Breakline

Amberle and Eretria run from bloodthirsty Elf Hunters who relish in cutting off elves' ears for fun, while Wil searches for them with the help of an unexpected friend. At the palace, the King sends Ander and Arion to assassinate the Dagda Mor - with devastating consequences.

Tuesday, February 16th, 2016

8: Utopia

Wil and Amberle desperately search for Eretria to save her from the vicious elf hunters who kidnapped her. Little do they know, she's stumbled upon a secret settlement of Humans and may finally feel like she belongs. But their utopia is much more than meets the eyes. Meanwhile, Allanon must inspire Ander to accept his destiny.

Tuesday, February 23rd, 2016

9: Safehold

With time running out, Wil, Amberle and Eretria must cross ancient Human ruins to reach the Bloodfire. But a nefarious evil stands in their way, testing their friendship and manipulating them against each other. At the palace, Allanon and Ander stave off a coup while facing the imminent attack from the Dagda Mor and his army.

Tuesday, March 1st, 2016

10: Ellcrys

Wil and Amberle race to reach the Ellcrys while Allanon and Ander lead the Elvin army in an epic battle against the Dagda Mor and his Demon horde. But the cost of their quest could prove too great, altering everyone's destinies forever.
Season 2
Wednesday, October 11th, 2017

1: Druid

A year after the War of the Forbidding, a mysterious figure interrupts Wil's new life; Eretria reunites with someone from her past; Allanon uncovers a plot that could send the Four Lands into darkness.

Wednesday, October 18th, 2017

2: Wraith

Wil and Mareth search for answers; while visiting a nearby kingdom, King Ander seeks reinforcement and is given an ultimatum.

Wednesday, October 25th, 2017

3: Graymark

With Wil trapped, Eretria and Mareth must work together to free him before time runs out.

Wednesday, November 1st, 2017

4: Dweller

Wil, Mareth and Allanon travel to a dangerous territory for an answer; King Ander meets the Princess of Leah, but finds she's more than he bargained for.

Wednesday, November 8th, 2017

5: Paranor

Wil and Mareth confront a powerful Bandon.

Wednesday, November 8th, 2017

6: Crimson

Wil and Mareth race against time to recover an item in uncharted territory.

Wednesday, November 15th, 2017

8: Amberle

Wil must confront his past; the bond between Allanon and Mareth continues to grow.

Wednesday, November 15th, 2017

7: Warlock

Bandon and his followers race to resurrect the Warlock Lord; Mareth risks everything before she's too late.

Wednesday, November 22nd, 2017

10: Blood

In the final showdown, Wil must save the Four Lands; Wil, Mareth and Eretria grapple with the loss of one of their own.

Wednesday, November 22nd, 2017

9: Wilderun

Eretria confesses a dark secret to Wil; Bandon's deepest wish is granted, but with a catch.