update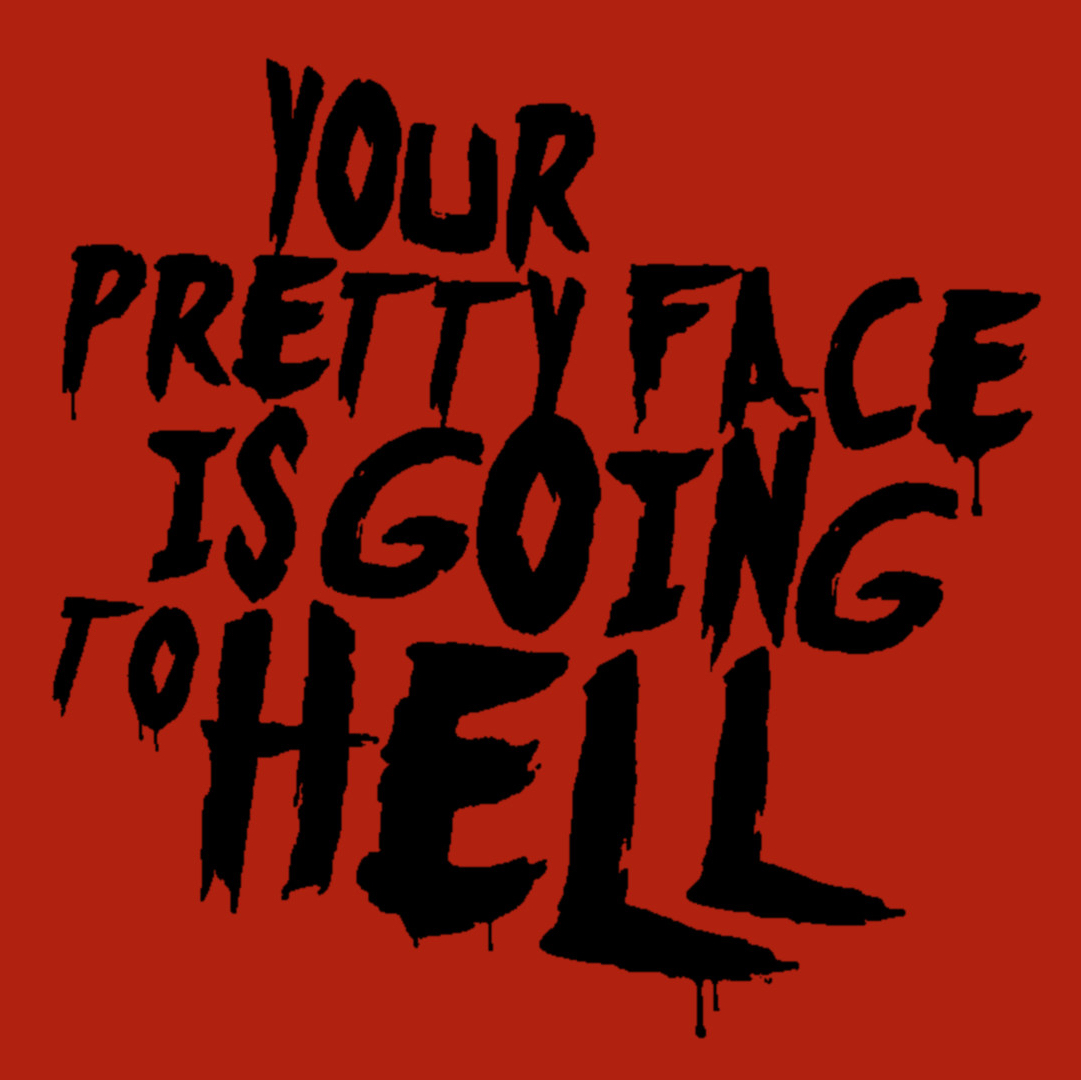 Season 0
not specified

2: The Cast Talk About Pretty Face Is Going To Hell

Join Henry Zebrowski, Matt Servitto, Dana Snyder, Dave Willis, and Casper Kelly as they visit the BUILD studio to talk about their Adult Swim series. "Your Pretty Face Is Going To Hell" is a workplace comedy about Gary, an associate demon, as he attempts to capture souls on earth in order to climb the corporate ladder in the underworld. Gary hopes to advance in Hell, but sometimes he is too lazy and kind-hearted to achieve his dreams of a promotion. Meanwhile, Gary's intern, Claude, is more talented, more devious and will do whatever it takes to impress Satan. Interview at 692 Broadway in NYC for BUILD Series.

Thursday, January 20th, 2011

1: Pilot

After attending a self-help-like conference, two friends go to Hell and receive eternal unlimited virgins, pumpkin-flavored lattes and trees full of pizza. After several weeks these luxuries lose their appeal and the duo attempt escaping.
Season 1
Thursday, April 18th, 2013

1: Welcome to Hell

Demon Gary and his intern, Claude, meet with a pro baseball player to convince him to thank the devil for his success on the field in the premiere of this live-action workplace comedy set in hell.

Thursday, April 25th, 2013

2: Bone Garden

Gary has to protect the Devil's sex condo from being sold. Also, the Devil's mistress is Gary's first love. Diabolical hilarity ensues.

Thursday, May 2nd, 2013

3: Take Life by the Horns

A plan to put Satan's face on the nickel leaves Gary stranded in the Appalachian mountains. Outdoorsy hilarity ensues.

Thursday, May 9th, 2013

4: Schmickler83!

Gary loses his summon word at a concert. Whoever finds it will have total control of Gary. Unwholesome hilarity ensues.

Thursday, May 16th, 2013

5: Devil in the Details

Gary goes to high school to help a drama class create a Satan-friendly production.

Thursday, May 23rd, 2013

6: People in Hell Want Ice Water

Demons compete for ice water at Satan's bidding.
Season 2
Monday, July 13th, 2015

1: Psyklone and the Thin Twins

When Gary goes AWOL, Satan sends his top bounty hunters.

Monday, July 20th, 2015

2: Shoulder Work

Learning the ability to shrink down and stand upon peoples' shoulders to try and manipulate them into doing evil, Gary struggles with his rival, an Angel who tries to get people to do good.

Monday, July 27th, 2015

3: Jett Copperhead, Six-Pack Magician

Television's favorite redneck warlock puts on one last show.

Monday, August 3rd, 2015

4: True Love Will Find You

After learning that escape from hell/resurrection is possible if a loved one makes a dangerous journey to Hell, Claude schemes to have an obsessed one night stand from college rescue him. But his salvation turns to an even greater nightmare when his crush promptly imprisons him inside her home for a year, forcing Claude to kill himself to return to hell.

Monday, August 10th, 2015

5: New-cronomicon

The demons visit Earth to spread a new devil book, which resembles a teen romance.

Monday, August 17th, 2015

6: Witches

The annual Wiccan devil orgy returns.

Monday, August 31st, 2015

7: Cerberus

Cerberus heads to Earth because he's tired of guarding the gate to hell and takes Gary with him.

Monday, September 14th, 2015

8: Nü-Byle

Satan reunites with an '80s hair band to give millenials a scare.

Monday, September 21st, 2015

9: National Lampoon's Fireballz

The demons find a path to the female side of Hell.

Monday, September 28th, 2015

10: Spunk

Hell has a drug epidemic, which creates opportunities.

Monday, October 5th, 2015

11: Krampus Nacht

Gary and Claude bring Krampus out of retirement to ruin Christmas.

Monday, October 12th, 2015

12: Heaven

A correction of a typo means Gary gets to go to heaven.
Season 3
Sunday, October 23rd, 2016

1: Straight Outta Hades

Gary produces a hip new orientation video to prepare new arrivals for Hell.

Sunday, October 30th, 2016

2: Circle Jerk MCMCVIII

Satan travels to the fringes of Hell to meet with some mysterious co-workers.

Sunday, November 6th, 2016

3: Three Demons and a Demon Baby

After Satan impregnates Gary, Gary gives birth to an abomination.

Sunday, November 13th, 2016

4: Healy

Gary meets a magical visitor from another planet and is told to cut him into pieces.

Sunday, November 20th, 2016

5: The Tree-Hugger Bomber

A roast in Ted's honor fills him with a new purpose.

Sunday, November 27th, 2016

6: Torture

Satan isn't pleased with the current tortures, so he brings in an outside consultant.

Sunday, April 2nd, 2017

7: Eddie the Demon

When Troy loses Satan's trust, Eddie gets the chance to prove he has what it takes to become a demon.

Sunday, April 9th, 2017

8: Golden Fiddle Week

The demons are in a bind during Golden Fiddle Week, and they are willing to negotiate the terms of an exchange.

Sunday, April 16th, 2017

9: Lee

Things get steamy, a little acidic and swollen when Satan introduces women into the workplace.

Sunday, April 23rd, 2017

10: Hammerman

Satan sends Gary and Claude out to find out why there has been a drop in incoming souls from Dr. Paul Nickgibbion's assisted suicide program.

Sunday, April 30th, 2017

11: Snow Job

When Dustin Diamond turns up dead, Satan decides starring in a cheesy sitcom for all eternity will be his torture.

Sunday, May 7th, 2017

12: The Dammed

When the soul intake line gets clogged, Gary and Claude need to go out and find the source of the problem.
Season 4
Friday, May 3rd, 2019

1: The Flip

Gary learns how to flip his twists to screw turkeys.

Friday, May 3rd, 2019

2: The Poor Horsemen of the Apocalypse

When renegotiations with the union stall, Satan makes some new additions to the Horsemen of the Apocalypse.

Friday, May 10th, 2019

3: OMGouija

Satan taps into the youth market with a hot new board game.

Friday, May 10th, 2019

4: The High Heel

A charismatic new leader comes to hell; Gary gets shoehorned into an ancient prophecy.

Friday, May 17th, 2019

5: The Party Hole

Gary and his brain trust bring radical changes to old-fashioned soul collecting.

Friday, May 17th, 2019

6: Trial by Gary

An outdated rule, a basket of law rocks and Gary stand between a devout barbeque purveyor and eternal damnation.

Friday, May 31st, 2019

7: Stan The Man

Satan finds his new calling, dropping truth bombs on real Americans.

Friday, May 31st, 2019

8: Gary Bunda: Demon Killer

When Gary gets kidnapped by a ghost-hunting show, he must choose between fame and friendship.

Friday, June 7th, 2019

9: Milk and Honey

When hell runs out of ball clamps, Satan sends his best men to get more.

Friday, June 7th, 2019

10: Five-Card Duds

When Gary and Troy go to Vegas to steal some souls, they learn one actually can have too much of a good thing.

Friday, June 14th, 2019

11: Conceal and Gary

After Gary gets shot by one of the unborn, Satan institutes an unsensible gun policy to ensure something like that will happen again.

Friday, June 14th, 2019

12: Fried Alive

Gary and Satan bite off more than they can chew when they decide to reboot their favorite fast-food horror movie franchise.