update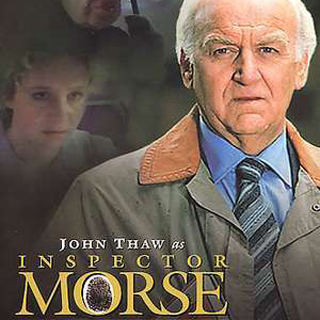 Season 0
Wednesday, January 7th, 1987

14: The Dead of Jericho Production Images

Wednesday, January 14th, 1987

15: The Silent World of Nicholas Quinn Production Images

Wednesday, January 21st, 1987

16: Service of All the Dead Production Images

Saturday, December 26th, 1987

17: The Wolvercote Tongue Production Images

Wednesday, March 9th, 1988

18: Last Seen Wearing Production Stills

Wednesday, March 16th, 1988

19: The Settling of the Sun Production Images

Wednesday, March 23rd, 1988

20: Last Bus to Woodstock Production Images

Thursday, January 5th, 1989

21: The Ghost in the Machine Production Images

Thursday, January 12th, 1989

22: The Last Enemy Production Images

Thursday, January 19th, 1989

23: Deceived by Flight Production Images

Thursday, January 26th, 1989

24: The Secret of Bay 5B Production Images

Thursday, January 4th, 1990

25: The Infernal Serpent Production Images

Thursday, January 11th, 1990

26: The Sins of the Fathers Production Images

Thursday, January 18th, 1990

27: Driven to Distraction Production Images

Thursday, January 25th, 1990

28: Masonic Mysteries Production Images

Thursday, February 21st, 1991

29: Second Time Around Production Images

Thursday, February 28th, 1991

30: Fat Chance Production Images

Thursday, March 14th, 1991

31: Who Killed Harry Field? Production Images

Thursday, March 21st, 1991

32: Greeks Bearing Gifts Production Images

Tuesday, March 26th, 1991

36: The Death of the Self Production Images

Wednesday, March 27th, 1991

33: Promised Land Production Images

Thursday, February 27th, 1992

34: Dead on Time Production Images

Thursday, March 12th, 1992

35: Happy Families Production Images

Thursday, April 9th, 1992

37: Absolute Conviction Production Images

Thursday, April 16th, 1992

38: Cherubim and Seraphim Production Images

Wednesday, January 6th, 1993

7: The Mystery of Morse

Documentary on the making of the Inspector Morse series.

Thursday, January 7th, 1993

39: Deadly Slumber Production Images

Thursday, January 14th, 1993

40: The Day of the Devil Production Images

Thursday, January 21st, 1993

41: Twilight of the Gods Production Images

Wednesday, November 29th, 1995

1: The Way Through the Woods

A man suspected of being a multiple murderer is killed in prison while on remand awaiting trial, leaving the disappearance of a fifth woman unsolved. In the missing woman's effects was a postcard of a pre-Raphaelite painting, the background of which was painted in some woods near Oxford. Morse is assigned to a new murder investigation when what appears to be her body is found in the woods.

Thursday, November 30th, 1995

10: The Way Through the Woods Production Images

Wednesday, November 27th, 1996

2: The Daughters of Cain

Murder strikes at the heart of the University when Dr Felix McClure, a retired college don, is found stabbed to death.Morse and Lewis suspect Ted Brooks, McClure's old 'scout' (or college servant), who left his job abruptly after one of McClure's pupils committed suicide. Morse discovers that McClure, the suicidal undergraduate, and his room-mate, Ashley Davies, were all in love with the same woman - who was Brooks's daughter. Morse and Lewis add to their list of suspects when they question the unusually close relationship between Ted Brooks's wife Brenda and the woman she cleans house for, a schoolteacher called Julia Stevens. Julia seems to be protecting Brenda from her husband's abusive behavior - but when Ted is found dead, it seems she may be hiding another kind of secret.

Thursday, November 28th, 1996

11: The Daughters of Cain Production Images

Wednesday, November 19th, 1997

3: Death Is Now My Neighbour

A young woman is shot dead through her kitchen window one morning, and an anonymous valentine seems to be a clue to the killer's identity. Morse interviews the neighbours, including Geoffrey Owens, an aggressive journalist, and Adele Cecil, a music teacher - he is very taken with Adele and hopes she has nothing to do with the killing. Then, at the same time of day the next morning, Geoffrey Owens is also shot and killed, and Morse and Lewis deduce that the two murders are connected to a bitterly fought contest taking place at Lonsdale College, Oxford. The current Master of Lonsdale, the malicious Sir Clixby Bream, is retiring, and two of his dons, Denis Cornford and Julian Storrs, are vying for the Master's job, with their wives active behind the scenes.

Thursday, November 20th, 1997

12: Death Is Now My Neighbour Production Images

Wednesday, November 11th, 1998

4: The Wench Is Dead

Morse collapses during a conference on Victorian crime and is admitted to hospital. To pass his time in bed, he reads a book about the famous Oxford Canal Murder of 1859. A young woman was found dead in the canal, and the local police believed she was the victim of four rough boatmen who were carrying her by barge to London. A murder trial resulted in two of the men being convicted and hanged. Morse becomes convinced there was a miscarriage of justice and he enlists the help of a young police recruit, as Lewis is away on a training course. They trace the physical evidence from the crime, which is still stored in a local archive, and subject it to modern forensic tests. The results lead Morse to unearth an insurance fraud which was the motive for the framing of the boatmen - a fraud which is confirmed by a visit to a neglected grave in Ireland.

Thursday, November 12th, 1998

13: The Wench is Dead Production Images

Wednesday, November 15th, 2000

9: The Last Morse

A review, as well as a celebration, of the television series Inspector Morse (1987) as it concluded its 64-episode, 13-year run.

Wednesday, November 15th, 2000

5: The Remorseful Day

After a year of baffled failure, the Thames Valley Police Force's investigation into the murder of Yvonne Harrison in a quiet Cotswold village is sparked into life with the promise of new evidence. Morse, who has been off sick, is under doctor's orders to cut back on his drinking or face the consequences, but what exactly is the state of his health when he returns to active service? And how will he react to Lewis heading the murder investigation?

Monday, November 20th, 2000

8: Inspector Morse Rest in Peace

This 96 minute exclusive to video tribute features the very best Morse clips and shows an array of guest statrs including Elizabeth Hurley, Richard Briers, Simon Callow, Sir John Gielgud and many more. Presented by James Grout, best known as Chief Superintendent Strange, who gives his own characteristic views on Morse.
Season 1
Tuesday, January 6th, 1987

1: The Dead of Jericho

Morse is passed over for promotion and gets a new working partner in the shape of Lewis, who is not sure what to make of his new boss. Their first case together is a murder, when Anne Staveley, who was Morse's friend in a choral society, is found hanged in her house in the Jericho area of Oxford. The death looks like suicide, but Morse has his own reasons for treating the case as a murder investigation. A parking ticket and Oedipus the King, by Sophocles, come to his assistance.

Tuesday, January 13th, 1987

2: The Silent World of Nicholas Quinn

Someone at Oxford's Foreign Examination Syndicate is selling exam secrets. Nicholas Quinn, a member of the board, overhears something he shouldn't know about and is soon found dead at his cottage, poisoned with cyanide - but Nicholas was deaf. Then crossword compiler Philip Ogleby has his skull smashed in. During his investigations, Morse is attracted to Monica Height. She works for the Syndicate and may be mixed up in the corruption which led to Quinn's murder, and perhaps to Ogleby's as well.

Tuesday, January 20th, 1987

3: Service of All the Dead

Morse investigates murder on hallowed ground. A quiet country church is an unlikely setting for the killing, and a Vicar and his voluntary helpers are the unlikely suspects. Among them is Ruth Rawlinson, whom Morse is attracted to. Then it appears that a serial killer is at work.
Season 2
Friday, December 25th, 1987

1: The Wolvercote Tongue

Laura Poindexter, a rich American tourist, dies in the Randolph Hotel, Oxford, apparently from a heart attack, but Morse suspects foul play. Laura was due to return a historic jewel to an Oxford museum, and it has gone missing. Then Dr Kemp, who is a womanizing historian, dies of a fall, Lucy Downes is crushed to death in a telephone box, and Dr Kemp's widow appears to take a fatal overdose of Paracetomol.Morse believes the deaths are all linked.

Tuesday, March 8th, 1988

2: Last Seen Wearing

The schoolgirl daughter of rich parents has been missing for six months. Morse believes she has been killed, and his investigations show curious goings on at the missing girl's school. But before Morse can unravel the mystery, he finds another.

Tuesday, March 15th, 1988

3: The Settling of the Sun

Oxford is shocked when a a Japanese student dies in what seems to be a brutal ritual killing. Then Morse finds he has unwittingly given all his suspects a watertight alibi.

Tuesday, March 22nd, 1988

4: Last Bus to Woodstock

A young secretary is found dead in a pub car park. Morse suspects murder and uncovers a complex web of relationships - passion and corruption, lies and unhappiness.
Season 3
Wednesday, January 4th, 1989

1: The Ghost in the Machine

Morse investigates the reported theft of erotic paintings belonging to Sir Julius Hanbury, a local baronet who is one of those standing for election as the new Master of Courtney College, Oxford. As well as the pictures, Sir Julius himself has also disappeared. Morse finds Sir Julius's dead body, and at first it looks like murder, but the new police pathologist, Dr Grayling Russell, believes he killed himself. Then there is another death which is undoubtedly a murder - but how is it connected with the late Sir Julius Hanbury?

Wednesday, January 11th, 1989

2: The Last Enemy

A body is found in the canal and the only clue to its identity points to a connection with one of the university's colleges. It happens that intense rivalry for one of the most prestigious posts in the university has led to murder. But which one of the highly respected contenders is the calculating killer?

Wednesday, January 18th, 1989

3: Deceived by Flight

Morse investigates when the annual match of the Claret's old boys' cricket eleven is brought to an abrupt end by the sudden death of a team member - and it seems that cricket was the last thing on their minds.

Wednesday, January 25th, 1989

4: The Secret of Bay 5B

Playboy architect Michael Gifford is found strangled in his car, and the only clues are a car-park ticket and his diary. Morse and Lewis uncover a love triangle involving the murdered man, and the list of suspects grows. Meanwhile, Morse considers asking Grayling Russell for a date.
Season 4
Wednesday, January 3rd, 1990

1: The Infernal Serpent

Morse investigates a tangled web of university intrigue which surrounds the baffling murder of Dr Julian Dear, a college don and famous environmentalist who was killed just minutes before he was due to give a controversial lecture. It seems that the most respectable of academic families can have skeletons in the cupboard, and Morse has to put his job on the line to get at the truth.

Wednesday, January 10th, 1990

2: The Sins of the Fathers

Morse investigates the murder of Trevor Radford, managing director of the family-owned Radford's Brewery, who was attacked and killed while working late. Morse becomes immersed in the implications of a hostile take-over bid by another company. Then Helen Radford goes to the brewery to look for her missing husband Stephen and finds him also murdered.

Wednesday, January 17th, 1990

3: Driven to Distraction

The apparently motiveless murder of two young women points to a psychotic killer. Morse's speculations on what they might have in common leads him to a local garage owner, Jeremy Boynton, who knew them both, and who arouses his suspicions and dislike. Convinced that Boynton holds the key to the crime, Morse begins to hound him, despite having no firm evidence. Morse is also faced with the possible oss of his beloved red Mk II Jaguar.

Wednesday, January 24th, 1990

4: Masonic Mysteries

Morse finds himself at the top of the suspect list when his lady friend, Beryl Newsome, is stabbed at a dress rehearsal for the local amateur dramatic society's production of The Magic Flute. Then Lewis starts uncovering more incriminating evidence, and Morse becomes the target of direct attacks. Who is it that wants to get at Morse so badly?
Season 5
Wednesday, February 20th, 1991

1: Second Time Around

The mysterious death of a former deputy police commissioner brings Morse into reluctant contact with an old rival, Ch Insp Dawson. Morse and Lewis, in uneasy tandem with Dawson, spot a link with the unsolved murder of a young girl 18 years earlier. To find the latest killer they have to unravel the first case again.

Wednesday, February 27th, 1991

2: Fat Chance

Morse finds himself attracted to a female cleric when he is called upon to investigate the suspicious death of a woman deacon. St Saviour's College is about to appoint Oxford's first ever female chaplain, and emotions are running high among the more conservative clerics, but Morse & Lewis find it hard to believe such feelings could lead to murder.

Wednesday, March 13th, 1991

3: Who Killed Harry Field?

An artist, fun-loving drinker and raconteur, Harry Field seems like a man after Morse's own heart. But when Morse and Lewis investigate his mysterious death, they discover that he was not such a lovable rogue.

Wednesday, March 20th, 1991

4: Greeks Bearing Gifts

When the chef at Lewis's favorite Greek restaurant is found murdered, and a baby goes missing, Oxford's close-knit Greek community closes ranks. Matters aren't helped when Morse has a bad-tempered exchange with the shipping millionaire who owns the restaurant.

Wednesday, March 27th, 1991

5: Promised Land

The search for a retired 'supergrass' takes Morse and Lewis from Oxford to the Australian outback. Strangely, Lewis is less at home down under than Morse himself is.
Season 6
Wednesday, February 26th, 1992

1: Dead on Time

Morse investigates the apparent suicide of a terminally ill Oxford don and finds he has a personal connection with the family. As the case develops, Lewis worries that Morse's professionalism is being undermined.

Wednesday, March 11th, 1992

2: Happy Families

Business tycoon Sir John Balcombe is found murdered at his country house, Balcombe Castle, with no signs of a break-in. As a result, the dead man's wife and sons come under suspicion. Morse finds that the family is strangely untroubled, and several of his prime suspects have flawed characters and dark secrets - and then the Balcombe family suffers another killing. Meanwhile, Morse has to cope with journalists who try to turn his own personality into a story - and he also suffers from an unhelpful Chief Superintendant, covering for the station's usual boss, who puts pressure on him to crack the case in a hurry. In the end, though, Morse is vindicated and his various tormentors get their comeuppance.

Wednesday, March 25th, 1992

3: The Death of the Self

The strange death of an Englishwoman abroad takes Morse and Lewis to the city of Verona in northern Italy. Morse takes delight in open-air opera in the Roman amphitheatre and falls under the spell of Nicole Burgess, a glamorous opera singer. But Lewis is home-sick.

Wednesday, April 8th, 1992

4: Absolute Conviction

Morse and Lewis investigate the affairs of three people in prison for fraud, when one of them is murdered, and they are surprised by what they find at HMP Farnleigh, an open prison. Then someone tries to kill one of the two surviving fraudsters.

Wednesday, April 15th, 1992

5: Cherubim and Seraphim

Morse's step-niece commits suicide, and he takes compassionate leave. He starts to research her past to find the reason for it, and this confronts him with the generation gap. His investigation into the young girl's death leads him into an alien world of teenage hedonism: house parties, raves and designer drugs.
Season 7
Wednesday, January 6th, 1993

1: Deadly Slumber

The owner of a private hospital is found murdered in his car, after a series of anonymous threatening letters. Suspicion falls on a retired book-maker whose daughter suffered severe brain damage as a result of negligence during an operation some years before. Morse spends a lot of effort in investigating the possibility that the dead man was criminally negligent, and concludes that he was. While he does his best to bring the killer to justice, Morse does not seem very troubled that at the end of the day he is unable to nail him.

Wednesday, January 13th, 1993

2: The Day of the Devil

Morse and Lewis hunt a violent rapist who has escaped from prison. They find themselves drawn into an under-world of satanists, and some of them seem more respectable than others.

Wednesday, January 20th, 1993

3: Twilight of the Gods

A nasty but very rich business man and a world-famous opera singer are in Oxford to receive honorary degrees from the Chancellor of the University. However, the ceremony has to be abandoned when a sniper opens fire on the procession of dignitaries. The singer is seriously wounded, but was she the intended target?