update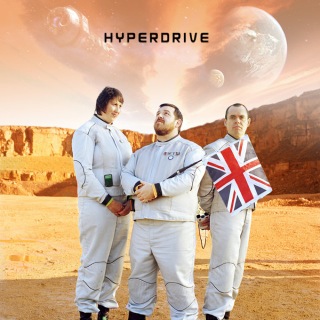 Season 0
not specified

2: Hyperdrivel - The Story of Hyperdrive

not specified

3: Creating the World of Hyperdrive

not specified

4: Video Diary

not specified

5: Miranda Hart's Tour of the Set

not specified

6: Behind the Scenes with Nick Frost

not specified

7: Deleted Scenes

Tuesday, November 30th, 1999

1: Unaired Pilot

Original pilot episode when the show was originally called "Lepus" and then "Full Power." Starred Sanjeev Bhaskar as Henderson and Mark Gatiss as York while the rest of the cast was pretty much those that appeared in the full series. It was directed by Armando Ianucci.
Season 1
Wednesday, January 11th, 2006

1: A Gift from the Glish

The crew of HMS Camden Lock start negotiations with various alien civilisations to sell blocks of the Peterborough Enterprise Zone. When things fail the first time, Space Force demands that Commander Henderson and his crew have to find another buyer within a week. The task doesn't get easier with an alien killer machine on board and the navigation system dropping out.

Wednesday, January 18th, 2006

2: Hello, Queppu

Henderson, Teal and York try to make first contact with the Queppu but are instead greeted by crossbow fire and are accused of being rebels. Meanwhile Jeffers, left in command of the ship, enters into a space race.

Wednesday, January 25th, 2006

3: Weekend Off

Vine buys a planet while Teal contrives to be alone with Henderson at the officer's ball.

Tuesday, January 31st, 2006

4: Asteroid

Henderson, miffed at being usurped by the Americans negotiating peace between two alien races, takes matters into his own hands with explosive consequences.

Tuesday, February 7th, 2006

5: Clare

Clare Winchester, a record-breaking British space-sailer, has been driven a bit mad on her latest solo expedition when she comes across the slightly more mad crew of HMS Camden Lock.

Tuesday, February 14th, 2006

6: Assessment

The crew of HMS Camden Lock are subjected to an extremely strict assessment test causing Henderson to seek the solitude of his cabin leaving York in command.
Season 2
Thursday, July 12th, 2007

1: Green Javelins

Henderson is invited to join Britains premier space-o-batics team (a Red Arrows for space) led by Squadron Leader Mason (played by Stephen Mangan), who twenty years ago had a fling with Teal. Meanwhile, York reveals the results of his terrifying scientific experiment and Vine has enlisted Jeffers into injuring him in a 'workplace accident' so he can be sent back to Earth.

Thursday, July 19th, 2007

2: Artefact

When presented with a mysterious object Henderson can't help but try to return it to its rightful owners despite York's warnings that it's a classic hero trap. The three senior officers find themselves on a forest moon suddenly surrounded by the Queppu ready for revenge. After narrowly avoiding destruction last year they have acquired new technology and are ready to strike back by putting Henderson, York and Teal into a reality TV gladiatorial contest.

Thursday, July 26th, 2007

3: Admiral's Daughter

The daughter of the Space Admiral has run away avoiding university and Henderson is ordered to get her back. Meanwhile both Vine and Jeffers have taken a shine to the young student and fight for her heart in the only way they know how - a duel. Arabella steals a shuttle craft and elopes with Jeffers leading them both into mortal danger.

Thursday, August 2nd, 2007

4: Harvest

York is sacked from Space Force after footage of him beating up an innocent alien ends up on the news. Teal is delighted to be left in charge of the ship in the officer's absence - but she faces a tough challenge when the team discover the Red Shiny Robots of Vortis are about to attack.

Thursday, August 9th, 2007

5: Dreamgate

The crew discover the Dreamgate, one of the most dangerous devices in the Universe, which gives its owner the power to infiltrate other people's dreams without their knowledge. Henderson and York wander into Vine's dream of a pub in the mid 1990s...

Thursday, August 16th, 2007

6: Convoy

Entrusted with leading the convoy guarding Britain's new super-weapon, the Camden Lock's position is betrayed. There is a traitor aboard and all the officers are under suspicion. There is a desperate race against time to find the mole before Earth is destroyed.