update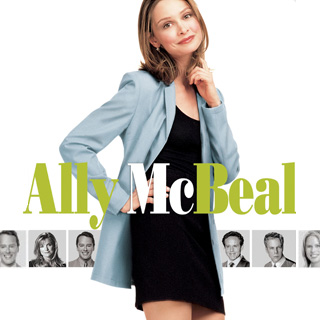 Season 0
Monday, March 22nd, 1999

1: Life and Trials of Ally McBeal

Bill Maher hosts a special episode of the show where he interviews the cast after almost two seasons.
Season 1
Monday, September 8th, 1997

1: Ally McBeal

Young lawyer Ally McBeal experiences emotional turmoil when she takes a job at a firm where her childhood sweetheart and first love also works.

Monday, September 15th, 1997

2: Compromising Positions

Ally meets the firm's other founding partner when she defends him on charges of soliciting a prostitute, and feels like a prostitute herself when Fish asks her to date a prospective client.

Monday, September 22nd, 1997

3: The Kiss

Ally has a confusing first date with client Ronald Cheanie... and teams up with Georgia to represent a television anchorwoman fired because of her age and sex.

Monday, September 29th, 1997

4: The Affair

The widow of Ally's former law professor asks Ally to speak at his funeral, not knowing she once had an affair with him.

Monday, October 20th, 1997

5: One Hundred Tears Away

Ally is arrested for tripping a woman in a supermarket, then faces a Bar Association hearing on her emotional competence to practice law.

Monday, October 27th, 1997

6: The Promise

Ally saves an obese man's life, only to become the object of his affection.

Monday, November 3rd, 1997

7: The Attitude

Ally clashes with a client's rabbi and dates a handsome District Attorney while Georgia considers suing her law firm for sex discrimination.

Monday, November 10th, 1997

8: Drawing the Lines

The firm helps the wife of a rich man negate a prenuptial agreement; Elaine's sexual harassment complaint comes to a head; and Ally and Billy negotiate personal boundaries in their still-tenuous friendship.

Monday, November 17th, 1997

9: The Dirty Joke

The delivery girl sues the firm for sexual harassment; Ally tries to prove she's no goodie-two-shoes by learning how to appreciate, and tell, dirty jokes.

Monday, December 1st, 1997

10: Boy to the World

Ally defends and befriends a young transvestite prostitute; Fish sues for the right to discuss his dead uncle's prejudices in a eulogy; and Cage ponders dating Ally.

Monday, December 15th, 1997

11: Silver Bells

As Elaine plans the firm's musical Christmas party, a case involving a man with two wives causes Ally, Billy, and Georgia to examine their relationship; Fish deals with Whipper's holiday marriage blues; and Cage asks Ally out.

Monday, January 5th, 1998

12: Cro-Magnon

As the firm's men plan to view a big boxing match, Ally dates a male art model with one large attribute, fights a sexual attraction to a 19-year-old client accused of assault... and is haunted by hallucinations of a dancing baby.

Monday, January 19th, 1998

13: The Blame Game

As Ally, Cage and Georgia try a case about liability in an airplane crash, Ally is reunited with male model Glenn, her recent one-night-stand, who makes her feel guilty about using him as a sexual object.

Monday, February 2nd, 1998

14: Body Language

Ally comes up with a "creative" strategy to convince a prison superintendant that an inmate should be allowed to marry; Whipper breaks up with Fish; and Cage undergoes "smile therapy."

Monday, February 23rd, 1998

15: Once in a Lifetime

Representing an artist who can't forget his dead wife conjures up ghosts of once-in-a-lifetime love for Ally and Billy; Cage worries about kissing Ally as their first date looms.

Monday, March 2nd, 1998

16: Forbidden Fruits

The firm represents a U.S. Senator accused of breaking up his wife's former marriage; Ally's legal arguments about true love get her into trouble with Georgia and Billy.

Monday, March 9th, 1998

17: Theme of Life

Ally defends a doctor accused of transplanting a pig's liver into a woman without her permission; Ally and Georgia square off in a kickboxing match; and Whipper dumps Fish for toying again with Janet Reno.

Monday, March 16th, 1998

18: The Playing Field

Ally faces off against a child prodigy-attorney; a woman claims she is the victim of harassment because, unlike her female co-workers, she refused to use sex as a means of advancing her career.

Monday, April 6th, 1998

19: Happy Birthday, Baby

Ally is mortified when her friends throw her a surprise birthday party. A man with a foot fetish refuses to use insanity as a defense.

Monday, April 27th, 1998

20: The Inmates (1)

The firm joins forces with Bobby Donell and his staff when a client is accused of killing her husband; Renee is arrested for assault; a waiter alleges he was fired because he isn't gay. (Crossover event - The Practice - 2x26 - Axe Murderer (2))

Monday, May 4th, 1998

21: Being There

Cage defends Renee against assault charges; a home pregnancy test reveals that Georgia is pregnant.

Monday, May 11th, 1998

22: Alone Again

Cage defends a long-time convict who used a trampoline to break out of prison a month before his release; a woman intends to sue her ex-fiancé for leaving her at the alter.

Monday, May 18th, 1998

23: These Are the Days

Bobby Donnell asks for the firm's help when two men seek an operation to switch hearts. Cage's cousin is arrested for assaulting "happy people" with a paddle.
Season 2
Monday, September 14th, 1998

1: The Real World

Ally finds herself attracted to an eighteen-year-old; and Cage considers hiring an attorney he finds attractive.

Monday, September 21st, 1998

2: They Eat Horses, Don't They?

A client sues a radio shock-jock for contributing to sexual harassment at her workplace; and Cage defends a restaurateur who fed a customer horsemeat.

Monday, September 28th, 1998

3: Fools Night Out

Ally plays mediator when a minister breaks up with his church's choir singer; and a client sues a plastic surgeon's nurse for misrepresenting her natural breasts as implants.

Monday, October 19th, 1998

4: It's My Party

A judge holds Ally in contempt when she disregards his instructions not to wear short skirts in court; and an editor for a feminist magazine is fired for being of the Baptist faith.

Monday, October 26th, 1998

5: Story of Love

Ally defends a woman who threw her best friend into a garbage canister after learning she had stolen away her boyfriend; and an accident befalls Cage's beloved frog.

Monday, November 2nd, 1998

6: Worlds Without Love

A nun sues for damages after she is fired for breaking her vow of celibacy; and Cage's once-thought-dead frog reappears.

Monday, November 9th, 1998

7: Happy Trails

The attorneys react when Judge Boyle suddenly drops dead; a woman with orange-colored skin sues her employer for wrongful termination; Elaine urges Ally to give a persistent and unwanted suitor "the dump;" and more bad luck besets Stefan the frog.

Monday, November 16th, 1998

8: Just Looking

Cage and Fish go undercover at Ling's mud-wrestling club; Ally gets stuck in the unisex toilet; and Georgia finds herself attracted to a man she once dated.

Monday, November 23rd, 1998

9: You Never Can Tell

As Thanksgiving approaches... Ling sues an employee for having sexual thoughts about her; and Ally goes to court with her fingers stuck in a bowling ball.

Monday, December 14th, 1998

10: Making Spirits Bright

As Christmas approaches, Fish's biggest client is fired from his job after he sees a unicorn; and Renee and Matt's relationship heats up.

Monday, January 11th, 1999

11: In Dreams

An ailing woman who prefers living in her dreams seeks a court order that would force a hospital to place her in a coma; and Ling informs Fish that Nelle has tired of Cage's lack of sexual aggressiveness.

Monday, January 18th, 1999

12: Love Unlimited

Ally represents a woman whose husband wishes to annul their marriage on the grounds that he is a "sexaholic," and was incompetent when he agreed to go through with the wedding.

Monday, February 8th, 1999

13: Angels and Blimps

A young leukemia sufferer wishes to sue God; and Fish and Cage defend a client accused of attempted murder.

Monday, February 15th, 1999

14: Pyramids on the Nile

A company fires two employees for breaking its "date and tell" office policy. Billy grows jealous when he sees Greg and Ally kissing. Ling asks Fish to hire her as counsel.

Monday, February 22nd, 1999

15: Sideshow

Ally consults Tracy for advice now that she and Billy have kissed.

Monday, March 1st, 1999

16: Sex, Lies and Politics

Cage and Ling represent a bookstore owner who was driven out of business by a politician who claimed that the store sold pornography. Ally and Billy deal with the aftermath of their kiss.

Monday, April 5th, 1999

17: Civil War

Ally and Cage face off against Fish and Georgia when the firm represents both sides of a date rape case; Nelle represents a sweaty client in trouble with the IRS.

Monday, April 19th, 1999

18: Those Lips, That Hand

Ally defends a man accused of murdering his wife by cutting off her hand. Billy and Georgia represent a life insurance salesman who lost his job because of his bad comb-over.

Monday, April 26th, 1999

19: Let's Dance

Cage, Fish, and Nelle defend a law firm that allegedly withheld a female employee's partnership offer after she became pregnant; Ling substitutes for Elaine's partner in a dance contest; Billy and Georgia attend therapy.

Monday, May 3rd, 1999

20: Only the Lonely

A slightly overweight woman claims her employer's policy of allowing workers to wear bathing suits to work amounts to sexual harassment; Elaine is accused of stealing the idea for the face bra from a dead cousin.

Monday, May 10th, 1999

21: The Green Monster

Ally hires a male escort in hopes of making Greg jealous; Fish and Cage represent a woman who destroyed her husband's most cherished possessions after she discovered he was having an affair; Billy objects to Georgia's revealing attire.

Monday, May 17th, 1999

22: Love's Illusions

Ally's fantasies interfere with her lawyering, prompting fears that she may be losing her mind; a man who believes his wife never loved him sues for fraud; Fish experiences impotency as he and Ling are about to make love.

Monday, May 24th, 1999

23: I Know Him By Heart

Ally decides to take a more aggressive approach in her search for a mate; a lesbian who wants to have a baby sues her insurance company when it refuses to cover the fertilization process; Nelle feels threatened by the relationship Cage shares with Ally.
Season 3
Monday, October 25th, 1999

1: Car Wash

Ally has sex with a total stranger inside a car wash; a bride-to-be seeks the firm's help when her minister catches her making love to someone other than her fiancé; Renee launches her own law practice.

Monday, November 1st, 1999

2: Buried Pleasures

Ling has a dream about kissing Ally; Billy and Renee defend a woman being sued by female co-workers for being too sexy; Cage believes that Nelle enjoys being spanked.

Monday, November 8th, 1999

3: Seeing Green

A psychiatrist prescribes Ally medication in an effort to end her Al Green hallucinations; Cage and Nelle represent a student who was suspended from school after he kissed a co-ed; Billy attends a male sensitivity class.

Monday, November 15th, 1999

4: Heat Wave

Risa Helms sues Ally for inflicting emotion distress; Georgia expresses outrage when Billy hires a sexy twenty-year-old as his new assistant; Ling tells Fish that she has been faking in bed.

Monday, November 22nd, 1999

5: Troubled Water

Ally's Thanksgiving turns into a debacle when she invites her colleagues and her parents to her apartment for dinner.

Monday, November 29th, 1999

6: Changes

Billy and Cage represent a woman who claims her employees sexually harassed her after she slept with her boss and, despite her lack of experience, became editor-in-chief of a magazine.

Monday, December 13th, 1999

7: Saving Santa

Cage faces off against Georgia when a department store Santa claims he was fired because he is too fat.

Monday, December 20th, 1999

8: Blue Christmas

As Christmas approaches, Elaine attempts to gain custody of an infant she found in a nativity scene.

Monday, January 10th, 2000

9: Out in the Cold

Ally befriends a homeless man who shares many of her idiosyncrasies; Ling is arrested for running an escort service for underage boys.

Monday, January 17th, 2000

10: Just Friends

Ally experiences a dream in which John Cage is "the one;" Elaine's blind date turns into a debacle.

Monday, February 7th, 2000

11: Over the Rainbow

Georgia sues the law firm for breaking up her marriage.

Monday, February 14th, 2000

12: In Search of Pygmies

On Valentine's Day Ally intentionally rear-ends a handsome driver; Ling comes to the aid of an elderly man facing eviction from a nursing home.

Monday, February 21st, 2000

13: Pursuit of Loneliness

Ally rebuffs the advances of a coffee shop worker; a man going through a divorce attempts to annul his marriage on the grounds that he unknowingly wed a lesbian; Billy tells Sandy about his feelings for her.

Monday, February 28th, 2000

14: The Oddball Parade

Ally and Elaine vie for the chance to become Tina Turner's back-up singer; Cage and Fish represent a group of misfits who were fired from their jobs because of their appearance.

Monday, March 20th, 2000

15: Prime Suspect

The attorneys defend Paul Potts when he is accused of murdering his former boss; Billy seeks professional help when he begins hallucinating.

Monday, March 27th, 2000

16: Boy Next Door

Billy's brain tumor triggers a series of hallucinations; a man claims that his wife's extensive cosmetic surgery is grounds for an annulment; Cage becomes stuck in an elevator.

Monday, April 10th, 2000

17: I Will Survive

Fish hires attorney Mark Albert as Billy's replacement; the lawyers defend a woman accused of beating her husband to death with his prosthetic leg.

Monday, May 1st, 2000

18: Turning Thirty

Ally faces turning thirty; the attorneys defend a well-endowed woman accused of smothering her elderly husband with her breasts.

Monday, May 8th, 2000

19: Do You Wanna Dance?

After having cybersex with a stranger she met online, Ally arranges to meet her "lover" face-to-face; a man sues his best friend for sleeping with his wife.

Monday, May 15th, 2000

20: Hope and Glory

Fish and Cage take legal action after Nelle tricks Elaine into quitting the firm so she can access important clients' files; Ally and Brian Selig's relationship heats up.

Monday, May 22nd, 2000

21: Ally McBeal: The Musical, Almost

In this special version of ALLY MCBEAL, which contains a dozen Randy Newman songs, Ally introduces her parents to Brian Selig; Nelle asks Fish and Cage if they will take her back; Cage celebrates a birthday.
Season 4
Monday, October 23rd, 2000

1: Sex, Lies and Second Thoughts

Ally develops cold feet when Brian Selig asks her to move in with him, then seeks advice from cute therapist Larry Paul; a client seeks an annulment instead of a divorce after she discovers that her husband has been cheating on her.

Monday, October 30th, 2000

2: Girls' Night Out

Ally cleverly stages a way for her and her friends to meet desirable men at the bar.

Monday, November 6th, 2000

3: Two's a Crowd

Ally falls for two men at once: an older gentleman and a handsome stranger; Fish considers telling Mark about Cindy; a client claims she lost her husband after a seminar guru encouraged her to be submissive.

Monday, November 13th, 2000

4: Without a Net

A woman sues for defamation after Ally makes embarrassing remarks in front of her conservative friends; Ally hires Larry to defend her in court; Mark makes a final decision regarding his relationship to Cindy.

Monday, November 20th, 2000

5: The Last Virgin

Ally, who fears she may have forgotten how to kiss, battles Larry Paul in court when Kimmy sues her former law firm.

Monday, November 27th, 2000

6: 'Tis the Season

The firm represents a newscaster who exposed the truth about Santa during a broadcast; Ally learns why Larry hates Christmas; Cage attempts to impress Kimmy by assuming the role of a rock singer.

Monday, December 4th, 2000

7: Love on Holiday

A former employee sues Elaine for sexual harassment; a gay man wins a date with Fish during a charity auction; Nelle dates a man with a secret.

Monday, December 11th, 2000

8: The Man with the Bag

As Christmas approaches, Larry receives a surprise visit from his ex-girlfriend; Nelle's father, who believes he is Santa Claus, sues his former employer for wrongful termination.

Monday, January 8th, 2001

9: Reasons to Believe

Cage defends a Tourette's syndrome sufferer accused of running over her lover; an elderly woman fears her attorney-husband will never retire and sues for divorce.

Monday, January 15th, 2001

10: The Ex-Files

Larry's girlfriend announces her intention to move to Canada; Melanie is fired from her job; a bride-to-be asks Ling to make advances on her fiancé to test his faithfulness.

Monday, January 22nd, 2001

11: Mr. Bo

Ally reluctantly represents a woman who fired an employee for being overweight; Cage fears he's being stalked by a transient; Elaine hopes to win a dance contest.

Monday, February 5th, 2001

12: Hats Off to Larry

A dance instructor claims his former partner stole his dance moves; Larry's son attempts to sue his estranged parents for emotional distress; Cindy McAuliff attempts to wed a man.

Monday, February 12th, 2001

13: Reach Out and Touch

As Valentine's Day approaches: a man wed to a nymphomaniac seeks to annul the marriage; Ally has visions of singer Barry Manilow; Cage proposes to Melanie; handsome attorney Jackson Duper joins the firm.

Monday, February 19th, 2001

14: Boys Town

The firm defends a female attorney who fired all her male workers; Fish and Cage attend couples therapy after a dispute erupts over a baseball glove.

Monday, February 26th, 2001

15: Falling Up

A man seeks an annulment after his wife changes her mind about having children; Ally seeks therapy when she experiences fantasies about falling -- and Larry.

Monday, March 19th, 2001

16: The Getaway

Fish and Cage travel to Los Angeles for a much-needed getaway, where they become involved in the lives of two women.

Monday, March 26th, 2001

17: The Pursuit of Unhappiness

A couple about to marry find their relationship thrown into turmoil when their attorneys -- Jackson and Larry -- bicker over a prenuptial agreement; a man attempts to have his father declared incompetent on the grounds that he's too happy.

Monday, April 16th, 2001

18: The Obstacle Course

A woman sues for fraud after she falls in love with a man online only to discover he is a little person; a man is sued for ruining a wedding.

Monday, April 23rd, 2001

19: In Search of Barry White

Cage faces off against Larry when he represents a man seeking to clone his dead wife.

Monday, April 30th, 2001

20: Cloudy Skies, Chance of Parade

A man sues rock star Sting for ruining his marriage; a Barbra Streisand impersonator sues a plastic surgeon for making his nose too big.

Monday, May 7th, 2001

21: Queen Bee

Fish and Cage represent a queen bee-like client with incredible power over men; Nelle and Jackson attempt to diffuse a feud between Lisa Knowles and another church choir member before it sparks a sexual harassment case.

Monday, May 14th, 2001

22: Home Again

Ally and Larry have a misunderstanding, which leads to their breaking up. In L.A., Fish handles a contract case involving the publishing of nude photos, and gets some unusual help from Cage in Boston.

Monday, May 21st, 2001

23: The Wedding

As Ally struggles to move forward after her break-up with Larry, she represents a shy boy devastated by the rejection of his would-be prom date. Fish develops concerns over the firm's apparent lack of compassion.
Season 5
Monday, October 29th, 2001

1: Friends and Lovers

The firm hires attorneys Jenny Shaw and Glenn Foy; Shaw sues all the telephone companies for making annoying solicitation calls; Cage believes Ally loves him.

Monday, November 5th, 2001

2: Judge Ling

Ally and Jenny are shocked to discover that the name plaintiff in the telephone company solicitation case is a man in drag; Ling becomes a judge in small claims court; Coretta convinces Cage to have a make-over.

Monday, November 12th, 2001

3: Neutral Corners

The attorneys develop a novel approach to gain leverage against the telephone companies; Cage expresses his feelings for Ally.

Monday, November 19th, 2001

4: Fear of Flirting

Jenny represents Raymond in a sexual harassment case; complications arise when Raymond expresses an interest in dating Jenny and Glenn expresses an interest in dating Ally; Fish moves into the hole behind Cage's toilet when Cage mysteriously disappears.

Monday, November 26th, 2001

5: I Want Love

Jenny's mother, who is marrying a 22-year-old man, sues her former employers for sexual harassment; Elton John sings at the bar.

Monday, December 3rd, 2001

6: Lost and Found

Ally, Glenn, Raymond, and Jenny go out on a double date.

Monday, December 10th, 2001

7: Nine One One

As Christmas approaches: a minister loses his job because he no longer believes in God; a town mayor cancels Christmas celebrations; a woman sues for sexual harassment after a man kisses her under mistletoe during a party.

Monday, January 7th, 2002

8: Playing with Matches

Frances' fiance hits on Ally; Kimmy takes a matchmaker to court after she spends a great deal of money and fails to find a man; Ally encounters the ghost of a young boy.

Monday, January 14th, 2002

9: Blowin' in the Wind

Ally falls in love with a dumpy house being renovated by construction worker Victor Morrison; a woman sues after her adoring ex-husband goes bankrupt by lavishing her with gifts; Jenny's chiropractor's chair proves sexually fulfilling.

Monday, January 21st, 2002

10: One Hundred Tears

Ally aids a man determined to make a lifelong dream come true by flying across a river using a pair of wings; a matchmaker sets up Elaine and Fish on dates.

Monday, February 4th, 2002

11: A Kick in the Head

A little girl claims she is Ally's daughter; Fish and Cage take on their first murder trial, defending a man accused of kicking his wife in the head.

Monday, February 11th, 2002

12: The New Day

Fish offers to make Ally a partner; a woman with AIDS sues after she's fired from a law firm; Ally adjusts to the responsibilities that come with parenthood.

Monday, February 18th, 2002

13: Woman

Ally fires two of the firm's employees; Fish defends Claire Otoms when she's accused of sexually harassing co-workers; Nelle and Ling lip-synch a song at the bar; Maddie throws a slumber party for her friends.

Monday, February 25th, 2002

14: Homecoming

Ally decides to have a DNA test performed to determine if Maddie is her daughter; a woman suffering from dementia mistakes Victor for her lover; Claire arranges a meeting between Fish and his first love.

Monday, March 4th, 2002

15: Heart and Soul

Ally does a lot of soul searching after she asks Victor out on a date; Fish, Raymond, and Claire represent a woman seeking a heart transplant from her father -- who is serving time for killing the woman's mother.

Monday, April 15th, 2002

16: Love Is All Around (1)

Ally grows nervous when her third date with Victor approaches. Liza and Cage defend a woman charged with bigamy; Nelle and a handsome new associate, Wilson Jade, represent a woman suing her husband for sexual harassment.

Monday, April 15th, 2002

17: Love Is All Around (2)

The judge forbids the lawyers to interfere on Claire's engagement, and her fiancé decides to call the wedding off. Devastated, Claire goes to Ally for help. Ally is still shaken with the memory of Larry, and isn't sure of her feelings for Victor anymore. In the middle of that there's Todd, whom Ally turned down as an attorney, but who asked her out on a date. He gets on her nerves and they fight a lot. On their date, Ally confronts Victor and tries to pick a fight with him. John and Nelle try to settle upon their imminent lost in court, but Liza has now lowered her offer. John is furious and decides to take her down.

Monday, April 22nd, 2002

18: Tom Dooley

Liza and Cage defend a woman charged with bigamy; Nelle and a handsome new associate, Wilson Jade, represent a woman suing her husband for sexual harassment.

Monday, April 29th, 2002

19: Another One Bites The Dust

Ally represents Victor when he's sued by an ex-girlfriend, and is appalled to discover that Victor created a painting of her... complete with cellulite.

Monday, May 6th, 2002

20: What I'll Never Do for Love Again

When Fish's father is sued for sexual harassment, Fish's mother asks for a divorce; Elaine has high hopes when she tries out for a role in A Chorus Line; Fish finds himself increasingly drawn to Liza.

Monday, May 13th, 2002

21: All of Me

The attorneys represent a woman with a split personality: the submissive Helen, who's deeply in love with her husband; and the aggressive Helena, who wants a divorce.

Monday, May 20th, 2002

22: Bygones

When Maddie suffers a nervous breakdown, Ally decides to move to New York, leading to tearful goodbyes with her friends; Fish and Liza decide to wed.