update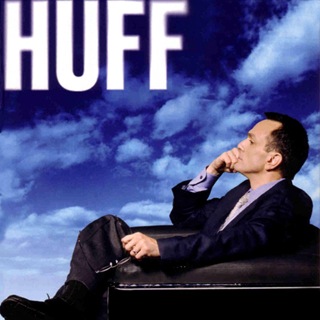 Season 0
not specified

1: Behind the Therapy

not specified

2: Deleted Scenes

not specified

3: Character by Design

not specified

4: Lense of Truth
Season 1
Sunday, November 7th, 2004

1: Pilot

Dr. Craig ""Huff"" Huffstodt is a Los Angeles psychiatrist whose life and career is sent reeling when a tragedy occurs in his office. Huff's nurturing nature is also tested at home as he endures and deals with the conflicting personalities and small insanities within his own family.

Sunday, November 14th, 2004

2: Assault and Pepper

Huff is forced to defend himself and his practice in front of a Medical Board hearing, with his reckless best friend and attorney Russell by his side. As if this weren't enough, Huff is besieged by Melody Coatar, a dangerously belligerent bipolar patient and is informed that he's being sued by a patient's parents.

Sunday, November 21st, 2004

3: Lipstick on Your Panties

With the pressure of the parents' lawsuit building, it's almost a relief for Huff to deal with a normal family crisis. But when his 14-year-old son Byrd sneaks off for a disturbing teenage party and is found out, Huff has trouble convincing his wife Beth that there's anything normal about it.

Sunday, November 28th, 2004

4: Control

Control is an issue in Huff's life, professionally and personally. He goes to Russell's office who pulls no punches when hitting Huff with tough questions in preparation for the insurance hearing to help save his job. At home, Beth gets into a tangle with her mother-in-law Izzy about preserving family privacy early in the morning and Byrd heads off to help tutor Gail, a cute high-school senior. Meanwhile, day two of the hearing begins with a body blow as Huff's bipolar patient takes the witness stand.

Sunday, December 5th, 2004

5: Flashpants

Huff is the recipient of two unlikely visits, as his estranged father attempts to use him as a go-between to settle his affairs with his mother Izzy and Doris, a patient's mother, shows up in his office seeking answers she thinks only Huff can provide. Russell is pinned in his own corner when he is enlisted to track down his high-powered TV star client and convince him to sober up and get back to work.

Sunday, December 12th, 2004

6: Is She Dead?

Russell has a new client. It turns out to be Pepper in disguise, a girl he picked up at the liquor store for a wild night a few weeks back. She is up on grand larceny charges and has come to him for help. Beth tries to stay busy with her party planning business but her mother's cancer weighs heavily on her mind, while Izzy weighs heavily on her nerves. In the meantime, Huff and Doris attempt to heal each other's emotional and psychological wounds. Huff becomes worried when he finds out that Teddy, who went on a field trip with his group from the facility, is missing.

Sunday, December 19th, 2004

7: That F*cking Cabin

Huff is awakened from a disturbingly surreal dream about his estranged father and Byrd. Throughout the dream, Huff hallucinates back to his childhood, seeing his young self, his brother Teddy, father Ben and mother Izzy. This leads Huff into a much-dreaded camping trip with his father and son. Three generations of Huffstodt men together for the first time in the family cabin in the woods. Russell embarks on a liver detoxification and cleansing program, which in typical Russell-style, ends somehow with a client being blown up in a trailer.

Sunday, December 26th, 2004

8: Cold Day in Shanghai

Huff is not happy when Melody returns in his sexual fantasies, and at the most inopportune times. Russell is coming out of his body cleansing and purification regime in time to take Laura, one of the partners in his law firm, out to dinner. Byrd is under tremendous peer pressure to steal drug samples from his father. Meanwhile, Beth has a verbal run-in with the cops in a convenience store. Russell lobbies Izzy to sign her divorce papers.

Sunday, January 2nd, 2005

9: Christmas Is Ruined

Huff's optimistic enthusiasm for this year's Christmas celebration meets its match when Beth's family, including her sick mother and competitive sister, arrive for the festivities. Izzy strains to be hospitable and good-natured, particularly when Russell comes with an unusual date, and pays one last visit to her best friend in the hospital. Byrd plays host of his own when his lost flame Gail shows up with an unexpected present.

Sunday, January 9th, 2005

10: The Good Doctor

Huff grapples with the dangers of psychiatry when a young, eager and attractive pharmaceutical rep does her best to persuade him to aggressively prescribe. But Beth discovers an item in Izzy's closet that may be alarming enough to distract him from his flirtation. Over in the land of Russell, Huff's lawyer friend may be the victim of federal surveillance or simply the victim of his own paranoia.

Sunday, January 16th, 2005

11: The Sample Closet

With the guilt of his near-miss infidelity weighing down on him, Huff misinterprets Beth's partnership with a young, attractive business client. Russell does the best he can to council his best friend while getting news that puts him in a position where somebody has him by the balls for the first time in his life and there's nothing he can do to change it.

Sunday, January 23rd, 2005

12: All the King's Horses

As Beth prepares for the arrival of her gravely ill mother, the rift between she and Huff escalates, putting them both in a position we've never seen them in before. With Huff realizing that there's no way he'll ever be able to ""put the toothpaste back into the tube,"" Russell confronts the horrifying possibility that he may have unintentionally started a family during a recent ecstasy binge.

Sunday, January 30th, 2005

13: Crazy Nuts & All F*cked Up

Huff's sanity is seriously called into question by his family after a series of unfortunate and wildly unpredictable events and circumstances, one involving Melody, threaten to make a big tear in the fabric of the Huffstodt family. Russell has to decide if he wants to be a father or not. Izzy refuses to allow Teddy to take a new anti-psychotic drug, one that could also possibly kill him. Beth learns her mother's cancer has spread to the spine. Byrd is a little stunned by the adults pinballing around him. Huff screams at Russell that he's in for a fall.
Season 2
Sunday, April 2nd, 2006

1: Maps Don't Talk (1)

Huff still feels guilty and angry, and so do his family and friends, about his potentially fatal fight with his best friend, Russell. He Beth's mother is dying and Beth is having a difficult time dealing with it. Izzy and Byrd have become estranged from the family. Meanwhile, Russell takes on a troubled new client, Dauri Rathbun.

Sunday, April 2nd, 2006

2: Maps Don't Talk (2)

Huff begins his search for Teddy in Mexico, but cannot find him. He ends up being forced to ask Russell, whom he nearly killed and who wants to have nothing to do with him, for help in locating his brother before something drastic happens. Meanwhile, Beth finds that Madeline has taken a turn for the worse and does not know what to do.

Sunday, April 9th, 2006

3: Whipped Doggie

Huff is less than pleased with where Teddy choses as his assisted-living facility. Russell ends up asking Huff to give a professional opinion of his new client's behavior. Teddy has a moving moment with Byrd and Beth's mother's health dramatically changes.

Sunday, April 16th, 2006

4: Sweet Release

Huff's romantic weekend alone with Beth ends up getting very steamy. Izzy meets a man while at a Palm Springs casino. Byrd ends up breaking into a neighbor's house and is caught.

Sunday, April 23rd, 2006

5: Used, Abused and Unenthused

Huff discovers that Teddy is becoming more independent after a conversation he has with Dr. Lena Markova. Beth has a problem with a client at her job and Russell gets an ultimatum from his boss that does not set well with him.

Sunday, April 30th, 2006

6: Red Meat

Huff gets an unexpected visit from his father. Teddy ends up meeting a very attractive young lady while down at the beach. Izzy finds herself arrested on a DUI charge. Beth decides that she will host a meeting of Paula's prayer group. Russell tracks down his young client, who is at a drug house, and then ends up joining in the festivities.

Sunday, May 7th, 2006

7: So...What Brings You to Armageddon?

Huff's father decides that he will extend his stay, and some family members feel he is wearing out his welcome. Lena asks Huff to address her alternative psychiatric therapy students. Byrd offends some people with his latest art project. Meanwhile, Russell ends up going on a drug-fueled bender.

Sunday, May 14th, 2006

8: A Cornfield Grows In L.A.

Huff and Beth end up getting into a major fight at their therapist's office. Teddy and Alyssa's relationship begins to heat up. Also, Russell decides to pay a visit to Kelly.

Sunday, May 21st, 2006

9: Radio Silence

Huff has become ill, both emotionally and physically, because of his relationship with Beth. Some of the things Teddy has told others about his relationship with Alyssa finally catches up with him. Russell fails to a keep an important promise that he made to Kelly. Meanwhile Ben's attempt to reach out to Izzy fails.

Sunday, June 4th, 2006

10: Bethless

Huff decides that he is going to leave Beth, but neither Byrd nor Izzy are happy about it. After Alyssa finds out about what Teddy has been lying about, it might lead to the end of their relationship. Meanwhile, Russell faces the consequences of what he did to Kelly.

Sunday, June 11th, 2006

11: Tapping the Squid

Beth is shocked when Izzy offers to help her in her time of need. Byrd and Eli decide to get even with James for all he has done. Huff and Russell hit the town.

Sunday, June 18th, 2006

12: Black Shadows

Huff and Russell's friendship is in danger of ending for good. Izzy decides that Byrd needs discipline of the physical kind. Beth ends up getting closer to Alec. Meanwhle, Teddy's mental actions send Alyssa on her way.

Sunday, June 25th, 2006

13: Which Lip Is the Cervical Lip?

Huff decides to help out Russell once again. Izzy finally decides to visit Teddy. Beth chooses to tell Alec that she thinks of him only as a friend. Byrd gets upset by all his family's latest actions.