update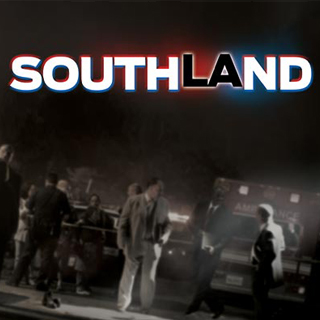 Season 0
not specified

1: Redefining the Cop Drama

Producers and cast reveal the story behind creating a new series about the LAPD.

not specified

2: Season 3 Sneak Peak – Behind the Scenes of TNT's SouthLAnd
Season 1
Thursday, April 9th, 2009

1: Unknown Trouble

From the beaches of Malibu to the streets of East Los Angeles, this fast moving drama takes viewers inside the lives of cops, criminals, victims and their families. In the series premiere, John Cooper, a seasoned Los Angeles police officer and his rookie trainee, Ben Sherman, respond to a call that ends in a deadly shoot-out -- and Ben is left questioning whether or not he has what it takes to become a police officer. Even though John is cool to the new recruit and his straitlaced "Beverly Hills" past, his honed insight and honest, no-nonsense advice is invaluable to the young rookie: "Look sharp, act sharp, be sharp. You do what they teach you in the academy, you will die."

Thursday, April 16th, 2009

2: Mozambique

When officers John Cooper, Ben Sherman and Chickie Brown rescue a baby girl found alone crawling across the middle of an LA intersection, the hunt for her mother begins. Detectives Lydia Adams and Russell Clarke examine the scene looking for clues, and soon Lydia finds herself affected by the search and must deal with some past issues -- taking a personal interest in reuniting the baby with its mother. Meanwhile, officers Sammy Bryant and Nate Moretta are unable to find the financial resources to put a juvenile key witness in police protection after an attempt on her life and must now convince the DA to place her in a student police program. And back at the station, everyone gathers for a retirement party for Dewey.

Thursday, April 23rd, 2009

3: See the Woman

Officers John Cooper and Ben Sherman start out the day thinking they have nothing in common, but -- after responding to an eclectic array of patrol calls -- at the end of their watch, they discover this is not true. When Ben reveals details of his past to the department therapist and to Cooper, the motivation behind his decision to be a cop becomes clear. Elsewhere, Dewey becomes star struck by Timmy Davis a famous, self-obsessed actor. In true "Dewey" style, he mischievously decides to party with the celebrity, rather then book him -- leading to a rift in his partnership with Chickie Brown. Trouble ensues when Dewey loses track of the burnt-out actor, and Chickie finds herself questioning her decision to take him on as her partner.

Thursday, April 30th, 2009

4: Sally in the Alley

Gang Detectives Sammy Bryant and Nate Moretta have their work cut out for them when an unidentified female is found dead in the middle of a Los Angeles alley -- and her body is being used for target practice by gang members. The tension mounts for Nate when his little sister disappears revealing a secret from his past that blindsides Sammy. Elsewhere, Detective Russell Clarke is offended by Lydia's suggestion that he was too personal during a consult with a victim's sister.

Thursday, May 7th, 2009

5: Two Gangs

It's a cop's worst nightmare. After a drunken car accident, Detective Salinger's gun is stolen by gangmembers in a dangerous neighborhood. When Gang Squad Detectives Nate Moretta and Sammy Bryant arrive on the scene to help out their boss, Moretta reluctantly agrees to assist Bryant in the search for the perpetrators and Salinger's weapon without calling it in. Launching an off-the-books manhunt to retrieve the weapon, they make a disturbing discovery -- that the gangs are no longer afraid of the police; a local gang is using assault weapons, bullet-proof vests and military tactics to become a powerful urban street army -- ready to declare war. Elsewhere, still preoccupied with her personal life, Detective Lydia Adams is caught off guard when a man exposes himself to her outside her home.

Thursday, May 14th, 2009

6: Westside

Detectives Lydia Adams and Russell Clarke have their work cut out for them when jewelry thieves begin robbing Bel Air homes. Officer Ben Sherman discovers that he knows one of the home invasion victims and finds himself breaking police policy by becoming personally involved. Elsewhere, gang Detectives Sammy Bryant and Nate Moretta wait around an LA courthouse while Janilla prepares to testify in a gang-land trial. Concerned for her wellbeing, Bryant decides to takes Janilla to his home to assure she is safe.

Thursday, May 21st, 2009

7: Derailed

The day takes a turn for the worse when officers John Cooper, Ben Sherman, Chickie Brown and Dewey find a member of Marta's Avenue gang dead in a trunk outside Dodger Stadium. Meanwhile, Detective Bryant convinces Lydia to take in Janilla in order to ensure her safety. Elsewhere, Detective Salinger becomes increasingly frustrated with his growing rift with his teenage daughter.
Season 2
Tuesday, March 2nd, 2010

1: Phase Three

Lydia and her new partner, Detective Rene Cordero, investigate the disappearance of an elderly man. Meanwhile, Nate and Sammy investigate a freeway shooting and inadvertently threaten the integrity of a major undercover operation. Elsewhere, Chickie finds herself in the middle of a mini-riot after her new partner panics and takes a shot at a 13-year-old boy.

Tuesday, March 9th, 2010

2: Butch & Sundance

John and Ben are the first responders to a gruesome triple homicide in Hancock Park, where a mother is bludgeoned to death and her young daughters are found bound, gagged, raped and dead in their bedrooms. In investigating the case, Lydia and Rene realize they have two very different investigation styles. Meanwhile, Sammy continues to have problems with his wife and Ben confronts John about his increasing reliance on pain pills.

Tuesday, March 16th, 2010

3: U-Boat

Ben, assigned to work on his own for the first time, responds to a call about a 9-year old girl who wandered off and finds himself emotionally distraught over a woman who is being harassed by an ex-lover with a tendency towards violence against women. Lydia and Rene spend the day checking assisting Brianna, the mother of the baby found crawling down the street. Over in Gangs, Detective Gil Puente leads the task force to take down ex-banger Trinny Day, but clashes with Sal and Sammy who find him loud and abrasive. When Chickie is assigned to ride with John for the day, he discovers she has no "command presence" and has lost her edge, suggesting it may be time for her to get out of police work.

Tuesday, March 23rd, 2010

4: The Runner

Lydia and Rene are called to Compton to investigate the murder of a young SULA student, only to discover that the girl was not exactly who her parents claimed she was. Meanwhile, John takes Ben with him to Indian Wells to attend the funeral of his friend, a cop who committed suicide. On the way back, they stop at the rehab center to check in on Dewey.

Tuesday, March 30th, 2010

5: What Makes Sammy Run?

After two men murder a man in a crowded nightclub, Nate discovers his daughter was an eyewitness. Meanwhile, tensions rise between Sal and Gil on the gang task force, and Sammy confronts his wife, Tammi, after discovering she has been photographing gang members.

Tuesday, April 6th, 2010

6: Maximum Deployment

John, Ben, and Chickie are sent out as part of a maximum deployment to capture the "Canyon Rapist," a perp who's been impersonating a cop. Russell is back, but on light duty as he continues to struggle with his recovery after being shot. While working a double-homicide with his old partner, Lydia, he discovers he's no longer up for the job. Sal plans a special night out to commemorate his wife's promotion, but their evening is ruined when their daughter reveals Sal's affair with TV news reporter Mia Sanchez. Chickie gets a chance to prove to herself -- and others -- that she still has what it takes to be a good cop.
Season 3
Tuesday, January 4th, 2011

1: Let It Snow

Lydia endures a stressful adjustment period with her new partner, Detective Josie Ochoa, as they investigate the disappearance of an illegal immigrant. Meanwhile, Russell must learn to adapt to a new desk job, Sammy and Nate look for the killer of two gangbangers, Ben catches the eye of an attractive woman, and John struggles with increasing back pain.

Tuesday, January 11th, 2011

2: Punching Water

Lydia and Josie are assigned to assist Sammy and Nate with a series of gang murders. John discovers he can't stand the "new and improved" Dewey, fresh from rehab, when he's forced to ride with him in order to evaluate whether Dewey is competent to return to duty. Ben must then ride with Chickie, who drives him nuts with her very personal questions about his private life and his new relationship with the "cop groupie" he's been seeing.

Tuesday, January 18th, 2011

3: Discretion

Ben has a confrontation with his mother's rapist after the man is released from prison and is devastated when his mom reveals some information she's been keeping secret for years. Meanwhile, Lydia and Josie continue to bump heads, and Sammy deals with his wife's betrayal.

Tuesday, January 25th, 2011

4: Code 4

Ben learns the hard way, some valuable lessons about the importance of following established procedure and protocol, Lydia's current murder investigation takes an unexpected turn, and Nate and Sammy are unprepared when a group of people they encounter turns into a violent mob.

Tuesday, February 1st, 2011

5: The Winds

When a rape victim hires a lawyer and refuses to talk with the two detectives unless her lawyer is present, Lydia and Josie want to know why. Meanwhile, John strikes up an unlikely friendship with a boy who returned home after a sleepover, only to discover his parents had packed up and moved during the night, abandoning him and leaving him to fend for himself, Later on, John begins to feel the stress over the prospect of testifying at his father's upcoming parole board hearing, but he doesn't realize his testifying will open up an emotional can of worms that he's not prepared for.

Tuesday, February 8th, 2011

6: Cop or Not

While working a celebrity murder, Lydia discovers the pros and cons of being in the spotlight. Meanwhile, six weeks after Nate's murder, Sammy finally returns to street patrol. Elsewhere, John voices his anger over the department's waste of money, man-power, and hours spent guarding the home of a celebrity suspected of murdering his estranged wife from the reporters trying to get a scoop.

Tuesday, February 15th, 2011

7: Sideways

When crime scene photos from the case of the celebrity suspected of murdering his estranged wife show up on the internet, all of the first responders are suspended, including Lydia and Josie. Further investigation proves the photos were the unauthorized pictures taken by Lydia using her phone, and she's shocked when she learns who was responsible for the leak. Meanwhile, Sammy fails to pick the right guy from the line-up for Nate's murderer, and Dewey and Chickie are involved in a high-speed chase that ends in disaster.

Tuesday, February 22nd, 2011

8: Fixing a Hole

Sammy seeks answers in the desert, Lydia and Josie babysit an important alcoholic witness before a murder trial, and John and Ben go against procedure to help a child in need.

Tuesday, March 1st, 2011

9: Failure Drill

As John's back pain worsens, so does his drug problem, and Ben, about to finish his training period, is gravely concerned about him. Meanwhile, when a man wielding an automatic weapon goes on a killing spree inside a factory, Josie gets injured and Lydia must go after him alone. Elsewhere, Sammy decides to take a more active roll in the upcoming birth of his child..

Tuesday, March 8th, 2011

10: Graduation Day

On Ben's final day as a rookie, he decides to force John to get the surgery he needs to relieve his back pain which, in turn, will end his need for painkillers. Meanwhile, Josie discovers that her son is the man Lydia has been seeing. Elsewhere, Sammy decides to go back to regular patrol.
Season 4
Tuesday, January 17th, 2012

1: Wednesday

John returns to duty after recuperating from back surgery and meets his new partner, Officer Jessica Tang, a tough and disciplined cop with her own set of baggage from working the streets. Lydia, whose new partner is Detective Ruben Robinson, can't seem to escape helping a former CI who seems unable to stay out of danger, Ben, Sammy and Dewey chase an armed man into an elementary school, and Ben bumps heads with an intense street cop whose cynical attitude is affecting their work.

Tuesday, January 24th, 2012

2: Underwater

Things are gonna change with Joel Rucker as the new captain. Lydia and Ruben investigate a convenience store murder, and Lydia uses her typical compassionate charm to collect facts on her suspect from an unassuming grandmother. Meanwhile, John and Jessica get to test their physical abilities when they're attacked on the street. Elsewhere, Sammy and Ben ride with a mistake-prone officer, but Ben is the one making mistakes... mistakes that earn him some notoriety.

Tuesday, January 31st, 2012

3: Community

On Hood Day, a day where gangs seek retribution, LAPD is trying to keep the peace by camping out in neighborhoods prone to violence. Sammy and Ben leave their assigned neighborhood with disastrous results. Meanwhile, the neighborhood grabs a golden opportunity to seek a little retribution of their own against the gang banger who has been terrorizing them. Elsewhere, John and Jessica discover that another group of neighbors will go to any lengths to get a registered sex offender off their streets.

Tuesday, February 7th, 2012

4: Identity

Jessica goes the extra mile to assist a homeless war vet obtain an ID so he can be admitted into a shelter . Meanwhile, Sammy is determined to save a dog after he accidentally shoots it in the leg. Elsewhere, Lydia struggles with a serious personal matter while she and Ruben investigate the murder of a man who sheltered and aided women in need.

Tuesday, February 14th, 2012

5: Legacy

John tries to save a suicidal teen in a situation that hits extremely close to home, and Sammy convinces a former addict to be an informant, with devastating consequences. Meanwhile, Jessica gets a visit from someone from her past, and Lydia and Ruben investigate a home invasion that appears to have been staged to cover up a murder.

Tuesday, February 21st, 2012

6: Integrity Check

Lydia dons a uniform and hits the streets when the shift is short a supervisor and she must fill in. Meanwhile, John and Jessica are stuck with a film crew tagging along on their calls. Elsewhere, Ben infuriates Sammy when he implies Sammy planted evidence.

Tuesday, February 28th, 2012

7: Fallout

Jessica and John exchange angry words after she lies to Internal Affairs about the facts surrounding her shooting of a teen with a toy. Meanwhile, Sammy continues to hold a grudge with Ben and Lydia continues to dodge questions about her condition.

Tuesday, March 6th, 2012

8: God's Work

Lydia and Ruben investigate the death of a young nanny, but first they have to find the kids who were in her care. Ben tries to intervene in the life of a prostitute with a daughter, but his efforts only make things worse. Tang gets an update about the boy she shot, but John still wants her to come clean about what really happened.

Tuesday, March 13th, 2012

9: Risk

Ben finds himself heading down a slippery slope as he attempts to help the daughter of a prostitute, putting him in hot water with the woman's pimp. Lydia and Ruben investigate the murder of a gang-banger who may have been killed over a graffiti tag. Tang faces more questions about her shooting of an innocent bystander, which could determine whether she gets promoted to sergeant.

Tuesday, March 20th, 2012

10: Thursday

It's the last day on patrol for Tang, as she prepares to move to another precinct as sergeant. But first she wants to tie up some loose ends on the beat. Lydia is pressured to make a decision about the extent of her police duties during the rest of her pregnancy. With Sammy recovering from injuries, Ben and Dewey are partnered together. But Ben is bent on tracking down the prostitute he's been trying to help and then getting her and her daughter away from the abusive pimp controlling their lives.
Season 5
Wednesday, February 13th, 2013

1: Hats and Bats

Officer John Cooper clashes with his new boot, Gary Steele, a vet from Afghanistan. Lydia struggles to balance detective work and motherhood. Ben Sherman falls in with a sketchy crowd of cops, while Sammy Bryant is trapped in a hellish custody battle with Tammi.

Wednesday, February 20th, 2013

2: Heat

After Mendoza is injured in a drive-by, Ben takes it upon himself to solve the case, much to Sammy's dismay. Lydia regains her footing as a detective while investigating the murder of a female boxer's husband. Tensions between Cooper and Steele finally come to a head during a traffic stop-gone-sideways.

Wednesday, February 27th, 2013

3: Babel

A breakdown in the LAPD's dispatch system makes a difficult job even harder for the cops, all of whom are already grappling with communication issues. Lydia, in a moment of weakness, reaches out to her old flame, Terrell. John is assigned a new partner; Ben and Sammy's partnership is strained just as Ben makes a romantic connection on the job.

Wednesday, March 6th, 2013

4: Under the Big Top

Lydia and Reuben track the killer of a man whose body was slow cooked down to the bone. John and Lucero settle into their new friendship during a day filled with strange calls. Ben and Sammy respond to an insane bank robbery in which the suspects throw cash out into the streets as they make their escape in a getaway car.

Wednesday, March 13th, 2013

5: Off Duty

John is forced to think about what life will hold for him once he leaves the LAPD. Lydia connects with a man she sent to death row earlier in her career. Much to his chagrin, Sammy becomes a tabloid celebrity for the day after a very public act of heroism. Ben makes a dubious decision to get a drug dealer arrested. And a foot pursuit puts Dewey in danger.

Wednesday, March 20th, 2013

6: Bleed Out

The day's events bring all of our cops face to face with some of their greatest fears. The death of a baby shakes Lydia to her core. Sammy is questioned by I.A. about his altercation with Tammi. A difficult day on the job causes Cooper to seek solace in Hicks but finds none. Ben becomes more deeply involved with Brooke while continuing to see Elena.

Wednesday, March 27th, 2013

7: Heroes

John takes drastic measures to try to save Hicks while being confronted with demons from his past. Sammy's lie about the tape weighs heavily on his conscious. Lydia and Ruben track down a John Doe. Ben's relationship with Elena becomes more serious.

Wednesday, April 3rd, 2013

8: The Felix Paradox

The funeral of a major drug dealer brings gangsters of all kinds out of the woodwork, there is chaos in the streets but as our cops learn sometimes the greatest threats come from within. Lydia and Ruben investigate the drug related murder of Sgt. Hill's son; they discover police corruption in the process and clash over how to handle it. Ben suspects that Sammy did not destroy the tape and decides to take matters into his own hands with tragic consequences. John sinks farther into his loneliness.

Wednesday, April 10th, 2013

9: Chaos

Chaos prevails in the city of angels when Cooper and Lucero are kidnapped and held hostage by a pair of tweakers. All of our cops join the frantic search to find their brothers in blue before it is too late. Sammy searches for Strokeface. Ben tries to throw Sammy off the trail while simultaneously dealing with an increasingly irrational Brooke.

Wednesday, April 17th, 2013

10: Reckoning

John copes with the aftermath of his kidnapping. Sammy closes in on the real robbers. Lydia continues to pursue John's kidnappers and becomes more intimate with Russell.