update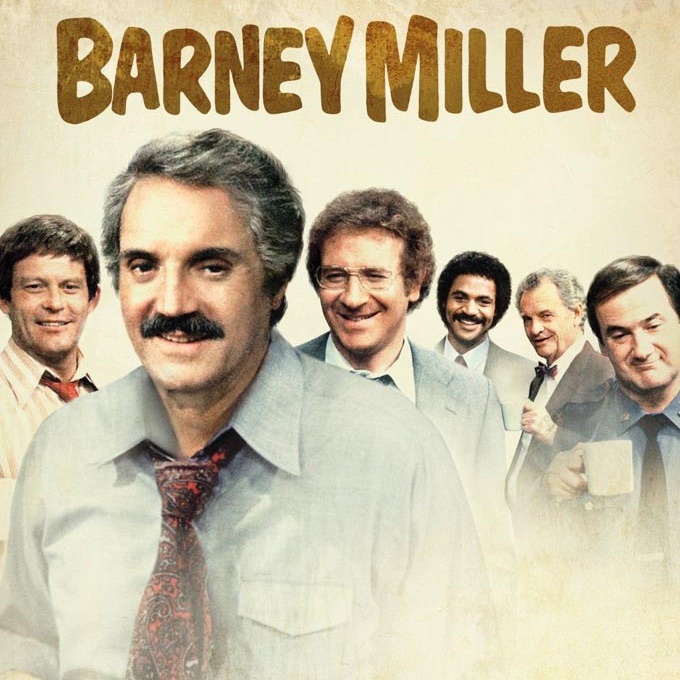 Season 0
not specified

1: Inside the 12th Precinct

not specified

2: Salute to the Old One Two

not specified

3: Inside the Writers Room

not specified

4: 'The Life and Times of Captain Barney Miller' Original Pilot

not specified

5: Season 1 Episode 1 'Ramon' (uncut)

not specified

6: 'You Don't Know Jack' Excerpt From The Jack Soo Documentary
Season 1
not specified

0: Extras

not specified

18: Block Party

not specified

19: Massage Parlor

not specified

20: The Psychiatrist

not specified

21: The Kid

not specified

22: The Mole

Thursday, January 23rd, 1975

1: Ramon

Captain Barney Miller talks down a junkie who is holding the 12th Precinct hostage.

Thursday, January 30th, 1975

2: The Experience

A bomber targets the 12th Precinct, as Det. Fish contemplates retirement.

Thursday, February 6th, 1975

3: Snow Job

The squad grapples with guarding a department store payroll and a flasher who attempts suicide in the bathroom.

Thursday, February 13th, 1975

4: Graft

An old friend of Barney's is assigned to investigate allegations of corruption in the squadroom; Chano is after an obscene phone caller.

Thursday, February 20th, 1975

5: The Courtesans

A prostitute threatens to file harassment charges against Wojo; Rachel wants to move into her own apartment.

Thursday, February 27th, 1975

6: The Stakeout

Well-meaning nosy neighbors overrun a covert stakeout operation.

Thursday, March 6th, 1975

7: The Bureaucrat

Guests to the 12th include a drunken bureaucrat and the 12-year-old who robbed Chano's apartment; Wojo closes the precinct's favorite delicatessen for minor health-code infractions.

Thursday, March 13th, 1975

8: Ms. Cop

An overzealous lady cop ruffles the feathers of the testosterone-run 12th; Chano nabs an obscene phone caller. Linda Lavin (""Alice"") debuts as Detective Janice Wentworth.

Thursday, March 20th, 1975

9: The Vigilante

Barney is visited by Inspector Luger, who complains that his men aren't disliked enough by the public; a neighborhood vigilante is well into his twilight years; Wojo collars a cross-dressing teamster.

Thursday, March 27th, 1975

10: The Guest

The 12th Precinct reluctantly guards a mob witness; Chano uses his co-workers' own cash stash to set up a narcotics buy.

Thursday, April 10th, 1975

11: The Escape Artist

A self-avowed ""bird-man"" drops in; Barney holds a resourceful escaped prisoner for the FBI; Harris decides to write a novel, setting up one of the series' most durable storylines.

Thursday, April 17th, 1975

12: Hair

A scruffy ""Serpico""-type cop has good reason to hide behind unruly hair; Bernice discovers that Fish spent the afternoon in a massage parlor.

Thursday, May 1st, 1975

13: The Hero

Chano is guilt-stricken when he shoots a holdup man; Liz makes a citizen's arrest, after being robbed at ""stickpoint"" by a twelve-year-old.

Thursday, December 18th, 1975

14: Protection

Thursday, January 8th, 1976

15: Happy New Year

Thursday, January 22nd, 1976

16: The Sniper

Thursday, January 29th, 1976

17: Fear Of Flying
Season 2
Thursday, September 11th, 1975

1: Doomsday

A disgruntled man with a belt of dynamite threatens to blow himself and the squad room ky high unless President Nixon agrees to speak with him; the plumbing goes kaput; Wojo arrests a phony man-of-the-cloth.

Thursday, September 18th, 1975

2: Social Worker

Weary of housework, Liz tries her hand at social work, to Barney's dismay; a master forger fascinates Harris.

Thursday, September 25th, 1975

3: The Layoff

Barney, Fish and Yemana feel the crunch when a labor layoff forces them to do without Chano, Harris and Wojo; a manicurist goes deeper than the nail; a morose stockbroker takes to petty theft.

Thursday, October 2nd, 1975

4: Ambush

Yemana is shot in full view of disinterested bystanders, and Barney is offered a job in Florida.

Thursday, October 9th, 1975

5: Heat Wave

A wife claims spousal abuse; Wojo and Wentworth are bait for a park rapist.

Thursday, October 16th, 1975

6: Arsonist

The precinct is on the lookout for an arsonist; Chano brings in a man who used a deadly weapon on a vending machine.

Thursday, October 23rd, 1975

7: Grand Hotel

Wojo and Wentworth pose as marrieds in order to bust a burglary ring set in a posh hotel.

Thursday, October 30th, 1975

8: Discovery

Marty claims that a member of the 12th is harassing the gay community; the precinct computers think Fish is dead.

Thursday, November 13th, 1975

9: You Dirty Rat

Barney smells a rat when two pounds of confiscated marijuana disappears from the evidence locker, and a homeless man spends the night in a department store—apparently one of many.

Thursday, November 20th, 1975

10: The Horse Thief

A hansom cab owner reports his horse missing. A man assaulted in his hotel room insists he was alone.

Thursday, November 27th, 1975

11: Rain

During a very rainy day, the squad must endure both the precinct roof threatening to collapse, and VERY bad Bicentennial jokes from a nightclub comedian-the stationhouse roof literally groaning in response!!

Thursday, December 4th, 1975

12: Fish

A glimpse at Detective Fish's home life ensues when the detective decides to go on restricted duty. Steve Landesberg bows as Arthur Dietrich; Doris Belack fills in for Florence Stanley as Bernice Fish.

Thursday, December 11th, 1975

13: Hot Dogs

A man is convinced that a photo of Jean Harlow is his missing wife; a pair of lady cops makes an overzealous drug bust.

Thursday, December 18th, 1975

14: Protection

The citizenry is in a panic amidst the rumors that the 12th Precinct is being shut down; a repentent hood can't prove that he committed a crime.

Thursday, January 8th, 1976

15: Happy New Year

On New Year's Eve, Fish tries to stop a jumper, and Wojo delivers a baby.

Thursday, January 22nd, 1976

16: The Sniper

A con man is selling charter flights to Saturn; Wojo and Luger are sniper targets.

Thursday, January 29th, 1976

17: Fear of Flying

Wojo must escort a bigamist to Cleveland, even though he is (guess!) afraid of flying. Meanwhile,the bigamist's New York wife shows up. Also, a man turns in an unmarked envelope containing $3500 in cash.

Thursday, February 12th, 1976

18: Block Party

Wentworth is furious when Chano gets the credit for her bust of an assassin at a block party.

Thursday, February 19th, 1976

19: Massage Parlor

Wentworth busts a dime-store cowboy in a massage parlor, and the detectives bust an octogenarian mugger.

Thursday, February 26th, 1976

20: The Psychiatrist

A department psychiatrist advises the department to confiscate Wojo's gun

Saturday, March 6th, 1976

21: The Kid

Fish is attracted to the mother of a young mugger; a man is a bit premature to obtain the unclaimed windfall he found on the street.

Thursday, March 18th, 1976

22: The Mole

Fish considers an operation; a burglar known as ""The Mole"" leads Harris and Wojo on a merry chase through the city sewer system. Ron Carey plays the Mole, and returns as Levitt in the next season.
Season 3
Tuesday, January 20th, 1976

14: Rand Report

Rather than return one week per month to uniformed patrol, Wojo quits the force.

Thursday, September 23rd, 1976

1: Evacuation

Wojo is dismayed to discover that the city doesn't have up-to-date evacuation procedures in the event of an emergency; Fish meets Jilly Pappalardo, a young thief who he will eventually care for in the ""Barney"" spin-off ""Fish.""

Thursday, September 30th, 1976

2: Quarantine (1)

Wojo brings in a sick perp who collapses on the floor...resulting in the 12th being put under quarantine,with the following personnel present:A lady of the evening [who gets friendly with Fish!], Marty and Mr Driscoll, and of course, Inspector Lugar....

Thursday, October 7th, 1976

3: Quarantine (2)

The quarantined 12th Precinct tries to make it through the night: Lugar has a 'talk' with Marty and Daryl Driscoll; and Harris has a loud rant in his sleep.

Thursday, October 14th, 1976

4: Bus Stop

Quarters are tight at the 12th when a holdup man is confined with his busload of victims.

Thursday, October 21st, 1976

5: The Election

Election Day at the One-Two includes: A woman, being held from voting by her husband, throws a toilet seat into the street to get attention; a shoplifter gets escorted to vote by Wojo, who promptly 'loses' him; and Inspector Lugar comes electioneering for a old time political hack.

Thursday, October 28th, 1976

6: Werewolf

A disturbance in the park turns out to be a man who claims to be a werewolf.

Thursday, November 11th, 1976

7: Recluse

A latter-day prophet claims the end is near - 5:30, to be precise; a man who hasn't left his apartment since World War II is brought in for refusing to serve jury duty. John Cassisi appears as Victor Kreutzer, a role he would continue to play on ""Fish.""

Thursday, November 18th, 1976

8: Non-Involvement

Barney doesn't see a crime, but Wojo's brought in a man for refusing to aid a mugging victim.

Thursday, December 9th, 1976

9: Power Failure

A power failure darkens spirits at the 12th, where they play host to a man with a split personality.

Thursday, December 23rd, 1976

10: Christmas Story

Wojo wants to tell Yemana that his Christmas Eve date is a call girl; Fish dons a red suit to catch a mugger who's targeting Kris Kringles; Luger fishes for an invitation from Barney for Christmas Day.

Thursday, December 30th, 1976

11: Hash

Wojo brings hashish-laced brownies his new girlfriend made to the 12th Precinct, getting the detective squad stoned; while an actor and critic (""natural enemies"" says Harris) square off with dueling swords.

Thursday, January 6th, 1977

12: Smog Alert

All eyes are on Fish as the city undergoes a first-stage smog alert; an unlikely connection is made between a potential suicide victim and an obscene graffiti artist.

Thursday, January 13th, 1977

13: Community Relations

An evicted tenant greets a landlord with a musket; Barney's charged with harassment when he books a blind shoplifter.

Thursday, January 27th, 1977

15: Fire '77

The 12th may go up in smoke, to the delight of a suicidal couple.

Thursday, February 3rd, 1977

16: The Abduction

Barney has his hands full with a couple who want his assistance with their cult-influenced daughter, and Nick's bookie who's arrested for his efforts.

Thursday, February 10th, 1977

17: Sex Surrogate

Weary of waiting for promotion, Levitt announces that he's quitting the force; Barney investigates a sex clinic that borders on brothel status; Harris investigates a rash of crimes ostensibly committed by a juvenile.

Thursday, February 17th, 1977

18: Moonlighting

Barney discovers that Harris has been moonlighting; Dietrich arrests a priest who's fencing stolen goods; a racketeer is using a retarded boy as an assistant.

Thursday, February 24th, 1977

19: Asylum

Marty is picked up for parole violation with a half ounce of marijuana; Wojo prematurely grants a Russian defector asylum.

Thursday, March 10th, 1977

20: Group Home

Yemana assists a bigoted Army officer when a bomber threatens a recruiting facility; it's Fish's turn for mugging detail as Victor and Jilly resurface with Bernice in tow.

Thursday, March 24th, 1977

21: Strike (1)

An impending strike is on everyone's mind, except the woman who was robbed by her computer date. (Part 1 of 2)

Thursday, March 31st, 1977

22: Strike (2)

Barney and Inspector Luger man the fort alone when the detectives go out on strike.
Season 4
Thursday, September 15th, 1977

1: Goodbye, Mr. Fish (1)

A neighborhood vigilante group runs amok, and Fish is AWOL on the day of his retirement.

Thursday, September 22nd, 1977

2: Goodbye, Mr. Fish (2)

Fish finally shows up for work, but refuses to acknowledge his mandatory retirement.

Thursday, September 29th, 1977

3: Bugs

Listening devices discovered in the squad room may have come from Internal Affairs - or the Nixon administration!

Thursday, October 6th, 1977

4: Corporation

A quixotic environmentalist faces the high-priced lawyer hired by the chemical plant he's been assaulting.

Thursday, October 20th, 1977

5: Burial

Retired Sergeant Fish returns to assist Barney in locating a pilfered corpse.

Thursday, October 27th, 1977

6: Copy Cat

Yemana scours the TV Guide to try to second-guess the felon who's aping the prime-time lineup crime shows; a drunk forgets the most important element in a hold-up - a weapon.

Thursday, November 3rd, 1977

7: Blizzard

A blizzard holes up the 12th with an unwelcome guest—a corpse; a self-proclaimed prophet is sure that the weather is indicative of a new ice age.

Thursday, November 17th, 1977

8: Chase

A taxi company is irate when Wojo totals a borrowed cab while pursuing a robbery suspect; Lieutenant Scanlon tries to ferret out 12th Precinct corruption with a drug pusher.

Thursday, November 24th, 1977

9: Thanksgiving Story

The detectives clean up after three mental patients sit down to Thanksgiving dinner at an automat.

Thursday, December 1st, 1977

10: The Tunnel

Wojo is buried alive after a tunnel collapses on a burglar burrowing towards the diamond exchange; a homeless Harris is combing Manhattan for a new apartment.

Thursday, December 15th, 1977

11: Atomic Bomb

Neither the bomb squad nor the government recognizes a college student's physics project as a functional atomic bomb - but Detective Dietrich does.

Thursday, January 5th, 1978

12: The Bank

A man charges a sperm bank with murder after the lab unwittingly destroys the man's last sample.

Thursday, January 12th, 1978

13: The Ghost

The detectives are unimpressed with a man who claims he's being visited by a poltergeist - that is, until they lock the man up and strange events begin occurring about the squad room.

Thursday, January 19th, 1978

14: Appendicitis

Yemana is hospitalized with appendicitis; the cage is a stopping-off place for a sugar addict and an aging bounty hunter.

Thursday, January 26th, 1978

15: Rape

The city legalizes off-track gambling, to the delight of Yemana; a woman wants her husband arrested on a rape charge; a master of disguise perpetuates a crime spree.

Thursday, February 2nd, 1978

16: Eviction (1)

Barney puts his career on the line by refusing to forcibly evict the tenants of a condemned hotel, while Lugar tries to figure out what to do with his vacation time.

Thursday, February 9th, 1978

17: Eviction (2)

The hotel situation now involves a SWAT team, while Dietrich learns the identity of his amnesic ""girlfriend.""

Thursday, February 23rd, 1978

18: Wojo's Problem

Wojo comes to Barney with a problem his superior would rather not know about; the 12th's new female detective has a very jealous husband, suspicious of her all-male co-workers; somehow a shoplifter escapes - in a wheelchair.

Thursday, March 2nd, 1978

19: 'Quo Vadis?'

Barney uncovers, if you will, the real reason behind a woman's vehement insistence that a nude-painting exhibit at a local art gallery be shut down; the Millers may be heading for divorce.

Thursday, March 23rd, 1978

20: Hostage

Harris finally finds an apartment in the Village; a ventriloquist insists he's not responsible for his dummy's insensitive remarks; a prisoner holds the boys at gunpoint.

Thursday, May 4th, 1978

21: Evaluation

The members of the squad nervously await Barney filling out their evaluation forms. Meanwhile, Harris arrests a numerologist who will only give his name as ""1223,"" and a porno shop reporting vandalism turns out to be a mom and pop operation being hassled by their kids.

Thursday, May 11th, 1978

22: The Sighting

A man liquidates all of his assets into gold, much to his wife's dismay; Wojo claims he saw a UFO over Staten Island.

Thursday, May 18th, 1978

23: Inauguration

Harris does some extensive soul searching when he's offered a job on the mayor's security team.
Season 5
Thursday, September 14th, 1978

1: Kidnapping (1)

A political activist abducts a department store magnate; Wojo arrests a prostitute and her Arkansan business manager.

Thursday, September 14th, 1978

2: Kidnapping (2)

Wojo delivers the ransom money for the department store owner, while the prostitute charms both Wojo and the victim's nebbish son.

Thursday, September 21st, 1978

3: The Search

Off goes the moustache, as it's Harris' turn for cross-dressing mugging detail; the host of a kids' science show goes off the deep end; Barney's men reopen a twenty-eight year old missing persons case.

Thursday, September 28th, 1978

4: Dog Days

The German Shepherd that bit Wojo may be rabid; Barney and Liz prepare for their impending separation.

Thursday, October 5th, 1978

5: The Baby Broker

A German girl attempts to flee the country rather than surrender her baby to a broker's clients; Levitt turns to stimulants to aid in his self-imposed thirty-six hour shift.

Thursday, October 12th, 1978

6: Accusation

An accusation of an indiscretion on the part of Dietrich leads to a visit from the gleeful Lieutenant Scanlon of Internal Affairs; Yemana books a rabbi who is running a gambling casino in his synagogue.

Thursday, October 19th, 1978

7: The Prisoner

A released prisoner can't adjust to civilian life; the widow of a cat burglar elects to perpetuate the family business.

Thursday, November 2nd, 1978

8: Loan Shark

Barney notes some uncharacteristic behavior from Yemana; a client can't get a tattoo artist to remove his work; Harris books a youthful loan shark

Thursday, November 9th, 1978

9: The Vandal

Barney has the uneasy feeling that it may have been Levitt that vandalized the precinct squad room; a TV programming executive is assaulted in a coffee shop.

Thursday, November 30th, 1978

10: The Harris Incident

A stockbroker leaves Wall Street to become a beggar; a rookie cop, assuming Harris to be a felon, shoots at him.

Thursday, December 7th, 1978

11: The Radical

Luger faces off against a 60s radical, and Harris arrests a portly second story man.

Thursday, December 14th, 1978

12: Toys

Feuding toy makers create a disturbance; Barney faces his first holiday as a separated man; a claustrophobic prisoner has an understandable problem with the cage.

Thursday, January 4th, 1979

13: The Indian

A woman has her shoes stolen - from her feet; Wojo is forced to arrest an aging Indian who only wants to die in the park.

Thursday, January 11th, 1979

14: Voice Analyzer

Lieutenant Scanlon returns, this time attempting to ferret out corruption with a lie detector; Barney is suspicious of a furrier's robbery report.

Thursday, January 18th, 1979

15: The Spy

A paranoid spy holds the precinct house at bay; the men bring in a disorderly mime.

Thursday, January 25th, 1979

16: Wojo's Girl (1)

Wojo decides to move in with his girlfriend; Mr. Brauer tells his wife that he's leaving to become a mercenary. This was a pilot for a potential spin-off series, each week focusing on one of the cops' off-duty lives.

Thursday, January 25th, 1979

17: Wojo's Girl (2)

Wojo struggles to co-habitate with his ex-prostitute girlfriend.

Thursday, February 1st, 1979

18: Middle Age

Barney feels the onrush of Father Time; Dietrich books an Olympic hopeful who practices his javelin toss in Central Park; a Hassidic Jew is the target of a diamond thief.

Thursday, February 8th, 1979

19: The Counterfeiter

Harris milks a wily counterfeiter for his life story; a man takes exception to a plastic surgeon's work on his wife.

Thursday, February 15th, 1979

20: Open House

The 12th Precinct hosts an open house, attracting only vagrants; Barney's joy at moving back home is cut short by the hotel manager that refuses to refund him his upcoming month's rent; Wojo and Harris try to get a lead on an arsonist.

Thursday, March 1st, 1979

21: Identity

Harris quickly regrets the fact that Dietrich has saved his life; the 12th is asked to assist a thief who has been granted entry into a witness-relocation program.

Thursday, March 15th, 1979

22: Computer Crime

A computer firm has difficulty retrieving embezzled funds; an educated young man claims to be under the influence of a voodoo curse.

Thursday, May 10th, 1979

23: Graveyard Shift

Barney and his crew face the late shift with a man who believes that he is being frequented by a succubus and an irate tourist.

Thursday, May 17th, 1979

24: Jack Soo: A Retrospective

The cast step out of character to offer a tribute to Jack Soo, who died during the show's fifth season.
Season 6
Thursday, September 13th, 1979

1: Inquisition

When an anonymous letter identifies a member of the 12th Precinct as a homosexual, it buys the boys a visit from Lieutenant Scanlon, who proceeds to make a witch hunt out of his search for the author. Meanwhile, a disgruntled shopper takes a fire axe to an elevator's MUZAK machine.

Thursday, September 20th, 1979

2: The Photographer

A tranquil prisoner claims to be Jesus Christ, which is timely for the drug dealer caught with an impressive stash; an elderly mugger poses as a photographer to ensnare lonely women.

Thursday, September 27th, 1979

3: Vacation

A string of false alarms suggests that a sniper may be after a cop, but the detectives are preoccupied with Barney's posted vacation schedules and the case of a man who won't donate a kidney to his ailing brother.

Thursday, October 4th, 1979

4: The Brother

A visiting monk opts for a quick dalliance with a lady of the streets; Barney discovers to his horror that Dietrich may not be cut out for mugging detail—especially since it must be done in drag.

Thursday, October 18th, 1979

5: The Slave

Harris bristles when he learns that the Burmese chauffeur being booked for a traffic accident is actually an indentured servant.

Thursday, November 1st, 1979

6: Strip Joint

A bookstore owner is infuriated when a strip club opens near his place of business; and man is convinced that he is on the verge of spontaneous combustion.

Thursday, November 8th, 1979

7: The Bird

Harris' book publication hits a snag when Dietrich refuses to sign a release; a suicide hot line operator becomes suicidal; the clerk that sold Wojo a sick bird changes his strict no-return policy when he learns that the detective is a cop.

Thursday, November 22nd, 1979

8: The Desk

A former master criminal becomes a walking zombie following his lobotomy; a man is unable to use the telephone after being mugged because he's Amish. Jeff Corey, who appeared previously as ""The Prisoner,"" was a renowned acting teacher.

Thursday, December 6th, 1979

9: The Judge

A judge provides an attorney with the ultimate over-ruling—a gavel on the noggin; the crimes reported by a lonely woman emanate from daytime television soap operas.

Thursday, December 13th, 1979

10: The DNA Story

The detectives search for a missing viral strain stolen from a lab; a woman is convinced that her husband is actually a clone.

Thursday, December 27th, 1979

11: The Dentist

One man's hands are a musical instrument to himself and a nuisance to others; a detective goes undercover to trap a dentist with wandering instruments.

Thursday, January 3rd, 1980

12: People's Court

Weary of an uncooperative populace, a census taker goes to drastic measures to make a head count; beleaguered apartment dwellers band together and capture a burglar.

Thursday, January 10th, 1980

13: Vanished (1)

Vagrant Ray returns to report his fellow bums' disappearances; a woman wishes to have a child with a surrogate and is focusing in on Dietrich and Wojo.

Thursday, January 17th, 1980

14: Vanished (2)

Harris disappears while undercover as a vagrant; Luger elects to be demoted rather than to retire.

Thursday, January 24th, 1980

15: The Child Stealers

A self-proclaimed time traveler tells Harris to fine tune his stock portfolio; Marty's divrorced gentleman friend Mr. Driscoll attempts to reclaim his son by abducting him from the playground.

Thursday, January 31st, 1980

16: Guns

Wojo fears that a despondent Luger is planning to do himself in; a man seeking to reclaim his television set robs the police vault; a rash of bizarre robberies leads to an eccentric gun collector.

Thursday, February 7th, 1980

17: Uniform Days

The cops observe the annual department-mandated ritual of wearing their uniforms - except for Harris who shows up in his usual natty street clothes.

Thursday, February 28th, 1980

18: Dietrich's Arrest (1)

A lottery winner dispenses of the prize money by tossing it out a window; Sgt. Dietrich is arrested for his off-duty participation at an anti-nuclear rally; Barney discovers he can't afford his condo-converted apartment.

Thursday, March 6th, 1980

19: Dietrich's Arrest (2)

Harris gets the unenviable task of booking his colleague Dietrich, whose arrest prompts a visit from Internal Affairs; meanwhile, a nuclear engineer is brought in for dousing the participants with atomic water.

Thursday, March 27th, 1980

20: The Architect

A disgruntled architect decides to improve on his building—by blowing it up.

Thursday, May 1st, 1980

21: The Inventor

The squad tries hypnosis to uncover the name of a felon that Wojo has forgotten; an inventor steals the plans for his own creation.

Thursday, May 8th, 1980

22: Fog

Barney is down in the dumps when he is passed over again for deputy inspector
Season 7
Thursday, October 30th, 1980

1: Homicide (1)

When the NYPD restructures its precincts as specialty squads, Luger pulls some strings and gets the 12th assigned as a homicide squad. Business is good; a man murders his barber, and a woman hires a hit man to kill her husband, and then changes her mind.

Thursday, November 6th, 1980

2: Homicide (2)

Harris woos the precinct's crime photographer, while Dietrich tracks down the hit man's intended target; Barney's frustration boils over when the new homicide-only edict results in the death of an old friend.

Thursday, November 13th, 1980

3: The Delegate

A drunk and disorderly turns out to be a delegate from the 1976 Democratic convention; Barney discovers a problem with the newly assigned Officer Nash - he's not a cop.

Thursday, November 27th, 1980

4: Dorsey

The new detective is convinced that his compatriots are on the take and asks to be dealt out.

Thursday, December 11th, 1980

5: Agent Orange

Another domestic dispute at the Brauer household occurs when their apartment building becomes ""clothing optional""; Wojo takes a personal interest in the plight of a fellow vet whose crime spree may be a result of the Agent Orange chemical.

Thursday, December 18th, 1980

6: Call Girl

Dorsey takes a protective stance to a young prostitute; Harris is getting stock tips from another one; and Dietrich is tempted by all of them as he experiments with celibacy.

Thursday, January 8th, 1981

7: Resignation

Dietrich, stricken with guilt when he shoots a felon, tenders his resignation; a playwright assaults an incompetent actor.

Thursday, January 15th, 1981

8: Field Associate

Someone is sending specific information on transgressions of the men to Internal Affairs; Harris sets up a reunion between an elderly cat burglar and the wife who reported him missing years ago.

Thursday, January 22nd, 1981

9: Movie (1)

Harris is assigned to direct a pornographic movie; an old-time radio newsman assaults a vacuous television anchor.

Thursday, January 29th, 1981

10: Movie (2)

A blind mugging victim and an overzealous charity collector are among the disparate audience members at the screening of Harris' overbudget film.

Thursday, February 5th, 1981

11: The Psychic

An accused mugger claims that he was answering a psychic vision; a language professor takes vandalistic umbrage to a grammatically incorrect billboard.

Thursday, February 12th, 1981

12: Stormy Weather

A deaf woman is arrested for prostitution; Barney anxiously awaits news of Wojo, who dived into the Hudson River in pursuit of a looter.

Thursday, February 19th, 1981

13: The Librarian

A serious tone pervades this episode about a gypsy and his harassment of the owner of a novelty store; on the lighter side, a librarian takes extreme measures to ensure quiet amongst the stacks.

Thursday, February 26th, 1981

14: Rachel

Ripner is suing Harris over the lawyer's portrayal in the detective's novel; Wojo asks Barney's daughter out on a date; a sporting-goods storeowner takes the law in his own hands.

Thursday, March 12th, 1981

15: Contempt (1)

A restaurant may have refused a man service because of his appearance; Barney won't name an informant so he's charged with contempt of court.

Thursday, March 19th, 1981

16: Contempt (2)

When Barney spends the night in jail, the squad room is left in the natty hands of Sergeant Harris.

Thursday, March 26th, 1981

17: The Doll

An expensive doll is abducted for ransom; a man claims he was swindled in exchange for a ticket on the space shuttle; Luger informs Barney that he's in his will.

Thursday, April 9th, 1981

18: Lady and the Bomb

The verdict is in on the Harris/Ripner libel suit, and a woman threatens to blow up the squad room with a homemade bomb. What better time for Detective Fish to drop by for a visit?

Thursday, April 30th, 1981

19: Riot

Luger takes a small disturbance with the Hassidic community and turns it into a full-scale riot; the squad discovers a survivalist couple setting up housekeeping in the sewers.

Thursday, May 7th, 1981

20: The Vests

The detectives are reluctant to wear their new bulletproof vests; Luger interviews them in case of the need for a quick obituary.

Thursday, May 14th, 1981

21: The Rainmaker

The officers arrest a rainmaker, only discover that he was hired by the drought-ridden city; Wojo, Harris and Dietrich each consider a job opening in vice.

Thursday, May 21st, 1981

22: Liquidation

Harris is forced to liquidate his possessions to pay off his lawsuit.
Season 8
Thursday, October 29th, 1981

1: Paternity

Wojo's proven innocent of a paternity suit, but at a cost; a beauty queen is robbed; an irate theater patron vandalizes the theater.

Thursday, November 5th, 1981

2: Advancement

Luger wants Barney to pen a letter for his mail-order bride; a lottery winner seeks revenge when the ticket seller loses his winning entry; Harris gets a new book deal.

Thursday, November 12th, 1981

3: The Car

A car thief's conscience gets the better of him ... after twenty-five years; Levitt saves a child from a precarious fate; an overzealous sanitation officer goes to extremes.

Thursday, November 19th, 1981

4: Possession

A husband is assaulted for forcing his wife into designer jeans; a disorderly conduct report leads to a man who swears he's possessed by an evil spirit.

Thursday, November 26th, 1981

5: Stress Analyzer

A job fair brings out the worst in a Peace Corps recruiter; Dietrich volunteers for a department stress experiment.

Thursday, December 10th, 1981

6: Games

A manufacturer of computer game processors is accused of espionage; a WAC supplements her income on the street.

Thursday, December 17th, 1981

7: Homeless

The 12th is overrun with homeless vagrants on Christmas; a greeting-card writer snaps; a cattle prod is the weapon of choice for a local merchant.

Thursday, January 7th, 1982

8: The Tontine

The penultimate survivor of a tontine attempts suicide in order to concede the money to his cousin.

Thursday, January 14th, 1982

9: Examination Day

The detectives don uniforms while Levitt and the others take sergeant's exams; Luger, working with the squad, is overly rough with a collar, and later with Barney.

Thursday, January 21st, 1982

10: The Clown

Street clowns fall prey to a serial mugger; a hundred inmates are sneaked out of holding in the middle of the night.

Thursday, February 4th, 1982

11: Chinatown (1)

A murder witness is uncooperative, so he, Harris and Dietrich are forced to share an apartment in seclusion until he talks; Lieutenant Scanlon falls for a wealthy mugging victim.

Thursday, February 11th, 1982

12: Chinatown (2)

Unless he confesses soon, Harris and Dietrich's unwilling roommate may witness another murder. Meanwhile, harassment charges are pressed against Lieutenant Scanlon.

Thursday, February 18th, 1982

13: Hunger Strike

Dietrich aids an elderly psychiatric patient who may be speaking a foreign language; a nuclear activist goes on a hunger strike to end nuclear arms; Barney declines a deputy inspector nomination.

Thursday, February 25th, 1982

14: Arrival

Luger's mail-order bride arrives; an elderly woman mugs a man.

Thursday, March 11th, 1982

15: Obituary

A newspaper obituary causes a stir when the subject turns up alive; the detectives snag a modern-day chicken thief.

Friday, March 26th, 1982

16: Inquiry

Internal Affairs is called in when a charge of excessive force is leveled against Wojo; an angry parent takes action when his child is declined admission into an exclusive kindergarten.

Friday, April 2nd, 1982

17: Old Love

Dietrich's old flame pays a visit; a former child actor clubs an agent with a telephone.

Friday, April 9th, 1982

18: Altercation

Harris and Arnold come to blows; a mugging victim confesses to a twenty-five year old crush on Barney.

Thursday, April 29th, 1982

19: Bones

A museum presses charges when an Indian retrieves his tribe's ancestral bones from an exhibit; a scoutmaster catches a mugger.

Thursday, May 6th, 1982

20: Landmark (1)

Wojo's discover of an ancient weapon puts the 12th Precinct up for sale.

Thursday, May 13th, 1982

21: Landmark (2)

The 12th Precinct is sold; Dietrich arrests the head of a crime school; Luger tries to duck out on his mail-order bride.

Thursday, May 20th, 1982

22: Landmark (3)

Friends, foes and felons alike drop by to pay their last respects as the detectives prepare to leave for new assignments; Harris contemplates his resignation when he's assigned to Flushing Meadows; Barney recalls friends departed before he turns out the squad room lights for the last time.