update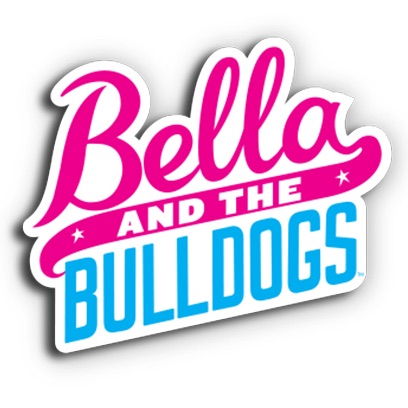 Season 1
Saturday, January 17th, 2015

1: Newbie QB (1)

Head cheerleader Bella earns a chance to try out to be quarterback of her middle school football team. Led by current quarterback Troy, the rest of the team does everything in their power to make her give up, but through perseverance, Bella rises to the challenge to make her dream a reality.

Saturday, January 17th, 2015

2: Newbie QB (2)

Part II - Cheerleader Bella Dawson earns a chance to try out for quarterback of her school's football team.

Saturday, January 24th, 2015

3: That's Some Gossip, Girl

The boys grow suspicious of Bella when they believe that she is leaking team secrets.

Saturday, January 31st, 2015

4: Pretty in Stink

Bella is expected to follow a Bulldog superstition to not shower, but doing so might ruin her chance for her crush Kyle to take her to the school dance.

Saturday, February 7th, 2015

5: Tex Fest

Bella volunteers to act in Pepper's video project for a town festival; Troy and Newt join the choir, where they experience a role reversal.

Saturday, February 14th, 2015

6: Dancing in the End Zone

Bella and Troy pretend to date, in order to keep Troy's secret.

Saturday, February 28th, 2015

7: That's My Tri-Five!

When a new cheerleader, Nickie, replaces Bella's spot on the cheerleading squad, Bella suspects that she is stealing Sophiie and Pepper from her. Meanwhile, Troy, Newt, and Sawyer become obsessed with their new spy gear kit.

Saturday, March 7th, 2015

8: A Good Bye Week

Bella and Kyle go on their first date; Bella seeks help from the boys when a twist of fate threatens her relationship with Kyle.

Saturday, March 14th, 2015

9: Bromantically Challenged

Bella must navigate a difficult situation when Troy and Sawyer fight over who will be her top receiver; Sophie and Pepper have trouble with their bake sale in Bella's absence.

Saturday, March 21st, 2015

10: Tornado Afraido

When the gang is locked down at school during a tornado warning, Bella gets everyone to help throw Pepper a party using supplies at school.

Monday, March 23rd, 2015

11: Incomplete Pass

Bella seeks Sophie's help to prepare for an oral exam in Spanish class; the boys find a mysterious list that fell out of Pepper's locker.

Saturday, April 4th, 2015

12: Backseat Quarterback

Bella is injured during practice and helps Troy prepare as the quarterback for an upcoming game, but when Troy scores the winning touchdown Bella worries about being replaced

Saturday, April 11th, 2015

13: Traitor Dater

When a boy from a rival team asks Bella to the homecoming dance, the team worries that she may not be able to keep her head in the game.

Saturday, April 18th, 2015

14: Bulldog Buddies

Troy is hurt when his younger brother chooses Bella as his football mentor; Pepper's parents forbid her from having a boyfriend.

Saturday, April 25th, 2015

15: Player Hater

When Troy begins dating Charlotte, Bella decides to put her differences with Charlotte aside; Bella struggles to break difficult news to her friend.

Saturday, May 2nd, 2015

16: Root for Newt

After Coach shuts down Newt's request to be a starter, Bella tries to help him find his place on the team; Troy becomes interested in an older girl and tries to ask her on a date using Sophie's advice.

Saturday, May 9th, 2015

17: Bulldog Blues

The Bulldogs lose to the worst team which sends the players into a tailspin. Bella guarantees they will make the playoffs, but has problems backing it up.

Saturday, May 16th, 2015

18: Kicking and Scheming

The Bulldogs lose their kicker and strike a deal with the soccer team.

Saturday, May 23rd, 2015

19: Third Degree Da-Burn

Bella roasts the team at their team dinner. Did her jokes go too far?

Saturday, May 30th, 2015

20: No Girls Allowed

The coach for their playoff opponent brings attention to an old rule which brings into question Bella's eligibility to play.
Season 2
Wednesday, September 30th, 2015

1: Wide Deceiver

Bella brings Troy to meet a NFL legend; Troy reveals a secret to Bella; Pepper and Newt have to do crazy dares in order to spend time with Sophie and Sawyer.

Wednesday, October 7th, 2015

2: Girls' Night

Bella, Sophie and Pepper plot the perfect revenge when a boy who wronged Bella winds up delivering their pizza during a sleepover; Newt and Sawyer help Troy move in to his new dorm.

Wednesday, October 14th, 2015

3: Personal Foul

Troy helps his new team prank the Bulldogs before their big game; Troy must decide where his loyalties lie when his new team plays dirty.

Wednesday, October 21st, 2015

4: Rally Week

Bella accidentally gives away Pepper's scarf when the Bulldogs were asked to switch their gifts with another teammate: Meanwhile, a girl named Vera treats Newt the way he treats Sophie.

Wednesday, October 28th, 2015

5: Sha-Boo! Ya

During Halloween, Troy and Sawyer try to scare the girls at the annual football and cheerleader camp out; an urban legend about the school's old groundskeeper becomes real.

Wednesday, November 4th, 2015

6: Who Killed Tex Fest?

The Bulldogs are outraged when Tex Fest gets canceled for the first time ever; Sophie trains Pepper to prepare for a change at home.

Wednesday, November 11th, 2015

7: Dudes & Chicks

Bella takes an interest in Sawyer's cousin but an incident from her past threatens the budding friendship; Sophie, Troy and Newt try to save baby chicks from an awful fate.

Wednesday, November 18th, 2015

8: Two Many Dates

Bella is stuck in the middle when she somehow ends up with two dates to the homecoming dance.

Saturday, February 13th, 2016

9: The Outlaw Bella Dawson

Bella gets a long-awaited message from Charlie that would take their relationship to the next level, but before she can answer she is forced to spend the day with Zach Barnes, confusing her feelings even further.

Friday, March 11th, 2016

10: Parents & Pigskins

Bella worries that her mother is going to be embarrassed at the annual parents and students flag football game; Newt and Sawyer believe that Troy has a secret weapon.

Saturday, March 26th, 2016

11: Glitz & Grit

Bella competes in a beauty pageant, determined to show that girls can be pretty and tough. Pepper and Sophie bet Troy and Sawyer that being a cheerleader is harder than it looks.

Saturday, April 2nd, 2016

12: Accept No Substitutes

When their coach gets sick, the Bulldogs take advantage of the substitute by not working hard and find themselves unprepared for their upcoming game.

Saturday, April 9th, 2016

13: I Love You, Hunter Hayes!

The Bulldogs blackmail Bella after she skips a team activity to go to a Hunter Hayes concert. Meanwhile, Pepper tries to get an interview with Hunter for the school news station.

Tuesday, April 12th, 2016

14: Party of Three

Bella works up the nerve to ask Zach on a date, only to have him arrive with a surprise in tow; Troy and Sawyer's favorite movie series leaves Newt unimpressed.

Saturday, April 23rd, 2016

15: Bad Grandma

Bella meets her hero while volunteering at a retirement home; Pepper and Newt face off about decorating a nursery.

Saturday, April 30th, 2016

16: Bella in the Spotlight

Bella has been recently getting a lot of attention, causing the rest of the team to feel left out. So she and Pepper try to get a local news reporter to do a whole interview, only to find out that he is a jerk.

Saturday, May 7th, 2016

17: Doggone Record Breaker

Troy's father visits just as Troy comes close to breaking his father's touchdown record, so Troy decides to do the unthinkable. Meanwhile, Bella, Sophie, and Pepper help Newt hide a dog at school.

Saturday, June 4th, 2016

18: Tailgating

Bella tries to hide the feelings she still has for Zach when Troy invites them to their tailgate. Troy and Sophie challenge Newt, Pepper, & Sawyer to some tailgate games.

Saturday, June 11th, 2016

19: Oh Baby, It's the Playoffs

Bella must make a tough decision when the Bulldogs' playoff game is moved to the same day as Pepper's mother's baby shower

Saturday, June 25th, 2016

20: Biggest. Game. Ever.

The team has a shocking realization when their new game plan for the state championship against their rivals does not work.