update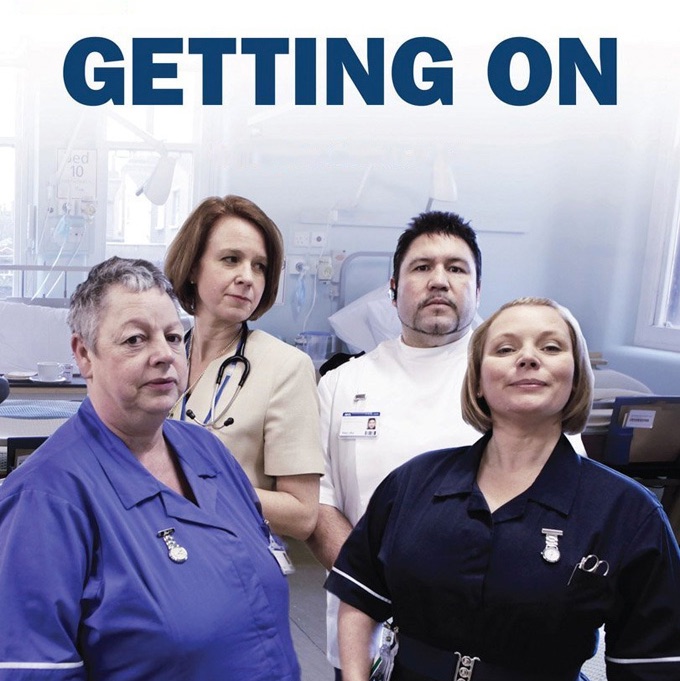 Season 1
Wednesday, July 8th, 2009

1: Episode 1

Ward B4 is a world of slips, trips and hips, where health care is at its least glamorous. Sister Den Flixter, Nurse Kim Wilde and Dr Pippa Moore assemble for ward round. The daily grind of new admissions and discharges has begun, but Hilary Loftus, the new male modern matron, has just started work and an unsavoury stool sample and a dead patient give him cause for concern. Kim finishes a slice of the dead patient's birthday cake and heads for home.

Wednesday, July 15th, 2009

2: Episode 2

Pippa is preparing her research paper and Den and Kim deal with a male referral, but it is problem patient Ivy who dominates the day. Aggressive and deeply unpleasant, she sets a chain reaction in motion that sees Hilary in tears and Kim in trouble. Elsewhere on the ward, life and death continues as normal, but with the MRSA statistics up it seems another crisis is just around the corner. Meanwhile, Den and Hilary are starting to bond.

Wednesday, July 22nd, 2009

3: Episode 3

The legacy of the Ivy fight has left a problem, with Hilary accusing Kim of making an inappropriate remark during the fight and insisting on disciplinary action. Kim has called in her union rep to defend her, but the meeting does little to sort out the mess. In revenge, Hilary demands the ward be shut down for a deep cleaning, forcing extra work on the staff. Pippa leaves for a health conference abroad, with her stool sample research complete.
Season 2
Tuesday, October 26th, 2010

1: Episode 1

Kim, Den and Pippa struggle through another normal day on B4. Kim has an unknown female to occupy her, Den has Hilary to cope with and Pippa has a ward round. New patient Mrs Fyvie is admitted, but it's her daughter Beedy who needs to be dealt with.

Tuesday, November 2nd, 2010

2: Episode 2

With Den and Hilary flirting behind closed doors, an incident on the ward is all it takes to trigger the blame game. Pippa has good news on her faecal forum paper and the presence of Peter Healy lightens her mood. Paperwork and pragmatism once again prevail as the staff on B4 clockwatch their way through the day.

Tuesday, November 9th, 2010

3: Episode 3

Kim has stepped in to cover a night shift and is looking forward to a quiet few hours, when a new admission and the surprise appearance of an emotional Den puts paid to any plans of a kip. With Dr Moore forced to divert from her regional sports awards dinner and attend an emergency a happy ending looks possible, but B4 isn't the sort of place where things run smoothly.

Tuesday, November 16th, 2010

4: Episode 4

Hilary's 'Icing the Cake' initiative is spreading... but not always successfully. Best behaviour has a habit of bringing out the worst. Pippa has a lunch appointment with Peter, while Den and Hilary have a difficult matter to deal with. Kim embarks on a vendetta of a different kind. Will they ice each other's cakes?

Tuesday, November 23rd, 2010

5: Episode 5

A graduate nurse drives a wedge between Den and Kim, and Hilary's elaborate new hand washing protocols hardly help matters. Pippa suffers the indignity of re-applying for her own job. Luckily, Kim and Den find a way of cheering things up, even if Dr Moore may not see the funny side.

Tuesday, November 30th, 2010

6: Episode 6

Kim has unwisely banked on her annual assessment with Nurse Flixter being a formality with a modest pay rise in the bank. Pippa's future is under scrutiny for different reasons as she reflects on life away from B4. Mrs Fyvie's decline continues, with Beedy at her bedside. And the new wing may have found a new life.
Season 3
Wednesday, October 17th, 2012

1: Episode 1

It's a new day, it's a new dawn, it's a new ward. King Edwards has shut, B4 is no more. Kim, Den and Pippa have moved to neighbouring St Jude's in anticipation of a now-stalled redevelopment. Their new home, twin-bayed K2, is modern and clean - all appears well. But behind the glossy facade lie the same old patients and problems, and beyond that comes a long list of new worries. Kim is barely keeping her head above water, home life for Pippa is no more settled, and Den is about to discover her own brand new challenge. With Hilary Loftus looking for efficiency savings and diversity cup cakes on the menu courtesy of modern matron Damaris, the staff once again get on with the daily task of getting on.

Wednesday, October 24th, 2012

2: Episode 2

Another shift, another shuttle bus to miss. The appearance of Dr Kersley and his commissioning consortia plans hints at the changes ahead for K2. Den enjoys her new-found treats, nice Damaris has her feet firmly under the desk, Kim makes a bold career move and Pippa deals with a pressing legal issue. Vag-At research under way, Dr Moore has plenty to take her mind off marital disharmony until a nasty online surprise brings her crashing back down to ground. But it's her cafetiere, brought in from home, that steals the show courtesy of Doris and a mix-up with the dementia care assistant.

Wednesday, October 31st, 2012

3: Episode 3

Hypochondriacal Mrs Dethick is re-admitted, adding to Den's problems. Kim finds help from an unexpected quarter, while Hilary is a man on a mission as the different designations of waste offer him a way back onto the ward. Megan is having trouble drumming up support for the forthcoming strike, while Pippa benefits from previously unseen talents hidden away on K2. The lights go down on another shift at K2 leaving Mrs Dethick in the dark and Den in a dark place. With Megan moody and Pippa scornful, Kim reluctantly turns to Damaris for help with her studies and sparks off an unexpected alliance.

Wednesday, November 7th, 2012

4: Episode 4

Kim has given up smoking and is starting to fell the effects. Den has a secret that she's attempting to hide. Pippa has a moment or two while Hilary is out on the prowl looking for cuts. Matters end up coming to a head following the arrival of a private patient and the search for a side ward, with Dr Kersley putting on the pressure.

Wednesday, November 14th, 2012

5: Episode 5

A few days have passed and the stormclouds have continued to gather. Damaris has gone, Megan is angry, Den is playing games and Mrs Dethick is back on the ward. On a positive note, Hansley has turned out to be something of a star turn and the Vag-At is going from strength to strength - at least it was, until a mix up with the oncology Christmas card competition leads to complications. A delicate situation needs careful handling, as a funny turn with the coma patient has unexpected consequences. Back on Red Bay, there's bad news for Mrs Dethick and a bittersweet moment as Pippa again defuses a tricky situation and still finds time to settle up with Hansley.

Wednesday, November 21st, 2012

6: Episode 6

Artist Dylan Schwarz and his assistant Elke arrive on K2 to set up a kids art project. Pippa is attracting the attention of Dr Kersley and obstetrician Dr Tatty Oxford, who in turn has a surprise of her own to spring on Den. Kim confesses that Dave has been offered a job in Iraq, Den ponders her own unexpected news and Pippa makes a discovery of a different kind in a corner at Chatters. Dylan's endeavours help solve one patient's diagnosis, but off the ward Den's announcement ends in a more brutal fashion with fisticuffs for Hilary. With Vag-At research a success, Pippa celebrates funding approval with a suitably open-mouthed Josh, who has a final surprise of his own to spring.