update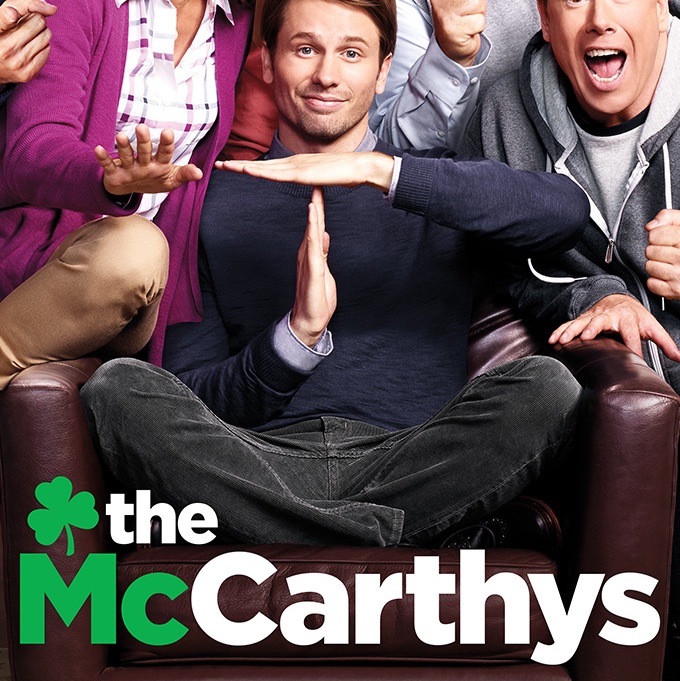 Season 1
Thursday, October 30th, 2014

1: Pilot

When Ronny considers moving away from his close-knit, sports-crazed family, his father surprises everyone when he offers him a job as his assistant basketball coach.

Thursday, November 6th, 2014

2: Love, McCarthys Style

After meeting his boyfriend's very affectionate family, Ronny tries to encourage his own family to share their feelings with one another. Meanwhile, Ronny makes a surprise video for Marjorie and Arthur when they celebrate their 35th wedding anniversary.

Thursday, November 13th, 2014

3: The Good Coach

Upset that Arthur chose Ronny to be his assistant coach, Sean and Gerard apply for other coaching jobs and wind up competing against each another. Meanwhile, Marjorie becomes jealous when she thinks Ronny has a boyfriend.

Thursday, November 20th, 2014

4: Supporting Jackie

The family tries to support Jackie when her doctor give her a list of things she cannot do while pregnant.

Thursday, November 27th, 2014

5: Thanks a Lot, Ronny

On Thanksgiving, the McCarthys work together to manipulate Gerard into parting ways with his offensive girlfriend.

Thursday, December 4th, 2014

6: Why Guys Shouldn't Date Their Sister's Ex

When Marjorie learns Jackie's ex-boyfriend is gay, she tries to fix Ronny up with him. Also, Sean gives Gerard a birthday gift that proves to be disappointing to everyone but Marjorie.

Thursday, December 11th, 2014

7: Arthur and Marjorie's Night Apart

When Marjorie learns she needs to spend the night in the hospital, she fixes Arthur a care package with instructions on how to perform basic life skills.

Thursday, December 18th, 2014

8: Red Sox Swap

Marjorie invites her heartbroken upstairs tenant, Pam, to celebrate Christmas with the family--and observe their competitive gift exchange game.

Thursday, January 8th, 2015

9: Sister Act

When Marjorie's extremely competitive sister, Eileen, comes to visit, their rivalry gets the best of them.

Thursday, January 15th, 2015

10: Hall of Fame

Marjorie tries to protect Gerard from getting his feelings hurt by leading him to believe he was inducted into the High School Hall of Fame. Also, Ronny works with Arthur to write a speech honoring his late assistant coach and Jackie's baby-daddy.

Thursday, January 29th, 2015

11: The Ref

When Ronny dates Doug, a handsome ref who has a history of infuriating Arthur, Ronny invites him over for dinner to convince them he is a nice guy. Meanwhile, Katrina is worried Gerard is cheating on her when he begins acting suspicious.

Saturday, July 4th, 2015

12: Gerard's Engagement Party

The McCarthy family is reluctant to celebrate Gerard and Katrina's engagement, but when Gerard gets on the wrong Boston Harbor Cruise ship, Marjorie is forced to bond with her soon-to-be daughter-in-law. Meanwhile, Sean hits it off with Katrina's mother, and Arthur judges Jackie for how her baby was conceived.

Saturday, July 4th, 2015

13: Cutting the Cord

When the McCarthys realize they have become extremely dependent on one another, they make a family bet to see who can be independent the longest. Meanwhile, Jackie hides her pregnancy while on a date.

Saturday, July 11th, 2015

14: Family Therapy

When the family finds out that Ronny sees a therapist, they crash his appointment and wind up in an impromptu family session where they air their grievances about one another.

Saturday, July 11th, 2015

15: End Games

The McCarthy children are sent into a frenzy when they each try to prove they are responsible enough to be appointed executor of their parents' will.