update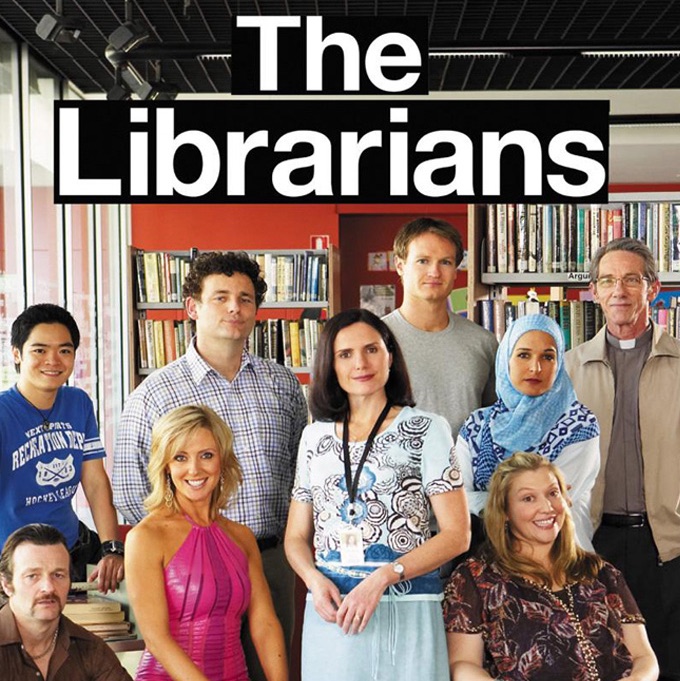 Season 0
not specified

1: ABC Promo Interview

not specified

2: Alternative Ending For Ep. 4

not specified

3: Deleted Scene From Ep. 6

not specified

4: The Making Of The Librarians

not specified

5: Frances' Speech

not specified

6: Christine's Antenatal Classes

not specified

7: Neil's Online Assignments

not specified

8: Deleted Scene

not specified

9: Outtakes
Season 1
Wednesday, October 31st, 2007

1: Should Old Acquaintance Be Forgot?

Highly-strung head librarian Frances O'Brien has to face her past when her ex-best friend applies for a job and her world is turned upside down.

Wednesday, November 7th, 2007

2: Repeat Offender

Jacinta McSweeney from the Premier's Department inspects Middleton Interactive Learning Centre as a possible venue for the launch of the Premier's Book Week.

Wednesday, November 14th, 2007

3: 4 Kilos to Book Week

Frances is on a diet in preparation for Book Week and as result is even more stressed and anxious than usual.

Wednesday, November 21st, 2007

4: Unholy Matrimony

Christine is preoccupied with trying to arrange an anniversary visit with her boyfriend Nikko in prison and neglects her School Holiday Boredom Busters program. Frances isn't happy.

Wednesday, November 28th, 2007

5: Amnesty

Frances' true feelings for Christine are revealed in the most unlikely circumstances.

Wednesday, December 5th, 2007

6: And Nothing but the Truth

Frances is flushed with excitement over Book Week but not for long. The truth behind Dawn's accident is revealed and Frances and Christine are brought together in the most unlikely circumstance.
Season 2
Wednesday, August 5th, 2009

1: Just Returned

Frances O'Brien, devout Catholic and panic disorder sufferer, is back at the Middleton Interactive Learning Centre, but being head librarian of this outer suburban library is harder than ever.

Wednesday, August 12th, 2009

2: This Little Piggy

With the official library opening only a week away, Frances feverishly regains control of her domain as Adrian Green, a big wig from the Library Association, arrives to assess Christine.

Wednesday, August 19th, 2009

3: Cut to the Quick

The day of the new library's official opening arrives and Frances is determined to use the occasion to re-stamp her authority. However during the day, events go from bad to worse for Frances.

Wednesday, August 26th, 2009

4: Romeos and Juliets

With Terry staying at his mum's house, Frances is tired and more irritable than usual. She's not sleeping, is drinking too much and is not able to concentrate at work.

Wednesday, September 2nd, 2009

5: Deliverance

To her absolute shock and horror, Christine goes into premature labour a month early. The Caesarean delivery she has booked is rendered useless, the labour ward is full and Christine is designated to the Birth Centre.

Wednesday, September 9th, 2009

6: My Rock

It's the day of the National Library Awards. Frances still can't believe that Nada is nominated for Librarian of the Year. But an opportunity arises for Frances to annihilate Nada's chance for the award.
Season 3
Monday, October 11th, 2010

5: Kerching Kerching

Xavier Fisher pays an unexpected visit to the library to check on the fundraising activities, while Pearl moves back in with Frances.

Wednesday, October 13th, 2010

1: Mother Pearl

Head Librarian Frances O'Brien is having a hellish time of it. Not only must the library turn a profit in order to stay open, but Frances's detestable mother Pearl comes to live with her.

Wednesday, October 20th, 2010

2: Quid Pro Quo

Frances needs to sell Pearl's house fast in order to pay for Pearl's accommodation at Gentle Pines nursing home. Meanwhile Xavier Fisher threatens staff cuts at Middleton Interactive.

Wednesday, October 27th, 2010

3: Tsukiji

Frances meets Indigo the 'New Age' real estate agent who is going to sell Pearl's house and the mystery contents of the shipping container parked in Pearl's front yard are revealed.

Wednesday, November 3rd, 2010

4: Dark Before Dawn

Gentle Pines is hounding Frances for payment. If she can't pay up, Pearl will end up living with Frances at the O'Brien house. Meanwhile back at the library, Dawn hands in her resignation.

Wednesday, November 17th, 2010

6: Milk, Not Cheese, Moon

Frances and Christine are both caught trying to steal fundraising money, meanwhile Nada is visited by another potential suitor, the mysterious Jaffar Abassi.

Wednesday, November 24th, 2010

7: Pearl of Wisdom

The library is a hub of activity for Senior Citizens Day. Frances is busy trying to find a replacement to take a tour group on a historical walk of Middleton when Terry arrives with Pearl.

Wednesday, December 1st, 2010

8: Power and the Passion

The fundraising thermometer has hit rock bottom and government bureaucrat Xavier Fisher orders immediate cutbacks. Frances is determined to make a stand and save her staff.