update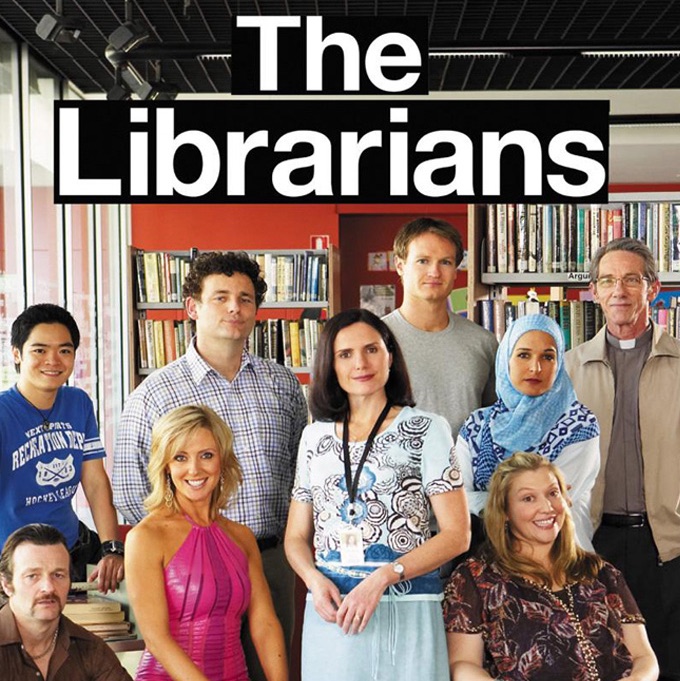 Season 0
not specified

1: ABC Promo Interview

not specified

2: Alternative Ending For Ep. 4

not specified

3: Deleted Scene From Ep. 6

not specified

4: The Making Of The Librarians

not specified

5: Frances' Speech

not specified

6: Christine's Antenatal Classes

not specified

7: Neil's Online Assignments

not specified

8: Deleted Scene

not specified

9: Outtakes
Season 1
Wednesday, October 31st, 2007

1: Should Old Acquaintance Be Forgot?

Frances O'Brien is the highly-strung Head Librarian of the Middleton Interactive Learning Centre, and is completely insensitive to the needs of her eclectic group of employees and the public in general. Immersed in planning for Book Week, her focus is diverted when her ex-best friend and nemesis, Christine Grimwood applies for the Children's Librarian's position. While completely unsuitable, Christine desperately needs a responsible job before fronting court on drug trafficking charges. Frances refuses but soon finds herself forced to hire Christine.

Wednesday, November 7th, 2007

2: Repeat Offender

Jacinta McSweeney from the Premier's Department inspects Middleton Interactive Learning Centre as a possible venue for the launch of the Premier's Book Week. Frances is flushed with excitement at the thought of the spotlight being on the library and more importantly, herself. However Jacinta is more interested in Christine, the Children's Librarian. This regurgitates unpleasant past memories for Frances where Christine was always the popular one. Christine avoids filling out a police check as she knows her criminal past will be revealed and she'll be sacked. Neil asks Christine out on a date and Nada once again encounters Frances's intolerance of her Muslim students.

Wednesday, November 14th, 2007

3: 4 Kilos to Book Week

Frances is on a diet in preparation for Book Week and as a result is even more stressed and anxious than usual. Christine's slimy lawyer Piero (Grant Piro) puts pressure on her to get Frances to testify in her favour if there is any chance of an acquittal. Christine knows Frances will refuse and must find a way to win her over. Christine realises how important Book Week and the Premier's visit is to Frances and takes advantage of her vulnerability by offering some beauty tips. Frances relaxes and for a moment, enjoys Christine's company, a distant memory of their school days. The pleasantness doesn't last long. When Christine inadvertently.

Wednesday, November 21st, 2007

4: Unholy Matrimony

It's two weeks until Book Week and panic sets in as Frances discovers a spate of pornographically vandalised books. Christine is preoccupied and neglects her School Holiday Boredom Busters program. Frances isn't happy. Christine is distraught at the prospect she could go to jail and not see Nikko for ten years. Father Harris is sympathetic to her plight and arranges a conjugal visit for Christine and Nikko. Frances is aghast that Father Harris would do this. Terry visits Frances at the library. While she struggles to have a conversation with her husband, she dwells on the circumstances, which ultimately resulted in her loveless marriage.

Wednesday, November 28th, 2007

5: Amnesty

Frances catches Christine having phone sex with Nikko. She is furious but strangely aroused. Christine makes photocopies of her breasts to send to Nikko but the copies end up in the hands of the staff. Frances is overly disturbed by what she interprets as the staff's preoccupation with sex when in fact, Frances is struggling with her own sexual repression. Christine is paired up with Lachie at Dawn's workshop: The art of meeting people. Frances is incensed by Christine's flirting. She tries to tear her away from Lachie but ends up in an embarrassing encounter which leaves the entire room gobsmacked. Frances confesses to Father Harris who is astounded by her actions and is unsure of her penance.

Wednesday, December 5th, 2007

6: And Nothing but the Truth

There's great excitement in the library because it's Book Week and the Premier is visiting. However, Christine isn't celebrating. It's the week of her court case and Frances still refuses to testify. The investigation into Dawn's accident continues, making Frances very uneasy. The Premier commends Frances for her community service much to the disbelief of the staff. Heady with self-adulation, she decides to help Christine.
Season 2
Wednesday, August 5th, 2009

1: Just Returned

Frances O'Brien, devout Catholic and panic disorder sufferer, is back at the Middleton Interactive Learning Centre. But being head librarian of this outer suburban library is harder than ever — especially when her right to the throne is being threatened by her Muslim colleague Nada — touted as the N.B.L (Next Big Librarian). Frances can't seem to get anybody's attention. Ky is in love, Dawn is broken hearted and Matthew is exploring his sexuality. Neil, the convicted thief, is back — a free citizen and proudly wielding a Middleton library card. Father Harris is on sabbatical — Frances is at sea. Life at home isn't any better. Terry is masturbating more frequently and their daughters are wilder than ever. Frances tries valiantly to ignore her responsibilities as a mother — in fact, not even think about motherhood, which is a little difficult when Christine is seven months pregnant and again working as the Children's Librarian. Single and dreading being a parent, Christine still manages to make pregnancy glamorous and Frances is constantly reminded of her own deeply unattractive pregnancies — and how they bore her wayward daughters. It all leaves Frances breathing harder into her paper bag than ever as she wrestles with being a mother, a lover and a librarian.

Wednesday, August 12th, 2009

2: This Little Piggy

With the official library opening only a week away, Frances - newly reinstated as head librarian - feverishly regains control of her domain, ordering the staff to help stack the books, unpack the boxes and remove a pig's head which is firmly lodged in the returns chute. Christine refuses to help as she is being assessed for her Re-Accreditation. When Frances finds out the assessor is Adrian Green, a big wig from the Library Association, she panics and futilely tries to stop him coming. Christine's pregnancy continues to remind Frances of her own maternal irritations, as she fends off prank calls from her expelled daughter at home. Meanwhile Dawn pines for her lost love in Barbados and Matthew takes advantage of her broken heart.

Wednesday, August 19th, 2009

3: Cut to the Quick

The day of the new library's official opening arrives and Frances, anxiously rehearses her speech, determined to use the occasion to re-stamp her authority. Although she thinks Nada's decision to get the Minister for Ethnic Affairs to open the library was inappropriate, Frances is nevertheless over the moon at the prospect of sitting alongside her. Unfortunately the Minister is not remotely interested in Frances or what she has to say, preferring to mingle with Nada and other guests at the Culture Pod. Frances's jealousy is compounded when Terry discovers Christine is pregnant at the opening and lavishes attention on her. Christine is preoccupied with her own troubles; Nikko is legally demanding to be present at the birth and Neil is trying to persuade her that he could be the father of the baby. While secretly, Dawn and Matthew engage in a clandestine steamy relationship.

Wednesday, August 26th, 2009

4: Romeos and Juliets

Wednesday, September 2nd, 2009

5: Deliverance

Wednesday, September 9th, 2009

6: My Rock
Season 3
Monday, October 11th, 2010

5: Kerching Kerching

Frances's (Robyn Butler) worst nightmare has come true... she's once again living under the same roof as her mother. With the tuna for sale on ebay, Frances hopes it won't be long before they can afford to send chain-smoking Pearl (Victoria Eagger) back to Gentle Pines. In the meantime, Terry (Wayne Hope) is charged with keeping an eye on her during the day. Since giving up breastfeeding, Christine (Roz Hammond) has trouble controlling her eating. Still feeling guilty about Ky's (Keith Brockett) accident, Dawn (Heidi Arena) starts fundraising for stem cell research in the hope of being able to walk again one day. Nada (Nicole Nabout) finds her personal details posted on an online Muslim dating service and Xavier Fisher (Angus Sampson) pays an unexpected visit to the library.

Wednesday, October 13th, 2010

1: Mother Pearl

Head Librarian Frances O'Brien is having a hellish time of it. Not only must the library turn a profit in order to stay open, but Frances's detestable mother Pearl comes to live with her.

Wednesday, October 20th, 2010

2: Quid Pro Quo

Frances needs to sell Pearl's house fast in order to pay for Pearl's accommodation at Gentle Pines nursing home. Meanwhile Xavier Fisher threatens staff cuts at Middleton Interactive.

Wednesday, October 27th, 2010

3: Tsukiji

Frances (Robyn Butler) meets Indigo (Celia Pacquola) the 'new age' real estate agent who is going to sell Pearl's (Victoria Eagger) house. Back at the library, Christine (Roz Hammond) sets up a major fundraising initiative that promises to make a lot of money. After another discouraging rejection letter for his novel, Matthew (Stephen Ballantyne) gets encouragement from Dawn (Heidi Arena) to start writing DVD reviews instead. With his old band mates Biscuit (Justin Hamilton), Bingo (Tony Moclair) and Skunk (Craig Pilkington) on board, Terry is reliving his youth, playing with his old band - Oils Ain't Oils… in the garage. Much to Frances's relief, Indigo sells Pearl's house, but celebrations are cut short when the mystery contents of the shipping container parked in Pearl's front yard are revealed.

Wednesday, November 3rd, 2010

4: Dark before Dawn

Pearl's (Victoria Eagger) nursing home, Gentle Pines, is hounding Frances (Robyn Butler) for payment, money Frances doesn't have. But if she doesn't pay up, Pearl will end up living at the O'Brien house. Terry (Wayne Hope) desperately seeks a buyer for the tonnes of tuna stocked up in their garage. Back at the library, Neil (Bob Franklin) gives Matthew (Stephen Ballantyne) some writing tips for his DVD reviews 'Matthew Recommends' and Frances is shocked when Dawn (Heidi Arena) hands in her resignation.

Wednesday, November 17th, 2010

6: Milk, Not Cheese, Moon

Frances and Christine are both caught trying to steal fundraising money, meanwhile Nada is visited by another potential suitor, the mysterious Jaffar Abassi. CAST: Robyn Butler, Wayne Hope

Wednesday, November 24th, 2010

7: Pearl of Wisdom

The library is a hub of activity for Senior Citizens Day. Ky (Keith Brockett) is busy conducting video interviews for an oral history project and Christine (Roz Hammond) is manning the Devonshire tea stand. With the tour-guide waylaid, Neil (Bob Franklin) steps in to lead a group of seniors on a historical walk of Middleton. To Frances's (Robyn Butler) shock, Terry (Wayne Hope) arrives with Pearl (Victoria Eagger). But the day gets progressively worse as Frances learns that Showbiz Video is in liquidation when the receivers turn up to seize all assets.

Wednesday, December 1st, 2010

8: Power and the Passion

The fundraising thermometer has hit rock bottom and government bureaucrat Xavier Fisher orders immediate cutbacks. Frances is determined to make a stand and save her staff. CAST: Robyn Butler, Wayne Hope