update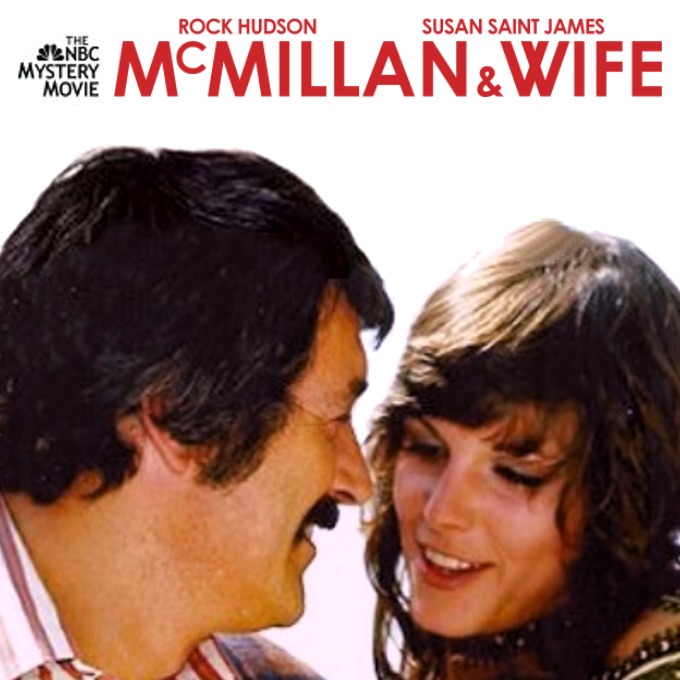 Season 0
Friday, September 17th, 1971

1: Once Upon a Dead Man (pilot)

A theft at a charity auction and the disappearance of an Egyptian sarcophagus.
Season 1
Wednesday, September 29th, 1971

1: Murder by the Barrel

On moving day, Sally discovers a dead body in a moving barrel. When she leaves to tell Mac, the barrel disappears. What happened to it?

Wednesday, October 20th, 1971

2: The Easy Sunday Murder Case

After the crosswords... a woman's husband is kidnapped, and her dog.

Wednesday, November 10th, 1971

3: Husbands, Wives and Killers

A valuable necklace under the eyes of Mac and Sally at a masked ball.

Wednesday, December 8th, 1971

4: Death is a Seven Point Favorite

A mysterious note in a football begins a case.

Wednesday, January 5th, 1972

5: The Face of Murder

A phiz for the fuzz. Sally becomes the prey of a jewel thief out to dispose of witnesses.

Wednesday, February 16th, 1972

6: Till Death Do Us Part

Sally and Mac are sealed in their home by a killer.

Wednesday, March 1st, 1972

7: An Elementary Case of Murder

Mac's old flame is accused of murder and the evidence points to her, or does it? Barabara McNair guest-stars in this unusual episode which was lifted almost verbatim from Season 2 of 'Ironside' (staring Raymond Burr), Episode 9.
Season 2
not specified

8:

Sunday, September 24th, 1972

1: Night of the Wizard

A man is done in by his wife, but he's not done yet. Evidently his ghost is unquiet.

Sunday, October 22nd, 1972

2: Blues for Sally M.

A composer is up against it, and Sally's somehow connected to him.

Sunday, November 19th, 1972

3: Cop of the Year

After receiving the Cop of The Year award, Sgt. Enright is accused of the murder of his ex-wife--and the case against him seems air-tight.

Wednesday, December 13th, 1972

4: Terror Times Two

The mob abducts Mac and replaces him with a surgically-altered lookalike, to liquidate a squealer in a tightly-guarded hospital.

Sunday, January 14th, 1973

5: No Hearts, No Flowers

Sally's next on a maniac's agenda; a psychiatrist assists.

Sunday, March 11th, 1973

6: The Fine Art of Staying Alive

Sally is kidnapped at an art museum. The ransom: a priceless painting owned by Spain that they are unwilling to relinquish. Mac's only clue takes him back to the day he proposed to Sally.

Sunday, April 1st, 1973

7: Two Dollars on Trouble to Win

Strange accidents surrounding a thoroughbred horse suggest its owner, an old family friend of Sally's, is a target for murder.
Season 3
Sunday, September 30th, 1973

1: Death of a Monster...Birth of a Legend

It's off to Scotland to see the laird and the loch, where the game's afoot.

Sunday, October 21st, 1973

2: The Devil You Say

Mildred thinks she's witnessed a murder, and Sally receives a strange gift in the mail: film of a satanic ritual. More gifts reveal someone has it in for Mildred and a yen for Sally.

Sunday, November 11th, 1973

3: Freefall to Terror

A suicide investigation reveals the executive had a merger in the works.

Sunday, January 6th, 1974

4: The Man Without a Face

A colleague from military intelligence calls on Mac, and is murdered. First two-hour episode of the series.

Sunday, January 27th, 1974

5: Reunion in Terror

Mac's old football squad is being eliminated one by one.

Sunday, February 17th, 1974

6: Cross & Double Cross

Mac switches places with Claudio Manton, a hood with a striking resemblance, to intercept stolen gold trans-shipped from France via Portugal and Mexico.
Season 4
Sunday, September 29th, 1974

1: Downshift to Danger

The grand prize of the 20th Annual Golden State Rally in Monterey is an antique car collection willed by a late millionaire. Mischief develops into mishaps and worse, until an entrant is killed.

Sunday, October 20th, 1974

2: The Game of Survival

A temperamental tennis champion is suspected of murdering a newspaper magnate who had him suspended.

Sunday, November 10th, 1974

3: Buried Alive

A WWII intelligence colleague, long since thought to be dead, turns up and is murdered.

Sunday, December 8th, 1974

4: Guilt by Association

Mildred is accosted while serving on a sequestered jury, then another juror is murdered in his locked room.

Sunday, January 19th, 1975

5: Night Train to L.A.

Mac heads south to a police convention on a train filled with officers, Mildred, and the author of Cops and Other Crooks, who is murdered en route.

Sunday, February 16th, 1975

6: Love, Honor and Swindle

It seems that Mac's sister is engaged to a con man out to diddle a mining company.
Season 5
Sunday, September 28th, 1975

1: Deadly Inheritance

At Andy Kenesaw's 90th birthday party, an attempt is made on his life, just before a stockholders' meeting of the company he founded with Mac's grandfather years before (Kenemac Alfalfa Corporation, est. 1901) is held to consider a merger bid from Harvest Foods Incorporated.

Sunday, October 26th, 1975

2: Requiem for a Bride

Commissioner McMillan celebrates an old friend's wedding, but the honeymoon ends when the bride is murdered, and the intended victim may be closer to home.

Sunday, November 9th, 1975

3: Aftershock

Unusual interest is shown in the McMillans' house when Sally thinks of selling it. Then an earthquake reveals a body behind the brickwork.

Sunday, December 7th, 1975

4: Secrets for Sale

During an election, the city is beset by a fiscal crisis. Politicians are being blackmailed, and Sgt. Enright leaves the force to marry an heiress and work for a private detective agency.

Sunday, January 18th, 1976

5: The Deadly Cure

Mac is wounded in a failed drug raid and sent to the hospital, where he sees a patient smothered, and slowly unravels the case.

Sunday, February 15th, 1976

6: Greed

Mildred and Agatha are named in a will. Heirs start dying, and next to inherit is Agatha, whose investigation runs parallel to McMillan's.

Sunday, March 7th, 1976

7: Point of Law

A naval lieutenant facing a court-martial on a murder charge is appointed counsel in the person of Commander McMillan, USNR.
Season 6
Sunday, December 5th, 1976

1: All Bets Off

The wagers of sin. Mac is out to retrieve a set of diamonds swiped from his girl in Vegas.

Sunday, January 2nd, 1977

2: Dark Sunrise

Mac is away on a fishing trip when his house is blown up by a would-be assassin. Presumed dead, he investigates.

Sunday, January 23rd, 1977

3: Philip's Game

Up against a hit man who announces himself.

Sunday, January 30th, 1977

4: Coffee, Tea or Cyanide?

You pays your money, you takes your choice. While on an airline flight, Mac witnesses passengers dying mysteriously.

Sunday, March 20th, 1977

5: Affair of the Heart

The case is clear, according to the Deputy D.A., but Mac has his doubts.

Sunday, April 24th, 1977

6: Have You Heard About Vanessa?

After a model commits suicide, Mac investigates her lonely life.