update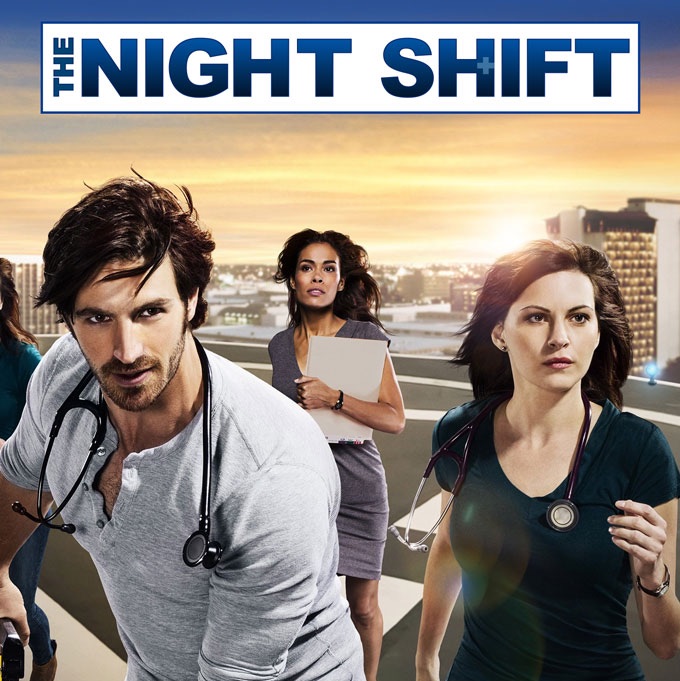 Season 1
Tuesday, May 27th, 2014

1: Pilot

Welcome to the night shift at San Antonio Memorial, where those who work the Night Shift are a special breed. Every night is a balancing act between the heroic efforts to save lives and the hard truths of running a hospital. After a rough night, TC Callahan, a gifted ex-Army doctor, deals with a life-threatening situation on his way into work. TC's current colleague and ex-girlfriend Jordan Alexander angles for the top job to run the night shift but she must convince their new boss Michael Ragosa that she has what it takes to bring order to the chaos. TC and Ragosa clash over hospital business matters - TC would do anything to save a patient while Ragosa has his eye on the bottom line. Later, TC and Topher are called to the scene of a nighttime crash and must deal with a dramatic injury that demands all of TC's expertise. Back at the hospital, ER psychiatrist Dr. Landry De La Cruz consoles the brother of the wounded teen while TC performs an unusual and extremely risky surgery. TC later counsels Drew about a secret he is keeping but unbeknownst to the staff, Ragosa is hiding a secret of his own.

Tuesday, June 3rd, 2014

2: Second Chances

When a Sheriff's Deputy is critically injured, TC Callahan faces a personal challenge and struggles to do everything to save him, even calling in a cardiac specialist over the objections of his boss Michael Ragosa. Topher and Krista assist in the delicate surgery, while Jordan works to keep the peace and keep the ER running. Paul must attend to an elderly woman with a very challenging case. Kenny deals with an injured groom who has been hiding a secret from his bride. Meanwhile, Drew and Landry are faced with a 9-year-old boy who has suspicious injuries. While they initially suspect the mother, the truth is a little more complicated.

Tuesday, June 10th, 2014

3: Hog Wild

TC and Paul are called to the chaotic scene of a nighttime hog-hunting excursion that has gone horribly wrong. One patient has lost a hand to a feral hog and another has been shot with an arrow through the chest. Topher deals with a resourceful 9-year-old girl who has come to the hospital on her own to seek treatment but soon realizes the case is far more complicated. Drew injures his hand during a MMA fight and enlists Krista to help him keep it a secret from Jordan. Ragosa seeks some family counseling from Landry and when Ragosa threatens to close down the staff hangout known as the "Tailgate," Landry helps him understand the benefits of a compromise.

Tuesday, June 17th, 2014

4: Grace Under Fire

The emergency room is flooded with patients from an annual Alamo reenactment. TC, Jordan and Kenny deal with a critically wounded patient who is disoriented and suffering from amnesia. The patient is also wearing a bracelet indicating he declines medical treatment, putting Jordan in a professional bind with Ragosa. Meanwhile, Drew must keep a severely wounded soldier alive while being miles away from help. Back at the hospital, Ragosa helps himself to aspirin in Landry's office but soon realizes he has taken something very different. Topher schedules a vasectomy operation and the staff can't resist the temptation to tease him at every turn. Jordan's long-distance boyfriend Scott, surprises her with a visit to the hospital.

Tuesday, June 24th, 2014

5: Storm Watch

An epic storm hits San Antonio and the emergency room is awash in patients and must use their battlefield skills to deal with massive power outages. TC and Dr. Scott Clemmens race to the scene of a mudslide disaster to treat a gravely injured mother and her son. Paul rises to the challenge of caring for the boy, whose condition takes an unexpected turn for the worse. Scott considers an offer from Ragosa to join the hospital staff as head trauma surgeon. Jordan isn't sure that's going to work out with the tensions between TC and Scott. Landry is caught by surprise when a family member shows up at the hospital looking for money to cover his debts. She finds some needed moral support from Ragosa. Meanwhile, Topher must head out into the storm to help his wife who is stranded and going into labor with twins.

Tuesday, July 1st, 2014

6: Coming Home

Drew is looking forward to the return of his boyfriend Rick from his overseas deployment but things go terribly wrong as a horrific crash sends badly wounded soldiers, including Rick, into the emergency room. Drew struggles to keep his relationship under wraps with TC's help, as they both try to save Rick. TC and Scott argue over who is in charge and Jordan realizes she has to deal with some unresolved feelings for TC. Topher struggles to diagnose a soldiers illness as Krista fends off the flirtations of young soldiers in the emergency room, and Paul must contend with their good-natured teasing because he looks so young. Kenny discovers Ragosa's online dating profile and offers to help fix it up.

Tuesday, July 8th, 2014

7: Blood Brothers

When a small plane goes down near San Antonio, TC and Topher chopper out to the scene and retrieve the lone survivor. Back in the ER, they deal with his serious injuries but must fend off Milo, a menacing law enforcement officer with a hidden agenda. Paul is mesmerized by an injured exotic dancer who lands in the emergency room after falling during her performance. When her condition takes a mysterious turn for the worse, Paul, Kenny and Drew are baffled by her life threatening symptoms and must go to an already swamped Jordan for help. Krista tries to help a teenager with a serious eating disorder that her family refuses to recognize. Meanwhile, TC struggles with increasing flashbacks and the traumatic death of his brother in Afghanistan.

Tuesday, July 15th, 2014

8: Save Me

Topher is gravely wounded in a shootout with Milo. TC and Scott perform Topher's emergency surgery as TC struggles to keep his increasingly troubling Afghanistan flashbacks under control. After experiencing the hostage situation, Jordan comes to understand the immense pressure that TC has been under since leaving Afghanistan. She struggles to maintain her composure when she must treat Milo, who was responsible for the shooting. Meanwhile, an explosion at a fertilizer factory sends badly burned victims to the ER and threatens to overwhelm the shorthanded staff. Krista must step up to manage a patient who is crashing. Jordan learns a devastating secret about TC.
Season 2
Monday, February 23rd, 2015

1: Recovery

Topher takes over as chief of the night shift. TC is temporarily suspended. Jordan is scrutinized for her mishandling of the man who shot a recovered Topher. A father is trapped under an elevator. Ragosa returns to the ER.

Monday, March 2nd, 2015

2: Back at the Ranch

The night shift is tested when a rancher accidentally shoots his wife. TC heads to a teen party to save the life of a young football star. Jordan and Kenny treat a beauty queen in severe distress. Topher makes a decision about his job.

Monday, March 9th, 2015

3: Eyes Look Your Last

The night shift crew is put to the test when a teenage couple and a young mom land in the emergency room after a serious car crash. Topher, TC, Jordan and Scott tend to the youngsters, who were returning from their secret wedding. As the girl's condition worsens, TC tries in vein to calm her distraught father. Jordan and Gwen tend to the other victim, a young pregnant woman whose fiancé is deployed in Afghanistan. The team hastily arranges a proxy wedding so that she can be married before delivering the baby through an emergency caesarian section. Meanwhile, Paul tends to a wealthy, eccentric hospital benefactor who teaches him it's ok to follow his heart.

Monday, March 16th, 2015

4: Shock To The Heart

TC, Joey, and Gwen rescue an injured skydiver from the site of a near-fatal crash. Joey and Krista counsel the skydiver's girlfriend after they uncover serious complications in the operating room. TC, Topher, and Ragosa treat an electrocuted janitor whose family gathers around him in the ER. When the patient's wife and children suddenly come down with their own life-threatening symptoms, the night shift team works overtime to save them. Jordan and Paul attend to a college student who comes to the ER with a mild fever. As they uncover the cause of her condition, Jordan teaches Paul a difficult lesson about his limitations as a doctor. Meanwhile, Rick arrives at the hospital with an injury that he hides from his boyfriend, Drew.

Monday, March 23rd, 2015

5: Ghosts

Paul, Ragosa and Kenny care for a quarantined patient exposed to radiation; TC, Drew, and Gwen race to the site of a multi-victim car cash; a former patient harasses Jordan; Joey pushes Krista to take her future into her own hands; Drew struggles with his recent breakup and TC gets an unwelcome surprise upon his return to the ER. ''Note: This episode and episode 6 aired out of order, resulting in some inconsistencies.''

Tuesday, March 24th, 2015

6: Fog of War

As a thick fog descends upon San Antonio, the doctors must improvise to save the victims of a car crash; Topher, Drew and Kenny treat siblings injured in the fog. ''Note: This episode and episode 5 aired out of order, resulting in some inconsistencies.''

Monday, March 30th, 2015

7: Need to Know

T.C. discovers his sister-in-law's complicated history after he treats her for a fall down stairs; Jordan and Gwen tend to a boy who fell down a well; Ragosa must come clean to his daughter about his position at the hospital.

Monday, April 6th, 2015

8: Best Laid Plans

A downtown gas explosion sends dozens of casualties to San Antonio Memorial Hospital.

Monday, April 13th, 2015

9: Parenthood

Drew finds himself in the middle of a shooting at a friend's Army promotion ceremony and springs into action, disarming the shooter. Later, he has to treat his best friend's wife and finds that her bullet injury has revealed an even more severe medical condition. Topher and TC treat a young woman whose chronic bouts of psychosis are becoming a danger to herself and her family. The ER team has to scramble to diagnose and treat the young woman before she is arrested for her mysterious, violent behavior. Paul treats a nine-year-old boy with severe cystic fibrosis and his concern for the boy's health leads him to break a few rules regarding hospital protocol. Meanwhile, Ragosa is devastated when his financial troubles put his daughter's Quinceañera in jeopardy.

Monday, April 20th, 2015

10: Aftermath

Jordan and Krista rescue the victim of a motorcycle crash on a deserted rural road. Miles away from an ER, they improvise emergency medical care for the injured motorcyclist and rush him to the nearest operating room -- in a veterinary hospital. Back at the hospital, TC and Paul race to diagnose the cause of a teenager's life-threatening overeating condition while Topher treats a friend who is concealing a dangerous secret. Meanwhile, Drew shrinks from the media's eye as his heroic gunman takedown goes viral, but he gets a welcome surprise when Rick returns.

Monday, April 27th, 2015

11: Hold On

A building collapses during a rodeo; Scott causes a serious car accident.

Monday, May 4th, 2015

12: Moving On

TC introduces the night shift team to his MMA group therapy leader Colonel Elwood "Smalls" Green (guest star, country music legend Trace Adkins), who surprises the group with special greeting from the White House. Jordan and Paul help a nine-year-old boy with a serious fever. When his high-strung mother begins to exhibit signs of distress as well, the team realizes there is more to the family dynamic than meets the eye. Topher is faced with a big decision about making an emergency trip overseas to help an old mentor. TC grapples with whether to accompany him on the journey. Meanwhile, Ragosa, Drew and Krista compete for the strangest cases of the night as the full moon brings out the worst in people.

Monday, May 11th, 2015

13: Sunrise, Sunset

Drew and Paul head to the scene of a multi-car collision while the newly-anointed Dr. Ragosa along with Jordan, Scott, Krista and Kenny, manage the deluge of incoming victims. Meanwhile, TC and Topher head into a war zone to treat an old friend.

Monday, May 18th, 2015

14: Darkest Before Dawn

TC and Topher return from Afghanistan to find Jordan's life on the line and San Antonio under fire as two deadly snipers terrorize the city. TC and Scott unite to care for a comatose Jordan and her unborn baby. Drew and Gwen are caught in a fire fight when a SWAT Team corners the two snipers. Meanwhile Dr. Joey Chavez scrubs back in for the night, and he calls into question his future with Krista. Ragosa helps Paul make a difficult decision about his future.
Season 3
Wednesday, June 1st, 2016

1: The Times They Are A-Changin (1)

The night shift crew is back for more action and the gang finds themselves immersed in a life-and-death rescue of a woman gravely injured in a car accident. While TC Callahan, Scott Clemmens and Topher Zia deal with the situation at the hospital, Drew Alister is serving time overseas in Afghanistan and he, along with colleague Syd Jennings, have to figure out a way around the cultural divide to treat a young Afghani woman. Jordan Alexander has recruited Shannon Rivera to the night shift team and the recent med school graduate is eager to prove herself, but her spunky, outspoken nature may not sit well with everyone, particularly Paul Cummings. TC's sister-in-law, Annie, returns and JR Lemon also stars as Nurse Kenny Fournette.

Wednesday, June 8th, 2016

2: The Thing With Feathers (2)

In the second half of this two-part episode, TC (Eoin Macken) and Scott (Scott Wolf) work desperately to save a young boy and his mother who were injured in a car accident. With the boy's life hanging in the balance, the team starts to realize there is more to the family dynamic than meets the eye. Meanwhile, Drew (Brendan Fehr) and Syd (Jennifer Beals), deployed overseas in Afghanistan, deal with the aftermath of shots fired in the OR.

Wednesday, June 15th, 2016

3: The Way Back

Drew returns from deployment in Afghanistan and can't seem to shake off the stress of being back from overseas. Things get crazy right away as he, Jordan and Kenny treat a bride (Lindsey Morgan, "The 100") and her wedding party who have been injured during the festivities, as well as her father, whose presence is not making things easier. Meanwhile, TC helps Topher entertain his demanding mother, whose extended visit is putting stress on the family.

Wednesday, June 22nd, 2016

4: Three-Two-One

As the city erupts in violence over an impending jury verdict, the night shift becomes ground zero when they have to take in the man suspected of the racially-motivated shooting at the source of the unrest. His presence in the emergency room sparks sharp conversation and disagreements among the staff over the highly-charged topic and even close friends Kenny and Paul find themselves at odds. Topher does his best to control the mounting chaos in the ER while out in the field, TC makes a decision as to which of two patients to bring in, leaving Paul and Scott to question TC's motives. TV-14 D, L, V.

Wednesday, June 29th, 2016

6: Hot In the City

Shannon and Jordan venture out for some fun at a local wrestling event only to find themselves treating people onsite when a fight breaks out amongst the audience. Back at the hospital, Sam attends to a marathon runner who has collapsed from the heat and things start to heat up even more when the air conditioning breaks. Meanwhile, tensions between TC, Jordan, Sam, and Annie start to boil.

Wednesday, June 29th, 2016

5: Get Busy Livin'

A college co-ed falls from a balcony and once she is in the ER, TC and Paul find that her situation is even more complex. Jordan bonds with a terminal patient who teaches her some important lessons about living. TC's errant sister-in-law Annie returns and hopes to make amends. Meanwhile, Jessica - a pharmaceutical rep with cutting-edge equipment that Scott is so close to getting for the hospital - if her tension with TC doesn't kill the deal.

Wednesday, July 6th, 2016

7: By Dawn's Early Light

TC and Topher rush to the scene of a concert where a fireworks explosion has caused massive chaos. As the two jump in to manage the mess, a second explosion causes problems for one of our own. Syd, returns from Afghanistan and helps out with the team at San Antonio Memorial but finds herself grappling with best plans for herself and her young daughter. Drew tries to help but runs afoul of their unique family dynamic. Paul and Shannon put aside their differences to treat a patient and find they have more in common than they thought. Meanwhile, Jordan and Scott treat a patient injured in the fireworks explosion and have a chance to address some simmering differences.

Wednesday, July 13th, 2016

8: All In

Topher's mother arrives in the ER with life-threatening symptoms. As her condition deteriorates, the team works furiously to save her before it's too late. Drew and Shannon treat a gravely injured foster mom and while Drew bonds with the scared young foster daughter, the team discovers the mother has a secret. Meanwhile, Jordan and Scott treat a patient with a rare condition and when an important piece of equipment needed for his treatment fails, Jordan must enlist the help of TC's new girlfriend Jessica whose company makes the machine.

Wednesday, July 27th, 2016

9: Unexpected

When a bomb explodes outside the hospital, TC (Eoin Macken), Topher (Ken Leung) and Drew (Brendan Fehr) are forced to make the tough decision to stay and treat the injured or evacuate and begin transfers to nearby hospitals. Everything changes when TC suddenly realizes he may know the person responsible for the explosion. While the team works feverishly to tend to the wounded, the nurses go on strike just when the hospital needs them the most. Meanwhile, throughout the intense night shift, Shannon (Tanaya Beatty) and Paul (Robert Bailey, Jr.) attempt to confront each other about something personal.

Wednesday, August 3rd, 2016

10: Between a Rock and a Hard Place

TC risks his life to rescue a victim of a crane collapse and Scott reunites with a boy he paralyzed. Jordan lends support in Scott's emotional case, which stirs up complicated feelings from the past.

Wednesday, August 3rd, 2016

11: Trust Issues

TC's hot temper results in a bar brawl, landing him and Drew in jail. Meanwhile, Jordan discovers her new date's secret life; Topher fights for a patient dismissed by numerous doctors; Scott struggles to save his relationship; Jessica tries to gain TC's trust; and Syd meets Brianna.

Wednesday, August 24th, 2016

12: Emergent

In part one of this two-part season finale, Scott and Jordan face grave danger during a rescue mission at a rapidly spreading wildfire outside San Antonio. Tensions are high between Syd and TC as they find themselves in the middle of a humanitarian crisis on the Syria-Turkey border. Paul and Shannon argue over treatment for a patient. Meanwhile a major setback threatens Drew's adoption plans for Brianna, Topher struggles to find a buyer for the hospital and medication goes missing.

Wednesday, August 31st, 2016

13: Burned

Scott and Jordan must perform surgery in the field as the burning wildfire gains intensity around them. Syd has caught Typhus along with hundreds of other patients on the Syria-Turkey border, and TC goes to great lengths to get the medication. Meanwhile, Drew and Rick fight to keep Brianna, while San Antonio Memorial finds an unlikely buyer, though saving the hospital comes at a cost.
Season 4
Thursday, June 22nd, 2017

1: Recoil

Jordan and Drew perform a daring rescue by jumping from a chopper. Landing at the nearest VA hospital, Jordan sparks a plan to appease Julian and reunite her night shift team. Back at the hospital, Paul deals with the repercussions of standing up to his father while Scott dives headlong into his professional life. Kenny butts heads with Cain, a traveling nurse with a mysterious past. Shannon indoctrinates Cain as they work in San Antonio Memorial's understaffed and overworked ER. Meanwhile, TC is held captive in Syria. In order to find Syd TC must treat his captor instead of returning to the safety of an air base with a civilian volunteer, Amira.

Thursday, June 29th, 2017

2: Off the Rails

An amusement-park disaster results in mass-casualty victims flooding the hospital. Also, TC continues his quest to reunite with Syd; Drew reevaluates his priorities as a new father; Jordan tries to get Paul back on staff; Scott pursues a more active role in the hospital

Thursday, July 6th, 2017

3: Do No Harm

Jordan and Cain travel to the scene of an oil-field explosion and treat a patient with extreme injuries. Also, Drew and Paul try to save a patient's severed hand; Scott encounters a person from his past; and TC tries to help a sick Syrian child.

Thursday, July 13th, 2017

4: Control

A patient from a distant town arrives for surgery. Meanwhile, Jordan gets creative to help a veteran in need; Drew struggles with being a working parent; Kenny learns to not worry about trivial matters; and TC joins in a daring rescue mission in Syria.

Thursday, July 20th, 2017

5: Turbulence

Drew faces an emergency on his flight home when passengers become sickened. Also, some staffers participate in an obstacle-course fund-raiser hosted by Akbar Gbajabiamila ("American Ninja Warrior"); Scott has an unforgettable date; TC treats a soldier.

Thursday, July 27th, 2017

6: Family Matters

Kenny joins Drew at his MMA veteran's support group and finds himself in the fight of his life. Jordan and Cain treat casualties from a hotel fire while Shannon follows a hunch to help save a young victim. Paul's superstar sister, Dr. Bella Cummings, pays a visit to San Antonio Memorial and provides desperately needed support during a busy shift. Meanwhile, TC finally returns home, forcing him to deal with Topher's death.

Thursday, August 10th, 2017

7: Keep the Faith

When protestors descend on a funeral for a dear member of the night shift family, multiple veterans are injured and brought to San Antonio Memorial for treatment. A high profile politician from Drew's past triggers flashbacks to his time in Iraq. Jordan, Scott, and TC disagree on how to best provide care for the politician. Paul and Shannon must improvise while tending to Doug, a former POW. Cain and Drew treat a fearless photographer.

Thursday, August 17th, 2017

8: R3B0OT

When Jordan realizes the hospital is under cyber-attack, she leads the team in managing patient care as chaos ensues. Drew and Kenny treat a critical patient forcing Drew to call on his medical and military training. TC joins Rick and his partner on a SWAT drug raid. Meanwhile, he wrestles with whether or not he should return to Syria to tie up loose ends.

Thursday, August 24th, 2017

9: Land of the Free

TC and Jordan accompany a SWAT team on a raid and wind up with an emergency room full of sickened immigrants, including one with murderous intentions. Scott pulls a dream team together to impress the Colonel in charge of setting up a combat training program. More is learned about Cain's past. Kenny shares some big news with the group, while Shannon keeps something personal from Paul.

Thursday, August 31st, 2017

10: Resurgence

A shooting at a nearby college sends TC, Jordan, Drew and Amira into the field, where they assist Rick with a deadly situation. Scott implements a new training program and locks horns with Julian. Drew struggles with frustrations about going to Army Ranger School while Shannon and TC both contemplate their future at San Antonio Memorial.