update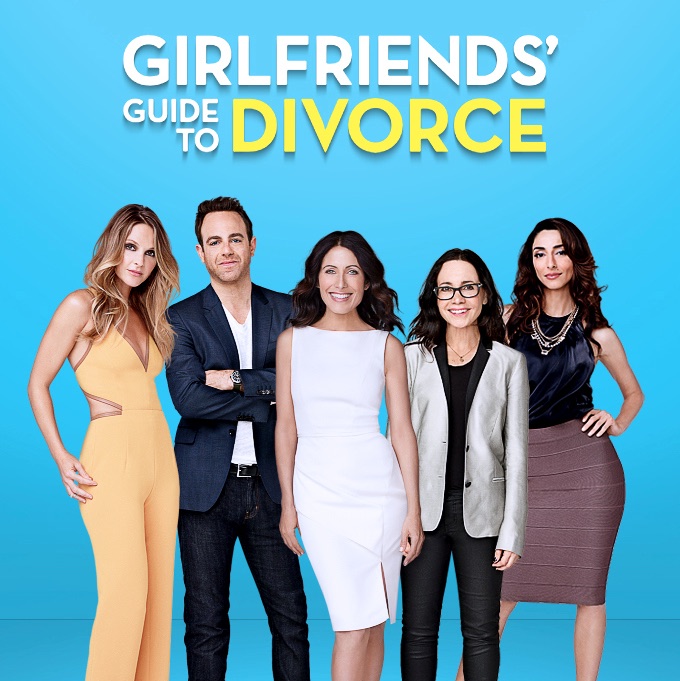 Season 1
Tuesday, December 2nd, 2014

1: Rule #23: Never Lie To The Kids

Advice author Abby McCarthy realizes she doesn't have all the answers as she struggles with her own divorce.

Tuesday, December 9th, 2014

2: Rule #174: Never Trust Anyone Who Charges By The Hour

Abby tries to recover from her major meltdown and focus on having a "good divorce" for the kids. Abby has to try and recover from her public breakdown and save the Girlfriends' Guide...brand. Abby and Jake attempt to have a "good divorce" for the sake of the kids. Meanwhile, Lyla's ex-husband exacts revenge for his DUI and Phoebe asks Abby out to dinner.

Tuesday, December 16th, 2014

3: Rule #47: Always Take Advantage Of Me Time

Abby spends her first night alone without the kids to focus on writing her next book when things take a sudden turn for the worse, sending the ladies on a wild ride through Hollywood. Meanwhile, Jake wants his first night with the kids at his new place to be perfect.

Tuesday, December 23rd, 2014

4: Rule #426: Fantasyland: A Great Place To Visit

Abby starts to date Nate, a married dad with whom she had an emotional affair during her marriage. Max and Ford are honored at the Family Equality Gala and given an award by LGBT activist Adele Northrop.

Tuesday, December 30th, 2014

5: Rule #21: Leave Childishness To Children

After the disastrous date with Nate, Abby goes on a date with her hot, young pursuer, Will. Meanwhile, Lyla's mother, Annie, comes to Los Angeles to help her make the best impression possible with the visiting caseworker.

Tuesday, January 6th, 2015

6: Rule #33: When In Doubt, Run Away

A photo shoot for Phoebe's Infant Fabuleax jewelry line takes the ladies on a trip to Vegas. Abby is cleansing and is determined to work on her next book. Lyla awaits the recommendation of the caseworker in her custody battle.

Tuesday, January 13th, 2015

7: Rule #67: Don't Kill The Princess

Abby throws a birthday party for her daughter Lilly only to have Jake's girlfriend, CW actress Becca Riley, show up uninvited. Abby wonders if she's pregnant. . .and entertains what she'd do if she were. Meanwhile, Delia is handling the divorce of Gordon Beech, husband of acclaimed fashion designer Courtney Beech.

Tuesday, January 20th, 2015

8: Rule #17: Ask The Answer Lady

Abby prepares to pitch her new brand to her agency when Jo, an old friend from college arrives with her blunt, brassy New York attitude. Things get complicated when Jake gets a job directing an episode of Becca's TV show "Blood Sisters."

Tuesday, January 27th, 2015

9: Rule #32: F-You, Rob Frumpkis

Abby is asked to write an article about her dating experiences and must go on a whirlwind two-day dating spree. Meanwhile, Jo's daughter arrives from New York, and Delia worries that her affair with Gordon Beech will come back to haunt her.

Tuesday, February 3rd, 2015

10: Rule #3: Don't Stand In The Doorway

Abby's article is released on the Internet just as an earthquake rattles Los Angeles. The mothers at school fume, thinking the article will expose one of their husbands as a philanderer. Meanwhile, Marco gets help with his urban farming business, and Delia makes a stunning discovery.

Tuesday, February 10th, 2015

11: Rule #46: Keep The Holidays Low Key

Abby hosts an adult "Friendsgiving" dinner with her new boyfriend, but Abby and Jo suspect a spirit has joined the festivities when bizarre occurrences happen around the house. Elsewhere, Delia's father unexpectedly visits.

Tuesday, February 17th, 2015

12: Rule #92: Don't Do The Crime If You Can't Do The Time

Abby and Jake are finalizing their divorce, but getting along better than ever. Delia is up for partnership at the law firm but her relationship with Gordon Beech threatens her chances.

Tuesday, February 24th, 2015

13: Rule #101: Know When It's Time To Move On

As Abby gets ready to sign the divorce papers, Jo insists on throwing her a party, while Will wants to take her to Mexico; Jake wants to mark the end of his marriage in an unexpected way; the truth comes out about Phoebe and Kori's past.
Season 2
Tuesday, December 1st, 2015

1: Rule #58: Avoid The Douchemobile

Abby chooses between boyfriend Will and husband Jake, while fielding a job offer from an online magazine called SheShe; Abby faces opposition from a rival editor at SheShe; Phoebe acts out in response to Kori's civil suit against her.

Tuesday, December 8th, 2015

2: Rule #77: Don't Blow The Bubble

Abby (Lisa Edelstein) and Jake (Paul Adelstein) try and keep their secret relationship hidden while her managing editor Barbara (Retta) at SheShe pushes her to go out on dates to drive attention to her new blog. Delia (Necar Zadegan) hires a wedding planner. Jo (Alanna Ubach) moves out of Abby's house and prepares for the opening of her vegan bakery.

Tuesday, December 15th, 2015

3: Rule #8: Timing Is Everything

Abby goes on a date with TV celebrity Dr. Harris to increase traffic to her new blog and please Barbara. Jake decides to tell Abby a secret he's been keeping from her. Jo starts to Tinder date. Phoebe throws Delia an engagement party.

Tuesday, December 22nd, 2015

4: Rule #605: You Can Go Home Again

Abby and Jake decide to define their relationship by spending a weekend at home without work, friends, and the kids. Phoebe reconnects with friends from her modeling days when she is offered a new campaign. Delia and fiancé Gordon go house hunting, but discover that they both want different things. Jo's daughter returns home after a visit with her father and new wife.

Tuesday, December 29th, 2015

5: Rule #72: It's Never Too Late To Be A Mean Girl

A 1990s-theme prom is thrown for Phoebe when she gets her GED. Also, Abby goes on a second date with Dr. Harris, and Jo's former husband visits Los Angeles to spend time with his daughter.

Tuesday, January 5th, 2016

6: Rule #25: Beware The Second Chance

Tuesday, January 12th, 2016

7: Rule #14: No Means...No

Abby's parents (Barry Bostwick and Lesley Ann Warren) arrive and make an odd request just as Jake gears up to leave for Latvia. Meanwhile, Abby reaches out to Becca to have a meeting; Jo embarks on an online dating binge; and Phoebe has a date with her professor.

Tuesday, January 19th, 2016

8: Rule #79: Labels Are For Canned Goods

Abby (Lisa Edelstein) and Barbara (Retta) head to SplitCon, a convention dedicated to providing services for people who are breaking or broken up. Phoebe (Beau Garrett) gets introduced into the LA art scene by new beau Joaquin (Niall Matter). Jo (Alanna Ubach) fights Charlene (Megan Hilty) for control of her bakery and the attention of her daughter.

Tuesday, January 26th, 2016

9: Rule #81: There's No Crying in Porn

Abby wants to define her relationship with Dr. Harris, but she faces resistance. Meanwhile, Abby reconnects with escort Carl in Los Angeles; artist DJ's creative process intrigues Phoebe; and Scott presses Jo to fight for what's hers.

Tuesday, February 2nd, 2016

10: Rule #36: If You Can't Stand the Heat, You're Cooked

A heat wave bakes Los Angeles, and Abby feels even more heat when she's told her book needs a major overhaul. Meanwhile, Abby decides to put Dr. Harris through the "boyfriend test"; Phoebe stages an art show for her new flame; and Delia tries to make amends with Gordon.

Tuesday, February 9th, 2016

11: Rule #118: Let Her Eat Cake

After collapsing after the birth of Becca's baby, Abby is ordered to stay at home and rest. The girlfriends throw Delia a surprise bachelorette party at a male strip club, a treat from Barbara. Phoebe deals with the fallout of her almost kiss with Ralf. Jo is having mixed feelings about Scott.

Tuesday, February 16th, 2016

12: Rule #876: Everything Does Not Happen for a Reason

Delia's wedding arrives, but Abby is uninvited to the big event in the wake of a betrayal and the revelation of her affair. Abby focuses on finishing her book, yet Barbara discovers Abby is unraveling, and a race ensues to bring Abby and Delia together.

Tuesday, February 23rd, 2016

13: Rule #59: Happily Ever After Is an Oxymoron

Abby and the girlfriends help Delia cope after the fallout of Gordon's news. Jake returns from Latvia with a secret to tell Abby. Jo has to finally face her feelings about Scott. Phoebe makes a surprise announcement. Barbara eyes a new potential love interest.
Season 3
Wednesday, January 11th, 2017

1: Rule #43: When One Door Opens, There's An Icy Draft

Abby deals with the professional fallout from her gigolo scandal while she and Jake care for Becca's abandoned baby. Delia confronts Albert about sabotaging her wedding. Jo considers dating her baker, Scott. Phoebe holds a ceremony to celebrate womanhood, but not all the girlfriends feel like celebrating.

Wednesday, January 18th, 2017

2: Rule #137: Move Your Car

Struggling to keep herself busy after losing her job, Abby gets involved with her son's baseball team and butts heads with Coach Mike. Jo puts her ex-husband in rehab and dives into a relationship with Scott. To make up for lost alimony, Phoebe gets a job at an art gallery and promotes the work of husband JD. Delia loses a big client to a colleague.

Wednesday, January 25th, 2017

3: Rule #188: Mind Your Side Of The Plate

To help Barbara find material for her new column, Abby joins her for a night out on the town. Jo deals with the ramifications after the sudden departure of Scott. While Phoebe and JD try to bond with the kids, Delia plays the fixer when her new client gets stuck in a compromising position.

Wednesday, February 1st, 2017

4: Rule #225: What Happens in Bakersfield Stays in Bakersfield

Stuck on a trip with her son's baseball team, Abby searches for inspiration for her novel. The rest of the girlfriends try to escape their problems with a weekend getaway, but Jo worries her alcoholic ex-husband will relapse, Delia runs into someone from her past, and Phoebe becomes entangled with billionaire playgirl, Gemma.

Wednesday, February 8th, 2017

5: Rule #99: Cook Naked

Abby hosts a party for the baseball team's parents while trying to keep her relationship with Coach Mike a secret. Also, Jo indulges Frumpkis' plan to score business for the bakery, and a contractor arrives to remodel Barbara's kitchen.

Wednesday, February 15th, 2017

6: Rule #218: There's No Crying in Baseball

Reeling from the revelation about Coach Mike, Abby tries to get through the last game of the season without incident, but she and Jo are pulled into their daughters' drama; Phoebe worries about the new direction JD's art has taken.

Wednesday, February 22nd, 2017

7: Rule #91: Run Toward What Scares You

As Abby finishes her romance novel, she questions the future of her relationship with Mike; Barbara has second thoughts about quitting SheShe; Phoebe and JD's marriage faces a challenge during a debauched getaway at Gemma's mansion.
Season 4
Thursday, August 17th, 2017

1: Rule #776: The Cat is Always on the Roof

Abby and Barbara launch their lifestyle blog, but it won't last long if they don't find a way to bring traffic to the site. As they look into potential influencers to boost views, a run in with Abby's ex Will and his new girlfriend, starlet Temple Hampton, sparks Barb's imagination.

Thursday, August 24th, 2017

2: Rule #10: Just Survive

Abby and Barbara continue to clash over big financial decisions at Lady Parts. While Abby considers reconnecting with an old flame, she also cautions her daughter Lilly against becoming sexually active with new boyfriend Ethan. An errand for Gemma brings Phoebe to JD's door, where she's forced to reconsider her priorities. Delia and Paul take their working relationship to the next level. Jo attends a silent retreat and confronts Albert; the truth leaves her stunned.

Thursday, August 31st, 2017

3: Rule #706: Let Them Eat Cupcakes

Abby hurries out of town to deal with a family emergency, leaving Barbara alone to make some difficult decisions. Tension between Jo and Delia builds as they hide their new discoveries from each other. Phoebe ponders some dispiriting lifestyle changes after she has trouble finding work. Abby and her mother clash as they deal with their stress in different ways. A harrowing twist of fate leaves Abby reeling.

Thursday, September 7th, 2017

4: Rule #49: Let It Shine

The girlfriends rally around Abby as she says a final farewell to her mother. Abby's brother makes an appearance and reconnects with Phoebe. Delia and Jo finally confront each other about Albert, and Delia finally faces her true feelings about Paul. Abby gets an unexpected surprise from an old flame.

Thursday, September 14th, 2017

5: Rule #930: Plan for New Plans

Abby returns to Lady Parts to find nothing at her company is how she left it. A seven-day escrow forces Phoebe to confront the reality of downsizing. Delia and Jo face down the awkward Albert situation. Delia throws herself into running Paul's campaign for City Council. Abby goes behind Barbara's back in making a big decision for Lady Parts. A disaster is narrowly avoided at Abby's house when Abby's father is left alone.

Thursday, September 21st, 2017

6: Rule #155: Go With the Magician

Abby grapples with what to do about her father while making a last-ditch effort to salvage her professional relationship with Barbara; Jo makes an impulsive decision; Phoebe rents out her house, only to be shocked by who shows up on her doorstep.
Season 5
Thursday, June 14th, 2018

1: Rule #773: Step and Repeat

At a red-carpet event, Abby and the girlfriends flash back to their struggles and victories over the past six months; Abby makes an impetuous offer to Mike; Barbara lets her guard down around her ex-husband, Leon.

Thursday, June 21st, 2018

2: Rule #149: Don't Eat the Yellow Snow

Abby and Jake fall into old confrontational patterns when Jake objects to Mike moving in with Abby; Albert plans a birthday party for Jo, which is disrupted by a visit from Jo's former mother-in-law; Phoebe finally introduces Tony to her friends.

Thursday, June 28th, 2018

3: Rule #97: It Takes Two to Stab Yourself in the Butt

Abby is determined to blend the Brady and McCarthy families, but Mike's new travel schedule causes some serious growing pains; Phoebe dips a toe back into the online dating pool; Delia moves forward with in vitro fertilization.

Thursday, July 5th, 2018

4: Rule #63: It's a Marathon, Not a Sprint

Abby and Colette, Mike's ex-wife, clash over boundaries; Jo and Frumpkis deal with a family emergency; after Delia receives some discouraging news from her fertility doctor, she throws caution to the wind and gets more involved with Tony.

Thursday, July 12th, 2018

5: Rule #303: Burn That S... to the Ground

Abby is forced to play full-time stepmom now that Colette has relocated to Sacramento; Delia tells the girlfriends that the IVF worked and she's pregnant, but Phoebe pieces together that the baby must be Tony's; Jo confesses that she kissed Frumpkis.

Thursday, July 19th, 2018

6: Rule #1: Keep the Toast Short

Abby must face the future and all its unknowns; Delia must decide how to handle her unexpected pregnancy; Jo must decide between Frumpkis and Albert; the girlfriends gather to celebrate Lilly's graduation. Series Finale