update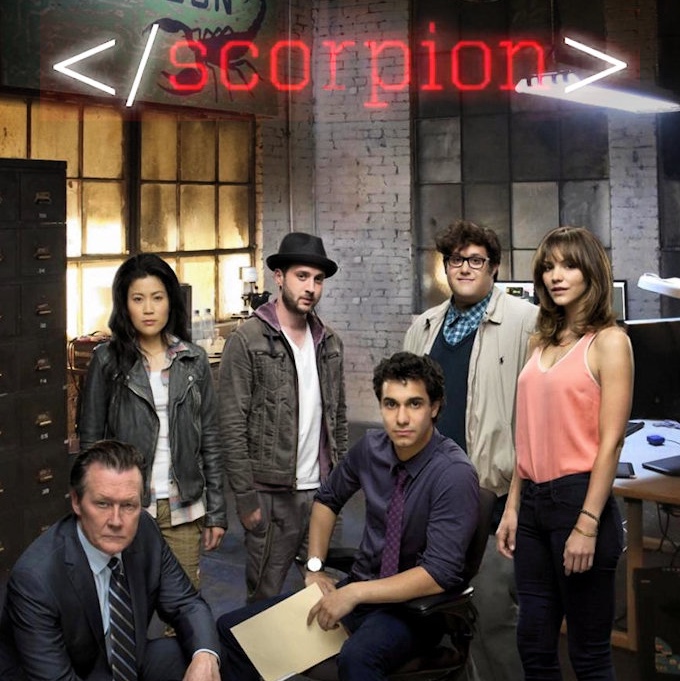 Season 0
Tuesday, August 12th, 2014

1: Behind the Scenes

Get a behind the scenes look at the new CBS drama Scorpion.
Season 1
Monday, September 22nd, 2014

1: Pilot

When a crisis at LAX leaves dozens of airplanes unable to land, the government enlists a team of misfit geniuses to save the day.

Monday, September 29th, 2014

2: Single Point of Failure

The Governor calls on Team Scorpion when his daughter is mysteriously "bio-hacked" with a deadly virus and has only 24 hours to live. Meanwhile, the case takes on a deeper significance for Walter after he receives a letter regarding his sister.

Monday, October 6th, 2014

3: A Cyclone

After Team Scorpion fails a military training mission, they are determined to prove their worth to Cabe and Homeland Security when a bomber threatens to take out the internet infrastructure of the entire Southwest.

Monday, October 13th, 2014

4: Shorthanded

Against Cabe's advice, Team Scorpion heads to Las Vegas for a simple casino job, but a robbery leads to Walter's arrest and the rest of the team is left to clear his name.

Monday, October 20th, 2014

5: Plutonium Is Forever

To fix a Los Angeles nuclear reactor that's on the verge of a cataclysmic meltdown, Walter and the team must reluctantly enlist the help of a troubled former member.

Monday, October 27th, 2014

6: True Colors

Team Scorpion must pass a mandated psych evaluation or face being disbanded after they're accused of destroying a priceless work of art in an attempt to protect an art exhibit. Meanwhile, Paige enlists the help of the team when Ralph is reluctant to go to his school's Halloween party.

Monday, November 3rd, 2014

7: Father's Day

A case gets personal for Team Scorpion when three convicts break out of prison and one of them is a brilliant hacker who was forced to help the others steal billions online. Meanwhile, Paige must manage Ralph's expectations when his father returns.

Monday, November 10th, 2014

8: Risky Business

Team Scorpion enlists the help of a musician who created a controversial algorithm that generates hit songs to help find the murderer of a music blogger. Meanwhile, Drew asks Walter to help him connect with his son.

Monday, November 17th, 2014

9: Rogue Element

Team Scorpion must help protect Cabe's ex-wife after she uncovers evidence that suggests foul play in the death of a prominent congressman.

Monday, November 24th, 2014

10: Talismans

When a military plane is shot down in Bosnia, Team Scorpion must help recover its stealth technology before it falls into enemy hands. Meanwhile, Walter's sister takes a break from her MS treatment and spends time at the garage with Sylvester.

Monday, December 8th, 2014

11: Revenge

When Sylvester accidentally triggers an explosive device during an investigation, Team Scorpion must focus on finding who's responsible even while their friend's life hangs in the balance.

Monday, December 15th, 2014

12: Dominoes

As Christmas approaches, Team Scorpion races to find a way to save a young boy's life after he gets trapped in a beachside cave and drowning is imminent.

Monday, January 5th, 2015

13: Kill Screen

Team Scorpion must help Ralph when the FBI questions him after his dark web game play inadvertently reveals the location of a CIA safe house and results in the murder of CIA operatives.

Sunday, January 18th, 2015

14: Charades

Team Scorpion is tasked with uncovering a mole inside the CIA whose judgment is clouded by matters of the heart and is being coerced into stealing deadly chemicals. Also, in preparation for the case, Paige gives Walter a flirting lesson.

Monday, January 19th, 2015

15: Forget Me Nots

Team Scorpion must jog the memory of an injured former Secret Service agent who is their only hope of preventing weapons of mass destruction being launched from a secret U.S. nuclear silo. Meanwhile, Paige is torn when Drew suggests that moving to Maine might be better for Ralph.

Monday, February 9th, 2015

16: Love Boat

Team Scorpion goes undercover on a cruise ship to locate and disable deadly stolen rockets. Meanwhile, as Valentine's Day approaches, Toby and Happy help Ralph, who is in the throes of his first crush.

Monday, February 23rd, 2015

17: Going South

A tech billionaire hires Team Scorpion to rescue his kidnapped daughter. Meanwhile, some feelings get hurt when Walter gives an interview and fails to acknowledge the other members of the team.

Monday, March 9th, 2015

18: Once Bitten, Twice Die

When a conflict in Eastern Europe threatens to escalate, Team Scorpion is called on to help facilitate secret peace talks to prevent World War III.

Monday, March 23rd, 2015

19: Young Hearts Spark Fire

While on a mission to save lost hikers, Team Scorpion's helicopter crashes, igniting a massive wildfire that quickly closes in on them. Also, Sylvester must help their injured pilot who is unable to make it to safer ground.

Monday, March 30th, 2015

20: Crossroads

To protect a key witness who is en route to testifying against a deadly drug cartel, Team Scorpion takes her on the run, with the cartel hot on their heels.

Monday, April 13th, 2015

21: Cliffhanger

Walter finally learns Cabe's long-kept secret regarding the Baghdad mission, and it threatens to tear Team Scorpion apart forever. Also, Paige's world is rocked when Ralph puts his life in danger to help the team.

Monday, April 20th, 2015

22: Postcards From the Edge

Scorpion, torn apart and uncertain about their future as a team, must come together for their most important mission yet – to save Walter's life as his car teeters on the side of a cliff.
Season 2
Monday, September 21st, 2015

1: Satellite Of Love

The new Director of Homeland Security, Adriana Molina, reunites the team when a nuclear powered Russian satellite is knocked out of orbit and must be diverted before it detonates over Southern California. Paige and Walter face their feelings for each other when hospital footage reveals that Paige kissed him.

Monday, September 28th, 2015

2: Cuba Libre

Team Scorpion heads to Cuba when a woman from Cabe's past pleads for him to help catch a Serbian war criminal.

Monday, October 5th, 2015

3: Fish Filet

In order to save the lives of three judges, Sylvester goes undercover in a federal prison but Team Scorpion must break him out when his life is threatened. Alana De La Garza returns as the new head of Homeland Security and Kevin Weisman returns as Walter's new friend, Ray, whom he meets doing his court-mandated community service.

Monday, October 12th, 2015

4: Robots

Walter, Cabe and Happy are trapped with the crew in a top secret submarine when an explosion sends it to the bottom of the ocean with limited oxygen and a self-destruct function that will soon activate.

Monday, October 19th, 2015

5: Super Fun Guys

Team Scorpion goes undercover on the "Super Fun Guy" movie set in Kazakhstan in order to disable a soviet era nuclear missile being sold by terrorists.

Monday, October 26th, 2015

6: Tech, Drugs, and Rock 'n Roll

Walter's attempt to "normalize" goes horribly wrong when a nefarious virus is uploaded to his computer, turning Team Scorpion's new "smart" building project into a burning death trap with people locked inside.

Monday, November 2nd, 2015

7: Crazy Train

Team Scorpion must stop a sabotaged runaway subway train with Paige and Ralph on board. Also, in his attempt to impress Happy, Toby has his first boxing match.

Monday, November 9th, 2015

8: Area 51

Team Scorpion helps the CIA locate a top-secret aircraft in Area 51 in order to raise money for Walter's research to save his sister's life.

Monday, November 16th, 2015

9: US vs. UN vs. UK

Team Scorpion is blackmailed to break into the United Nations to assist in the assassination of a menacing arms dealer. Also, Sylvester makes a bold move to protect Megan's wishes.

Monday, November 23rd, 2015

10: Arrivals and Departures

When Team Scorpion and Walter's parents visit Megan in the hospital as her health deteriorates, they are quarantined after a deadly fungus outbreak threatens to infect everyone.

Monday, December 7th, 2015

11: The Old College Try

Team Scorpion goes undercover at a university to find a hacker who infiltrates the Federal Reserve and threatens to collapse the world economy.

Monday, December 14th, 2015

12: Dam Breakthrough

Team Scorpion must stop a catastrophe on Christmas Eve when heavy rain creates a large crack in a dam, putting an entire town in danger.

Monday, January 4th, 2016

13: White Out

The members of Team Scorpion brave subzero temperatures in Antarctica to save a United States Special Forces unit; Toby risks his life to save Happy.

Monday, January 18th, 2016

14: Sun of a Gun

Sylvester comes face to face with his estranged father, a retired general, who asks Team Scorpion for help when he believes that a dictator in Africa has uncovered a deadly World War II-era weapon of mass destruction and intends to use it.

Monday, January 25th, 2016

15: Da Bomb

Team Scorpion is tasked with helping NASA's top secret rocket launch, but they must sabotage their own mission when Walter's date from the previous night has a bomb strapped to her chest.

Monday, February 8th, 2016

16: Fractured

After a powerful earthquake rocks Los Angeles, Team Scorpion must fix a pinched gas line to prevent a massive explosion.

Monday, February 22nd, 2016

17: Adaptation

While Team Scorpion works to stop an influx of drugs being smuggled into the country via drones, Walter gives Happy and Toby an ultimatum on their new relationship.

Monday, February 29th, 2016

18: The Fast & The Nerdiest

After Sylvester scores big on THE PRICE IS RIGHT, Team Scorpion must infiltrate a high-end car smuggling operation about to ship bioweapons to South America.

Monday, March 14th, 2016

19: Ticker

When Los Angeles' blood supply is hacked and deemed unusable because of fear it's been tainted, Team Scorpion must find the culprit in order to save a young girl in desperate need of a heart transplant.

Monday, March 21st, 2016

20: Djibouti Call

While on a secret mission in Djibouti, Africa, with his new Homeland protégé, Tim Armstrong, Cabe is captured and Team Scorpion must save him.

Monday, March 28th, 2016

21: Twist And Shout

Team Scorpion's mission to recover the remains of fallen Marines in Vietnam is threatened along with their lives when a deadly tornado heads directly towards them.

Monday, April 11th, 2016

22: Hard Knox

Team Scorpion is hired by the Department of Defense to break into Fort Knox and "steal" a precious artifact in order to test their security, but they must break in a second time when they find something dangerous hidden inside the object.

Monday, April 18th, 2016

23: Chernobyl Intentions

Team Scorpion goes to Chernobyl to repair the decaying nuclear reactor before a catastrophic meltdown, but must also save Sylvester and Paige when they become trapped inside.

Monday, April 25th, 2016

24: Toby Or Not Toby

Team Scorpion must outthink their unstable ex-Scorpion member, Mark Collins, after he kidnaps Toby and threatens to kill him unless his cunning demands are met.
Season 3
Monday, October 3rd, 2016

1: Civil War

Team Scorpion must put aside their personal and romantic predicaments when anonymous hackers with unknown motives take control of U.S. military aircraft and warships and point weapons at American cities.

Monday, October 3rd, 2016

2: More Civil War

Just as Team Scorpion makes headway against the hackers controlling U.S. naval destroyers, they learn that a U.S. nuclear submarine also has been hacked and has a missile about to launch.

Monday, October 10th, 2016

3: It Isn't the Fall That Kills You

When Walter is accidentally launched into space in a rocket, he hallucinates about Paige as his oxygen runs low, and Team Scorpion works feverishly to find a way to bring him home before he suffocates.

Monday, October 17th, 2016

4: Little Boy Lost

Team Scorpion must find a boy from Ralph's class who goes missing on a field trip after he accidentally has a run-in with a deadly criminal. Also, Toby gets closer to finding out the identity of Happy's husband.

Monday, October 24th, 2016

5: Plight At The Museum

Team Scorpion's simple job at the Los Angeles Natural History Museum turns deadly when they discover thieves robbing a rare gem exhibit in order to get materials needed to enrich a nuclear bomb.

Monday, October 31st, 2016

6: Bat Poop Crazy

Before Halloween, Team Scorpion must infiltrate a deep, vast cave system in order to prevent a bat population from destroying the North America ecosystem. Also, the team dons costumes to stage photos from Halloween's past for Walter's upcoming immigration inspection.

Monday, November 7th, 2016

7: We're Gonna Need a Bigger Vote

On Election Day, as democracy hangs in the balance, Team Scorpion is called on when someone tries to throw the U.S. presidential election into chaos.

Monday, November 14th, 2016

8: Sly And The Family Stone

When Team Scorpion travels to Ireland for Megan's one-year memorial, Walter discovers that a nearby lake's natural disaster has created a poisonous cloud that could kill everyone in the village. Also, Cabe and Toby try to alleviate the tension between Tim and Walter.

Monday, November 21st, 2016

9: Mother Load

Paige's estranged mother calls on Team Scorpion when she accidentally uncovers a forgotten nuclear reactor on the verge of exploding.

Monday, December 12th, 2016

10: This Is The Pits

Walter must swim through the deadly La Brea Tar Pits when Team Scorpion helps a woman trapped in the tar before she runs out of oxygen. Also, without Paige's knowledge, her mother, Veronica, "helps" Ralph maximize his troop cookie sales.

Monday, December 19th, 2016

11: Wreck The Halls

It's Christmas Eve and Team Scorpion's electronics-free mountain getaway turns deadly when they come across gun-runners, and Ralph is kidnapped when they try to escape. Tim makes an important decision about his position with the team.

Monday, January 2nd, 2017

12: Ice Ca-Cabes

When a mission in the desert results in exploding shrapnel that seriously wounds Cabe, Team Scorpion must freeze his body in order to save his life.

Monday, January 16th, 2017

13: Faux Money Maux Problems

When Team Scorpion is duped into producing counterfeit money for a foreign entity intent on ruining the U.S. economy, Paige must rely on her mother Veronica's skills as a grifter to save them.

Monday, January 23rd, 2017

14: The Hole Truth

Team Scorpion must save a man teetering on the edge of a massive sink hole that threatens to destroy the Los Angeles water supply forever.

Monday, February 6th, 2017

15: Sharknerdo

Team Scorpion's job to find sunken treasure goes awry when Walter and Paige's boat explodes, leaving them lost in the middle of the Pacific Ocean surrounded by sharks.

Monday, February 13th, 2017

16: Keep It In Check, Mate

Walter and Sylvester enter an international chess competition under cover on foreign soil in an effort to extricate a U.S. spy before her identity is exposed.

Monday, February 20th, 2017

17: Dirty Seeds, Done Dirt Cheap

When a simple mission to protect a vital seed bank goes awry, Team Scorpion must save Happy, Sylvester and Cabe, who begin suffering from life-threatening, fear-based hallucinations.

Monday, February 27th, 2017

18: Don't Burst My Bubble

Following a severe storm, Happy's friend Ada, who lives in a sterile bubble to protect her compromised immune system, is left with dangerous debris on the verge of puncturing the structure. Now, Team Scorpion works to safely move Ada to a more secure location without risking her life.

Monday, March 13th, 2017

19: Monkey See, Monkey Poo

To stop a dangerous virus from spreading, Team Scorpion must locate a rare endangered monkey in the Amazon that has the antibody for the cure. Toby and Happy see a counselor to prepare for matrimony.

Monday, March 20th, 2017

20: Broken Wind

While on a mission to repair a turbine at a wind farm, Team Scorpion must race to save Paige and Happy before the cable holding the gondola they are in snaps and sends them plummeting to the ground.

Monday, April 10th, 2017

21: Rock Block

Team Scorpion must defy the orders of a foreign government after they retrieve an asteroid from space containing DNA strands that could have deadly consequences once exposed.

Monday, April 17th, 2017

22: Strife on Mars

Team Scorpion gets trapped inside a failing and dangerous biodome designed for Mars while trying to extract a pair of scientists inside.

Monday, May 1st, 2017

23: Something Burrowed, Something Blew

Team Scorpion help Toby and Happy race to the altar to say "I Do" after a simple job extinguishing a tunnel fire becomes catastrophic.

Monday, May 8th, 2017

24: Maroon 8

While en route to Toby and Happy's honeymoon, Team Scorpion's plane crash lands on a remote deserted island, leaving them all with little hope for rescue.

Monday, May 15th, 2017

25: Scorp Family Robinson

Three weeks after they crash land on a deserted island, tensions run high for Team Scorpion when they must battle to overcome their relationship obstacles in order to be rescued.
Season 4
not specified

0:

Monday, September 25th, 2017

1: Extinction

Team Scorpion must work with their old nemesis Mark Collins in order to prevent the extinction of mankind. Also, Walter and Paige awkwardly navigate their new relationship.

Monday, October 2nd, 2017

2: More Extinction

Team Scorpion continues to work with their nemesis, Mark Collins, in order to prevent an extinction event that could end humanity. Also, Cabe's last-minute decision while on the case leads to the possible end of his career.

Monday, October 9th, 2017

3: Grow a Deer, A Female Deer

When poachers almost kill a pregnant endangered deer, Team Scorpion recreates the animal's womb to try to save it and its baby's life. Also, Happy and Toby discuss the future of their family.

Monday, October 16th, 2017

4: Nuke Kids on the Block

While decommissioning an old nuclear missile, a simple accident causes Team Scorpion to endure exposure to toxic vapor while trying to prevent the nuke from detonating. Also, Paige confronts Happy about constantly tagging along with her and Walter.

Monday, October 23rd, 2017

5: Sci Hard

While attending a tech convention, Team Scorpion is taken hostage by a group attempting a virtual heist.

Monday, October 30th, 2017

6: Queen Scary

At Halloween, Team Scorpion takes on a case to prove the existence of ghosts on the Queen Mary but find an all-too-real disaster when they locate a "ghost ship" on a deadly collision course. Also, Walter considers taking note of Paige's interests to benefit their relationship.

Monday, November 6th, 2017

7: Go With the Flo(rence)

While tracking a device that can prevent a nuclear meltdown through the Los Angeles sewers, Walter learns the nuances of listening and not offering advice to Paige. Also, Team Scorpion meets Florence, their new neighbor at the garage, after she sends a mix of smelly chemicals through their shared ventilation as a warning to keep the noise down.

Monday, November 13th, 2017

8: Faire Is Foul

For Sylvester's birthday, Team Scorpion visits a renaissance festival, but the revelry is cut short when a group tries to rob a nearby police evidence locker. Also, Paige grows weary of Walter's play-by-play of all the historical inaccuracies at the festival.

Monday, November 20th, 2017

9: It's Raining Men (Of War)

On Thanksgiving, Team Scorpion's new neighbor joins them at sea on a mission to destroy a floating island of trash, but her flawed contribution leaves her, Walter and Happy stranded on the quickly dissolving island. Toby works with Cabe to uncover the details of his father's death that he has suppressed since he was a boy.

Monday, November 27th, 2017

10: Crime Every Mountain

As Cabe's trial looms over Team Scorpion, a simple case goes sideways when they help a father and his daughter whose plane crashes nearby. Also, Paige helps Walter navigate his feelings about Cabe's possible future in prison.

Monday, December 11th, 2017

11: Who Let the Dog Out ('Cause Now It's Stuck in a Cistern)

As Team Scorpion anxiously awaits the verdict of Cabe's trial which could send him to prison, they focus their nervous energy on trying to save a dog stuck in a cistern.

Monday, December 18th, 2017

12: A Christmas Car-Roll

On Christmas Eve, when Walter chooses work over spending quality time with his friends, he falls down the stairs and hits his head, and as he lays unconscious, he enters a dream world where Team Scorpion never existed.

Monday, January 15th, 2018

13: The Bunker Games

Team Scorpion must work with Toby's nemesis, Quincy Berkstead, and his wife, Amy, Toby's ex-fiancée, when they are locked inside an artificially intelligent doomsday bunker that aims to kill them. Also, Walter is distracted by his recent dream where he is married to Florence, not Paige.

Monday, January 22nd, 2018

14: Lighthouse of the Rising Sun

A solar storm knocks out power in Los Angeles, and Team Scorpion must help a teen pilot and his girlfriend who are lost over the Pacific without navigation or radio contact. Also, during the crisis, Walter must look after a group of Ralph's classmates, and Cabe tries to tell Allie finally that he loves her.

Monday, January 29th, 2018

15: Wave Goodbye

Team Scorpion must prevent an incoming tsunami from hitting a vulnerable nuclear power facility, and Toby secretly helps his ex-fiancée retrieve her stolen identity.

Monday, February 5th, 2018

16: Nerd, Wind and Fire

On Valentine's Day, Team Scorpion must set aside their romantic plans to help a doctor and pilot trapped inside a helicopter that crashed atop a skyscraper. Toby and Happy wait for news on their fertility results. Sylvester realizes that he may have feelings for Florence.

Monday, February 26th, 2018

17: Dumbster Fire

The geniuses of Team Scorpion turn into knuckleheads and Paige must simplify the science for them, when their mental faculties are impaired during a job to prevent the creation of a black hole. Florence and Sylvester grow closer when she helps him with a special project.

Monday, March 5th, 2018

18: Dork Day Afternoon

Team Scorpion inadvertently crashes a bank robbery in progress and is taken hostage. Also, Sylvester's feelings for Florence grow.

Monday, March 19th, 2018

19: Gator Done

Team Scorpion heads to the bayou to track down a cagey alligator in order to stop a deadly mosquito-borne virus, and Paige teaches Walter the concept of the "white lie." Also, Walter hits Cabe with a tranquilizer gun and Toby must save his life, and Sylvester and Ralph help Patty when the mean girls at her school force her to get a dreaded tardy slip.

Monday, March 26th, 2018

20: Foul Balls

Team Scorpion must use their high IQs to win a softball game when the homeland director challenges, with all of their future government contracts on the line. Also, Walter's secret night out with Florence puts Toby and Happy on edge.

Monday, April 9th, 2018

21: Kenny and the Jet

Paige's maternal side goes into high gear when Team Scorpion must save an unconscious, hypothermic boy stuck in the wheel well of their airborne airplane. Also, Walter's white lie to Paige starts to take a toll on him, and Paige realizes something's up.

Monday, April 16th, 2018

22: A Lie in the Sand

Season Finale. Team Scorpion heads to Northeast Africa where they must carefully navigate a minefield in order to save the lives of local villagers. Also, Paige and Walter's relationship takes a shocking turn, and Toby and Happy make an important decision.

Monday, April 23rd, 2018

23: