update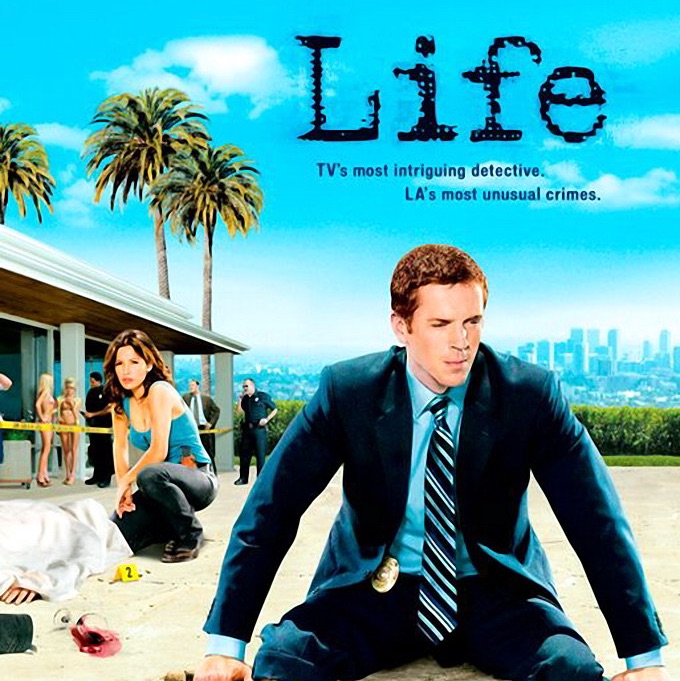 Season 0
not specified

1: Life Begins

not specified

2: Fruits of Life

not specified

3: Life's Questions Answered
Season 1
Wednesday, September 26th, 2007

1: Merit Badge

The pilot introduces us to Detective Charlie Crews and the painful cobwebs of his past as he returns to a world that's moved on without him. His appreciation for the details offers him up an unique insights into crime solving. Also his newfound Life reminds us of all the little things we easily take for granted.

Wednesday, October 3rd, 2007

2: Tear Asunder

When a new bride is murdered her husband is the prime suspect. Crews has his doubts and becomes determined to help, not wanting to send an innocent man to prison. Crews goes back to the crime scene that put him in prison and discovers something.

Wednesday, October 10th, 2007

3: Let Her Go

When a husband and wife are victims of a carjacking the wife is murdered. Crews and Reese become suspicious of the husband when he refuses to identify the suspect and they have to let him go free. Crews goes to see the detective that handled his case.

Wednesday, October 17th, 2007

4: What They Saw

Things get confusing when a man is found dead in his own home. As Crews and Reese interview the neighbors they get all different ideas about the murder. When a homeless man is taken into custody but swears he's innocent, Crews and Reese continue to investigate.

Wednesday, October 24th, 2007

5: The Fallen Woman

A woman is found wearing an angel costume dead. Crews and Reese must figure out if it was suicide or murder. They find out the victim might have been involved in a scam involving Russian brides. The big problem they face is that they can't get to the ringleader.

Wednesday, October 31st, 2007

6: Powerless

While at an AA meeting Reese thinks she overheard someone admit to a rape. She finds herself in danger because she won't back down and keeps on investigating. Crews goes on a stakeout with Lt. Davis and learns some surprising information about his former partner Bobby Stark.

Wednesday, November 7th, 2007

7: A Civil War

Crews and Reese investigate the murder of two Iranian Americans and kidnapping of another. Not sure if this is a hate crime or not they try to work with the kidnappers. What they uncover is a boy trying to his mother's love. Earley becomes concerned about Crews' impulsiveness when he wants to buy a solar farm after having a dream.

Wednesday, November 14th, 2007

8: Farthingale

Crews and Reese investigate a gas explosion in which an IRS agent leading a double life is the victim. Was it an accident or arson? Was the IRS agent trying to be a hero? Crews is once again a suspect in a murder investigation when the detective who handled his case is found dead.

Wednesday, November 28th, 2007

9: Serious Control Issues

Crews and Reese investigate the murder of a runaway girl found dead under a freeway overpass holding her guitar. A grocery store employee and his son become the prime suspects when they find out the girl used to play her guitar in front of the store. During the investigation they find ties to a kidnapping 12 years earlier. Are they connected?

Monday, December 3rd, 2007

10: Dig a Hole

Crews and Reese investigate the murder of a Zen Master who was buried alive ten years ago. Crews continues to investigate his own case. He finds some proof that his partner's father Jack Reese could be involved.

Wednesday, December 5th, 2007

11: Fill It Up

Crews and Reese investigate a murder in which it looks like the wife shot her husband, but no murder weapon was found, what they do find is illegal drugs. Crews asks Reese and Stark to cover for him during the search because he has to take care of something. Crews is in for a shock as he tries to track the man he thinks actually committed the murders he was in jail for.
Season 2
Monday, September 29th, 2008

1: Find Your Happy Place

In the season two premiere, detectives Charlie Crews and Dani Reese are on the hunt for a serial killer when three numbered trunks containing suffocated bodies are found scattered across Los Angeles. With their new boss New York transfer Captain Kevin Tidwell pressuring them to get answers, Crews and Reese race to find a connection between the murders before the killer strikes again. Meanwhile, Ted and Crews attempt to track down the daughter, the lone survivor, of the family Crews was wrongly convicted of killing.

Friday, October 3rd, 2008

2: Everything... All the Time

Charlie Crews and Dani Reese investigate the death of a family man who is found beaten and bound to a chair at the bottom of an empty pool. Captain Tidwell is convinced the murder was an act of gang violence and sends the detectives on assignment. After interviewing the victim's daughters and two gang members, Crews and Reese's only clues are an underground party circuit, a bottle of steroids, and a myth about a man only known as Monster. Meanwhile, Ted gets an unexpected visit from Dani's father who is determined to find out what information Crews has on him and consequently has a request of Ted. Crews also enlists the help of his ex-wife Jennifer to reach out to Rachel , the lone survivor of the murdered family Crews was wrongly convicted of killing.

Monday, October 6th, 2008

3: The Business of Miracles

Crews and Reese are baffled when the body of a cancer research scientist is found frozen solid; Crews resolves to prove that Jack Reese was involved in his incarceration; Ted asks Crews to be a reference for a business school interview.

Friday, October 10th, 2008

4: Not for Nothing

Crews and Reese race against the clock to find the killer when a student acting as a corrections officer in a university's prison experiment ends up dead; Crews obsesses over a recording he got from a wiretap he placed on Reese.

Friday, October 17th, 2008

5: Crushed

When a college student is found crushed to death in a wrecking yard, the probe leads Crews and Reese to a complex online love triangle; Crews continues his investigation into Jack Reese by hunting for the officers seen in his latest clue.

Friday, October 24th, 2008

6: Did You Feel That?

Crews and Reese must track down a killer who escaped from prison after an earthquake hit Los Angeles.

Wednesday, November 5th, 2008

7: Jackpot

A woman is found in a pool of blood sitting at a table set with a romantic dinner for two; Rachel and Crews realize they share a common bond.

Wednesday, November 12th, 2008

8: Black Friday

Crews and Reese must track down the body of a murder victim and a killer when a murder takes place in one of the largest malls in America on one of the biggest shopping days of the year.

Wednesday, November 19th, 2008

9: Badge Bunny

Crews and Reese discover that a dead elementary teacher was a woman who exclusively dated cops, and that the killer could be one of their own; Crews and Jennifer address their complex relationship.

Wednesday, December 3rd, 2008

10: Evil... and his Brother Ziggy

When a sheriff's deputy is found murdered on an Indian reservation, Crews and Reese find themselves in the middle of a turf war between Tribal police and the county sheriff's department. The detectives learn the victim was not well-liked on the reservation and the opening of a new profitable casino may have led to the deputy's demise. Crews attends a fundraiser thrown by Mickey Rayborn, one of the individuals Crews believes was involved in the conspiracy against him.

Wednesday, December 10th, 2008

11: Canyon Flowers

A food bank delivery man is found buried up to his neck in a backyard.Crews disregards the FBI's warning and confronts Mickey Rayborn about his role in the conspiracy that put Crews in jail.

Wednesday, December 17th, 2008

12: Trapdoor

Crews's father, Charles Crews, Sr., shows up at his son's doorstep to try to mend fences. Crews and Reese investigate the death of three Russians; Reese falls into old habits.

Wednesday, February 4th, 2009

13: Re-Entry

Charlie Crews and Dani Reese try to narrow down the list of suspects when a retired NASA pilot is shot mid-flight; Crews tries to remember who shot him.

Wednesday, February 11th, 2009

14: Mirror Ball

A lead singer of a heavy metal cover band is suffocated to death; Crews discovers that his father's wedding has been called off.

Wednesday, February 18th, 2009

15: I Heart Mom

A con-man is found dead with his mouth full of money in a house without a roof; Crews has a confrontation that sheds some light on the conspiracy against him.

Wednesday, February 25th, 2009

16: Hit Me Baby

Reese receives an offer to join an FBI organized crime task force, leaving Crews and Stark to partner up. The former partners work on a case of a philandering financial adviser who was murdered and discover a case of corporate and political corruption.

Wednesday, March 11th, 2009

17: Shelf Life

Crews and Stark experience the world of extreme corporate power while investigating the stabbing death of a soldier killed while on leave in Los Angeles.

Wednesday, March 18th, 2009

18: 3 Women

Jane Seever (Gabrielle Union) is assigned as Crews' new partner while Reese is away. Seever and Crews investigate when a court reporter is clubbed to death.

Wednesday, March 25th, 2009

19: 5 Quarts

A co-worker is suspected of murder when Crews and Seever investigate the death of a coroner. They must work fast to find out if the coroner is guilty, or there will be a chance that future cases would become compromised. Elsewhere, Ted tries to work things out with his daughter.

Wednesday, April 1st, 2009

20: Initiative 38

The detectives look into a politician's murder. The victim had been working on a banning of handguns which would cost gun companies millions of dollars. Elsewhere, Crews looks into the new FBI duties of Reese.

Wednesday, April 8th, 2009

21: One

Crews looking for Reese, who disappeared while on a case with the FBI. What he discovers is that his partners disappearance is connected to the conspiracy that had put Crews in jail.