update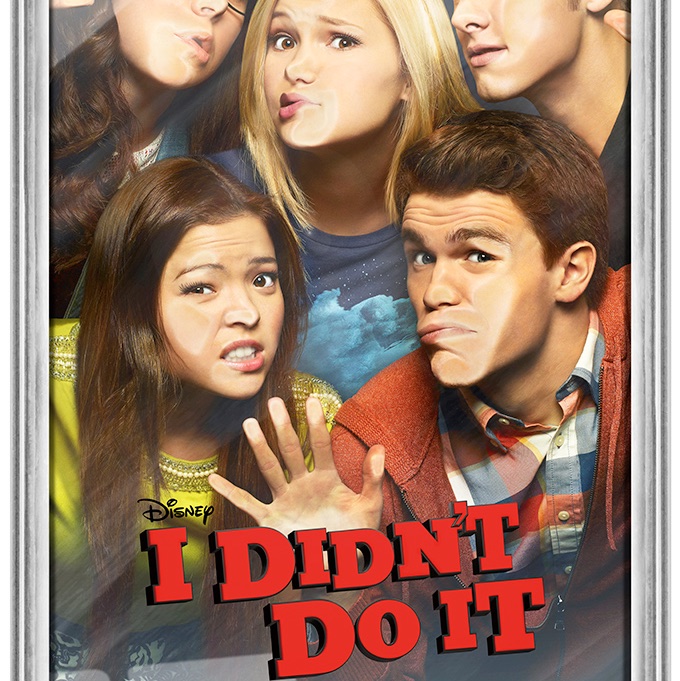 Season 1
Friday, January 17th, 2014

1: The Pilot

Lindy and Logan face their parents who have just returned from a night out, determined to somehow understand just how their home became covered in foam, why pizza is falling from the ceiling, how a goat got into their living room and what happened to Mrs. Klasby, the 91-year-old babysitter.

Sunday, January 26th, 2014

2: Fireman Freddy's Spaghetti Station

The close-knit pals find themselves at their favorite childhood party station covered in spaghetti sauce and surrounded by a huge birthday party of disgruntled fourth-graders.

Sunday, February 9th, 2014

3: The New Guy

When the five pals realize their mistake in befriending the new guy in school, they search for ways to "break up" with him.

Sunday, February 16th, 2014

4: Dear High School Self

Lindy's brother and their friends go on a hunt for a letter Lindy wrote in the third grade about High School.

Sunday, March 9th, 2014

5: If It Tastes Like a Brussels Sprout

Logan and Jasmine create a flavor enhancing spray that makes any healthy food taste especially delicious.

Sunday, March 16th, 2014

6: Lindylicious

Lindy wins a contest for making your own smoothie. 

Sunday, April 6th, 2014

7: Snow Problem

When Logan finds a great "cheap-on" coupon rate for a ski chalet, the five pals head to the slopes but soon discover why the cabin was such a steal.

Sunday, April 13th, 2014

8: Dance Fever

While most of the gang is preoccupied with their dates to the school dance, Lindy is busy dodging her arch nemesis, Sherri, and her wild attempts to achieve the school's perfect attendance record.

Sunday, May 4th, 2014

9: Now Museum, Now You Don't

Lindy and Logan's sibling rivalry gets heated when they both land jobs at the Chicago Museum of Art. Meanwhile, Delia is convinced she is a decedent of Nefertiti and recruits Jasmine and Garrett to help her collect a DNA sample from the mummy exhibit.

Sunday, June 22nd, 2014

10: In the Doghouse with the White House

A school trip to Washington, D.C. lands the kids in trouble with the White House when the First Dog is stolen and the five pals are at the center of the investigation.

Sunday, June 29th, 2014

11: Phone Challenge

When Logan's cell phone dies from a smoothie accident, he starts to freak out. To show their support and that they can survive without their phones, the friends make a group pact to give up their cell phones for 72 hours.

Sunday, July 13th, 2014

12: Twin It to Win It

Lindy and Logan participate in a twin telepathy study; Logan and Garrett try to fix the results.

Sunday, July 27th, 2014

13: Earth Boys Are Icky

Delia is convinced boys on earth are too ordinary for her and creates a strange device, partly developed by NASA, to communicate with outer space and attract an extraterrestrial boyfriend. Meanwhile, Logan finds himself in an even weirder relationship when he discovers his new girlfriend Danica is the vice principal's daughter.

Sunday, August 10th, 2014

14: Lindy Nose Best

After Lindy vows not to interfere with her friends' business, everyone seem to get into even crazier messes – Jasmine and Logan began to 'fake-date' to show he is 'boyfriend material' to impress his crush and Delia winds up taking Garrett's spot on the football team.

Sunday, August 24th, 2014

15: Ball or Nothing

When Lindy and Logan accidentally destroy their father's football signed by NFL Hall of Famer Dick Butkus, they go on a mission to track down the Chicago football legend and have him sign a new ball.

Sunday, September 21st, 2014

16: Logan's Run

When Logan learns his friends think he runs very awkwardly and strange, he fakes an injury to get out of Lindy's charity jog-a-thon for the endangered snot otter. Meanwhile, Delia inadvertently gets Brenda fired from Rumble Juice and tries to find the inept employee another job.

Sunday, September 28th, 2014

17: Bad News

Jasmine has been tapped to give the school's morning video announcements. Unfortunately, her best friends and the rest of the student body find her approach to the news pretty boring ...until Logan steps in as her co-anchor.

Sunday, October 5th, 2014

18: Next of Pumpkin

Garrett is ready to meet his secret crush at the Holla!-Ween fest, but his disco ball costume winds up getting him stuck belly up in a corn maze. Meanwhile, Delia has grown a 10-foot pumpkin in hopes of beating her arch nemesis Great Granny Wrinkles for the biggest pumpkin award.

Sunday, November 2nd, 2014

19: Bicycle Thief

Garrett's bike is stolen when Lindy takes it for a ride; she tries to track it down.

Sunday, December 7th, 2014

20: Merry Miss Sis

Lindy and Logan's rivalry reaches a high during the family holiday party, causing Logan to wish he didn't have a sister. An angel grants his wish and shows him how different his life would be without Lindy.
Season 2
Sunday, February 15th, 2015

1: Slumber Partay!

Lindy tries to throw an epic slumber party with Delia and Jasmine but her plans land the three best friends on the other side of the law. Meanwhile, Logan helps Garret turn his family garage into their own man cave and the two wind up getting trapped inside by a wild animal.

Sunday, March 1st, 2015

2: The Not-So-Secret Lives of Mosquitoes & Muskrats

Lindy and her friends become outcast when their fellow Muskrats learn Lindy went on a date with a student from their arch rival Mikita Mosquitoes. Meanwhile, Garrett starts to freak out when he realizes he's the only one of the five who hasn't experienced a first kiss.

Sunday, March 8th, 2015

3: Lindy Goes to the Dogs

Lindy falls in love with a puppy she is fostering and has a hard time letting him go to his new family. Meanwhile, Jasmine and Delia get extremely competitive over their design projects in Home Ec.

Sunday, March 15th, 2015

4: Lindy & Logan Get Psyched!

Lindy and Logan are Delia's first patients when she takes an "Intro to Psychology" course.

Sunday, March 22nd, 2015

5: Dog Date Afternoon

Jasmine volunteers at the Senior Center and makes some friends; Delia borrows Lindy's foster dog.

Sunday, March 29th, 2015

6: Logan Finds Out!

After Logan gets dumped by his girlfriend, Garrett, Lindy and Delia inadvertently learn Jasmine likes him. In fear he may not feel the same, Jaz begs her friends to keep her secret.

Wednesday, April 8th, 2015

7: Food Fight

Lindy is excited about her new gig as the school's food critic until she dines at a family restaurant and the food is terrible. Meanwhile, Jasmine gets a babysitting job and winds up competing with her nine-year-old charge.

Sunday, April 19th, 2015

8: Stevie Likes Lindy

Stevie Moops, an obnoxious rich kid, falls for Lindy and tries to win her heart with OUTRAGEOUS and expensive gifts. Meanwhile, Delia discovers Garrett is hiding the fact that he got his driver's license.

Sunday, May 31st, 2015

9: Falling for... Who?

Logan finally figures out his feelings for Jasmine during the school's big fall dance.

Sunday, June 7th, 2015

10: Lindy and Logan's Brrrrthday!

Jasmine, Delia and Garrett set out to make Lindy and Logan's 16th birthday extra special, but a mishap at a dog show and a terrible snow storm threaten their party plans.

Sunday, June 21st, 2015

11: Cheer Up Girls

When Lindy, Jasmine and Delia learn their school refuses to have cheerleaders for the girls' sports teams, they take a stand and form a rogue cheerleading squad of their own. Meanwhile, Logan's new gig as a superhero for kids' birthday parties leads to a few surprises for Rumblejuice, including a visit by country musician RaeLynn.

Friday, July 10th, 2015

12: Lindy in the Middle

Lindy tries to play matchmaker for Garrett and the new girl in school, who seems to be even more socially awkward than Garrett.

Friday, July 24th, 2015

13: Elementary, My Dear Watson

When Betty's foghorn from her days in the Coast Guard is stolen from Rumble Juice, Logan volunteers to solve the crime and everyone is a suspect.

Friday, August 7th, 2015

14: Lindy Breaks Garrett

When Lindy's plans for a girls day at the spa conflicts with Delia and Jasmine's double date with their boyfriends, the single bestie convinces her brother Logan and Garrett into spending a BFF day at the spa.

Friday, August 14th, 2015

15: Doggie Daddy

The twins compete for Lindy's latest foster dog's affection. Jasmine accidentally sells Garrett's vintage action-figure.

Friday, September 11th, 2015

16: Drum Beats, Heart Beats

Jasmine discovers she still has feelings for Logan even though she is dating Owen.

Friday, September 18th, 2015

17: The Doctor Is In

Lindy becomes smitten with a young veterinarian. Garrett gets a job offer at a fast food place.

Friday, October 2nd, 2015

18: Bite Club

Logan and Delia go to New York for a presentation as Marie Antoinette and Albert Einstein and run into familiar faces; Kevin and Garrett create a major candy scam.

Friday, October 16th, 2015

19: The Rescuers

Lindy and the gang scramble to book a big musical act to play in the benefit concert they are throwing to save an animal-rescue shelter. Meanwhile, Jasmine finally figures out her feelings for Logan.