update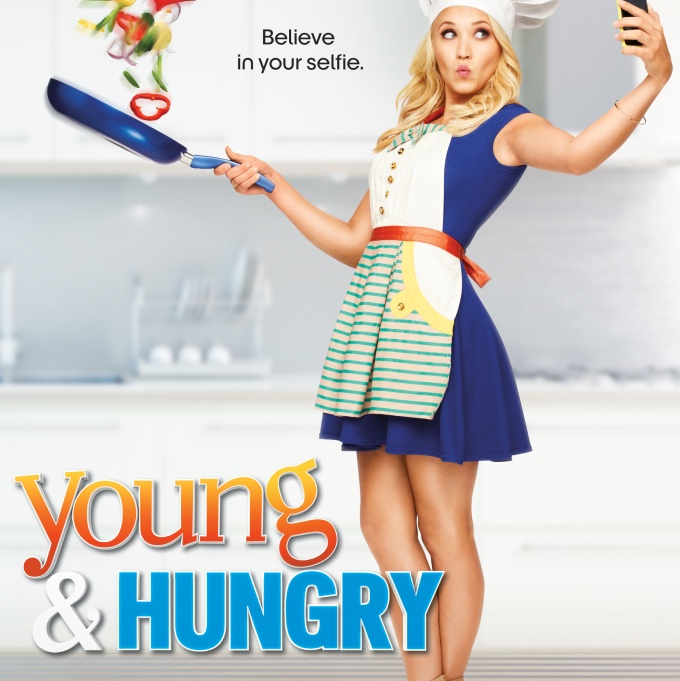 Season 0
Tuesday, November 24th, 2015

1: Young & Christmas

Gabi and Sofia aren't able to be with their families this holiday season, so they decide to volunteer at a local homeless shelter on Christmas Eve. Yolanda is missing her kids and decides to boycott the holiday, at least until Gabi encourages her to reach out to her estranged sister, Jolanda. As soon as the siblings reunite at Josh's loft, however, old grievances are aired, and the family get-together quickly goes from bad to worse. But when Gabi discovers Yolanda is keeping a big secret from Jolanda, will the sisters finally make amends, or is more trouble on the horizon? Elsewhere, Josh goes out of his way to cheer up a miserable Elliot, who is missing Alan, while Sofia wrestles with her conscience when a department store clerk makes an error in her favor.
Season 1
Wednesday, June 25th, 2014

1: Pilot

Gabi, a feisty, young chef, has just landed an interview for her dream job – personal chef to tech millionaire Josh. Josh's right hand man, Elliott, is not impressed with Gabi, but Josh is won over by Gabi's ability to know exactly what he wants to eat. But when the romantic dinner Gabi planned to help Josh propose to his girlfriend takes a very unexpected turn, Gabi fears she may have lost the best job she ever had.

Wednesday, July 2nd, 2014

2: Young & Ringless

Gabi is excited for her first official day as Josh's new chef, but her first assignment - to prepare an elaborate Chinese dinner for Josh's visiting investors - has her questioning if she can really handle the demands of the job. Then when a valuable item goes missing, Gabi is shocked when she's accused of being the thief. And then Gabi is even more surprised when she finds out who the real culprit is.

Wednesday, July 9th, 2014

3: Young & Lesbian

Josh and Elliot are desperate to impress editor Logan Rawlings so that she will name Josh to an influential list in her magazine. But Logan is more taken with Gabi, leading Elliot to secretly set the two up on a date in the hopes of securing Josh's place on the list.

Wednesday, July 16th, 2014

4: Young & Pregnant

While cooking an elaborate engagement celebration for Caroline and Josh, Gabi is horrified to realize she may have a bun in the oven. And things go from bad to worse when Yolanda and Elliot mistakenly believe Caroline is the pregnant one – and immediately tell Josh.

Wednesday, July 23rd, 2014

5: Young & Younger

Sofia encourages Gabi to start dating again in the hopes she'll move on from Josh. But Josh takes an immediate dislike to Gabi's new guy, Cam, leaving Gabi confused about their relationship. And when Josh seems to discover some surprising news about Cam, Gabi refuses to believe him, which leads her to learn even more surprising news about Cam. Meanwhile, Elliot tries a little too hard to fit in with Josh's programmer friends.

Wednesday, July 30th, 2014

6: Young & Punchy

Josh wants to hire computer genius Cooper Finley, but an awkward incident with Gabi leads Josh to punching Cooper rather than hiring him. Now Gabi is determined to make things right between them, leading to a different kind of spark between her and Cooper. Meanwhile, Elliot and Yolanda each scheme to be the first person to try out the fancy new bathtub Josh had installed.

Wednesday, August 6th, 2014

7: Young & Secret

Hoping to keep their relationship a secret, Gabi convinces Cooper to pretend he already has a girlfriend – Sofia. But when Caroline and Sofia click, and the fake couple becomes very real friends with Josh and Caroline – Gabi has to keep her jealousy in check. Meanwhile, Elliot and Yolanda decide to go on a juice fast together.

Wednesday, August 13th, 2014

8: Young & Car-Less

When Gabi's beloved car breaks down again, Josh sees it as an opportunity for her to drive something safer and takes it upon himself to replace the ancient vehicle. But Gabi is devastated at his gesture and reveals her car was the last gift she ever received from her late mother, leaving Josh horrified and the whole gang determined to get Gabi's car back. Meanwhile, Yolanda and Elliot call Josh out on the fact that he treats Gabi differently than them.

Wednesday, August 20th, 2014

9: Young & Getting Played

Yolanda's son Derek has returned home nursing a broken heart, so Yolanda decides to set him up with Sofia, declaring Gabi too much of a mess for her son. But when Gabi learns that Derek's girlfriend broke up due to Yolanda's disapproval, she decides to trick Yolanda into thinking she and Derek have fallen for each other – thinking Yolanda will decide Derek should go back to his ex. Meanwhile, Caroline temporarily moves in with Josh after a crisis at her apartment, giving Josh a startling look at how their lives will be living together – with all of Caroline's stuff.

Wednesday, August 27th, 2014

10: Young & Thirty (...and Getting Married!)

Josh and Caroline's wedding is unexpectedly moved up and everyone is freaking out for very different reasons.
Season 2
not specified

21: Young & Christmas

Wednesday, March 25th, 2015

1: Young & Too Late

Gabi is freaking out about why Josh called the wedding off and searches for a sign if she should be with him or Cooper, but it's Sofia who makes a surprising discovery. Meanwhile, Elliot has a big date with the wedding florist and ends up bringing a forlorn Josh along.

Wednesday, April 1st, 2015

2: Young & Cookin'

Gabi wonders if her job is in jeopardy when she learns Josh has a new woman in his life that loves to cook for him. When Josh doesn't ask Gabi to be the chef for an important client dinner, Gabi decides a "cook-off" is the best way to keep her job. Meanwhile, Yolanda makes a date with the building window washer.

Wednesday, April 8th, 2015

3: Young & Munchies

Gabi and Sofia are discouraged that they haven't gotten as far in their careers as they would like, so they decide to take action. Gabi's plan involves reaching out to Logan Rawlings about writing a food article for her magazine. But Logan's idea of a topic involves Gabi cooking with a special ingredient. Meanwhile, Elliot is upset to learn that Yolanda makes more money than he does, so he decides to ask Josh for a raise.

Wednesday, April 15th, 2015

4: Young & Old

When Gabi hears its Elliot's 40th birthday, she's determined to make it special for him and his boyfriend Andre. But Gabi's plans end up causing problems between them, and her attempts to fix her mess only make it worse - alarming Josh, who needs Elliot to get him through an important interview. Meanwhile, Yolanda decides she wants to teach her ex-husband Coleman a lesson, but ends up getting more than she bargained for.

Wednesday, April 22nd, 2015

5: Young & First Time

Gabi is excited by an upcoming visit from Cooper, especially since they're about to take their relationship to the next level. But then Cooper accidentally finds out more than he should about the last person Gabi was with. Meanwhile, Josh is furious to find out that Yolanda is spending time with her ex-husband, Coleman.

Wednesday, April 29th, 2015

6: Young & Moving

Gabi and Sofia are thrilled when a larger apartment opens up across the hall. Determined to get a jump on the competition, they hatch a plan when their landlord takes a liking to Yolanda. Meanwhile, Josh's new girlfriend Shauna is keeping something from him, but it's not what Josh thinks.

Wednesday, May 6th, 2015

7: Young & Ferris Wheel

When Josh is looking for a special gift for Shauna, Gabi thinks she has a great idea and goes behind Josh's back to make it happen. But Gabi is horrified when her grand plan leads to an awkward reunion for Josh. And Elliot is afraid to fall asleep in front of his new boyfriend, so he asks Yolanda to watch him sleep to make sure he doesn't do anything embarrassing.

Wednesday, May 13th, 2015

8: Young & Sandwich

Tired of Sofia being too picky when it comes to her love life, Gabi secretly sets her up with an online dating profile in the hopes of finding her a boyfriend. But when Sofia thinks she's found the perfect guy, Gabi discovers he's hiding a big secret. Meanwhile, Josh decides to go on a dating detox, and Yolanda discovers that her new boyfriend used to be really close with Elliot.

Wednesday, May 20th, 2015

9: Young & Pretty Woman

Just when Cooper has moved back from China to be with Gabi, Josh decides he needs to confess something to her. Meanwhile, Elliot's boyfriend, Alan, delivers some unexpected news and then follows it up with an even more shocking surprise.

Wednesday, May 27th, 2015

10: Young & Part Two

Gabi is confused after some long-held secrets come tumbling out. While trying to figure out her next move, she is presented with an amazing opportunity that she's not sure she deserves.

Wednesday, August 19th, 2015

11: Young & How Gabi Got Her Job Back

Gabi has returned from her internship in Switzerland and is anxious to face Josh after how things were left between them. But Josh insists he's fine and encourages Gabi to take a job with his new neighbor. But when Josh thinks his neighbor might have a thing for Gabi, he takes to spying to learn the truth.

Wednesday, August 26th, 2015

12: Young & Back to Normal

Gabi is reluctant to date a cute guy until she sets Josh up with a neighbor; Elliott recruits Yolanda for "Drag Queen Bingo."

Wednesday, September 2nd, 2015

13: Young & Unemployed

Gabi tries to land unemployed Sophia an internship with Josh, then must keep her busy and out of the way when the plan falls through; Elliot's mother mistakenly believes that he is engaged to Josh.

Wednesday, September 9th, 2015

14: Young & Oh, Brother

Sofia's brother Benji arrives in San Francisco, and he's a far cry from the little kid Gabi remembers. Immediately attracted to the grown-up version, Gabi is thrilled when Benji asks her out on a date, despite Sofia's warnings to stay away from her baby brother. Will Gabi's flirtation cause tension in the girls' friendship? Meanwhile, Josh and Yolanda must get creative when they have to throw Elliott a bachelor party on very short notice. But when their plan involves a dating app for gay men, everyone gets more than they bargained for.

Wednesday, September 16th, 2015

15: Young & Earthquake

Sofia is depressed about her lack of job prospects, so Gabi takes her to a psychic to get a better idea of what the future holds. Sofia has serious doubts about Madame Paulette's abilities, while Gabi panics when she learns that Josh will pop the question and vows to avoid her boss's pending proposal. But when the fortune-teller accurately predicts an earthquake, it's clear she knows what she's talking about, so the girls go back for another reading. This time she promises them money, love and a bundle of joy, which looks like a possibility when Elliott and Alan ask Sofia a life-altering question. Meanwhile, Yolanda tries to help Josh conquer his fear of possible aftershocks with unfortunate results.

Wednesday, September 23rd, 2015

16: Young & How Sofia Got Her Groove Back

Gabi is determined to keep Sofia from moving back to Florida so she arranges a spa day at a fancy hotel, courtesy of Josh's charity swag bag. But when Sofia hits it off with a mysterious stranger and he mistakes her for a prostitute, she realizes it's a sign to pack it in and move home. Gabi's effort to fix things only complicates matters, but she gets a little unexpected help when Sofia's luck spins in a brand new direction. Elsewhere, Elliot and Yolanda's attempt at exercise has painful results, while Josh's date with a spin instructor leaves him feeling a little self-conscious about his masculinity.

Wednesday, September 23rd, 2015

17: Young & Trashy

Josh is about to release his first new app in a year and he's freaking out about such an important moment in his career. Elliot and Yolanda have some creative presents for Josh, but a panicked Gabi didn't realize that such an occasion requires a gift. She and Sofia hit their local thrift shop and find the perfect thing - a black mock turtleneck just like Steve Jobs used to wear. But when it turns out that it's actually Steve Jobs' turtleneck and the family will pay big money to get it back, the girls go to great depths to steal it from Josh, which isn't easy since he thinks it's his lucky charm. Meanwhile, Yolanda tries to trick Josh into admitting that he doesn't like her gift.

Wednesday, September 30th, 2015

18: Young & Doppelgänger

It's Gay Pride in San Francisco, and since they have a perfect view of the parade route, Gabi gets the brilliant idea to sublet their apartment for the weekend. Sofia can't take one more of Gabi's wild schemes and refuses to let strangers stay in their apartment. But when renters Sam and Gracie arrive, a fight ensues, and it turns out Gabi and Sofia have more in common with the strangers than each other. Josh is thrilled when he is invited to participate in an Ed Talk, but his stage fright causes his lecture to take an embarrassing turn. Meanwhile, Yolanda and Elliot's weekend of partying doesn't turn out quite like they expected.

Wednesday, October 14th, 2015

19: Young & Younger Brother (1)

Elliot and Alan's wedding is right around the corner, and despite Elliot's misgivings, the couple asks Gabi to make some whimsical appetizers for their special day. When Josh's flaky younger brother, Jake, shows up for an unexpected visit and announces he wants to be a chef, Josh hires him to help Gabi with wedding prep. But as sparks fly between the two, Josh realizes what he's done and goes to great expense to separate the budding lovebirds. Elsewhere, Yolanda panics when she misplaces Elliot's wedding ring while one of the grooms feels left out of his own nuptials. Elsewhere, Jake has a huge surprise for Gabi.

Wednesday, October 14th, 2015

20: Young & Younger Brother (2)

Gabi is thrilled that Jake bought her a food truck and refuses to let Josh's doubts about their lack of a business plan discourage her. When it turns out that he was right and operating a food truck comes with a whole lot of problems and responsibilities, Gabi doesn't want him to know how much trouble they're in. Once the truth comes out, will Josh be able to put Gabi's happiness before his own feelings, or will he drive away the two people that matter most? Elliott & Alan must get a blessing from Rabbi Shapiro before they exchange vows, but he's not very impressed by what he sees. Elsewhere, Sofia and Yolanda each make a love connection at the reception.
Season 3
Wednesday, February 3rd, 2016

1: Young & The Next Day

Gabi heads to the desert on what should be the greatest road trip ever, but she can't seem to leave her mixed feelings behind. When she hits a bump in the road, Gabi must do what she does best in order to save the trip. Back in the city, Elliot and Alan cut their honeymoon short, forcing Yolanda to step in as marital counselor in hopes of ending the newlyweds' lovers' quarrel. Meanwhile, Josh's chances at love may have just literally passed him by.

Wednesday, February 10th, 2016

2: Young & Coachella

The music festival proves to be the perfect crowd for Gabi's munchies, though the food truck isn't the only success. It's all finally happening for Gabi, but she's left wondering, will it last? With Gabi on cloud nine, Sofia looks for new company for her misery. Meanwhile, Elliot and Alan try to salvage their honeymoon.

Wednesday, February 17th, 2016

3: Young & First Date

Gabi's dream date turns into a nightmare when a surprise guest crashes dinner and sends red flags flying. While Gabi is consumed by her love life, Sofia has a huge confession that may change how she feels. Meanwhile, Yolanda gets lucky, but Josh's need to be the hero leads to a near death experience.

Wednesday, February 24th, 2016

4: Young & Parents

Gabi's awkward double date seems tame compared to an embarrassing encounter in the bedroom. When Sofia feels she's been discriminated against, she calls for a boycott. Meanwhile, talk of the future has someone taking a step back.

Wednesday, March 2nd, 2016

5: Young & Therapy

Gabi dabbles in some light espionage to find out what's going on inside Josh's head. However, Josh isn't the only one with issues. When Yolanda suspects someone in the house of being unfaithful, she does a little recon of her own to put their fidelity to the test.

Wednesday, March 9th, 2016

6: Young & Rachael Ray

Gabi and Sofia come up with a gourmet way for girls to get over their exes. With the help of Elliot's social media prowess, their idea catches the eye of Rachael Ray. However, when Gabi receives some bad news, will she still be able to impress her culinary idol or will she blow her shot at success?

Wednesday, March 16th, 2016

7: Young & Rob'd

The girls meet a mystery man under questionable circumstances. While they decide whether or not he's datable, he steals someone's heart, and maybe a few other things. Meanwhile, Josh channels his energy into something positive, leaving Elliot to think what Josh doesn't know won't hurt him.

Wednesday, March 23rd, 2016

8: Young & Getting Real

The cast looks back on their favorite moments so far and takes questions from a live studio audience. Fans get a second look at the food, the fights, the romance and every last insult that made them fall in love.

Wednesday, March 30th, 2016

9: Young & Lottery

The chance at a huge jackpot has Sofia and the gang imagining their dream life. When Gabi meets a cute foodie, she can't help but wonder what her own future will look like. In hopes of earning a little extra income, Elliot gets Alan a job redecorating Josh's office, but quickly finds out he's not exactly rich with design experience.

Wednesday, April 6th, 2016

10: Young & No More Therapy

A breakthrough with his therapist makes Josh consider ending his sessions, but is that just the commitment issues talking? Elliot and Alan make one last attempt at a honeymoon redo, but will have to make it a three-way in order to get what they want. Sofia also gets another chance at love when she meets a soulful sweetie at spin class.
Season 4
Wednesday, June 1st, 2016

1: Young & Hawaii

Gabi is heartbroken over witnessing Josh with his therapist, but is stuck with him on their plane to Australia. Commiserating with fellow traveler Adam, Gabi accepts his offer to pose as his new wife on his honeymoon to Hawaii, since his actual bride Amanda dumped him at the altar. Trying to make Josh and Amanda jealous, Gabi and Adam decide to make the most of their "honeymoon" at a couples-only resort - and post about it on social media. Meanwhile, Yolanda, Elliot and Alan have to think fast when they end up at the same resort and the manager assumes they're a "thrupple" - a three-person couple.

Wednesday, June 8th, 2016

2: Young & Hurricane

Josh shows up in Hawaii to find out what Gabi is doing with her fake husband Adam. But Gabi is desperate to escape back to San Francisco, only to have a hurricane trap everyone on the island. Meanwhile, Elliot is angry after he is saved from a life-threatening situation by Yolanda rather than his husband Alan.

Wednesday, June 15th, 2016

3: Young & Fried

Gabi wants to prove to Josh that she's doing fine on her own, so she leads him to believe she has a new job with famed chef Giada De Laurentiis. Meanwhile, Josh throws Yolanda a 50th birthday party, and uses the party as an excuse to check up on Gabi.

Wednesday, June 22nd, 2016

4: Young & Piggy

Gabi and Sofia start working together, but things turn awkward when only one of them can land a coveted promotion.

Wednesday, June 29th, 2016

5: Young & Fostered

Alan and Elliott are surprised when their new foster "child" turns out to be a teenager, who forms a quick bond with Gabi.

Wednesday, July 6th, 2016

6: Young & Assistant

Josh is about to launch a new app and hires a new assistant Randall, who is the epitome of efficiency and work ethic, to help him with this busy time. Thinking Randall is a little too good at his job and out to get theirs, Gabi, Elliot and Yolanda set out to get him fired. Meanwhile, Sofia is annoyed at her new neighbor for constantly playing loud music, until she meets him face-to-face.

Wednesday, July 13th, 2016

7: Young & Bowling

Gabi is thrilled when she wins a local cooking contest using a recipe she got from her Aunt Chris. But when the contest organizers want to take a picture of Gabi and her aunt, Gabi is forced to go on a search for someone she hasn't seen in years. When Gabi finally tracks Chris down, she is surprised to learn that the reason she hasn't seen Aunt Chris in so long is her aunt has transitioned into her Uncle Chris. Meanwhile, Josh is forced to relive his childhood bowling trauma, and Elliot soon regrets joining Yolanda's poker game.

Wednesday, July 20th, 2016

8: Young & Sofia

Having recently discovered her passion for writing, Sofia is thrilled when she gets a chance to work for intimidating media entrepreneur Logan Rawlings, with Gabi supporting her all the way. However, Logan is as demanding as ever, and after a rocky start on the job, she gives Sofia one chance to prove herself - by landing an exclusive interview with a hot new artist. At a loss for what to do, Sofia turns to her new coworkers, intellectual Leo, who's immediately taken with Sofia, and charming Kendrick, who's caught Sofia's eye. Determined to succeed, Sofia sets out to show Logan, and herself, that she has what it takes.

Wednesday, July 27th, 2016

9: Young & Matched

Gabbi accuses Josh of using his money unfairly to get girls. They challenge each other to find dates without using unfair advantages like Josh's money or Gabbi's looks.

Wednesday, August 3rd, 2016

10: Young & Screwed

Gabi, Sofia, and Yolanda have to stay over with Josh while their building is treated for termites. But Josh and Gabi are uncomfortable staying together and try to make sense of an awkward situation. Meanwhile, Alan suggests a weekend getaway to cheer up Elliot, but his destination of choice is Josh's penthouse, making it an even more crowded house.
Season 5
Monday, March 13th, 2017

1: Young & Punch Card

Gabi and Josh try to prove to everyone that they won't let feelings get in the way of their new arrangement as "friends with benefits." Yolanda's attempt to cut corners while doing her job leads to disastrous complications for Elliot and even more so for Josh. Meanwhile, Sofia's elaborate plan to get her coworker to ask her out is disrupted by Gabi and Josh's situation.

Monday, March 20th, 2017

2: Young & Valentine's Day

Gabi and Josh think their no-strings relationship means they can skip celebrating the day of love. But when they each are convinced the other bought a heartfelt gift, panic ensues. Confused about her situation with Josh, Gabi turns to her neighbor, the oft-married Ms. Wilson (special guest star Betty White), who reluctantly shares some advice. Meanwhile, Elliot and Alan have vastly different ideas about how to spend Valentine's Day, and Sofia and Yolanda team up for an anti-Valentine's Day celebration.

Monday, March 27th, 2017

3: Young & Kiki

Gabi and Josh's efforts to dog-sit a lifestyle guru's pampered pooch go awry; Elliot attempts to deceive Sofia and Yolanda after his plans to procure VIP concert tickets fall through.

Monday, April 3rd, 2017

4: Young & Josh's Dad

Josh's father Matt contacts his son for the first time asking to meet. When Josh refuses, assuming his father is only after his money, Gabi takes matters into her own hands. She arranges to meet Matt and discover his true motives, but as usual, things don't go as planned. Meanwhile, Yolanda is convinced she'll die at the same age as her mother, so she goes on a strict diet - but it's Elliot who may be at risk.

Monday, April 10th, 2017

5: Young & Softball

Josh tries to bond with his dad Matt, but they have trouble finding common ground. When Matt decides to head out of town again, Gabi intervenes and brings Matt to Josh's softball game in an effort to get them together. But Josh is filling in on Elliot's team in a gay softball league, so Matt gets the wrong idea about his son. When Matt goes out of his way to show his support, Josh is reluctant to tell the truth, wanting to hold on to his newfound relationship with his dad. Meanwhile, Yolanda recruits Sofia to help sell Squirrel Ranger cookies so they can win a cruise.

Monday, April 24th, 2017

6: Young & Couchy

Sofia is thrilled when her boss gives her a used couch thinking it means she's on her way to a promotion. But Gabi hates the couch and sells it behind Sofia's back with the help of Josh's new app. When Sofia is more angry than Gabi anticipated, Gabi schemes to make things right again. Meanwhile, Elliot drags Yolanda to a weight-loss group where she reconnects with the Rabbi from Elliot and Alan's wedding. But he's scared to introduce Yolanda to his mother and admit that they're dating.

Monday, May 1st, 2017

7: Young & Bridesmaids

Gabi and Sofia are annoyed when they hear that high school frenemy Lizette is throwing a lavish destination wedding, with all expenses paid, for the wedding party. Desperately wanting a vacation, the girls scheme to get Lizette to make them bridesmaids. But Lizette only has room for one of them to be in the wedding. Meanwhile, feeling unappreciated by Josh, Elliot pretends that he's fielding a job offer from a multimillionaire.

Monday, May 8th, 2017

8: Young & Vegas Baby

Gabi is feeling down about her birthday, even after she discovers she and Ms. Wilson share their special day. When Gabi learns Ms. Wilson made a promise to meet a former boyfriend in Vegas, she decides a road trip to Sin City is the perfect way to get over her birthday blues. Meanwhile, Josh is desperate to figure out why Gabi is so upset about her birthday, and Yolanda and Elliot scheme to keep Gabi's forgotten birthday gifts.

Monday, May 15th, 2017

9: Young & Hold

Gabi and Josh's friends-with-benefits relationship is jeopardized when one of them meets someone else. Elliot battles with a squirrel he discovers in Josh's penthouse, only no one believes the squirrel is real. Meanwhile, Sofia uses Gabi and Josh's relationship drama as fodder for her first article at Clik'd.

Monday, May 22nd, 2017

10: Young & Amnesia

Gabi is horrified when Josh doesn't remember her after a bump on the head, especially since he seems to remember everyone else - and he was about to tell her something important. When Josh thinks he and Gabi met right before his accident at her audition to be his chef, Gabi sets out to recreate their first meeting in the hopes of jogging his memory.

Wednesday, June 20th, 2018

11: Young & Downton Gabi

Gabi and Josh delight in their new status as an official couple, but – drawing parallels to 'Downton Abbey' – Elliot and Yolanda are worried about how their work lives will change now that Gabi is the "lady of the house." Trying to make things less awkward, Gabi asks Josh to spend more time at her apartment, but Josh is horrified when he learns how messy Gabi is.

Wednesday, June 20th, 2018

12: Young & Third Wheel

Josh decides to set Sofia up with someone, in hopes she'll be less of a third wheel in his and Gabi's relationship. When Sofia hits it off with Josh's dentist, Gabi isn't so sure he's the right one for her friend. Meanwhile, Elliot turns to Yolanda for help in reigniting the spark between him and Alan.

Wednesday, June 27th, 2018

13: Young & Communication

Needing some "me" time, Josh fakes joining a swim club to get some space from Gabi and not hurt her feelings. When Gabi learns about Josh's ruse, she concocts an elaborate plan to get him to admit his lie. Meanwhile, Yolanda and Elliot scheme to meet their celebrity neighbor.

Wednesday, June 27th, 2018

14: Young & Handsy

Gabi panics that her relationship with Josh is over when it seems that the spark has died - and that Josh may be getting his needs met elsewhere. Elliot and Yolanda go to extreme lengths to score coveted tickets to a Bruno Mars concert, and Sofia moonlights as a driver for a ride-share company.

Wednesday, July 11th, 2018

15: Young & Mexico, Part 1

When Gabi forgets Sofia's birthday, she plans a last minute girl's weekend to Mexico, leaving Josh behind while he undergoes Lasik eye surgery.

Wednesday, July 11th, 2018

16: Young & Mexico, Part 2

Gabi tries to smuggle Sofia's new beau out of Mexico and gets caught.

Wednesday, July 18th, 2018

17: Young & Motorcycle

Gabi and Josh butt heads when Gabi is gifted a motorcycle and Josh won't allow her to ride it.

Wednesday, July 18th, 2018

18: Young & Bullseye

Gabi and Sofia now have boyfriends and everything is perfect, until they realize their boyfriends are always trying to one up each other.

Wednesday, July 25th, 2018

19: Young & Magic

Josh decides to finally reveal a deep secret to Gabi – he's a magician. Sofia is terrified to introduce her stern grandmother to her boyfriend. Meanwhile, Yolanda's pen pal is being released from prison, and wants to meet in person.

Wednesday, July 25th, 2018

20: Young & Yacht'in

In the series finale, Josh takes the gang for a getaway on his new yacht, where Gabi hits it off with the yacht's chef. Meanwhile, Sofia has a terrible misunderstanding about her boyfriend and Elliot and Alan meet a flirty steward.