update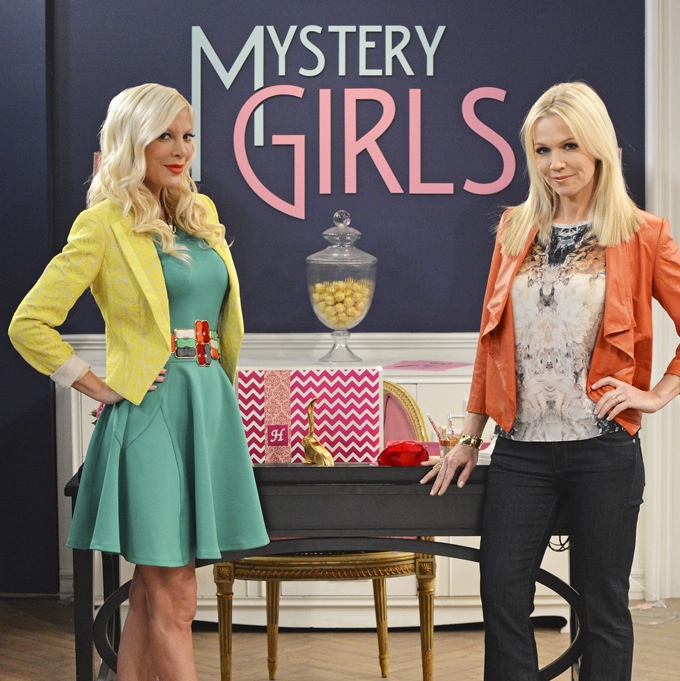 Season 1
Wednesday, June 25th, 2014

1: Death Becomes Her

Nick discovers an online rumor going around that Holly is dead, but instead of immediately correcting it, they start selling some of her unwanted belongings online to make extra money and find that someone is trying to sell a sex tape from her TV show days. The 'Mystery Girls' let the rumor flourish and throw a fake memorial service, complete with Holly in disguise, in order to track down the culprit.

Wednesday, July 2nd, 2014

2: Partners in Crime

Charlie begins to think if she can trust Holly's instincts AFTER their investigation into a new bling ring case takes them to the hottest nightclub in town.

Wednesday, July 9th, 2014

3: Haunted House Party

Holly, Charlie and Nick are hired to spend the night in a supposedly haunted house to prove there is no paranormal activity going on. Holly takes the case seriously as she has a strong belief in the supernatural, but Charlie thinks it's all a joke – that is until some unexplained things happen in the house overnight.

Wednesday, July 16th, 2014

4: Pilot

Holly and Charlie look back on how they went from TV show starlets to real life detectives. Nancy O'Dell from "Entertainment Tonight" guest stars as herself and interviews the Mystery Girls about what brought these two together again. Nick, a "Mystery Girls" fanatic, witnesses a crime and insists on speaking to former co-stars Charlie, a suburban housewife, and Holly, who longs for the glory days when they starred in the show. The infamous duo and former friends reunite and put their TV crime-solving skills to the test.

Wednesday, July 23rd, 2014

5: High School Mystery

Holly's high-school principal Mr. Frost hires the Mystery Girls to make sure he does not become the target of the senior prank before he retires. When the detectives go undercover at West Beverly in order to stop the culprit, Holly realizes this job is her chance to have the normal high school experience she never had but always wanted. Desperate to fit in, Holly becomes obsessed with being popular and momentarily forgets about their case while Charlie takes her role as a gym teacher a little too seriously.

Wednesday, July 30th, 2014

6: Sister Issues

Holly feels inferior to her younger sister Stephanie, a heart surgeon, and is determined to show her how well she's doing. Holly thinks she found the perfect way to impress Stephanie when the Mystery Girls are hired to find a missing young heiress. With some help from a selfie, they track her last location to a biker bar. Once they arrive and begin snooping around, Charlie discovers that Nick actually faked the entire case in order to cheer Holly up. The girls decide to keep up the charade once Stephanie arrives, but when they push around the wrong biker, things go from bad to worse.

Wednesday, August 6th, 2014

7: Passing the Torch

In the 'Mystery Girls' reboot, Holly and Charlie have been recast with younger actresses, but when the stars go missing, they become the prime suspects and work to clear their name.

Wednesday, August 13th, 2014

8: Bag Ladies

It's a race against time when a priceless bag as Holly and Charlie are hired to help track down a stolen purse that needs recovering in time for a major event.

Wednesday, August 20th, 2014

9: Death Rose

Holly's prison friend is released from incarceration.

Wednesday, August 27th, 2014

10: The Killer Returns

The killer who prompted the girls to reunite is on the loose and on the hunt for them.