update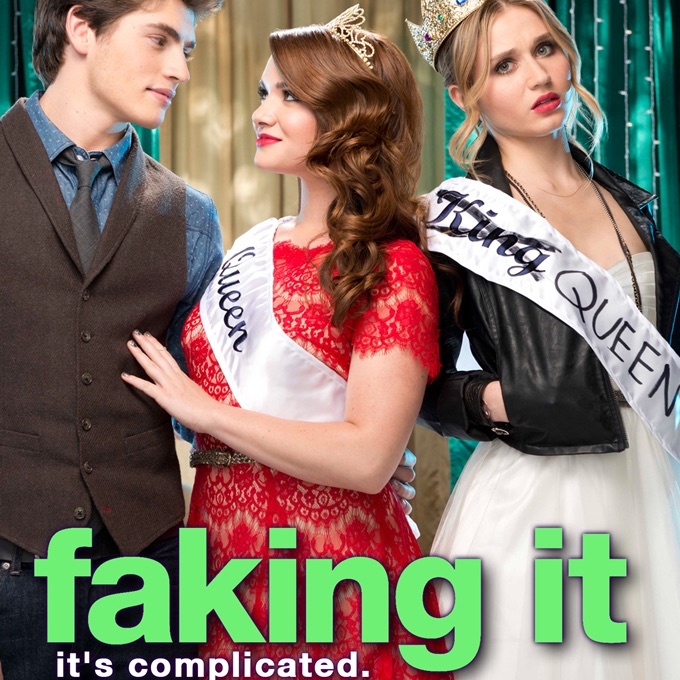 Season 0
Thursday, April 17th, 2014

1: Launch Special

Karma and Amy were two high school nobodies – until they were mistakenly outed as lesbians. Now they're instant celebrities and potential homecoming queens. Check out clips from the first episode and meet the cast in this exclusive launch special.
Season 1
Tuesday, April 22nd, 2014

1: Pilot

Two best friends are mistaken for a lesbian couple and soon find themselves more popular then they ever were before.

Tuesday, April 29th, 2014

2: Homecoming Out

Lauren announces she wants Amy's room or she threatens to out Amy and Karma's new relationship to Amy's very conservative mother. Meanwhile, Karma considers losing her virginity to Liam.

Tuesday, May 6th, 2014

3: We Shall Overcompensate

The students protest a donation from a tech company, while Amy looks for a boyfriend.

Tuesday, May 13th, 2014

4: Know Thy Selfie

Shane helps Amy determine if she likes girls or boys while Liam helps at Karma's parents' juice truck they've parked at the school.

Tuesday, May 20th, 2014

5: Remember the Croquembouche

Farrah's bridal shower interferes with the girls' weekend, while Liam goes to Shane for help.

Tuesday, May 27th, 2014

6: Three to Tango

Amy agrees to a threesome with Liam and Karma, while Shane steps in for Lauren's dance partner.

Tuesday, June 3rd, 2014

7: Faking Up is Hard to Do

Karma convinces Amy that they need to stage a break up, and Liam takes the blame.

Tuesday, June 10th, 2014

8: Burnt Toast

Karma hides her relationship with Liam while Amy hides her feelings from Karma.
Season 2
Tuesday, September 23rd, 2014

1: The Morning Aftermath

Karma deals with the fallout from Amy's confession; Amy feels guilty about her tryst with Liam; Lauren and Shane devise a plan to protect Lauren's secret.

Tuesday, September 30th, 2014

2: You Can't Handle the Truth or Dare

Karma and Amy must deal with the tension between them during a girl's weekend; Liam's new friend takes him to a dive bar, making Shane jealous.

Tuesday, October 7th, 2014

3: Lust in Translation

Sexy Brazilians arrive at school; Karma tries to get Amy to fall for someone else.

Tuesday, October 14th, 2014

4: Lying Kings and Drama Queens

Karma, Lauren and Shane compete for a spot in Hester's drama club; Amy crashes a posh part at Liam's mansion.

Tuesday, October 21st, 2014

5: Present Tense

Amy plans a scavenger hunt to celebrate Karma's sixteenth birthday.

Tuesday, October 28th, 2014

6: The Ecstasy and the Agony

An embarrassing mistake is made by Liam. Shane and Amy invite Lauren to join them at a dance party.

Tuesday, November 4th, 2014

7: Date Expectations

Everyone has a date Saturday night.

Tuesday, November 11th, 2014

8: Zen and the Art of Pageantry

After Lauren enters a beauty pageant, Amy follows suit to prove she is a contender.

Tuesday, November 18th, 2014

9: Karmic Retribution

Amy, Karma and Liam find themselves at odds during a school-wide social experiment.

Tuesday, November 25th, 2014

10: Busted

Amy and Karma argue; Liam receives some promising news about his future; Lauren makes a discovery about her relationship; Shane crosses a line to get what he wants.

Monday, August 31st, 2015

11: Stripped

When a new Principal cracks down on Hester, Shane leads a revolt. Amy suspects Karma is hiding something.

Monday, September 7th, 2015

12: The Revengers: Age of the Monocle

Shane and Amy help Lauren with her revenge on Theo; Karma and Reagan must work together.

Monday, September 14th, 2015

13: Future Tense

A college fair makes Amy question her future. Liam suspects he's found his real dad.

Monday, September 21st, 2015

14: Saturday Fight Live

Lauren and Amy think one of their parents is having an affair. Karma and Shane feel insecure about their relationships.

Monday, September 28th, 2015

15: Boiling Point

Tensions come to a head when the gang gets detention.

Monday, October 5th, 2015

16: Faking It... Again

Karma and Amy turns back to old habits.

Monday, October 12th, 2015

17: Prom Scare

Prom becomes mandatory everyone scrambles to find a date.

Monday, October 19th, 2015

18: Nuclear Prom

Karma and Shane try to one up each other. Amy is surprised by new feelings.

Monday, October 26th, 2015

19: The Deep End

Amy and Lauren find themselves hosting a house party. Karma reinvents herself.

Monday, November 2nd, 2015

20: School's Out

The future of Hester lies in the balance. Amy makes an important decision.
Season 3
Tuesday, March 15th, 2016

1: It's All Good

Amy is surprised by changes when she returns to Austin; Liam becomes jealous.

Tuesday, March 22nd, 2016

2: Let's Hear It for the Oy

Amy and Karma are both ready to make amends, but neither wants to be the first one to extend the olive branch; Zita shows her support for Liam.

Tuesday, March 29th, 2016

3: Karmygeddon

Amy and Liam keep a secret from Karma; Lauren and Shane do damage control when Amy and Karma feud.

Tuesday, April 5th, 2016

4: Jagged Little Heart

Amy decides to do a documentary about Lauren to keep her mind off Karma; Karma and Shane start a band.

Tuesday, April 12th, 2016

5: Third Wheels

A revelation in Karma's home life derails Amy and Lauren's plan to reunite their parents; and Liam and Shane have dinner with Liam's rabbi.

Tuesday, April 19th, 2016

6: Spooking It

Amy and Karma try to use a Halloween party as an opportunity to move on; and Shane is suspicious of Liam.

Tuesday, April 26th, 2016

7: Game On

Karma's rivalry with Amy's old camp friend comes to a head; Liam tries to stay on Lauren's good side; and Noah's mixed signals confuse Shane.

Tuesday, May 3rd, 2016

8: Untitled

Lauren's quest to save Christmas at Hester puts Amy in a difficult position. Karma helps Felix get ready to ask out Amy, and Shane learns a secret about Noah.

Tuesday, May 10th, 2016

9: Ex-Posed

Karma looks for evidence to use against Sabrina, who's growing closer to Amy; Liam tries to set up Lauren; and Shane seeks advice.

Tuesday, May 17th, 2016

10: Up in Flames

With the new year approaching, Karma goes to great lengths to make Amy happy; and Lauren's self-esteem takes a hit when someone from the past returns.