update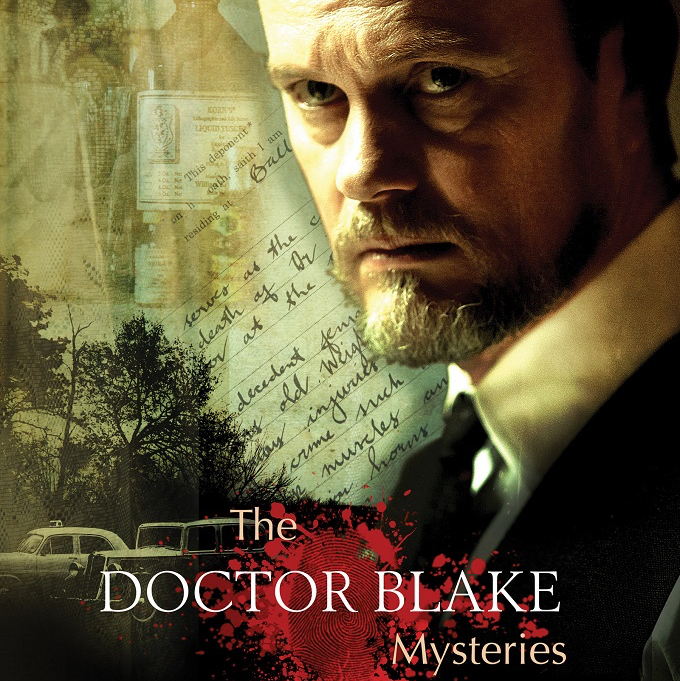 Season 0
Sunday, November 12th, 2017

1: Family Portrait

Three murders, two weddings and a funeral... life's never been straightforward for Doctor Lucien Blake and Jean. So why would anything change now?

Friday, November 30th, 2018

2: Ghost Stories

Jean Blake is drawn into the investigation of several bizarre murders whose only connection seems to be a series of articles recently published in The Courier about Ballarat's most infamous unsolved mysteries. It's a mad, mad world. President John F. Kennedy has been assassinated; the world has changed and tremors are being felt even all the way in Ballarat where Jean Blake (Nadine Garner) is unexpectedly drawn into the investigation of a pair of murders. No one knows the town's history better than Jean and she's determined to help, despite push back from Chief Superintendent Matthew Lawson (Joel Tobeck). Jean's whole world has fallen apart with Doctor Lucien Blake missing, presumed dead. But that same inner strength which got her through the losses of war and enabled her to raise two sons on her own will not allow her to be defeated.
Season 1
Friday, February 1st, 2013

1: Still Waters

When a young woman's body is found floating in Lake Wendouree, Dr Blake can't help digging deeper into the mystery. There is more to the case than meets the eye. Blake is certain the deceased girl - a runaway from the local reform school - was dead before she was dumped in the water. The autopsy proves his theory but finding the killer is more complicated. As the murder case unfolds, Chief Superintendent Lawson seems certain the local teenage rebels and the burgeoning drug trade in pills are to blame. Dr Blake senses some sort of connection and he pieces together the puzzle in his own unconventional way by bluffing his way into the reform school to question the 'bad' girls, and then later swallowing illicit pills to determine their content. In a classic whodunit, Dr Blake sifts through suspects including the young male teacher at the girls' reformatory, Pip Morrissey and local hoon Ricky Arnott, before revealing the culprit..

Friday, February 8th, 2013

2: The Greater Good

On the eve of Anzac Day, Dr Blake (Craig McLachlan) bumps into a former British Army colleague at the police station, Major Derek Alderton (Neil Pigot). Alderton is in town, trying to track down two army deserters believed to be hiding out in the area. But before they can reminisce, Dr Blake is called to the morgue where the body of the attendant, Bert Prentice, lies with shocking injuries in a pool of blood. Chief Superintendent Lawson (Joel Tobeck) immediately suspects the obvious culprit, the former morgue attendant Ron Jackson (Jamieson Caldwell). Ron was sacked to make way for the new boy, Hugh (Brendan Bacon), and it appears Ron has also done a runner...what more evidence do you need? But when Constable Parks (Rick Donald) finds lowlife Gordon McRae (Patrick Kelleher) snooping in Bert's bachelor pad, he adds him to the list of suspects. Meanwhile on the home front, tension is growing between Dr Blake and his housekeeper Jean (Nadine Garner). Convinced he doesn't need her, Jean threatens to leave. Blake responds by wishing her well with a job interview! The mystery deepens when a local woman starts bothering Dr Blake with fake symptoms - even though she looks fine. Blake wonders whom she is protecting

Friday, February 15th, 2013

3: Death of a Travelling Salesman

When a travelling salesman dies in a single car accident on a quiet country road, Chief Superintendant Lawson (Joel Tobeck) labels it a drink driving case. But when Constable Parks reveals the corpse's face was blue, Dr Blake (Craig McLachlan) is intrigued. Although the victim's clothes reek of alcohol, Blake concludes that the salesman was not drunk and certainly died before the crash. But how? And why is the face blue? Dr Blake and Jean (Nadine Garner) head to the boarding house where the dead salesman had been staying. In town for the appliance fair, the state's top vacuum salesmen pitch their new vacuum cleaners to Jean - who is desperate for a new machine. With everyone distracted, Blake snoops around the boarding house and finds a locked basement. Lawson considers the obvious culprits however Dr Blake follows his own hunches until he makes an alarming discovery that shocks everyone.

Friday, February 22nd, 2013

4: Brotherly Love

When a delirious prisoner on death row tells Dr Blake he is innocent of the police shooting for which he is soon to hang, Blake is stunned - and believes him. But no one else seems interested in uncovering the truth. Irish immigrant Sean McBride is accused of shooting a policeman, Clive Cooper. Sealing his fate on death row, Sean originally pleaded guilty to the crime and refused to defend himself in court. The town is divided over the rights and wrongs of capital punishment. The police rally around their own, determined to get 'justice'. District Nurse Mattie O'Brien is vehemently against capital punishment and finds herself at loggerheads with friend Danny Parks. Constable Parks arrived at the crime scene just minutes after the shooting that fateful day and Sean McBride even shot at him. Danny desperately wants to back his copper mates but starts to doubt the evidence as Dr Blake asks more and more pertinent questions. The closer Blake gets to the shocking truth, the tighter the circle closes.

Friday, March 1st, 2013

5: Hearts and Flowers

When the Begonia Festival's head judge is found incinerated in his own glasshouse, all eyes turn to two feuding contestants. Nick Manos and Charles Griffiths are lifelong rivals at everything, thanks to a family argument that started back in 1870. They are also fierce competitors in the flower festival. The day before the head flower judge died, Manos publicly accused him of taking bribes and threatening him. Charles Griffith also has motive. It is an event also marred by the sudden collapse of another judge, heiress Angela Waterston. Chief Superintendent Matthew Lawson suspects it could be either of the men. The autopsy reveals how the professor was murdered however vested interests want to keep it quiet until after the festival. Lawson agrees and Dr Lucien Blake reluctantly takes Professor Ormond's place on the judging panel. Entrant Maria Manos thrills locals by publicly demanding pageant host, Charles Griffith, shake hands and end the family feud with her father. She then announces her engagement to Griffith's son, Oliver. Meanwhile Dr Blake is asked to walk the terminally ill heiress, Angela, down the aisle and do the bridal waltz, to which he agrees despite loathing dancing. Back at Dr Blake's surgery, an airmail letter arrives from Singapore, giving him hope of finding his missing wife and daughter. Are people really murdering over their prize winning begonias - or is there something more sinister going on?

Friday, March 8th, 2013

6: If the Shoe Fits

The death of a migrant factory foreman initially looks like an industrial accident. Dr Blake digs deeper revealing a hideous string of crimes and the ugly side of post-war Australia. Meanwhile, Jean receives a marriage proposal.

Friday, March 15th, 2013

7: Bedlam

A psychiatric inmate, David Hoyle, is the clear culprit in the fatal stabbing of a nurse at Blackhill Asylum. When Chief Superintendent Matthew Lawson and Police Surgeon Dr Lucien Blake arrive at the crime scene, Hoyle is having electro convulsive therapy. Still confused after the shock treatment, Hoyle tells Blake and Lawson he thinks he killed nurse Violet Ashby but cannot recall the incident. Lawson says Hoyle was found crouched near the body holding a large kitchen knife. However Dr Blake is not convinced. A voluntary patient at the institution, Oriel Vogel, surprises Dr Blake when she turns up unannounced at his surgery with a painting she's done of him. She has also done a moody portrait of David Hoyle, which interests Blake. Back at the asylum Blake tests his theory in a rather unorthodox manner. At home, Blake consoles his ego with a bottle of Scotch whisky and ends up terribly drunk. When Jean helps him to bed late at night, she takes the opportunity to read his private letters from Singapore. She finds a photo of Blake with his family, dated September 1940.

Friday, March 22nd, 2013

8: Game of Champions

Handsome challenger, James Holbrook, takes out the jackpot, all the prizes and £1,000, on the popular TV quiz show Game of Champions and is then found dead from what appears to be a heart attack. However Chief Superintendent Matthew Lawson and Dr Lucien Blake find evidence of sabotage. When the locals make deaths threats against a suspect, Blake takes him home like a lost animal, much to Jean's annoyance. Simon tells Blake every detail about the patterns in people's movements on the quiz show, giving Blake useful insights. The number of suspects is growing, as are the motives. Dr Blake turns to Jean, Mattie and Daniel to help him make sense of the baffling case. He gets them to role-play a whodunnit version of the quiz show with a surprising answer.

Friday, March 29th, 2013

9: All That Glitters

A prospector announces to a crowded pub that he has struck gold, and later that night is found dead at the bottom of his mine shaft after showing off the nugget in the pub. When he examines the crime scene, Police Surgeon Dr Lucien Blake is overcome with anxiety in the claustrophobic mine - a result of distressing war memories. Even in this state, Dr Blake spots clues no one else sees. Chief Superintendent Lawson and Dr Blake break the news to the dead man's landlady, Margaret Reid, although her reaction makes Blake immediately suspicious. Back home, Jean is fitting Mattie for a red bridesmaid's dress for her best friend Eadie's wedding. When Eadie's fiancé, Russ, gives her a ruby and diamond engagement ring, Mattie wonders where he got the money. Later that night Eadie, and Russ sweaty with fever and an injured hand, turn up at Dr Blake's practice for medical assistance. Dr Blake doggedly follows other clues and hunches, and it turns out the prospector may have picked a very unlucky place to find his gold.

Friday, April 5th, 2013

10: Someone's Son, Someone's Daughter

The suicide of the local hospital's first female doctor shocks the community. Dr Blake suspects foul play and sets out to find the murderer amongst the staff and board of the hospital. Meanwhile, another letter from Singapore arrives for Lucien. It takes him days to work up the courage to open it. His reaction to the news about his missing wife and daughter shocks Jean, Mattie and Danny.
Season 2
Friday, February 7th, 2014

1: The Heart of the Matter

Dr Blake returns from China and finds himself thrown straight into a murder investigation when the newly elected mayor of Ballarat is found dead at the bottom of the town hall steps.

Friday, February 14th, 2014

2: The Food of Love

Doctor Blake must unravel the murder of an up-and-coming rock'n'roll star, after he collapses in front of his fans at a sell-out performance.

Friday, February 21st, 2014

3: A Foreign Field

Doctor Blake struggles to discover the identity of an unknown man and uncover the mystery of who may have killed him.

Friday, February 28th, 2014

4: Smoke and Mirrors

Two murders take place in the space of hours and Dr Blake finds himself investigating both, the only clue linking them is a pouch of tobacco.

Friday, March 7th, 2014

5: Crossing the Line

Dr Blake becomes involved in the grisly murder of a cinema projectionist and Jean becomes involved with Richard Taylor. How will Blake feel about a beau for Jean?

Friday, March 14th, 2014

6: Mortal Coil

When a second body is found in a coffin, Doctor Blake has to work out how it got there and who killed this unwanted guest and that's just the start of it.

Friday, March 21st, 2014

7: The Silence

When a Ballarat school Principal is found dead, Blake and Lawson find themselves back at the school where they first met as boys.

Friday, March 28th, 2014

8: The Ties of the Past

Art student and life model, Vanessa Mackay, is brutally killed and her keys are used to steal a painting from the Ballarat Art Gallery. But what is the real motive?

Friday, April 4th, 2014

9: The Sky Is Empty

When the old parish priest is found dead, Doctor Blake needs to unravel the secrets and lies of parishioners in order to get to the truth.

Friday, April 11th, 2014

10: An Invincible Summer

When members of a wealthy, much respected Ballarat family are discovered brutally murdered in their own home, the town demands justice.
Season 3
Friday, February 13th, 2015

1: King of the Lake

When an elite schoolboy rower wins a regatta on Lake Wendouree then inexplicably drowns, his mother asks Doctor Blake to find the truth behind her son's death.

Friday, February 20th, 2015

2: My Brother's Keeper

When a Ballarat farmer is found dead in a cow pen, locals are quick to blame livestock for trampling the man, but Doctor Blake isn't convinced.

Friday, February 27th, 2015

3: This Time and This Place

When a social worker is murdered on Bonfire Night, suspicion immediately turns to an Aboriginal teen. But as Doctor Blake investigates he finds there was more than one person in attendance with murder in their heart.

Friday, March 6th, 2015

4: By the Southern Cross

When Doctor Blake investigates the death of a student leader at the Eureka Memorial site, he uncovers quite a few political and family tensions.

Friday, March 13th, 2015

5: A Night to Remember

When a famous actress is murdered at a charity event at the Colonist's Club, it really does become a 'Night to Remember' as Blake tries to find the killer with very little to help him.

Friday, March 20th, 2015

6: Women and Children

A murder in the hospital leads Blake into a maze of sexual politics and revenge.

Friday, March 27th, 2015

7: Room without a View

When the local hardware store owner is mysteriously found dead in a hotel room, Dr Blake decides to spend the night in that same room to try and solve the crime.

Friday, April 3rd, 2015

8: Darkness Visible

While investigating the murder of a local magistrate, Dr Blake realises the answers to this crime are inextricably linked with the death of his mother 40 years earlier.
Season 4
Friday, February 5th, 2016

1: The Open Road

Dr Lucien Blake returns home to find Ballarat hosting a very public stopover in a round - Australia motor race - and a very suspicious death.

Friday, February 12th, 2016

2: Golden Years

Blake helps the new Chief Superintendent investigate the mysterious death of a prominent businessman.

Friday, February 19th, 2016

3: Lucky Numbers

A kidnapping involving the winners of the first ever state lottery, a bus company, and a vagrant leads Blake into a shady world of greed and envy. Also, the Episode Image illustrates a key moment from the last minute of the episode, and should be considered a spoiler. I respectfully ask blip to replace it with one that better illustrates the episode.

Friday, February 26th, 2016

4: Against the Odds

A jockey dies the morning after a big win. But Blake has other worries to deal with - his home life has unexpectedly been thrown into chaos. How will he solve this one?

Friday, March 4th, 2016

5: The Price of Love

When a solider is killed during a routine training exercise, Doctor Blake finds himself at the Ballarat Military Base facing his old nemesis Major Derek Alderton.

Friday, March 11th, 2016

6: A Difficult Lie

When a reporter's body is discovered on the 18th hole at the local golf course, Blake is called in to investigate.

Friday, March 18th, 2016

7: For Whom the Bell Tolls

A man falls from the Ballarat Fire Station bell tower. What appears to be a suicide turns into a murder investigation taking Blake deep into the heart of the Regional Fire Association.

Friday, March 25th, 2016

8: The Visible World

When Blake's old friend turned enemy Derek Alderton is found dead, the hunt for the killer turns back onto Blake himself.
Season 5
Sunday, September 17th, 2017

1: A Lethal Combination

An exhibition boxing match turns sour when one of the boxers is seemingly beaten to death in front of hundreds of witnesses. Blake must determine the cause of death.

Sunday, September 24th, 2017

2: Sorrow Songs

The murder of a beautiful gypsy woman takes Blake inside the intriguing and exotic world of Romani travellers passing through Ballarat.

Sunday, October 1st, 2017

3: The Call of the Void

When a French Chef is found murdered in the freezer of a restaurant, suspicion soon turns to Bill Hobart. Can Blake clear Hobart's name, or is the Senior Sergeant guilty of brutally murdering a man.

Sunday, October 8th, 2017

4: All She Leaves Behind

When a controversial writer is found dead & her sister is found unconscious from a suspected suicide, Blake has to search out some truths about Ballarat in order to understand how & why the woman died.

Sunday, October 15th, 2017

5: Measure Twice

When Blake is called to investigate the murder of a retired carpenter, his only real suspect is discovered praying over the body and covered in blood.

Sunday, October 22nd, 2017

6: First Dance

When the daughter of the school principal dies at her Debutante Ball, Blake does his best to investigate - despite being housebound.

Sunday, October 29th, 2017

7: A Good Drop

As Blake investigates the murder of a farmer and a mysterious case of arson, an unlikely party suddenly throws his future with Jean into chaos.

Sunday, November 5th, 2017

8: Hear the Angels Sing

The death of a policeman coincides with the reappearance of an old enemy, as the past and the present begin to finally catch up with Blake.

Sunday, November 12th, 2017

9: A Family Portrait - Part 1

As Doctor Blake and Jean prepare for their wedding, tragedy strikes one of Ballarat's most prominent families.

Sunday, November 19th, 2017

10: A Family Portrait - Part 2

As Doctor Blake and Jean support the grieving family, deep secrets are revealed for both the Blakes and the Tynemans.