update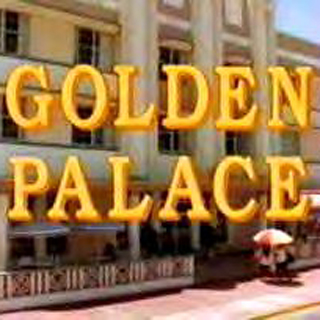 Season 1
Friday, September 18th, 1992

1: Pilot

After Dorothy's departure, "Golden Girls" Blanche, Rose and Sophia move out of their home and into The Golden Palace, a hotel they've just bought in hopes of retiring off of the profits. Just one problem: The hotel has three employees, and is in need of funds.

Friday, September 25th, 1992

2: Promotional Considerations

Rose and a talk show make a deal - guests of the show can stay at the Golden Palace for free in exchange for a ""promotional considerations"" ad. But the first show is about soon-to-be-released killers. Meanwhile, Blanche feels Roland is usurping her territory so she goes out of her way to override all of his decision

Friday, October 2nd, 1992

3: Miles, We Hardly Knew Ye

When Blanche and Roland go through the guest registry that dates back to 1985, they find that Miles was a regular guest at The Golden Palace. They come to one conclusion - Miles is cheating on Rose! Meanwhile, Sophia catches Oliver extorting cash from guests, so she blackmails him.

Friday, October 9th, 1992

4: One Old Lady To Go

A woman who has lost her mind causes trouble at the hotel. Rose wants to keep her safe until her family shows up. Roland disagrees and calls the police to take her away. However, the police mistakenly pick up Sophia! Sophia starts a Chinese delivery takeout business after learning that there's a Chinese restaurant that also goes by the name ""Golden Palace"". They do it to raise money for Oliver's class trip to the water park. Roland makes things right by having them give the money they earn to the real restaurant and give Oliver some of his money back.

Friday, October 16th, 1992

5: Ebbtide for The Defense

Blanche and Roland discover that the hotel's insurance has been canceled just as they realize that Rose has overbooked guests, the bulk of which are lawyers visiting Miami for a convention. Blanche hires a substitute cook, Rubin, a former friend of Chuy who once slept with Chuy's ex-wife.

Friday, October 23rd, 1992

6: Can't Stand Losing You

The girls decide that Roland needs a date, so they compete to find him one... but Blanche goes too far by reuniting him with an old girlfriend. Meanwhile, Sophia jealously tries to sabotage Chuy when he lands an appearance on a morning talk-show cooking segment.

Friday, October 30th, 1992

7: Seems Like Old Times (1)

After signing his final divorce papers, Chuy goes missing - only to arrive with a new bride, Beverly. Dorothy visits the hotel, and Rose, Sophia, and Blanche fight over who will get stuck sharing a room with her. Dorothy is upset when she sees how hard Sophia is working, and she wants to take Sophia to Atlanta to live with her and her husband Lucas, but Blanche and Rose don't want to see Sophia go.

Friday, November 6th, 1992

8: Seems Like Old Times (2)

After Sophia runs away, Dorothy, Blanche, and Rose go to Shady Pines to bring her back home. Sophia must decide whether to stay at the Golden Palace hotel with Rose and Blanche or move to Atlanta with Dorothy and Lucas. Chuy is upset because Beverly won't sleep with him. Then Beverly's former boyfriend visits the hotel and threatens Chuy if he treats Beverly badly.

Friday, November 13th, 1992

9: Just a Gigolo

Vincent Vale, author of the self-help book Ready, Willing & Able, is holding a seminar at the Golden Palace. Nick DeCarlo, a gigolo who is staying at the hotel, pays off his bill by working in the kitchen. When Blanche's date for a dance dies, Nick volunteers to take her. Roland and Chuy attend Vale's self-help seminar. Blanche ends up falling for Nick, and Rose tries to discourage Blanche from the relationship. Nick tells Blanche that he is giving up being a gigolo, and Blanche convinces him to stay with her while she supports him.

Friday, November 20th, 1992

10: Marriage On The Rocks, With a Twist

Bill and Milton, two famous DJ's, are going to broadcast a show from The Golden Palace. Sophia wants Bill and Milton to perform practical jokes, and she suggests Rose as a victim. Roland gets a call from his parents and thinks they are visiting because his dad has bad news, and he thinks he knows what the reason is: his dog has died. But his parents are actually getting divorced.

Friday, December 4th, 1992

11: Camp Town Races Aren't Nearly As Much Fun As They Used To Be

Rose is angry when a man she knows is married checks in with his mistress as the Smiths. The Daughters of the Traditional South are coming to the hotel, and Roland is upset about it. Another couple claiming to be the Smiths check in, and Rose lets them have it, only to find out they're regular customers whose last name really is Smith. Blanche hangs a Confederate flag in the lobby, and Roland demands that she take it down after ""the daughters"" check in. When Roland finds out Blanche hasn't taken down the flag, he tells her how he feels about the flag. When she still doesn't understand, so Roland tells her he's going to look for another job.

Friday, December 18th, 1992

12: It's Beginning To Look a Lot (Less) Like Christmas

The gang's about to celebrate its first Christmas together until Sophia books a therapy group who are traumatized about having bad things happen around Christmas. The only person happy about all this is Chuy, who also dislikes Christmas because he's traumatized as well. Rose is training Roland to become the perfect Santa for the orphanage. That night, Chuy has a Dickens of a nightmare when three Christmas spirits haunt him. Rose (Ghost of Christmas Past), Blanche (Ghost of Christmas Present) and Sophia (Ghost of Christmas Future) show him the err of his ways. So he rushes down to where the therapy group's having a meeting and the group faints when he wishes them a Merry Christmas. After hearing Chuy's story, the group and the therapist realize the true meaning of Christmas & that the hotel's decorated for Christmas again!

Friday, January 8th, 1993

13: Rose and Fern

A woman named Fern wants to get married at the Golden Palace, and Rose has an idea for the wedding theme - cows. Rose's old boyfriend Miles, who left her for another woman, has been calling her, and Rose thinks he wants to get back together. But she finds out that the woman whose wedding she has been planning is going to marry Miles!

Friday, January 15th, 1993

14: Runaways

Blanche is dating a man named Ernie Niles. Rose and Roland audition entertainers for the hotel's banker's daughter's birthday party. Blanche is supposed to help, but she neglects her responsibilities to be with Ernie. Roland gets a call saying that Oliver's mother is ready to take him back. But when she arrives, Roland must hide the fact that Sophia and Oliver have stolen a guest's car for a joyride.

Friday, January 29th, 1993

15: Heartbreak Hotel

Taylor Michaels, Blanche's college friend whom she lost to her roommate, comes to visit, and Blanche plans to win him over this time. But when Taylor arrives, he's interested in Rose, and she and Blanche fight over him. Meanwhile, Sophia convinces Roland to attend a class (for couples only) held by Dr. Ursula, the ""love doctor.""

Friday, February 5th, 1993

16: Senor Stinky Learns Absolutely Nothing About Life

Chuy is upset because Roland and Brad don't let him play volleyball with the other guys. But Chuy is even more upset when he finds out that Roland has let Rose on the team. Blanche tries to get their line of credit increased by coming on to the manager, but the plan backfires when she gets thrown out of his office. She decides to be more businesslike - until she finds herself attracted to Lawrence Gentry, the owner of a nearby hotel who is suing the Golden Palace.

Friday, February 12th, 1993

17: Say Goodbye, Rose

There is a comedy competition at the Golden Palace, and Sophia wants her old friend to enter. Rose begins dating a man named Bill because he looks like her late husband, Charlie. Blanche's son Matthew visits and announces that he is giving up his stockbroker job to become a comedian. Blanche gets angry at him, but after a talk with Rose, she realizes how much Matthew is like her own late husband George and goes to talk to him.

Friday, February 19th, 1993

18: You've Lost That Livin' Feeling

The Golden Palace is having a party to celebrate its grand reopening. A news crew is coming, and Rose has gotten Gerald Davenport, Florida's most acclaimed restaurant critic, to review the restaurant's food. Chuy is upset because Davenport once gave him a review and called his food ""banal."" When Davenport dies while eating Chuy's food, Chuy, Rose, Blanche, Roland, and Sophia try to hide the body. Chuy thinks he killed Davenport by inadvertently putting rat poison in his food.

Friday, April 2nd, 1993

19: A New Leash On Life

Sophia's friend Gladys Goldfine breaks her hip and gives Sophia her tickets to The Price is Right. Roland's mother Louise, who is recently divorced from his father, visits. Charlie, a man who is staying at the hotel, has a racing greyhound, and Sophia wants to bet on the dog to get money for the plane ticket to L.A. for The Price is Right. Roland can't spend time with Louise because he has a date. After he returns from his date, he finds out that Louise and Chuy spent the day together. Louise tells Roland that she and Chuy are spending the next day together. Charlie tells Rose that if his greyhound loses her next race, he's going to have her put down.

Friday, April 9th, 1993

20: Pro and Concierge

After Sophia falls asleep on the job, Rose tells her that she should go on vacation. Roland gets a job offer from the Carlton Hotel Chain, and he tells Chuy. Chuy says that Roland should tell the ladies about the offer in order to get a raise, but he tells Chuy not to tell anyone. Rose tells Blanche that she saw Roland having lunch with the owner of the Carlton Hotel, and Chuy tells them that they should give Roland a raise or risk losing him. Sophia agrees to go on vacation â?? and she's staying at the Golden Palace. Blanche fires Roland for having meetings behind her back.

Friday, April 16th, 1993

21: Tad

Blanche's mentally-retarded olded brother, Tad, pays her a surprise visit from Chattanooga. It's a surprise to Rose as well since Blanche never mentioned she had a brother besides Clayton. When Blanche says that's because she's ashamed of Tad, Rose tells her she's ashamed to be her friend.

Friday, April 30th, 1993

22: One Angry Stan

Dorothy's ex-husband Stan dies - or so it seems, but Sophia knows the truth. Roland is the stripper at a bachelorette party.

Friday, May 7th, 1993

23: Sex, Lies and Tortillas

A bunch of college kids are staying at the hotel for spring break. One of the guests sneaks his friends into one of the rooms. Chuy tells Roland that he and his friends built a 43-foot burrito when they were younger. It would have been a world record, but they ate it before the Guinness people could see it. Rose's granddaughter, Charlene, checks into the hotel, and she wants to share a room with her boyfriend.

Friday, May 14th, 1993

24: The Chicken and the Egg

Rose finds out that her car was stolen while Sophia was driving it without Rose's permission. Blanche's boyfriend Bobby Lee, a cattle baron, wants her to marry him and have his children. Blanche agrees, and the only thing she needs is a fertilized egg. And she believes she's found one when her daughter Rebecca comes to visit.