update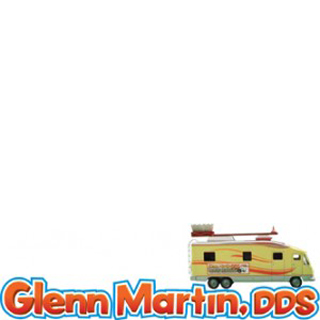 Season 1
Monday, August 17th, 2009

2: Amish Anguish

When Glenn decides to take the kids to Niagara Falls they will not look at it. Courtney and Wendy text each other and Conor plays video games. While talking to Jackie he decides for everyone to cough up their techology and to connect with the people around them. Glenn takes them to the Amish Country and throws the keys thinking he threw some change. When Glenn finally decides living in the Amish Country is bad he finds the keys but Canine swallows the keys because he likes it there. Before Conor can get married to Spinster Stubarb Wendy gives Glenn a digital cellphone and takes Conor to the RV. Spinster Stubarb says she will always love Conor. The Martins then drive off and the episode ends.

Tuesday, August 18th, 2009

9: The Grossest Show On Earth

After Courtney wins a fencing tournament and Conor realises he hasn't won anything (expect at the tournament where he wins a award for 'participant'). When Glenn takes Conor to the circus Glenn gets hired and Conor tries to learn a talent. Conor then gets a job sweeping elephant's feaces. He then realises his talent is sticking his head up an elephants butt. Glenn tells Conor he doesn't likes his talent. Conor ignores Glenn and goes to the circus anyway. Conor doesn't do his talent anymore and gets a "fancy man barf bag".

Wednesday, August 19th, 2009

1: Save the Tooth

Glenn attempts to prevent the demolition of his childhood park after reading about it in a magazine from his office. He carved his initials into an old tree where he had fallen in love with dentistry, and Jackie. But gets in trouble with the law and may not make it to the protest in time to stop the construction of a new "Mall Mart" store.

Thursday, August 20th, 2009

3: Pimp My RV

The family picks up a hitchhiker, Bobby Panache, a professional leg-wrestler who volunteers to help Jackie redecorate the interior of the RV. Glenn soon becomes jealous of this stranger because he shares the same interests as the female characters, and they become his greatest fans.

Monday, August 24th, 2009

6: We've Created a Mobster

Glenn is slow to realize that he is receiving business help from the Mafia. Elsewhere, Wendy and Courtney attempt to make money by tricking Conor into a boxing scheme.

Tuesday, August 25th, 2009

10: A Bromantic Getaway

Jackie convinces the family to visit an eco-village to learn tips on an environmentally friendly lifestyle, but hits a snag when the community director bonds with Glenn instead of her. Meanwhile, Conor gets in touch with his spiritual side [what Conor refers to as a "Super Chicken"] and Courtney connects with her laid-back hippie-peers.

Monday, August 31st, 2009

7: From here to Fraternity

Glenn takes his family and Wendy to Jackie's college reunion where he tries to prove to Conor that he is cool. Meanwhile Jackie teaches Courtney and Wendy about sisterhood.

Monday, September 14th, 2009

8: Korea Opportunities

After Glenn digs into Wendy's secret past as a gymnast, he has to face a powerful North Korean man in order to get Wendy back.

Monday, September 28th, 2009

4: Fatal Direction

Jackie's life falls in danger when Glenn's new navigation system falls in love with him and schemes to take Jackie's place in his life.

Monday, October 12th, 2009

13: Little Miss Backstabber

Jackie and Courtney enter a beauty pageant hosted by Steve-O, but after Jackie's face gets messed up, Glenn takes her place. Conor fakes blindness in order to get close to a girl.

Monday, October 19th, 2009

11: Miami Spice

Glenn discovers that his mother has a new beau. Meanwhile, Connor gets a pet alligator and Courtney takes up golf cart racing.

Monday, October 26th, 2009

5: Halloween Hangover

Jackie overdecorates to upstage another RV. Meanwhile, Glenn gets addicted to sugar after eating candy for the first time in years. Courtney gets upset because of discovering Wendy's crush on Conor.

Monday, November 9th, 2009

14: Mom Dated That Guy?!

The Martins stop by L.A.and Jackie's ex-boyfriend,Gary,invites them to stay at his manor.After 20 years of Gary losing Jackie, he is still crazy for her. Meanwhile, Conor becomes a contestaint on "Are You Smarter Than A Chicken?."

Sunday, November 29th, 2009

12: Deck the Malls

The Martins go shopping at the mall for Christmas. Wendy and Courtney find out that their favorite band, "Boy Blitz" are at the mall. Conor gets a job at a candy store, and follows around security guard. Jackie works at a store where she acts like a stripper and pole dances to get men to buy products, and Glenn gets jealous. Meanwhile, Courtney and Wendy discover the truth of the Boy Blitz band. First and only appearances of Miss Trisha, Boy Blitz, Pastry salesman, Security guards, Sam Shipiro, and guy mauled by bear.

Monday, January 25th, 2010

20: The Tooth Shall Set You Free

Serial killer Russ Nero, the only patient with whom Glenn ever cut corners, is released from prison and threatens to ruin Glenn's life. Meanwhile, Connor buys a trailer as his own "feces smeared bachelor pad".

Monday, February 15th, 2010

15: Hail To the Teeth

Glenn is upset to learn that he is not the person Courtney admires most, but she changes her mind when President Obama praises him.

Monday, March 8th, 2010

18: Vegas Strip

Conor meets a secret agent at an anti-smoking seminar, and the two form an unlikely friendship, while Glenn resorts to stripping to dig himself out of a financial hole.

Monday, April 12th, 2010

16: Roller Derby

Due to her acute road rage, Jackie is forced to attend anger management and finds release from her stress by joining a roller derby team. Courtney decides to sell cheese steaks made of dog food to the people of Philadelphia.

Friday, May 7th, 2010

17: Jackie of All Trades

Jackie joins her favorite 1980s band as she is facing a midlife crisis. Elsewhere, Conor doesn't measure up when he takes on Wendy in some very physical challenges.

Friday, May 21st, 2010

19: Funshine, U.S.A.

The Martins consider leaving RV life behind when they find a happy and perfect community which they want to call home. However, they soon find out that this neighborhood's sparkly appearance is deceiving.
Season 2
Friday, June 11th, 2010

4: Bust 'Em Up

Glenn books a spa weekend to help rekindle the magic in his marriage, Grandpa Whitey and Conor hunt a vicious turkey.

Friday, June 18th, 2010

3: Dog Show

Glenn wants to become young again so he goes finds his old dog show coach to enter a dog show. But, the replica dog goes crazy.

Friday, July 2nd, 2010

2: Footlooseball

Wendy comes up with an unorthodox plan to make Glenn proud of her: She becomes a high-school quarterback. Elsewhere, Conor becomes a regular Kevin Bacon when he tries to bring dancing back to a town that's forbidden it.

Friday, July 9th, 2010

5: Jackie's Get-Witch-Quick Scheme

Accusations of witchcraft taint Jackie's family tree, so she tries to prove these claims are wrong. Elsewhere, Glenn and Conor get stranded with some lesser-known members of the Kennedy clan.

Friday, July 30th, 2010

6: The Tooth Fairy

Glenn becomes a superhero known as the Tooth Fairy after he loses the ability to feel pain, and Conor tags along with him, acting as his sidekick.

Friday, September 10th, 2010

9: Fashion Show

Glenn drives the RV into the Hudson River and considers himself a hero; Conor becomes a male model, but soon he finds out that he will have to become a vampire; The girls go see Donald Trump and take his wig, only to find out that it is evil.

Friday, September 17th, 2010

10: Step Brother

Glenn goes to his mother's wedding ceremony only to find a successful half brother whom he is jealous of. Meanwhile Courtney and Wendy plan the wedding ceremony and Conor must take care of the doves. Jackie also works on a dress the entire episode.

Friday, October 15th, 2010

12: Life Swap

Glenn trades lives with former blobster Vito. Glenn then becomes a record producer. Conor becomes a fish mangler. Courtney and Wendy have a fight.

Friday, December 3rd, 2010

15: A Very Martin Christmas

This holiday special features three very fanciful stories, all narrated by a talking Canine. Feat. Mel Brooks and Billy Idol

Monday, December 20th, 2010

13: Courtney's Pony

Jackie urges Courtney to try being a kid again and buys her a pony.

Tuesday, December 21st, 2010

17: Dad News Bears

Glenn coaches Conor's baseball team in the Little League World Series. Courtney questions herself upon seeing her old assistant, who has become very successful. Featuring: Fran Drescher and Ashley Tisdale.

Wednesday, December 22nd, 2010

14: Volunteers

The family all take jobs as volunteers while in the Volunteer State. But jealousy ensues when Jackie is chosen to be a fireman while Glenn is put on their support squad. Featuring: Fergie and DJ Qualls

Thursday, December 23rd, 2010

7: Camp

At camp, Conor accidentally fights a bully but winds up gaining respect. Courtney and Wendy vie for the camp heartthrob while Glenn and Jackie work as counselors. Featuring: Elijah Wood and Bradley Whitford

Thursday, December 23rd, 2010

8: Camp (Part 2)

Friday, February 4th, 2011

11: Glennhog Day

A freak accident makes Glenn wake up thinking every day is their anniversary. Jackie plays along, hoping to finally live out the perfect day. Featuring: Jason Alexander, Jonathan Frakes, and George Takei

Friday, February 18th, 2011

16: Glenn and the Art of Motorcycle Maintenance

Glenn joins a biker gang and Jackie enjoys it until he chooses it over chaperoning Courtney's first dance. Meanwhile, Conor meets a family of "Bigfoots." Featuring: John Corbett and Devon Werkheiser

Friday, June 10th, 2011

18: Windfall

Glenn would like to spend more time with his family. In order to achieve this, he considers going into business with his father-in-law. Although, the duo quickly learns that their new partnership and career choice is not a good idea.

Sunday, August 7th, 2011

19: Videogame Wizard

Jackie Martin discovers something new when she finds a long lost arcade game that she used to play a lot. Things begin to get out of hand for Jackie and her family when she begins playing the game again.

Sunday, August 21st, 2011

20: Date with Destiny

While adventuring, the Martins cross paths with the super spy, Drake Stone, once again. Drake's spying abilities help him find a few strange things that change his life. Meanwhile, Conor falls ill during the family's escapades.

Sunday, November 6th, 2011

1: Heist

Glenn is reunited with his old army buddies at a friend's funeral. Glenn decides to take part in a risky mission after spending time with his pals. Wendy and Courtney become entrepreneurs and Conor and Jackie compete in a local contest.