update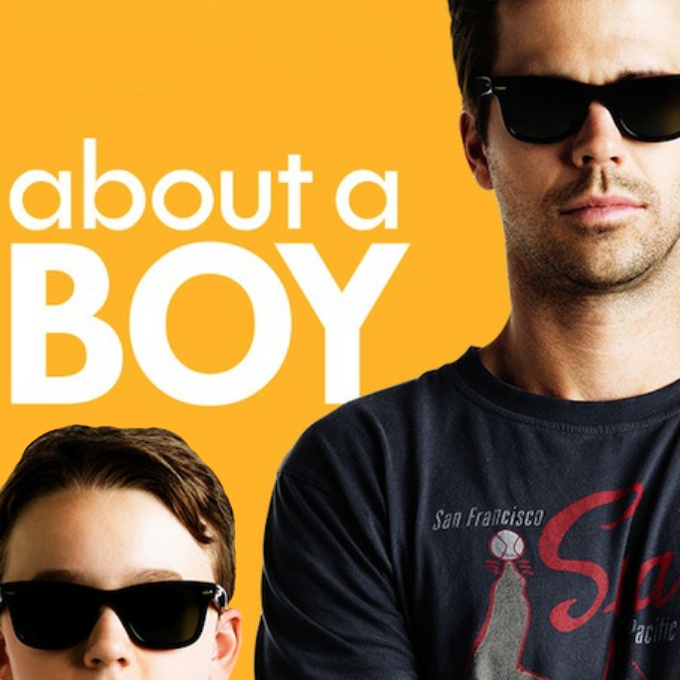 Season 1
Saturday, February 22nd, 2014

1: Pilot

We follow perpetually-single Will as he attempts to woo women, while avoiding any real commitment. His life changes when a quirky, bohemian, vegan single mother, Fiona, and her 11-year-old son, Marcus, move in next door. Marcus is a misfit, and already being bullied at his new school, yet he and Will strike up an odd-couple friendship, under Fiona's disapproving watch.

Tuesday, March 4th, 2014

2: About Total Exuberance

Andy guilts Will into agreeing to babysit Marcus so Fiona can go on a job interview, but the situation gets complicated when they receive a last-minute invitation to a once-in-a-lifetime charity pool party hosted by rap star Lil Jon. Meanwhile, Fiona discovers that honesty isn't always the best policy when it comes to landing a job.

Tuesday, March 11th, 2014

3: About a Godfather

Will attempts a much-needed boy's night out with Andy, but complications arise, leaving Will to reach out to Marcus in hopes of salvaging the evening. When Andy later becomes available, he attempts to track down Will, but instead winds up bonding over the joys of parenting with Fiona. Meanwhile, Andy and his reluctant wife Laurie solicit Will to be godfather to their son Jonah.

Tuesday, March 18th, 2014

4: About a Girl

Marcus asks Will for advice on how he can get Hannah to invite him to her upcoming birthday party. When that proves unsuccessful, Fiona takes it to task with Joanne, Hannah's mother, who also happens to be the queen bee of a group of neighborhood moms that she is trying to win over.

Tuesday, March 25th, 2014

5: About a Plumber

When Marcus starts hinting that Will and Fiona should start dating each another, Will does everything in his power to set him straight. Meanwhile, Fiona gets advice from Dakota to get back into the dating scene, and with very little game, seizes the opportunity by asking out her plumber - with results she didn't quite anticipate.

Tuesday, April 1st, 2014

6: About a Bublé

With Fiona putting in extra hours at work, Marcus finally gets his own house key, but he quickly loses his mom's trust when Will has to rush him to the emergency room following an untimely incident with a knife. However, Marcus' misfortune has a silver lining for Will when he crosses paths with Dr. Samantha Lake, a beautiful and charming doctor who comes to Marcus' aid. Will is instantly smitten and stops at nothing in his attempts to win her over - even if it means bending the truth.

Tuesday, April 8th, 2014

7: About a Poker Night

Will throws a poker night for his friends, including Andy, Crosby, TJ and Richard, but the event is hijacked by Fiona, who has no problem making herself at home with the guys. Meanwhile, Marcus goes on his first sleepover, but has a hard time staying the night when he finds the others aren't as nice to him as he had hoped.

Tuesday, April 15th, 2014

8: About a Slopmaster

Fiona volunteers to run a project for Marcus's class - a miniature society modeled after Dickensian London. Wanting to be King of the mock economy, Fiona instead selects Marcus as the lowly slopmaster, much to his dismay, prompting him to figure out a clever yet questionable solution to turn things around. Meanwhile, Will takes Marcus out on a spending spree, thanks to his latest royalty check and then does his best to throw the perfect party to impress Sam.

Tuesday, April 22nd, 2014

9: About a Kiss

Andy and Laurie host a game night and Will invites Sam, but things don't go exactly as planned when she arrives. When his friend TJ asks Fiona to join him for the festivities, Will goes to great lengths to discourage any sparks from flying. Meanwhile, Marcus is uneasy when he discovers the mother of an older mean girl at school will be babysitting him.

Tuesday, April 29th, 2014

10: About a Boy's Dad

Marcus is elated when his father, Hugh Womple takes a break from his penguin research in Antarctica to make a surprise visit. While Fiona does her best to mask her tormented attraction, she can't help but notice how consumed Hugh is with his work and his indifference towards anything Marcus is interested in. At Fiona's urging, Will steps in and does his best to encourage some much needed father-son bonding. Meanwhile, Sam's demanding work schedule throws a wrench into their plans for romance.

Tuesday, May 6th, 2014

11: About a Birthday Party

Marcus is excited for his first ever big birthday party and Will agrees to help plan it. But complications arise when Sam asks Will to a gala at the hospital, creating a scheduling problem. To make matters even worse, Will and Andy discover that one of Marcus's popular classmates is having a birthday bash on the same day. Meanwhile, Fiona and Sam get into a disagreement, and Will finds himself stuck in the middle.

Tuesday, May 13th, 2014

12: About a Hammer

Will invites Sam to temporarily move in with him when she is forced to evacuate her apartment. However, when Andy warns Will that his home will soon be transformed into her place, similar to what had transpired with him and Annie, Will starts to panic. Meanwhile, Fiona misreads a conversation and is under the false impression that Sam is pregnant and Will and Marcus build a treehouse together.

Tuesday, May 13th, 2014

13: About a Rib Chute

Will is completely heartbroken when Sam receives a job opportunity she can't refuse in New York, prompting Fiona and Marcus to try their best to comfort their friend. With her absence weighing on his mind, Will turns to Andy for his sage advice in figuring out how to best move forward.
Season 2
Tuesday, October 14th, 2014

1: About a Vasectomy

Will returns to San Francisco to sort out his finances after a surprising royalty check. Andy reveals to him that his wife Laurie might be pregnant and he needs Will's help to find out. Meanwhile, Marcus' new "friends" don't sit well with Will and he attempts to convince Fiona that the kids are up to no good.

Tuesday, October 21st, 2014

2: About a House For Sale

Will is told to sell his San Francisco home in order to solve his money issues. So he decides to find Marcus a brand new best friend.

Tuesday, October 28th, 2014

3: About a Will-O-Ween

Despite not liking Halloween, Fiona attends Will's annual party. Will attempts to show Marcus the joys of Halloween.

Tuesday, November 4th, 2014

4: About a Bad Girl

Marcus develops a crush on a girl who has a penchant for trouble.

Tuesday, November 18th, 2014

5: About an Angry Ex

Will ends up being sued by an angry ex-girlfriend, Stacy, who is claiming she co-wrote his song "Runaway Sleigh." Will hopes that Fiona can help him persuade her to drop the lawsuit.

Tuesday, November 25th, 2014

6: About a Balcony

Marcus is ecstatic when a popular new teacher, Mr. Chris casts him as Romeo in the school production of notable Shakespeare scenes. Marcus asks Will to build the balcony set for his scene, however Will is more interested in watching "The Three Stooges" marathon with Marcus instead. Threatened by Mr. Chris' growing relationship with Marcus, Will tries to impress them with the construction of his balcony. Elsewhere, Mr. Chris not only has gained a fan in Marcus, but Fiona as well.

Tuesday, December 2nd, 2014

7: About a Duck

Feeling nervous about her first real date with Mr. Chris, Fiona wants Dakota to come with her as her safety net. Will ends up tagging along as well as he attempts to woo Dakota.

Tuesday, December 9th, 2014

8: About a Christmas Carol

The Christmas celebrations are now in full swing but Will is not having a good time. With the lawsuit still pending, Laurie advises him to settle and move on with his life. Fiona and Andy attempt to create the perfect white Christmas for Marcus.

Tuesday, January 6th, 2015

9: About a Manniversary

To celebrate a year of friendship, Marcus convinces Will to take him to the Golden Gate FemFest. Much to his chagrin, Will obliges and attempts to sneak backstage to fulfill Marcus' dreams of meeting Lisa Loeb, who is headlining the festival. Meanwhile, Dakota helps Fiona prepare for a night of intimacy with Chris.

Tuesday, January 13th, 2015

10: About a Boy Becoming a Man

When Will learns Andy scored an invite to music mogul Johnny Idalis' son's Bar Mitzah, he sees an opportunity to get his music noticed and forces Andy to make him his plus one. With a push from Shea, Marcus convinces Fiona to let him stay home alone while she is on a date with Chris. During their night out alone, mischievous Shea takes Marcus party crashing while Andy and Will find themselves deep into a lie to impress Johnny.

Tuesday, January 27th, 2015

11: About a Hook

With the help of Andy, Will gets music mogul Johnny Idalis to listen to a new song he wrote, however Johnny isn't impressed with the hook. Meanwhile, Marcus grows upset and frustrated with Chris and Fiona's growing relationship and flees to crash with Will, who is left struggling to juggle writing a catchy hook and the complications of his new roommate.

Tuesday, February 3rd, 2015

12: About a Prostitute

Will starts teaching guitar lessons, but ends up having a fling with a student's mother.

Tuesday, February 10th, 2015

13: About a Cat Party

With high hopes of meeting single women, Will and TJ go out to their favorite watering hole on Valentine's Day. With help from the bartender, Liz, Will lands a date and oddly finds himself attending a cat party – but his heart is pulled elsewhere. Meanwhile, Marcus tries to plan the perfect Valentine's date for Shea, but when things don't go according to plan, Marcus turns to Chris for his sage advice in Will's absence.

Tuesday, February 17th, 2015

14: About a Boyfriend

To Will (David Walton) and Fiona's (Minnie Driver) surprise, Shea (guest star Izabela Vidovic) accepts Marcus' (Benjamin Stockham) proposal to be his girlfriend. However, Shea's idea of a boyfriend translates closer to a personal assistant than a companion. Elsewhere, Fiona attempts to be more spontaneous with Chris (guest star Chris Diamantopoulos), while Will chaperones Marcus and Shea's frozen yogurt date.

Monday, July 20th, 2015

15: About a Trunk

Just as Fiona is ready to deepen her relationship with Chris by telling him that she loves him, Will uncovers a secret about Chris that may change everything. At first he believes Chris is cheating on Fiona only to find out that he may be leaving town for a new job offer. Meanwhile, when Marcus discovers that having a girlfriend costs money, he ends up working for a very unlikely boss: Laurie.

Monday, July 20th, 2015

16: About a Memory Hole

Will is riding the emotional high of his budding romance with Liz the bartender. His high however runs in direct contrast to Fiona's emotional low after her breakup with Mr. Chris. Out of solidarity, Will pledges his complete emotional support to Fiona during what turns out to be a day-long mourning ritual. But when Liz invites Will to spend a few hours of free time with her on the same day, their first real date, Will is forced to juggle his commitment to both Fiona and Liz.

Monday, July 20th, 2015

18: About Another Boy

Even with things heating up in his relationship with Liz, Will's not ready to start throwing around the word "girlfriend." Meanwhile, Fiona and Marcus are determined to patch things up between Andy and Laurie, whether they want their help or not.

Monday, July 20th, 2015

17: About a Babymoon

When a fight leads Andy and Laurie to separate vacations, Will struggles to handle an out of control Andy in Las Vegas while Fiona works to patch Laurie and Andy's marriage. Meanwhile, Marcus tries to get his hands on a novel that he believes is the key to his relationship with Shea.

Monday, July 20th, 2015

19: About a Self Defense

Much to Will's dismay, Fiona and Liz begin to bond until she starts to notice how unconventional Will's relationship is with Fiona and Marcus. Elsewhere Marcus tries to take Shea out on a romantic date, but instead of falling deeper for Marcus, Shea begins to have feelings for Liz's son Clay.

Monday, July 20th, 2015

20: About a Love in the Air

Marcus is reeling after his breakup with Shea, and Will and Fiona have opposing theories and methods of how to help him get over his first great heartbreak. It all comes to a head at the dance where Marcus very publically tries to win Shea back. And Liz, frustrated with Will's attachment to Fiona and Marcus, finally breaks up with Will. Will blames Fiona for everything. And after a huge argument Will and Fiona end up kissing.