update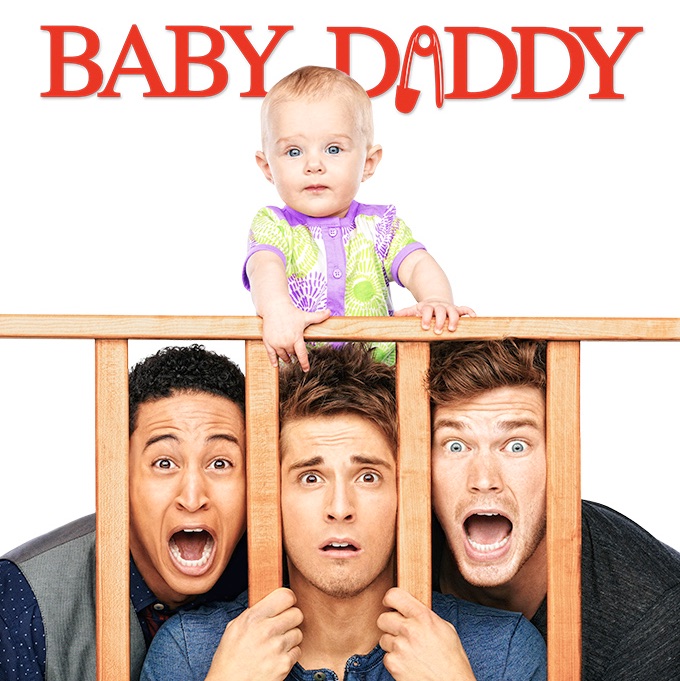 Season 1
Wednesday, June 20th, 2012

1: Pilot

Ben Wheeler, a bartender in his 20s discovers he's a father when Emma, a baby girl, is left on his apartment doorstep by his ex-girlfriend Angela. Ben decides to give parenting a shot with the help of his friends and family.

Wednesday, June 27th, 2012

2: I Told You So

Miscommunication between Ben and the guys causes their "foolproof" baby-sitting schedule for Emma to fall apart. Ben, feeling his first parental gut wrenching scare that he could have lost his child, realizes he needs to get his act together to really become a good parent to Emma.

Wednesday, July 11th, 2012

3: The Nurse and the Curse

Ben and Emma's nurse have a connection; Bonnie and Tucker destroy Danny's good-luck charm.

Wednesday, July 18th, 2012

4: Guys, Interrupted

Bonnie spends all her time with Emma, disrupting the boys' routine. Riley goes on a date with fellow law student, Jack, and Danny has a hard time pretending he doesn't care.

Wednesday, July 25th, 2012

5: Married to the Job

When Ben hears of an open management position at the bar, he enlists Riley's help to prove to the owner, Henderson, that he's responsible enough for the job. Tucker and Danny exchange the super-girly stroller Bonnie bought for a much cooler one - one that seems to be a total girl magnet.

Wednesday, August 1st, 2012

6: Take Her Out of the Ballgame

After winning their first game, Ben's softball team votes for Riley to replace Ben as team captain. Riley takes the role much too seriously, and the team asks Ben to set things right. Danny learns that Bonnie is dating his hockey coach and plots to break them up.

Wednesday, August 8th, 2012

7: May the Best Friend Win

Ben and Tucker put their friendship to the side when they compete for the heart of the same woman they met at a concert, Ava. Danny is asked to give a speech in front of his team, but is nervous, so Riley gives him public-speaking advice. Bonnie creates a profile on a online dating website.

Wednesday, August 15th, 2012

8: The Daddy Whisperer

Before Izzy agrees to let Ben join her elite "Mommy and Me" class, she offers to meet one-on-one to help him clean up his act. Tucker and Danny set up a man cave in the laundry room. Bonnie and Riley go shopping, but Emma gets too grabby with the merchandise and the girls are held for shoplifting.

Wednesday, August 22nd, 2012

9: A Wheeler Family Christmas Outing

Ben tries to bring everyone together for Emma's first Christmas photo - including his dad, Ray, who is keeping a surprising secret from Bonnie and the boys. Riley and Tucker find Danny's journal from high school, and Riley tries to figure out who he had a crush on.

Wednesday, August 29th, 2012

10: Something Borrowed, Something Ben

Riley is in full Maid of Honor mode as she counts down the days to Katie's wedding. Ben is convinced that the wedding is going to be boring, and so invites troublemaker, Gene to spice things up. The morning after the rehearsal dinner, Ben wakes up to find Katie in his bed and neither he or Katie can remember how she got there!
Season 2
Wednesday, May 29th, 2013

1: I'm Not That Guy

Ben begins to develop romantic feelings for Riley, but his reputation for being an irresponsible playboy works against him. Elsewhere, Tucker attempts to date a model and Bonnie uses Emma to get close to an attractive stranger.

Wednesday, June 5th, 2013

2: There's Something Fitchy Going On

Ben discovers a shocking secret about Riley's new beau, Fitch, and tries to warn her. Meanwhile, Bonnie accidentally sends a revealing message from Danny to Riley's cell phone. Things heat up between Danny and his new model girlfriend, Milena, and Tucker pounces on an opportunity to shine with his boss, Chase.

Wednesday, June 12th, 2013

3: The Wheeler and the Dealer

Ben discovers an endorsement opportunity for Danny with a new brand of Japanese energy drinks. Against Bonnie's advice, Ben convinces Danny to sign the deal, but he must pick up the pieces when things go haywire at Danny's commercial shoot. Meanwhile, Riley takes an interest in volunteering and accepts a job as a candy striper at the hospital.

Wednesday, June 12th, 2013

4: New Bonnie vs. Old Ben

Bonnie sets up her new bachelorette pad across the hall, and Ben and Tucker will do whatever it takes to force her out. They throw a huge party that threatens to damage more than Bonnie's new apartment. Meanwhile, Danny seeks Riley's advice on how to break up with Milena. Instead he ends up in a compromising position, which Milena mistakes for a marriage proposal.

Wednesday, June 19th, 2013

5: The Slump

Dr. Shaw determines Riley is the cause of Danny's inability to focus on the ice and bans her from Danny's next game. Meanwhile, Riley thinks things are moving too fast with Fitch and starts avoiding him, and gets her hopes up that Danny will make a move. Tucker is up for a promotion at work and his competition turns out to be Ben's latest fling, Jenna.

Wednesday, June 26th, 2013

6: Ben's Big Gay-Care Adventure

Ben tries to get Emma into daycare by flirting with the cute assistant manager, Megan. Megan insists there is no space, until she gets the idea that Ben and Tucker are a gay couple. Ben devises an elaborate plan to "break up" with Tucker in order to have a shot at dating Megan. Meanwhile, Riley worries that Dr. Shaw is trying to change Danny when Danny bails on their traditional "Halfaween" costume party.

Wednesday, July 3rd, 2013

7: On the Lamb-y

Ben, Danny and Tucker band together to rescue Emma's missing stuffed animal. Meanwhile, Riley hosts a book club in an effort to make friends with the cool girls at work. When her mom, Jennifer, and Bonnie get wind of her plans, they invite themselves. Much to Riley's dismay, the ladies' long-standing rivalry erupts during the club meeting.

Wednesday, July 10th, 2013

8: Never Ben in Love

Riley plans to break up with Fitch, but then receives the news that Fitch is dead. She meets Fitch's dad, Winston Douglas, who asks her to deliver the eulogy at the funeral and tells Riley that Fitch planned to propose to her. Meanwhile, Ben realizes he might be in love with Megan, but she thinks things are moving way too fast. Tucker embarks on his "Tucket" list of things to do before he dies, and Bonnie schemes to catch the eye of Fitch's wealthy dad.

Wednesday, July 24th, 2013

9: All's Flair in Love and War

Danny plays matchmaker for Riley and his new teammate, who secretly likes Bonnie. Elsewhere, Tucker gets back together with an ex-girlfriend who doesn't get along with Ben, and she winds up making Ben's work life miserable.

Wednesday, July 31st, 2013

10: Test Anxiety

After Riley confides in Danny and not Ben about her bar exam troubles, Ben learns that Riley has tried to take the exam three times and still hasn't passed. To support her, Ben convinces her to not give up on her dreams of becoming a lawyer. Bonnie finds out that Amy has taken a pregnancy test and is challenged to keep it a secret while Danny attempts to win over Amy's father.

Wednesday, August 7th, 2013

11: Whatever Lola Wants

Megan's dog is stolen while under Ben's care. Meanwhile, Riley tries to get her old job back with Bonnie's help.

Wednesday, August 14th, 2013

12: The Christening

Ben convinces Bonnie and Ray to invite conservative Aunt Betty to Emma's baptism in the hopes she'll write a nice, fat check for Emma. The Wheelers nearly pull off their ruse as a perfectly normal family, until Ray's boyfriend Steve shows up demanding answers. Meanwhile, Ben enlists Riley to choose Emma's godfather, and she can't decide if Danny and Tucker are really up to the task.

Wednesday, August 21st, 2013

13: All Riled Up

Ben suspects that Riley finds him attractive, as she asks him to help her find a man to date. Elsewhere, Bonnie and Tucker enter a mascot contest for the New York Rangers, despite Danny's objections.

Wednesday, August 28th, 2013

14: The Emma Dilemma

Ben finds out that his neighbor Kayla is hosting a playgroup for all of the kids in the neighborhood but is excluding Emma. Ben devises a plan to sneak Emma into the group but when Kayla busts him, he and Tucker start a rival group of their own. Meanwhile, Danny and Amy have some relationship trouble and Danny finds a permanent way to show Amy he is committed but ends up making a huge mistake.

Wednesday, September 4th, 2013

15: Surprise!

Ben learns why Riley doesn't like celebrating her birthday and it's all his fault. He knows he needs to make it up to her and plans a perfect birthday surprise, but in typical Wheeler fashion, disaster ensues. Bonnie realizes she may have made a mistake in filing Emma's parental rights paperwork and Ben doesn't officially have sole custody. Bonnie enlists Tucker's help in tracking down Emma's mother, Angela, to re-sign the papers. Meanwhile, Amy calls Danny on his lingering feelings for Riley.

Wednesday, December 11th, 2013

16: Emma's First Christmas

Ben and Danny shop at the last minute to buy Emma the perfect toy, which leads to them making a deal with Edwin, a shady mall elf. Riley and Tucker are appointed Bonnie's "little helpers", to help pull off the perfect Christmas for the apartment.
Season 3
Wednesday, January 15th, 2014

1: The Naked Truth

Ben and Riley try to transition from friendship to being a couple, which results in a hugely embarrassing moment for Riley. Ben is still angry with Bonnie for bringing Emma's mom Angela back into their lives. Angela tries to show Bonnie she's a capable mother while hoping for a fresh start with Ben. Meanwhile, Tucker tries to help Danny get over Riley and Amy with his five-step "T.U.C.K.E.R." break-up recovery system.

Wednesday, January 22nd, 2014

2: The Lying Game

Angela has been crashing in the boys' apartment, trying to spend more time with Emma and get closer to Ben. Her presence puts strain on Ben and Riley's relationship, but Ben doesn't have the heart - or the guts - to ask her to leave. Tucker plots to show Riley that Angela is trying to steal her man and Danny decides that the only way he can heal his broken heart is to get his own apartment. Meanwhile, Bonnie begins dating a younger man.

Wednesday, January 29th, 2014

3: Lights! Camera! No Action!

Ben catches Riley in a compromising position with her ex-boyfriend Fitch, which leads to a massive blow-out between the two. Danny worries that the combination of his low stats and his Rangers jersey not selling in stores means his future with the team is in jeopardy. Tucker gets a job assisting Mary Hart on her new talk show, "The Mary Hart Show," and sets his sights on becoming a producer. Bonnie convinces Tucker to have Danny as a guest on the show to increase his popularity, but when Mary digs a little too deep into Danny's personal life, he has an emotional meltdown.

Wednesday, February 5th, 2014

4: Bonnie's Unreal Estate

When Riley's firm is hired to represent the scandalized Reverend Stockdale, she is charged with making sure his daughter, Piper, stays out of trouble - a task that seems relatively easy given Piper's boring personality. But when Riley's away, Piper will play, and Danny and Tucker find themselves tangled up in her wild child ways. Meanwhile, Bonnie's real estate career is off to a sizzling start when Ben unknowingly burns down her first listing.

Wednesday, February 12th, 2014

5: Life's a Beach

When Ben's rooftop beach gets shut down by the current apartment Board President, Sondra, the boys campaign to overthrow her and preside over the building themselves. The only problem is they have to decide who has the best chance to win the election, which won't easy given their spotty history with the other tenants. Meanwhile, Bonnie drags Riley on a double date with her boyfriend Brad and his twin Tad, but it doesn't take long until the ladies suspect that Brad has made Tad up in order to escape accusations of infidelity.

Wednesday, February 26th, 2014

6: Romancing the Phone

Ben finds the cell phone of a cute girl, Sydney, but when he's unintentionally late for their first meeting, he convinces Tucker to go in his place and take the blame. But when Sydney takes a liking to the real Tucker and asks him out, Ben is determined to prove she's interested in the wrong guy. Riley meets up with an old frenemy, Heather, and enlists Danny in her plan to prove to Heather once and for all that she's a winner. Meanwhile, Bonnie asks for Tucker's help in coming up with a catchy new slogan for her realty business, but things quickly go awry when she starts getting offers from guys interested in buying more than a home.

Wednesday, March 5th, 2014

7: The Bet

Riley bets Ben that he can't get a second date with Heather. He gladly accepts the challenge, but when Heather doesn't jump at the chance to go out with him again, Ben resorts to desperate measures. Bonnie decides to break up with Brad, but when her realtor boyfriend declares his love, she can't bring herself to go through with it and asks Danny to end the relationship instead. Further complicating things as only Bonnie can, her love life takes another twist when she unknowingly falls for Brad's. Meanwhile, Tucker uses Emma to pick up women.

Wednesday, March 12th, 2014

8: A Knight to Remember

Tucker still hasn't told his dad that he's not a lawyer, which proves to be a problem when Marshall Dobbs unexpectedly arrives for a visit. Tucker and Ben devise a plan to keep the charade going, but it eventually backfires when Marshall learns the truth. Riley falls for a handsome Brit she meets at the bar and tells Bonnie that she finally found "the one"; however, Bonnie mistakenly believes that Riley is talking about Danny and immediately encourages him to go after his true love. Meanwhile, the group's trip to the renaissance faire hits a snag when a sword fight breaks out in the subway.

Wednesday, March 19th, 2014

9: Go Brit or Go Home

Ben is less than thrilled when Riley asks him to hang out with her new boyfriend, Philip, but he reluctantly agrees once Riley plays the friendship card. However, the man-date goes horribly wrong when Ben's harmless flirting with a student puts Philip's job at the college - and his visa - in jeopardy. Danny's hockey playing is criticized by a sports reporter, Logan, but that doesn't stop him from hitting on her, prompting a horrified Bonnie to embrace her inner enforcer and take matters into her own hands. Meanwhile, Tucker discovers the power of the British accent.

Wednesday, March 26th, 2014

10: An Affair Not to Remember

A horrified Ben realizes that he dated Tucker's new girlfriend, Stephanie, and is convinced she's only with Tucker to get back at Ben for their bad break-up. Riley is delighted when her boss, Ms. Jensen, finally asks her to participate in the firm's spa day, but her joy is short-lived when Bonnie is also included in the outing. Riley knows Bonnie will embarrass her and ruin her chances at making partner, so she tries to disinvite Bonnie and enlists Stephanie to be her plus one instead. But when the boys crash their spa day in a misguided attempt to save Tucker's relationship, it's a case of mistaken identity when the very intimidating masseuse puts them to work.

Wednesday, April 2nd, 2014

11: The Wingmom

Bonnie sets Ben up with Bailey, a fast-talking, animated spitfire with plenty of attitude. Everything seems to be going well until Ben realizes his new girlfriend is a mini version of his mother and he has to break up with her. However, Bailey refuses to be dismissed so easily, and Ben resorts to desperate measures to get her out of his life once and for all. Meanwhile, Danny pulls his dad's beloved car out of storage, but it's a bumpy start for "Adele the Chevelle" once Tucker and Riley get a hold of the keys.

Wednesday, April 9th, 2014

12: Send in the Clowns

Ben is determined to give Emma the perfect first birthday party, especially since his own was less than stellar. When he decides to host it at the ice cream parlor where he and Riley worked as teenagers, Ben runs into an ex-girlfriend with a mother of a secret. Danny accidentally discovers something about Riley's family that turns her world upside down. Meanwhile, Tucker is in charge of entertainment for the birthday party, a responsibility he takes very seriously.

Wednesday, April 16th, 2014

13: Play It Again, Bonnie

A lovesick Bonnie realizes how much she misses her ex-boyfriend Brad and turns to Tucker for help reuniting with her true love. But when Brad confesses that he still has feelings for Bonnie, Ben's well-intentioned but misguided advice leads Brad to make a rash decision. Riley wants to have the relationship with Margot she never had with her adoptive mom, but first Riley must learn to appreciate Margot for who she is, flaws and all. Meanwhile, Danny must stop Riley from taking the next step with Philip.

Wednesday, April 23rd, 2014

14: Livin' on a Prom

Bonnie is tired of not being appreciated for everything she does for the boys and Emma and decides to go on strike. When it's quickly obvious they can't survive without her, Ben realizes the best way back into his mom's good graces is to take her to the Bon Jovi concert. But when Tucker unknowingly buys fake tickets, Bonnie must get through time in Bon Jovi jail, a tough security guard and a little dilemma in the green room if she hopes to meet her idol. Meanwhile, Riley and Danny return to their high school to chaperone prom and run into Vice Principal Peters, who's still inappropriately enamored with Danny.

Wednesday, April 30th, 2014

15: From Here to Paternity

Now that Riley knows the truth about Margot, she decides to find her biological father and uses her parents' high school yearbook as a guide. With a little help from Ben, Riley narrows down the possible candidates to David, the easygoing pastry chef, and Mark, the high-powered attorney. But despite some initial deception and old teenage rivalries resurfacing, Riley finally learns her father's identity. Meanwhile, Tucker is not happy about his parents' divorce and realizes the source of their problems is that Marshall is too uptight. But when Danny asks his mom to help Mr. Dobbs loosen up, Bonnie takes the challenge to a whole new level.

Wednesday, May 7th, 2014

16: Curious Georgie

Riley is looking forward to meeting Philip's sister from England, but her excitement soon vanishes when it becomes obvious that Georgie is less than impressed by her brother's taste in girlfriends. When Ben makes a huge mistake and accidentally lets it slip that he and Riley once dated, she tries to convince Philip that he's the one she wants to be with. But will Philip's doubts about her feelings for Ben put an end to their relationship? Meanwhile, Danny's contract negotiations are in jeopardy when Bonnie tangles with the Rangers' new general manager, Valerie. Once Valerie sets her sights on Tucker, Bonnie believes she's found the perfect way to seal Danny's future with the team.

Wednesday, May 14th, 2014

17: Flirty Dancing

Riley gives Ben and Danny the time capsules they all made in the fifth grade, forcing everyone to reflect on where they are in their lives and what they really want. Although Bonnie advises Riley to figure out who she is today, she is not happy when Riley and Tucker crash her dance classes with Vladimir. Ben realizes that he's never actually accomplished anything and decides to finish at least one thing he started, so he asks Georgie out on a date. However, she is more interested in Danny, which prompts Ben to reach out to his brother's ex-girlfriend Amy in the hopes of sparking a romantic reunion.

Wednesday, May 28th, 2014

18: Baby Steps

Ben wants to see Emma walk and tries bribing her with food, but it doesn't work. Instead, she toddles after he leaves for work, so the gang devise a scheme for him not to miss out on this milestone. Meanwhile, everyone reflects on Emma's infancy.

Wednesday, June 4th, 2014

19: Foos It or Lose It

Bonnie decides to baby-proof the apartment and sells the foosball table to struggling fraternity Sigma Beta Kappa, unaware that Ben had been hiding money in the table for Emma's college fund. Ben and Tucker pose as pledges in order to get the money back, but their fake identities cause more trouble than they're worth. Meanwhile, Riley is not happy that Danny is dating Georgie, especially because she blames the Brit for ending her relationship with Philip. But when Georgie secures Riley an interview for the in-house counsel job at Vogue, Riley begins to look at her rival in a new light – at least until she overhears Georgie admitting the interview was bogus. Riley can't wait to tell Danny the truth about his deceptive girlfriend, but can she really break her best friend's heart?

Wednesday, June 11th, 2014

20: All Aboard the Love Train

Riley plans to attend her family reunion in Orlando, but since she hates to fly, she decides to take the train instead. Ben realizes this trip is the perfect opportunity to rekindle their romance and volunteers to tag along. However, when Riley thinks he's only after one thing, Ben manages to convince her that his feelings are genuine. Can she bring herself to trust him with her heart once again? Meanwhile, Tucker has the chance to be Mary Hart's co-host and asks Bonnie for help with his audition tape. But when Mary decides to give Bonnie the job instead, Tucker is forced to play dirty in order to eliminate the competition.

Wednesday, June 18th, 2014

21: You Can't Go Home Again

Bonnie is livid when her former New Jersey neighborhood resurrects the Block Party Olympics that she created and declares war. Seeking vengeance like only Bonnie can, she drafts everyone to crash the gathering, win all the events and put an end to the party once and for all. While visiting the Wheelers' old tree house, Riley and Ben are surprised when they find Danny's childhood expression of love. Meanwhile, Danny learns Georgie is moving to Paris and realizes this could be the perfect opportunity to put some distance between himself and Riley. But given her recent discovery, what will Riley do when she learns Danny might be leaving? Is it too late for Riley and Danny to start a romantic relationship, or does her heart still belong to Ben?
Season 4
Wednesday, October 22nd, 2014

1: Strip or Treat

Danny and Tucker are looking forward to attending the biggest Halloween celebration in the city, despite the fact that Bonnie thinks they should take Emma trick-or-treating instead. When their plans fall through, they decide to crash the party Riley was talking about, not knowing it's actually a bachelorette party. But when the guys are mistaken for the strippers, Ben makes a big mistake that results in them being carted off to jail. Meanwhile, Bonnie's date with Javier goes horribly wrong and she lands in jail alongside Ben, Danny and Tucker. Will Riley be able to work her lawyer magic and bail her friends out of this mess, or will everyone get what they deserve?

Wednesday, December 10th, 2014

2: It's a Wonderful Emma

Ben channels his inner Scrooge as he detests everything that has to do with the holiday season - the shopping, the crowds, the tree trimming, even the pageant at Emma's daycare. Adding to his bad mood are Bonnie, Riley, Danny and Tucker, who are overflowing with cheer until Ben can't take it anymore and wishes there was no such thing as Christmas. But when his wish comes true and the holiday vanishes, he unwittingly erases Emma's existence and alters the course of everyone's lives. Can Ben get his loved ones to believe in Christmas and bring Emma back before it's too late?

Wednesday, January 14th, 2015

3: She Loves Me, She Loves Me Note

Even though Ben and Riley are officially back together, Ben can't shake the feeling that there's something going on between Riley and Danny. Tucker is shocked when Riley confesses that she knows how Danny feels about her. In a somewhat flawed plan, Ben decides to test Riley's feelings for his brother, so he writes Danny a love note and signs her name. When she realizes what he's done, a furious Riley tracks Ben down in the Rangers' locker room. Will she be able to convince Ben that he's really the one she wants, or is he right to wonder if there's something more between his girlfriend and her best friend? Meanwhile, as Danny gets ready to join Georgie in Paris, Bonnie realizes her cash cow is leaving and starts selling his Rangers memorabilia.

Wednesday, January 21st, 2015

4: I See Crazy People

Riley begins to doubt her future with Ben after all the signs point out the many reasons why their relationship is doomed to fail. When a psychic tries to set up shop at the bar, Ben sees this as the perfect opportunity to convince Riley that they are meant to be together. But when the cards predict a different outcome, Riley is even further convinced that they don't know each other at all, forcing Ben to bring in reinforcements. Danny doesn't want his family to know he's still in town, so he hides out at Brad the Pad's (Peter Porte). But when Danny sends Brad on a recon mission to his apartment, Bonnie catches him and mistakenly believes Brad is there to rekindle their romance. Meanwhile, Tucker is determined to get Bonnie out of his apartment.

Wednesday, January 28th, 2015

5: Mugging for the Camera

Danny is now hiding at Riley's apartment, but when Ben insists on coming over, Riley realizes Danny needs to leave. Mary Hart orders Tucker to find stories about ordinary people doing extraordinary things or he's fired. When Riley is mugged, Ben fights the attacker, until he's blinded by pepper spray and doesn't know that Danny actually swoops in and saves the lovebirds. Once the story gets out, Tucker realizes that Ben and Riley are the exact guests Mary is looking for, but will the whole truth come out once they tell their story on live television? Meanwhile, Bonnie's latest get-rich-quick scheme involves dressing Emma up as different characters and posting the videos online.

Wednesday, February 4th, 2015

6: Over My Dead Bonnie

Danny receives a cameo role on "General Hospital" and nervously prepares for his scene with actress Kelly Monaco; Tucker and Ben stage a funeral for Bonnie.

Wednesday, February 11th, 2015

7: The Mother of All Dates

Bonnie is depressed about all the losers she's been dating lately, so Ben and Danny decide to turn her love life into a contest - whoever sets her up with a decent guy wins. Determined to beat his big brother at something, Ben sets Bonnie up with one of his customers, Frank, while Danny sets Bonnie up with Ben's boss, Henderson. After each brother does everything to make sure his man wins, it quickly becomes clear that Frank and Henderson have their own set of problems. Meanwhile, Riley and Tucker find themselves unwittingly involved in neighbor Sondra's marital troubles.

Wednesday, February 18th, 2015

8: House of Cards

Tucker's latest failed relationship prompts him to focus on the one that got away -his college girlfriend, Olivia. In an effort to cheer their friend up, Ben and Danny track Olivia down in the hopes of reuniting the lovebirds. When Tucker sees Olivia, he's definitely surprised, especially when he learns they are still married! Olivia promises to sign the divorce papers - but only if her unlucky husband hands over his apartment in exchange. Meanwhile, Riley is tired of being passed over for a promotion, so she takes Bonnie's advice and uses her corporate card to network and pull in new clients. But when Riley's overspending gets her in trouble, she must find a way to save her job.

Wednesday, February 25th, 2015

9: An Officer and a Gentle Ben

It's Fleet Week and Bonnie is getting ready to meet up with her yearly fling, Captain Hudson. But when the Captain proposes, Bonnie panics and thinks the best way to discourage the Captain is by pretending she's in love with Tucker. Ben and Riley try to define their relationship, but they keep getting their signals crossed. In an effort to move on, Ben and Tucker pose as sailors and manage to get aboard the Navy ship. But when Captain Hudson comes looking for Tucker, their real identities as civilians are quickly exposed. Meanwhile, Riley's co-worker Robyn is impressed with Danny and asks Riley to set them up. But when Robyn and Danny hit it off, will Riley recognize what her best friend really means to her?

Wednesday, March 4th, 2015

10: Happy Birthday Two You

Ben panics once he realizes he forgot his mom's birthday yet again, especially since he promised her a big blowout after last year's disaster. Knowing he has a lot to make up for, Ben enlists an unwilling Danny, Tucker and Riley to quickly organize the festivities. But when Danny learns something unexpected about his own birthday, Bonnie's party takes on a new twist. Meanwhile, Emma hurts herself on Riley and Tucker's watch, prompting them to become more concerned with hiding her injury than working on Bonnie's video tribute.

Wednesday, March 11th, 2015

11: You Give Real Estate a Bad Name

Bonnie is over the moon when she gets a shot at being the real-estate agent for Jon Bon Jovi's New York penthouse - at least until she learns she's competing with ex-boyfriend Brad. Bonnie decides the only way to win is to seduce Brad and guilt him into giving her the listing, but it turns out that Brad has the same idea. Danny is happily dating new girlfriend Robyn, but when it appears she has more in common with Ben, Danny puts their loyalty to the test. Meanwhile, Tucker and Riley use Bon Jovi's empty penthouse as their vacation destination.

Wednesday, March 18th, 2015

12: A Love/Fate Relationship

Riley knows she has to tell Danny she has feelings for him before his relationship with Robyn gets any more serious. Riley tries to talk to him at hockey practice, but a food fight and a knockout punch get in the way before she is able to confess her feelings to an unconscious Danny. Tucker is unhappy with his love life, so Ben and Bonnie invent a secret admirer to give him some much needed confidence. But when a misguided Bonnie sends Tucker a random photo of his admirer and he later spots her on the street, the matchmakers realize they have to do some damage control; they track down the model, Christine, and trick her into going on a date with Tucker. Meanwhile, when Danny realizes Riley knew he loved her but still dated Ben, will he follow his heart to the girl of his dreams or will his pride stand in the way?

Wednesday, June 3rd, 2015

13: Home Is Where the Wheeler Is

Riley can't face the mess she has made out of her relationships with Ben and Danny, so she runs home to her mom's house in Jersey to hide from her problems. Once Ben realizes where Riley has gone, he stages a "friendervention" to get her to come home, but will Riley and Danny be able to move past their hurt feelings and go back to the way things were? Bonnie is thrilled when their next door neighbor, Evelyn, dies and plots to get the apartment listing. Once she discovers that Evelyn's granddaughter Ashley is a big Danny Wheeler fan and knows all his hockey stats, Bonnie tries to trade her son for the listing, despite the fact that Danny is still dating Robyn. Meanwhile, Tucker is determined to get his hands on the items Evelyn promised him.

Wednesday, June 10th, 2015

14: It Takes a Village Idiot

Bonnie, Danny, Riley and Tucker are tired of Ben always passing Emma off on them every time something better comes along, so when Ben insists he can do it all by himself without their help, they go on strike. Without his support system, a frazzled Ben brings Emma along on his dates and his shift at the bar. Forced to rely on the very limited kindness of strangers, will Ben finally swallow his pride and admit how much he needs everyone? Bonnie and Danny take a cooking class with her idol, Tommy Kwan, but when Danny wins the chance to be Tommy's guest sous chef, Bonnie is determined to prove she's the better cook. Meanwhile, Tucker advises Riley to make up a fake boyfriend in order to fix her friendship with Danny.

Wednesday, June 17th, 2015

15: One Night Stand-Off

Ben and Riley decide to play "shot and score" - whoever makes out with a stranger first wins. Riley sets her sights on Ross, a tall, dark and handsome bar patron while Ben hits it off with another customer, Jessica. But when Riley's one-night stand ends up being her new boss, she's horrified - especially when Ross gives her the best case in the firm. Things aren't going that well for Ben, either; as it turns out, Jessica's husband is Ian, the restaurateur trying to buy Bar on B. Needless to say, Ian is not happy when he learns his wife slept with his bartender and promises to ruins Ben's career. Meanwhile, Bonnie uses Riley's office for her realtor business, and Danny makes a big investment in the future.

Wednesday, June 24th, 2015

16: Lowering the Bars

Tucker is ordered to appear in court in response to a lawsuit he filed against a construction company, so he hires Riley to be his lawyer. When the company offers Tucker a small settlement, Riley refuses to accept it and demands that Judge Johnson send their case to trial. Once Tucker admits that he can't remember what actually happened, Riley realizes she needs to get creative if she wants her first trial to be a success. Bonnie is shocked that Ben and Danny bought Bar on B and thinks they should sell it because they know nothing about owning a business. She is so convinced the guys are destined to fail that she speeds the process along, starting with a very fake health inspector. Can Ben and Danny overcome their mother-sized obstacles and prove they have what it takes to make Bar on B a success?

Wednesday, July 1st, 2015

17: Wheeler War

Ben realizes that he made a huge mistake when he drove Riley away; he never should have believed Danny and Riley have feelings for each other, especially since they're now dating other people. Ben knows Ross is all wrong for Riley, so he devises a plan to get rid of him; he's going to turn Ross into a Wheeler. Riley is furious when she discovers that her sweet boyfriend has been corrupted and declares a Wheeler War - a very rare sporting event the family made up to decide important matters. If she wins, Ben, Danny and Tucker have to stay away from Ross. If they win, the boys get to keep hanging out with him, who fortunately has no idea that he is the reason for the War. Meanwhile, Bonnie is determined to join the boys' poker game.

Wednesday, July 8th, 2015

18: Parental Guidance Suggested

Ben takes Emma to his old pediatrician for a check-up and must admit he hasn't had a physical in years. When the doctor insists Ben has an exam and finds something of concern, Ben has a bit of a panic attack about his future and worries about who will take care of Emma. He flashes forward through Emma's life as she's raised by Bonnie, Tucker and Danny and is horrified by what he imagines. Ben knows Riley is the best choice for Emma, but she has serious doubts about her maternal abilities. Bonnie has lunch with Brad, mistakenly believing that he is his twin brother, Tad. After their talk, Bonnie realizes she's still in love with Brad and wants him back. But when Brad reveals his true identity, Bonnie can't believe he's still so deceitful and never wants to see him again. Meanwhile, a flash mob yields a very surprising twist.

Wednesday, July 15th, 2015

19: Ring Around the Party

Riley realizes that she hasn't met any of Ross's friends and decides to throw a cocktail party so she can get to know them. Ross confronts Ben about his not-so-secret feelings for Riley and tells him to back off; in fact, don't even come to the party. Not one to take orders, Ben crashes the party, but the night quickly takes a wrong turn when the boys get into a fist fight and a very drunk Tucker spills a few more secrets. Danny realizes he knows nothing about his new girlfriend, Ashley, and goes to great lengths just to find out her last name. Will Danny be able to save his relationship once she figures out how little he knows about her? Meanwhile, Bonnie has some serious explaining to do when a valuable item goes missing.

Wednesday, July 22nd, 2015

20: Till Dress Do Us Part

Bonnie has a very important job for Ben, Riley, Danny and Tucker, which prompts them to think about their own lives. As their assignment goes wrong at every turn, Riley thinks about being in love with both Ben and Danny. Danny can't shake his never-ending feelings for the girl of his dreams, and Ben is determined to win his ex-girlfriend back. Meanwhile, Bonnie makes a decision that frustrates everyone.

Wednesday, July 29th, 2015

21: What Happens in Vegas

Riley is not thrilled when Bonnie promotes her to Maid of Honor and demands a crazy bachelorette party, while Brad asks Danny to be his best man and throw an epic, yet dignified, bachelor party. Tucker tells everyone he's going to a television convention in Detroit, but he's actually making his annual trek to Vegas, where he spends one weekend a year living his dream of being a lounge singer. When the boys discover where Tucker really is, they decide to move Brad's bachelor party to the desert, which, of course, means Bonnie and Riley are right on their heels. When they accidentally discover Tucker's act, everyone agrees to enjoy their own nights, but things get very interesting when Bonnie ends up handcuffed to illusionist Peter Oliver. Meanwhile, Danny finally admits to Ben that he's in love with Riley.

Wednesday, August 5th, 2015

22: It's a Nice Day for a Wheeler Wedding

In the Season 4 finale, Bonnie's wedding planner quits as her big day draws near, so her best buddy, Charlotte, volunteers to help, but Charlotte has an ulterior motive. Meanwhile, Ben decides to let Danny and Riley have a shot at romantic happiness.
Season 5
Wednesday, February 3rd, 2016

1: Love & Carriage

Riley faints after Danny asks her to marry him; and when she wakes up, she has no memory of his proposal. Trying to move on from Riley, Ben decides to find "his Riley" and immediately hits it off with new neighbor Zoey. However, Ben is shocked when their first date reveals he and Zoey have more in common than he thought. Bonnie is determined to finally marry Brad after many aborted attempts, and believing Ben and Danny are to blame, enlists Tucker to help her tie the knot without her sons' knowledge.

Wednesday, February 10th, 2016

2: Reinventing the Wheeler

When Emma starts calling every woman she sees "Mommy," Ben decides it's time to find someone with whom to be serious. He turns to Riley to find him a date, but she thinks Ben is not ready to settle down and sets out to "build a better Ben." Meanwhile, Danny asks Bonnie for help when his sleeping troubles affect his hockey performance. But her help could get Danny into even bigger trouble with his team.

Wednesday, February 17th, 2016

3: Ben-geance

While looking for a new bar manager, Ben interviews his old crush Sam, and decides to exact "Ben-geance" on her for never noticing him in high school. However, once Ben sees Sam again, his plan to make her believe she got the job and then take it from her unravels. Bonnie decides marrying Brad means he's always going to be around causing her to reconsider their union. And Danny can't stomach Riley's cooking, but doesn't have the heart to tell her.

Wednesday, February 24th, 2016

4: The Tuck Stops Here

Thinking Tucker needs to stand up for himself with his boss Mary Hart, Ben films Mary berating Tucker to show how badly he's being treated. But when Emma accidentally uploads the video online, Mary and Tucker become a viral sensation, leaving Tucker in an even worse spot. And Riley asks Danny to stand up to Bonnie and tell her she can't always hang out with them, but Bonnie has a trick up her sleeve to outwit Riley.

Wednesday, March 2nd, 2016

5: The Dating Game

Tucker finds Zoey snooping around his apartment and assumes she is there for him, so he takes it upon himself to ask her out. However, Zoey believes Tucker is setting her up with Ben. Danny finds himself in a similar situation when he tries subtly asking Sam how he feels about Ben, but she thinks Danny is asking her out. And Riley finds herself in an uncomfortable situation when her client tries to take things to the next level with Bonnie. Are there any perfect matches?

Wednesday, March 9th, 2016

6: Never Ben Jealous

When Danny finds out that Ben is still Riley's emergency contact, he acts as if Ben and Riley's relationship didn't count. So, when Ben attempts to prove that his and Riley's relationship meant something, things become awkward for Riley and Danny. Meanwhile, Bonnie flirts with someone who's in power to further her own agenda, and Tucker rekindles an old flame.

Wednesday, March 16th, 2016

7: The Return of the Mommy

Now starring on a hit television series, Emma's mom, Angela, unexpectedly returns and wants to see Emma. Ben is reluctant to comply, but when Angela claims she can help get Emma into a good preschool, Ben relents and asks Riley to keep an eye on them. Bonnie is temporarily managing the bar and takes the opportunity to try out some new ideas. And Tucker is living in fear, since he's convinced that Mary Hart is now out to get him.

Wednesday, March 23rd, 2016

8: Room-Mating

When Sam tells Ben that she may quit her job as bar manager because of her long commute, he comes up with a solution to keep her close to work, which involves Danny vacating his room. However, Ben's master plan doesn't work out too well when Sam brings home her boyfriend. And when Bonnie recruits Tucker as an assistant for her new job, she finds herself actually working for Tucker.

Wednesday, March 30th, 2016

9: Stupid Cupid

Riley is determined to set Ben up with Zoey, believing they would be perfect together. But both resist her attempts, insisting they don't have feelings for each other. Meanwhile, Tucker auditions to be a local weatherman, but Bonnie inadvertently ruins his chances when she tries to get Danny a job as a sportscaster.

Wednesday, April 6th, 2016

10: Homecoming and Going

Sam invites Ben, Riley and Danny to the Hamptons for the weekend, leaving Ben confused as to whether he wants to be with Sam or Zoey. Riley finds some old home movies of everyone in high school, but she discovers more than a trip down memory lane. Meanwhile, Bonnie is convinced that Brad has moved on, so she also moves on with another guy, however their evening does not turn out as planned. And Tucker is excited to finally have the apartment to himself.

Wednesday, June 1st, 2016

11: Trial by Liar

Danny is desperate to make up with Riley after their recent breakup, but she is still furious after learning he hooked up with Sam in high school. Determined to prove that she is not overreacting, Riley puts Danny on "trial" for breaking her heart, with Bonnie acting as Danny's lawyer. And Ben tries to save face with Zoey after discovering that her ex has returned to get back together with her.

Wednesday, June 8th, 2016

12: Ben-Semination

Ben discovers Tucker has been making extra cash by visiting a sperm bank. In order to help Tucker pick up a nurse at the bank, Ben agrees to donate his own sperm but quickly regrets his decision after a couple chooses his sample. Riley and Danny continue to fight while attempting to host their friend's engagement party. Their moms, archenemies Bonnie and Jennifer, team up to get Riley and Danny back together.

Wednesday, June 15th, 2016

13: High School Diplomacy

Ben admits he never graduated high school and decides to go back to school in order to set a good example for Emma. Bonnie later confesses that she also did not graduate, so both must pass a final exam, instructed by Ms. Gilcrest, in order to get their diplomas. Riley and Sam are both inducted into the athletic hall of fame and argue over prime territory for their trophy case.

Wednesday, June 22nd, 2016

14: Not So Great Grandma

Bonnie is less than thrilled when she finds out that Ben invited her estranged mother Nana Lyle to town for Emma's preschool's family weekend. Meanwhile, Riley and Tucker enroll in an improv class in order to step out of their comfort zones and help them out in their respective careers.

Wednesday, June 29th, 2016

15: Unholy Matrimony

Ben poses as Bonnie's husband, Brad, when her friends from work don't believe that she has an attractive, younger lover. When Danny begins dating a beautiful actress as a publicity stunt, Riley, who believes the relationship is real, decides to go back out with Ross to make Danny jealous. Tucker tries to further his entertainment reporting career by getting the real scoop on Danny and his new girlfriend.

Wednesday, July 6th, 2016

16: Double Date Double Down

As Ben and Riley both realize they are in for more than they bargained for with dating older, more mature adults, they work together to come up with a plan to get out of their respective relationships. When Bonnie and Tucker gain insider information about players on Danny's hockey team, they bet against the Rangers to win some cash.

Wednesday, July 13th, 2016

17: The Love Seat

When Ben receives an anonymous note from a past love interest asking for a second chance, he does whatever he can to find the mystery girl. Danny misunderstands a note he thought was left for him and tries to get Riley back. Tucker, Riley and Bonnie enter Emma into a baby beauty pageant to get footage for Tucker's news segment, but Riley goes too far.

Wednesday, July 20th, 2016

18: She Said, Ben Said

When Ben's first date with his new lover doesn't go well, Danny and Riley step in to help sort out the couple's issues, but their assistance quickly causes more harm than good. Tucker decides to tell his dad about his new relationship with Renee, one of his dad's co-workers, but panics when he learns that his dad may have feelings for Renee too.

Wednesday, July 27th, 2016

19: Condom Conundrum

After Emma accidentally pokes holes in Ben's stash of condoms, Ben, Tucker and Danny all fear their girlfriends might be pregnant. They discreetly try to find out if there's anything to worry about while the girls pretend to have pregnancy symptoms to get them to confess the truth.

Wednesday, August 3rd, 2016

20: My Fair Emma

Ben forgets Emma's birthday and attempts to combine her birthday party with a beer stand at the neighborhood street fair, but doing both at the same time proves rather difficult. Danny and Riley come to a crossroads when they are both offered new career opportunities. Bonnie and Brad must decide how to move forward once Brad returns home from his spiritual quest with a new outlook on life. Tucker cannot seem to get anyone's attention as he processes through some exciting news of his own.
Season 6
Monday, March 13th, 2017

1: To Elle and Back

Three months have passed since the finale, and Ben is still enthusiastically searching for the mysterious Elle. Danny and Riley are hunting for a good doctor to help with the pregnancy and Bonnie desperately wants to be involved. Tucker is back from Los Angeles, but he refuses to tell anyone what happened when he was there.

Monday, March 20th, 2017

2: Pro and Con

Ben learns some interesting facts about Tucker's recent date but questions whether or not Tucker is actually going out with a hooker, so he enlists Danny's help in finding out the truth. As Bonnie and Brad are preparing to set off on their trip around the world, Brad is arrested by the FBI. Riley agrees to defend Brad as his lawyer, but it turns out to be more complicated than anticipated.

Monday, March 27th, 2017

3: Ben Rides a Unicorn

Ben believes he has found the perfect no-strings-attached hookup partner, although Riley tries to convince him that emotions always become involved; Danny winds up competing against an old friend who is a professional wrestler.

Monday, April 3rd, 2017

4: A Mother of a Day

Tucker is nominated for a prestigious television award, prompting his mom to surprise him as his guest to the ceremony, which throws a wrench in Tucker's plan to have Bonnie pose as his mom. Meanwhile, Riley's pregnancy begins to show, leading her to worry if this will hold her back from being promoted to junior partner.

Monday, April 10th, 2017

5: When Elle Freezes Over

Sam returns in hopes of giving her relationship with Ben another chance, but Ben hesitates because he's still searching for the mysterious Elle. Elsewhere, Danny and Tucker volunteer for a charity ice-skating show that features Emma's favorite princess; and Riley practices parenting.

Monday, April 17th, 2017

6: The Third Wheeler

Danny is being overprotective of pregnant Riley, so Ben surprises Riley with a day off and a hike in the woods to get some time of freedom. Worried that Ben is too irresponsible, Danny sneaks after them only to learn that Riley is just as scared of becoming a parent as he is. Bonnie learns that her boss may be the reason Brad is in jail, so she schemes with Tucker to gather evidence and set Brad free.

Monday, April 24th, 2017

7: The Sonny-Moon

Ben is jealous when he learns that Bonnie is sending Danny on a cruise to celebrate becoming a dad, so he and Danny hold a "Wheeler War" to see who deserves the trip more. Meanwhile, Tucker and Riley run into Tucker's ex-girlfriend at a Lamaze class, where he fibs about where he's at in life to impress her.

Monday, May 1st, 2017

8: You Cruise, You Lose

Ben meets a runaway bride who is convinced that fate has thrown them together. Meanwhile, Danny and Riley go on their babymoon cruise, but Bonnie decides to tag along after Danny reveals he hopes that he and Riley will elope.

Monday, May 8th, 2017

9: The Rebound

Tucker learns that his ex-girlfriend is newly single, so he and Ben hatch a plan to win her back. Meanwhile, Bonnie and Riley bond while camping out in a department store to score a sale on a crib; and Danny tries to babyproof his and Riley's apartment.

Monday, May 15th, 2017

10: What's in the Box?!

Danny and Ben are eager to find out the sex of Riley and Danny's baby, even though Riley would prefer it to be a surprise. Meanwhile, Riley fights for Brad's innocence in his final trial; and Tucker auditions to be in a new courtroom-reality series.

Monday, May 22nd, 2017

11: Daddy's Girl

Riley is confined to the couch with the baby due any second while Tucker tries to help Danny decide what to buy her as a "push gift." Ben begins to feel like an insufficient parent when Emma's upcoming mother-daughter talent show leads Emma to ask questions about why she doesn't have a mother.