update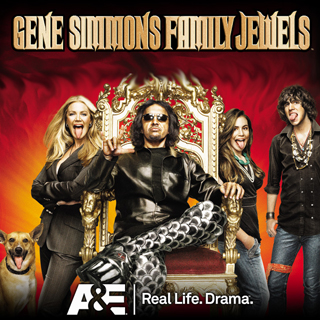 Season 0
not specified

2: Family Time

not specified

3: The Tweed Sisters

not specified

4: More Gene

Tuesday, July 20th, 2010

1: KISSteria

Tuesday, October 18th, 2011

5: Post Wedding Special, Part 1

Tuesday, October 18th, 2011

6: Post Wedding Special, Part 2
Season 1
Monday, August 7th, 2006

1: Happily Unmarried

Gene Simmons asked in long time girlfriend's sisters to plan a surprise birthday party for her, while he is in Vegas to attend the opening of a new Hotel.

Monday, August 7th, 2006

2: Next Generation Rock Star

Nick starts his own band and Gene tries to take over. He becomes the manager and is overly critical of everything from clothes to the bands name. He even books a gig too soon for the band. Shannon takes young Sophie to a fashion week in Los Angeles.

Monday, August 14th, 2006

3: The Demon Lives

When Gene doesn't get recognized at the tv studio by a security guard, he is let down. But then he learns that KISS is going to be honored on a TV special in Las Vegas, and his spirits are raised. Shannon wants another kid and won't let Gene attend the special until he helps make that happen.

Monday, August 14th, 2006

4: Driving Me Crazy

Gene Simmons makes his daughter take self defense classes because she has started dating. Gene's son Nick is getting his driver license, which Gene didn't get until he was 35, and the two square off in a driving test challenge. The loser will be humiliated in public.

Monday, August 21st, 2006

5: Food Or Sex?

Shannon and Gene go to a weight-loss spa. Gene is very unhappy to learn that not only is it a weight loss spa, but that he also is in seperate rooms from Shannon and that his food is being rationed. Nick and Sophie are left in control of their Aunt Tracy and things get out of hand quickly.

Monday, August 28th, 2006

6: Sexercise!

Its career day at school, and Sophie decided to follow Gene around for the day. Shannon is furious to learn that Gene took 13 year old Sophie to the filming of a sexy exercise video.

Monday, September 11th, 2006

7: The Un-Anniversary

Gene Simmons takes the family to New York to visit his mom while he attends a business meeting about a car wash. While they are reminiscing he forgets an important event in Shannon and his life.

Monday, September 18th, 2006

8: Loose Change

Gene Simmons invests his money into a cattle ranch and ends up losing thousands of dollars because of it.

Monday, September 25th, 2006

9: Fan...tastic

Gene Simmons agrees to a day with his biggest fan, which Playboy Radio sets out to find. Shannon thinks Gene looks corny when he gets all dressed up for his hot date. While Gene is on his date, the family gets rid of his clothes.

Monday, October 2nd, 2006

10: Horsin' Around

Gene breaks a date with his daughter to go to Indy and promote his "I Am Indy" campaign. To make up for the slight, Shannon buys Sophie a horse - which they keep at the house.

Monday, October 9th, 2006

11: Gene's Addiction

The family sees that Gene is overworked and needs to get away. So they force Gene to go on an impromptu vacation.

Monday, October 23rd, 2006

12: Shrinkwrapped

Shannon and the kids attempt to sell all of Gene's KISS memoriablia from his office. Shannon wins a session with a psychotherapist, but Gene refuses to go.

Monday, October 30th, 2006

13: Behind The Makeup

Season finale. Shannon has some surprising news for Gene. Shannon also tries to talk Gene into getting a face lift, but he doesn't like the idea. She gives him an idea about starting a tv show about new moms. Could Shannon be pregnant again?
Season 2
not specified

22: It Was A Very Good Year

Recap of Season 2 and deleted scenes.

Sunday, March 25th, 2007

1: Under the Knife?

Sunday, March 25th, 2007

2: A Bun in the Oven?

While Nick, Sophie and Aunt Tracy await the results of Shannon's pregnancy test Gene and fellow KISS band member Paul Stanley serve as the Grand Marshals of the NYC Halloween Parade. After receiving a strange proposition from two groupies, Gene returns home to learn the results of Shannon's pregnancy test.

Sunday, April 1st, 2007

3: Gene's Big Mouth

Gene's suggestion that he and Shannon adopt a child is music to her ears until she learns he hopes the yearlong process will dampen her enthusiasm. While Gene chases his lost precious black book from one end of Manhattan to the other, Shannon plans to teach Gene he should think before he speaks.

Sunday, April 1st, 2007

4: Nice Day For a Facelift

Our cameras document every moment of Gene and Shannon's dual cosmetic surgeries. We are by their side as they kiss the kids goodbye, get prepped for their procedures and are put under anesthesia.

Sunday, April 8th, 2007

5: Face Off

A very graphical episode of Gene and Shannon's facelifts in which Shannon has to stay in the hospital due to the pain. Nick and especially Sophie can't really handle the initial results of their parents makeover.

Sunday, April 15th, 2007

6: Stir Crazy

Shannon is finally allowed to come home and ends up driving the kids wild. Gene thinks the doctors don't know what they are talking about and ingores there advise. Nick and Sophie turn to their Aunt Tracy for some help in escaping the madness.

Sunday, April 22nd, 2007

7: Snowblind

Shannon tries to escape to Aspen for some real R & R, but Sophie talks the rest of the family into heading up their as well. Gene soon learns that Sophie wanted to go up there because of a boy she likes and Gene tries to find out all about him and ends up getting in trouble. Soon he has to be rescues by the mountain's ski patrol.

Sunday, April 29th, 2007

8: Coming Out Party

Gene plans on making a "Rent-A-Bachelor" charity event his coming out party, but being as he didn't follow the doctors orders he is unable to attend. He sends Nick in his place and the bids go wild. Gene must now find a way to heal himself before he accepts the first ever "Golden Tongue" award at the Adult Video News Awards.

Sunday, May 6th, 2007

9: The Wingman

Gene decides to take his business partner's thirty year old nephew out on the town in Las Vegas to help cheer him up after learning about his divorce. Gene soon finds out that getting game isn't as easy as it used to be.

Sunday, May 20th, 2007

10: Uncle Gene Wants You

Gene decides to take Sophie to San Diego's Camp Pendleton to help her do some research for a school paper she has to write on the armed forces. After a lot of smack talking back and forth, they are thrown into a few brutal basic training exercises. No one is laughing now.

Sunday, June 3rd, 2007

11: Growing Pains

Nick's friends persuade him to move out of the house. Nick decides to check out a college. Sophie, Shannon and Gene go shopping to buy items for Nick to bribe him into staying home. Nick has a terrible experience at the weekend orientation. Sophie asks Nick not to tell their parents about his experience so that his parents will continue to bribe him into staying home.

Sunday, June 10th, 2007

12: Master Gene Theatre

A look at some hilarious outtakes, Bad jokes, and never seen before couch interviews from season one. Including a few new segments of Gene and the family.

Sunday, June 17th, 2007

13: British Invasion

Gene and Nick take a personal tour of London's musical landmarks for Nick's 18th birthday. One of their stops was The Beatles' Abbey Road Studios. The vacation almost ends on a sour note when a young exec from Gene's English record label tries to turn their trip into a publicity tour. Gene and Nick get some good father and son time on this trip.

Sunday, July 8th, 2007

14: All Grown Up

Gene takes Sophie to Paris, France for a photo shoot with a professional photographer. Of course, being his only daughter, Gene makes sure nobody takes advantage of his 14 year old daughter. Meanwhile, Shannon and Nick remain in London, Nick spend the day with a girl friend he made on the earlier episode (British Invasion) and thinks of staying in London for College

Sunday, July 15th, 2007

15: Rich Dad

Gene helps out a mother and son with their strip club while he is in Las Vegas. He rushed home after that to play volleyball with Sophie in a Father/Daughter game she never told him about because she doesn't want to bother him and his busy schedule. Gene thinks she just doesn't want him there and wants to be a proud dad.

Sunday, July 22nd, 2007

16: Alpha Male

Sophie wants to go camping with the family on her birhday to prove that she and Sharon are the Alpha Males in the family, not Gene.

Sunday, July 29th, 2007

17: Sucker Bet

Sharon and Aunt Tracy are off to the Kentucky Derby and Gene insists on tagging along. A problem at the hotel leaves Gene wishing he would have stayed home. Tracy talks Sharon into betting $100,000 on a horse.

Sunday, July 29th, 2007

18: And They're Off

In a panic over Shannon's $100,000 bet on a horse she knows nothing about Gene frantically tries to sell her ticket at a discount to anyone he comes in contact with.

Sunday, August 5th, 2007

19: Trapped In Paradise

Gene, who hates the sun and sand, travels to Turks & Caicos in an attempt to bring an Indy car race there. But as usual, things don't go as planned.

Sunday, August 12th, 2007

20: Genetopia

Gene toys with the idea of buying his own island with his own rules and calling it "Genetopia." While Gene is away, Shannon tags along with Tracy as she goes to a speed dating event. Tracy soon learns that the guy she thinks she hitting it off with great, is only trying to get to Shannon, who is after all "happily unmarried."

Sunday, August 19th, 2007

21: Fact Or Fiction?

In the second-season finale, Gene appears on Adam Corolla's radio show and is challenged to take a lie-detector test to verify his boasts regarding his sexual exploits. Afterwards, he is joined by Shannon for lunch with Hugh Hefner. Gene and Shannon then travel to Las Vegas for her sister's wedding.
Season 3
not specified

27: Fan Favorites

not specified

28: GeneHarmony

not specified

29: Gene Down Under

Tuesday, March 11th, 2008

1: Gene's Best Friend

As if Gene couldn't be any more pressured with the upcoming lie detector test, but after months of preparing for a big KISS concert, Paul Stanley unexpectedly gets sick and can't go on. Then to add to it, Snippy, Gene's dog, goes missing.

Tuesday, March 11th, 2008

2: Liar, Liar Tongue on Fire

Gene ignores the family advice on visiting a doctor, after he wakes up feeling like total garbage, but his mom finally convinces him to go. After seeing several different specialists to find out what is wrong, one of them finally uncovers a serious enough condition that needs treatment immediately. Tracy and Shannon take practice lie detector tests on each other in order to prepare for Gene's big day.

Tuesday, March 18th, 2008

3: The Brutal Truth

Gene doesn't follow the doctor's orders again, when is released from the hospital. Gene and Shannon go on the Adam Corolla Show so Gene can take his lie detector test.

Tuesday, March 25th, 2008

4: Before the Flood

Gene is offered a chance to perform at the Royal Crown Revue in Las Vegas. Now he must learn the songs and perfect his act while a construction crew works next door.

Tuesday, March 25th, 2008

5: Knock, Knock, Who's There?

Gene's car breaks down while he is driving to a gig in Las Vegas. Now he must deal with desert heat, bizarre fans, and a dead cell phone while he tries to make it to the show on time. Meanwhile, Shannon, Sophie, and Tracy travel around buying Kiss memorabilia from local fans to replace Gene's treasures which were destroyed in a flood.

Tuesday, April 1st, 2008

6: Swinging Gene

Tuesday, April 8th, 2008

7: Something's Fishy

Tuesday, April 15th, 2008

8: Nail Me

Shannon and Tracy are overcharged at an upscale salon, so they decide they want to open their own. Gene is on board with the idea, but takes it a step further. He brings the girls back to the salon that ripped them off and introduced them as the new owners of it and then fires the everyone that used to work their.

Tuesday, April 22nd, 2008

9: Shannon B. Demille

Shannon decides that it's time to share all of her home movies that she has been documenting about her their for the past twenty four years.

Tuesday, April 29th, 2008

10: Lil Gene

Gene runs into a problem that is solved by his intern.

Tuesday, May 6th, 2008

11: Ladies of the Night

The history of prostitution gets Gene in hot water with Shannon, when he looks up information on it for a book. An old friend unexpectedly visits Nick, but his girlfriend is not happy about it.

Tuesday, May 13th, 2008

12: Sophie Couture

Gene ends up behind bars as he continues his research on prositution. As a result of her internship for a fashion designer, Sophie walks the catwalk during LA Fashion Week.

Tuesday, May 20th, 2008

13: Viewer Mail

Gene, Shannon, Nick, and Sophie answer questions sent in by viewers.

Tuesday, June 3rd, 2008

14: Mommy Make-Over

Shannon decides to get a little more plastic surgery and this time takes Tracy with her. Thing don't go quite how they had planned. Meanwhile, Gene gets a surprise when he is asked to appear on the next season of The Apprentice by Donald Trump, while he is the unfortunate one who gets to watch over a recent deeply saddened divorcee.

Sunday, June 15th, 2008

15: Gene the Apprentice

Gene is clueless to what Shannon and Tracy have had cosmetically done when he is filming in NY for The Celebrity Apprentice." They do everything they can, which includes Sophie and her cousin Emily secretly hiring a nasty nurse, to help themselves completely recover while Gene is gone.

Sunday, June 15th, 2008

16: Gene's Ego Trip

With the help of Jeff Ross, Shannon and Tracy come up with the idea to have Gene "Roasted" to help put his ego back in check and to also raise money for the Wounded Soldiers Foundation.

Sunday, June 15th, 2008

17: Roasting of the Roast

In this special hour and a half episode, Shannon attempts to put Gene's ego in check when she volunteers him to be the subject of a roast for national TV. She will not only embarrass Gene, but she will be raising money for a good cause.

Sunday, June 22nd, 2008

18: Shannon to the Rescue

Shannon gets wind that Tracy might be eloping to Hawaii with her boyfriend, so she springs into action and hopes that Gene's antimarriage talk can snap Tracy out of it. Instead, Gene bonds with Tracy's boyfriend and then Gene and Shannon end up hijacking their honeymoon.

Sunday, June 22nd, 2008

19: Homeymoon at Last

After dealing with Tracy in Hawaii, Gene is in hot water and comes up with the idea to give Shannon the honeymoon they will never have, but that she deserves.

Sunday, June 29th, 2008

20: Power Outage

Gene forgets that he has to babysit his four year old twin nephews, Hunter and Jake, when he comes back home after being on the USS Nimitz for twenty four long, hard hours.

Sunday, June 29th, 2008

21: Nick after Dark

Nick's new car gets towed away while he is out in Los Angeles during the middle of the night.

Sunday, July 13th, 2008

22: South of the Border

Nick and Sophie head to Mexico, with Gene not far behind them.

Sunday, July 20th, 2008

23: Happy Birthday...To Whom?

Shannon and Tracy are left stumped when they can't figure out who the childhood friend is that is having a birthday party.

Sunday, July 20th, 2008

24: Raw & Uncut

Gene and the family sit down to share some unseen footage and deleted scenes.

Sunday, July 27th, 2008

25: X-Gene

Gene heads of to meet some pro snowboarders as he seeks a spokeperson for his new line of snowboarding apparel.

Sunday, August 3rd, 2008

26: Homesick

Shannon is in for a surprise when Gene shows her what he bought in Canada.
Season 4
Sunday, June 7th, 2009

1: Sophie's Sweet 16

It's Sophie's 16th birthday and Gene has gone way overboard, despite her request for a simple celebration.

Sunday, June 14th, 2009

2: Memphis Blues

Gene is set for a business trip to Memphis and brings along Nick, and he gets to perform at the legendary location in which Bluesman Robert Johnson was said to have sold his soul to the devil.

Sunday, June 14th, 2009

3: Fireman Gene

Gene heads to Long Island to visit his mother, and learns that has volunteered his services to host a fire-departments fund raising event, which includes a day of training for Gene as a firefighter.

Sunday, June 21st, 2009

4: Godfather Gene

Sunday, June 28th, 2009

5: Economic Stimulus

Gene receives the honor of being the bell ringer at the New York Stock Exchange. Meanwhile at home, Shannon finds herself drawn towards late-night infomercials.

Sunday, June 28th, 2009

6: Slumber Party

Sophie and her five hyperactive girl friends want to have a slumber party, which Gene agrees to take charge of once Shannon falls ill. But this will include keeping away a group of horny boys trying to crash the party, and must track down one girl who sneaks off with one of the boys to be alone.

Sunday, July 12th, 2009

7: The Night from Hell

Carrot Top is volunteered by Gene to crash a bachelorette party being held in Las Vegas. Sophie deals with her cheating boyfriend by putting him through the ringer.

Sunday, July 12th, 2009

8: Who Dunnit?

In hopes of promoting family togetherness, Shannon guilt's them into participating in a 70's themed murder-mystery party.

Sunday, July 19th, 2009

9: Grapes of Wrath

Shannon and Tracy spend a weekend at a Wine Country vineyard and inadvertently almost destroy a young couple's wedding; Nick has to work nonstop to finish a missed deadline for his comic book.

Sunday, July 19th, 2009

10: Puppy Love

Gene lends Snippy to his nephews when their dog passes away, hoping to ease their pain. Now he must find them a replacement dog before they become too attached to Snippy.

Sunday, July 26th, 2009

11: Dirty Little Secrets

Like father, like son. Gene and Nick are both caught in embarrassing situations they must hide from Shannon.

Sunday, July 26th, 2009

12: Movin' Out

Nick decides it is time to find an apartment of his own after a foreign exchange student and a french maid move in to the family home for the summer.

Sunday, August 2nd, 2009

13: Derby Queen

Gene takes over the role of the family's happy homemaker, after Shannon accepts a role in a movie about the Roller Derby.

Sunday, August 2nd, 2009

14: Fresh Meat

Gene takes care of the daily chores around the house as Shannon recovers from an injury from her Roller Derby accident. Meanwhile, Nick has some out-of-town guests staying in the home.

Sunday, August 9th, 2009

15: Gene the Slacker

With a week off from working for Gene, everyone finds out what it would be like if he slowed down his schedule and stayed around the house more often. Now the family must devise a plan to show him their appreciation.

Sunday, August 9th, 2009

16: Rootin' Tootin' Gene

Gene does a favor for his Kiss manager by heading off to Nashville to take a up-and-coming but bickering country band under his wing.

Sunday, August 16th, 2009

17: Sex & Rock n' Roll

Nick's band hits a roadblock when all of their gear is stolen moments before their debut gig. Meanwhile Shannon convinces Gene to be social and attend a dinner party that unknowingly has another agenda.

Sunday, August 16th, 2009

18: Letters Lost

While Gene is in Japan filming a monster movie, Shannon and Tracy go antiquing and buy a piece of furniture that sends them on a search for its original owner.
Season 5
Sunday, March 21st, 2010

1: Shannon the Brave

Shannon has a health scare; Gene is torn between being home with his kids and being on tour.

Sunday, March 28th, 2010

2: Waiting Is The Hardest Part

After her trip to the doctor, Gene and Shannon await the results of the Shannon's biopsy. Meanwhile, the two try to keep the situation secret from the kids.

Sunday, March 28th, 2010

3: The Demon Turns 60

Gene tries to convince Shannon that he does not want to make a big deal of his upcoming birthday but is subsequently ignored when Shannon and Paul Stanley decide to throw him a huge surprise party. But the surprise may be ruined when Gene decides to go on a business trip on the day of the party.

Sunday, April 4th, 2010

4: Kisstastrophe

Shannon travels to NY to join the KISS tour and spend quality time with Gene only to learn he has a prior commitment with a journalist. Gene sticks Shannon with his friend and native New Yorker, Tony, to ensure she doesn't take out her anger on his wallet.

Sunday, April 11th, 2010

5: Like Father, Like Son

Nick finds himself in a similar situation than his father usually is in when he his girlfriend Rose tells him that he no longer spends enough time with her because of his commitments to his band, comic book, and school. Meanwhile, Gene boards a plane to Singapore in the hopes of gaining funding for a KISS Vegas show.

Sunday, April 18th, 2010

6: Gene Gets Punked

For years, Gene has played his share of pranks on his friends, especially his band manager Doc. Finally, Doc sees his chance to get Gene back and enlists Shannon and a cast of characters to make Gene think that he has been put under a Voo Doo curse while in New Orleans and has to go through an drawn out ritual to cure himself.

Sunday, April 25th, 2010

7: Don't Mess With the Simmons

Shannon and Tracy host a Tazer Party to promote self defense. Meanwhile Nick spends the day with the son of one of Genes clients and gets wound up in a wild adventure including a girl, surfers, and a high speed chase.

Sunday, May 2nd, 2010

8: Gene the Croc Hunter

Gene and Tony go on an adventure in the hopes of securing a deal to manufacture gator skin demon boots. Meanwhile, Nick gets ready to perform with former KISS member Bruce Kulick on the Sunset Strip

Sunday, May 9th, 2010

9: Smarty Pants

While Sophie prepares for her SATs, Gene prepares to compete on the game show "Are You Smarter Than A Fifth Grader" while also also trying to develop an idea with a college marketing class.

Tuesday, July 20th, 2010

10: The Best 100th Episode Ever

Shannon and Tracy decide to go on a road trip to see KISS play out of state. But things take an interesting turn when they, the kids, and Gene all end up separated with only hours to go before the show.

Tuesday, July 27th, 2010

11: Hunks with Hammers

Sophie has to create a business as part of a school project and of course Gene wants to offer his experience.

Tuesday, July 27th, 2010

12: Love Thy Neighbor

With some time between tour dates, Gene returns home only to find that Shannon has been keeping busy having a pool house built. The family has to make nice with the neighbors when they learn that all of them must sign the permits for the house to be built legally.

Tuesday, August 3rd, 2010

13: Detroit Rock Mommies

The night before KISS goes on tour, Gene discovers word of a hot female band that he wants to sign to his own lable but is amazed when he finds out that the band is made up of middle aged mothers. Meanwhile, Shannon meets an all girl KISS cover band named PRISS.

Tuesday, August 3rd, 2010

14: Pest Control

Gen goes on the hunt for an animal in the house that only he seems to be able to see or hear. Meanwhile, Sophie has to call in Nick when one of her babysitting jobs gets to be too much to handle

Tuesday, August 10th, 2010

15: The Geeks Shall Inherit The Earth

In a twist, Gene tags along with Nick when he goes to promote his new comic book at Comic Con. Meanwhile, Tracy and Shannon try to show that they are still young enough to handle a 5K run.

Tuesday, August 17th, 2010

16: Gene's Evil Twin

When Gene is too ill to go on a press event for the band, Nick has an idea that gets him in a bit of trouble. Meanwhile, Shannon must come to the rescue again when Tony accidentally destroys a homeowners favorite possession while househunting.

Tuesday, August 24th, 2010

17: For The Love Of Rock

Gene joins forces with the Ludacris Foundation to help bring music to some troubled kids.

Sunday, December 5th, 2010

18: Face Your Demons

Things take an emotional turn when Gene spends time with a young boy in Amsterdam.

Sunday, December 12th, 2010

19: What Happens in Vegas

Gene, Shannon and Nick hit Las Vegas; Nick's birthday gift.

Sunday, December 19th, 2010

21: Gene's Handicap

Gene thinks his mini-golf skills will translate to a golf tournament.

Sunday, December 19th, 2010

20: God of Thunder

An exhausted Shannon reaches her limit with Gene's snoring and sends him packing to a sleep Doctor. At home, Shannon takes other precautions to ensure she finally gets some sleep, but wakes up to mysterious doings in the Tweed-Simmons' household.

Sunday, December 26th, 2010

22: Three's a Crowd

Gene is jealous of Shannon's tour guide in Spain, but then shows her that he still has it.

Sunday, December 26th, 2010

23: My Fair Lady

One of Shannon's friends becomes a cougar.

Sunday, December 26th, 2010

24: Keeping Up With the Demon

Nick goes on a hectic tour with Gene; Shannon misses her family.

Sunday, December 26th, 2010

25: Scaredy Cat
Season 6
Tuesday, June 14th, 2011

1: Breaking Up is Hard to Do

With Sophie off to college, Shannon starts to re-evaluate her 27-year relationship with Gene. Has Shannon finally reached her limit with Gene's rock star lifestyle?

Tuesday, June 21st, 2011

2: KISS Your Family Goodbye

A stunned Gene is left to fend for himself, leaving everyone to wonder if Shannon and Gene will survive this bump in the road.

Tuesday, June 21st, 2011

3: You Always Hurt the Ones You Love

With Shannon gone, a lonely Gene buries himself in work, while trying to figure out how to win her back. Meanwhile, Nick and Sophie bring Mom and Dad together for a special performance in hopes their parent's will reconcile.

Tuesday, June 28th, 2011

4: Blood is Thicker Than Hummus

Shannon and Nick, join Gene when he returns to the city of his birth, Haifa, Israel for the first time in over 50 years to receive an award. While there, Shannon has a few surprises planned for Gene.

Tuesday, July 5th, 2011

5: The Demon Does the Holy Land

Gene realizes the importance of spending quality time with family and extends their Israel trip so he can show Shannon and Nick more of his homeland.

Tuesday, July 5th, 2011

6: The Demon Salutes

Gene and Shannon head to Texas to visit the troops at Ft. Hood and attend an Aces & Angels Charity Event in support of the USO and Wounded Warriors.

Tuesday, July 12th, 2011

7: Mr. Tweed Goes to Canada

Shannon and Gene head to Canada to visit Shannon's family, where Shannon quickly becomes the center of attention and a bored Gene decides he needs to do his own thing, creating a cold snap in their relationship.

Tuesday, July 19th, 2011

8: The Kids Are Not Alright

With Shannon still up in Saskatoon, Gene goes back out on the road for another KISS Tour. While Gene comes face to face with more temptation, the family's raw emotions finally bubble to the surface when they join him on the road and address Gene's ongoing issues. How will hearing his children baring all affect him?

Tuesday, July 26th, 2011

9: Belize it or Not

Gene takes Shannon on a vacation to Belize and has only one question on his mind.

Tuesday, October 4th, 2011

10: The Answer

The newly engaged Shannon and Gene return to Los Angeles to a surprise engagement party and immediately feel the pressure to plan a wedding fast, but can they find the time with all of Gene's KISS commitments?

Tuesday, October 11th, 2011

11: Til Death Do Us Part Part 1

Gene is taken to the hospital with what turns out to be a medical scare, but it prompts Shannon to make the family go organic for health reasons. Meanwhile, wedding plans get underway.

Tuesday, October 11th, 2011

12: Til Death Do Us Part Part 2

Monday, October 17th, 2011

13: Tracy the Wedding Planner

As a gift to Shannon and Gene, Tracy offers to plan the entire wedding, and a reluctant Shannon agrees. When Tracy's ideas get out of hand, Shannon secretly hires a wedding planner, causing some friction between the sisters. Meanwhile, Gene thinks that since he's getting married, he's cured and decides to stop going to therapy.

Monday, October 17th, 2011

14: Wedding Boot Camp

With the wedding fast approaching, Gene and Shannon still have some issues to work on, so they enroll in a marriage boot camp. During their two days of therapy, Gene and Shannon confront each other, their past and seek forgiveness. Will two days of intense couples therapy heal them or split them apart for good?

Monday, October 17th, 2011

15: Our Life Passes Before Us

While attending one of their last couples therapy sessions before their wedding, Gene and Shannon reminisce to Dr. Wexler about their life together, how they met, the kids, the TV show and how much they truly love each other.

Monday, October 17th, 2011

16: Sleeping With The Boss

While attending one of their last couples therapy sessions before their wedding, Gene and Shannon reminisce to Dr. Wexler about their life together, how they met, the kids, the TV show and how much they truly love each other.

Tuesday, October 18th, 2011

17: The Demon Says I Do?

Join Lynn Hoffman as she sits down with the newly married Mr. and Mrs. Simmons as they look back at their wedding.
Season 7
Monday, May 28th, 2012

1: The Honeymoon is Over Part 1

In the seventh-season opener, Shannon decides that she wants to adopt a child, which creates tension with Gene.

Monday, May 28th, 2012

2: The Honeymoon Is Over Part 2

Monday, June 4th, 2012

3: Starting Over

With Gene's past hopefully behind them, Gene and Shannon move the Tweed-Simmons clan to phase two which includes putting their adoption plan back on track and making sure Nick has a plan for his future.

Monday, June 4th, 2012

4: The Adoption Plan

After Sophie's and Nick's strong objection to adoption, Shannon suspects that Gene is wavering as well and arranges for Gene to meet happy families that have adopted. Meanwhile, cut off Nick searches for a place to live.

Monday, June 11th, 2012

5: Where's Sophie?

Shannon is worried the family will sabotage her adoption plans during their official interviews with the agency. Meanwhile, an upset Sophie is nowhere to be found and will not return any of Shannon's calls.

Monday, June 11th, 2012

6: Cold Front

After Sophie is a no-show for an important adoption meeting, an upset Shannon goes to Whistler to confront her daughter about her behavior and the adoption.

Monday, June 18th, 2012

7: Pregnant Pause

Gene attempts to distract Shannon from the adoption process by suggesting that they take a belated honeymoon.

Monday, June 18th, 2012

8: The Demon Must Be Crazy

Shannon has a secret agenda to change Gene's mind on adoption while they vacation in Africa.

Monday, June 25th, 2012

9: Gene's Other Children, Part 1

Gene meets the African children whom he sponsors; Tracy prepares for in vitro fertilization.

Monday, June 25th, 2012

10: Gene's Other Children, Part 2

Monday, July 2nd, 2012

11: Baby On Board? Part 1

Gene and Shannon have trouble agreeing on whether they should adopt a child.

Monday, July 2nd, 2012

12: Baby On Board? Part 2

Monday, July 9th, 2012

13: Kiss A Vet

Monday, July 9th, 2012

14: Old Habits Die Hard

Monday, July 9th, 2012

15: Attack Of The Groupies

Monday, July 16th, 2012

16: Lost Phone

Monday, July 16th, 2012

17: Demon Envy