update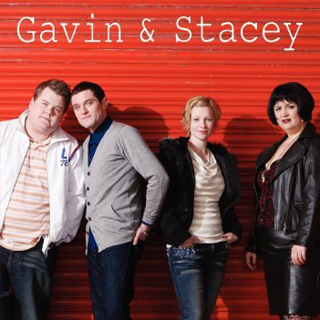 Season 0
Friday, April 4th, 2008

8: Gavin & Stacey Set Visit

As featured on "Uned 5" for S4C

Wednesday, December 24th, 2008

1: Christmas Special 2008

As Nessa and the Wests head to Essex to spend Christmas with the Shipmans, Gavin and Stacey have a startling announcement to make.

Thursday, December 25th, 2008

2: 12 Days Of Christmas

A behind the scenes look at the making of the Christmas episode.

Saturday, February 21st, 2009

3: Barry Islands in The Stream

Friday, March 13th, 2009

4: Comic Relief Special: Smithy Meets the England Squad

Friday, January 1st, 2010

5: The Outtakes

Stars and writers Ruth Jones and James Corden look through the best outtakes from all three series and the 2008 Christmas special of the award-winning Gavin and Stacey.

Saturday, January 1st, 2011

9: No Longer Occurin'

The "making of" documentary for Season 3.

Sunday, January 2nd, 2011

10: Favourite Moments

Cast and crew pick their favourite moments from the show.

Monday, January 3rd, 2011

11: Outtakes

One last selection of bloopers.

Tuesday, January 4th, 2011

12: In Leicester Square

Behind the scenes footage of the filming of Gavin and Stacey's first meeting. Originally published on YouTube as a teaser for the show.

Wednesday, January 5th, 2011

13: How It Happened

Behind-the-scenes feature on the making of the first series.

Thursday, January 6th, 2011

14: Ruth and James: The Story of Series 2

A documentary feature on the making of Season 2.

Friday, January 7th, 2011

15: Ruth & James on Friday Night with Jonathan Ross

Feature following Jones and Corden before, during and after an appearance on the eponymous talk show.

Saturday, January 8th, 2011

16: Outtakes

One last selection of bloopers.

Wednesday, December 25th, 2019

6: Christmas Special 2019

The families get together once again for Christmas. Bryn is cooking dinner, Dawn is in shock, and there are revelations in the pub on Christmas Eve.

Saturday, December 28th, 2019

7: Behind the Scenes with Gavin and Stacey

Colin Paterson meets the cast of Gavin and Stacey on set as they reunite for the first time in ten years, to film the BBC's Christmas special.
Season 1
Sunday, May 6th, 2007

1: Gavin and Stacey

After being phone buddies for months, Gavin and Stacey finally arrange a rendezvous in Leicester Square, with Stacey's best friend Nessa and Gav's pal Smithy coming along for support.

Sunday, May 13th, 2007

2: The Phone Call

After a huge misunderstanding on the phone, Stacey thinks Gavin has finished with her. He drives to Wales to explain and ends up taking her home with him. Having never been further than Bridgend before, Stacey's trip to Essex is an eye-opening experience that ends with the biggest surprise of all.

Sunday, May 20th, 2007

3: Engagement Party

After his initial angry reaction to Stacey's news, Uncle Bryn agrees to drive them all to Essex to meet the Shipmans. Pam has laid on a cracking spread and the party goes with a bang. But then Gavin and Stacey make an announcement that throws all the bonhomie out the window.

Sunday, May 27th, 2007

4: The Big Secret

The Shipmans drive down to Wales for the wedding fayre. After an eventful trip to church to hear the banns being read, Nessa confides in Stacey her big secret.

Sunday, June 3rd, 2007

5: Hen Night for Stacey

Stacey's brother Jason arrives home early, much to Uncle Bryn's horror. Stacey has her hen night and Gavin has two stag nights, the second of which reveals something about Stacey that could jeopardise the whole wedding.

Sunday, June 10th, 2007

6: The Big Day

The wedding day has finally arrived, but will they go through with it? Will Uncle Bryn finally admit to what happened on the fishing trip and will Nessa do what she knows she must?
Season 2
Sunday, March 16th, 2008

1: They're Back

Stacey and Gavin return from honeymoon to a big welcome from both families. But Smithy seems none too happy with his best mate and Nessa has a confession to make that throws the whole evening into disarray.

Sunday, March 16th, 2008

2: On the Run

Devastated by the news he's to become a father, Smithy goes AWOL. The boys finally track him down, but can he be persuaded to do the right thing? Stacey is shocked to hear of Gwen's new domestic arrangements as the prospect of living in Essex finally hits her.

Sunday, March 23rd, 2008

3: The Scan

Stacey feels dejected because she cannot get a job and Pam tells her she needs to get out more. Smithy needs Gavin's shoulder to cry on because his girlfriend split with him over Nessa's pregnancy and told him she was seeing a younger man anyway. Gavin, Stacey and Smithy head for Barry so that Smithy can go for the scan with Nessa. Smithy lodges with Bryn, who has turned his spare room into a gym and sets about getting Smithy into shape.

Sunday, March 30th, 2008

4: House Hunting

Stacey is miserable and homesick because she still hasn't got a job, or her own home. She feels she's getting under everyone's feet, especially when Pam interrupts her during her shower. Gavin tries to console her but she says he just doesn't understand. Pam admits to Dawn that having the newlyweds staying in her house is getting a bit much. (Dawn and Pete are still looking for a threesome.) Gavin and Stacey go to view a potential flat and are shown round a tiny, dirty studio by over-enthusiastic estate agent Duncan.

Sunday, April 6th, 2008

5: Birthday Party

Stacey and Gavin are still in conflict over where they should live…with Gavin refusing to even consider the idea of living in Barry. Smithy admits to Gavin that he had another fling with Nessa and realises he's going to have to face her again at the surprise party Bryn is throwing for Gwen. Bryn is panicking because he wants to keep the surprise barn-dance themed party a surprise…but he's also having trouble getting enough people to attend.

Sunday, April 13th, 2008

6: Boys' Night Out

Gavin seeks counselling for his marriage troubles from Smithy, but Smithy's idea of relationship therapy is to organise a surprise lads night out at a nightclub foam party. While the lads are knee deep in foam, Stacey is with her family at a bingo night.

Sunday, April 20th, 2008

7: The Baby

Stacey travels to Essex and back into the arms of Gavin. Everything seems perfect until Pam and Mick offer to cover the down payment on a house for Gavin and Stacey. Stacey tells Gavin that it can't work between them because they both need to live in their own towns. If they were truly meant to be together, this wouldn't matter, they would even think about it…but that clearly isn't the case. She gives him her wedding ring back...
Season 3
Thursday, November 26th, 2009

1: The Christening

Gavin starts his new job in Cardiff and Stacey is thrilled to be at home again. Smithy comes to terms with life in Essex without his best mate, whilst Nessa is adjusting to life in Dave's caravan down Sully. The weekend brings with it a big reunion, as everyone meets up for the christening of baby Neil. But how will Smithy react to news from Nessa that it is a double celebration? And what will Gavin's answer be to Stacey's request?

Thursday, December 3rd, 2009

2: Job Interview

Stacey is trying for a new job whilst ensuring Gavin sticks to his recent promise! Dave is not a happy bunny when Nessa tells him she is taking Neil the baby to Essex to see his dad. Meanwhile, over at the Shipman's house, Dawn and Pete have joined Pam and Mick for a beer-and-curry night of huge proportions - at the Billericay house of fun.

Thursday, December 10th, 2009

3: Cardiff

Pam and Mick are having second thoughts about the conservatory, whilst Bryn is in his element as he awaits the arrival of his house-guests - all the Essex boys down for a big night out in Cardiff - and having a sleep-over at his place! Smithy gets in a state about seeing Nessa after their most recent embarrassing meeting, and Stacey makes a worrying discovery. But is telling Gavin the right thing to do?

Thursday, December 17th, 2009

4: Wedding Vows

Gavin is uncomfortable with Gwen and Bryn knowing the ins and outs of his and Stacey's sex life, and Smithy goes beyond the call of friendship by making a staggering suggestion. Meanwhile, Pete and Dawn prepare to renew their wedding vows and everyone heads to Billericay to help them celebrate. But how will Dave react to the bombshell revelation about the curry night in Essex?

Friday, December 25th, 2009

5: The Beach

It's Bank Holiday Monday, and the Essex contingent arrives for a sunny day out at the beach - even Doris is wearing her sundress! Gavin's heart-to-heart with his dad gives him something more to think about, and a dark cloud looms on the horizon when Dave arrives to find Nessa and Smithy enjoying all the fun of the fair.

Friday, January 1st, 2010

6: Nessa's Wedding

Nessa and Dave's wedding is fast approaching and the preparations are in full swing. Stacey breaks some life-changing news to Gavin, whilst Bryn and Jason finally put their big secret to bed. Smithy takes care of Neil the baby and wishes Nessa all the best, as she makes her way to the church to marry Dave.