update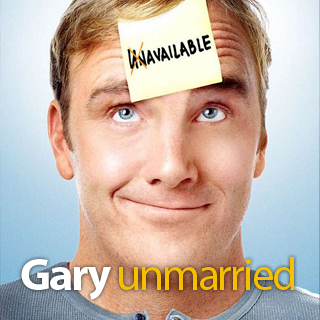 Season 1
Wednesday, September 24th, 2008

1: Gary's Ex Got Engaged

Gary must deal with the news that his ex-wife is engaged to another man all while trying to balance single fatherhood and a new relationship of his own.

Wednesday, October 1st, 2008

2: Gary Gets Boundaries

Gary and Allison decide they need to make some new boundaries and distance themselves from each other after he undressing in front of her.

Wednesday, October 8th, 2008

3: Gary Marries Off His Ex

Gary realizes that if he can stop paying spousal support, he can buy Tom lots of toys. He sets about trying to encourage Dr. Krandall to set a date.

Wednesday, October 15th, 2008

4: Gary Gets His Stuff Back

Gary makes a threat to show Allison's racy photographs he received from her on their first anniversary to everyone, when she refuses to give back his pool table he bought for her as a gift.

Wednesday, October 22nd, 2008

5: Gary Breaks Up His Ex-Wife and Girlfriend

Gary is afraid that Vanessa and Allison's blooming friendship will mean doom for his relationship with Vanessa once Allison sets up a gloomy impression of him. Gary wishes all the former women in his life will make friendships elsewhere.

Wednesday, November 5th, 2008

6: Gary Meets the Gang

Gary and Allison have hit that point where their relationship moves ahead, by meet each others friends. But neither felt like they had made a great impression.

Wednesday, November 12th, 2008

7: Gary and Allison's Restaurant

Gary ends up in Vanessa's doghouse after finally taking her on a real date, but brings her to a restaurant that he used to frequent with Allison.

Wednesday, November 19th, 2008

8: Gary and Allison Brooks

Gary pretends he is still married while attending the vow-renewal of a friend, as a favor to Allison. But the plan backfires when Gary finds himself attracted to one of the guests.

Wednesday, November 26th, 2008

9: Gary Gives Thanks

It is the first Thanksgiving as a divorced couple, and Gary finds himself competing for dinner guests with Allison.

Wednesday, December 10th, 2008

10: Gary Goes First

When Gary discovers that Allison is going to take the kids to their first concert, a not-so-friendly competition kicks off. Gary tries to out-do Allison by exposing the kids to other first experiences, such as Tommy's first shave and buying Louise her first bra.

Wednesday, December 17th, 2008

11: Gary Toughens Up Tom

Gary begins to feel threatened by Tom's relationship with Dr. Krandall, leading him to change the relationship he has with his son.

Wednesday, January 14th, 2009

12: Gary Dates Louise's Teacher

To prove that men are not only interested in only beautiful women, Gary dates Louise's favorite, but plain school teacher.

Wednesday, January 21st, 2009

13: Gary Moves Back In

While his home is under repair, Gary moves back in with Allison.

Wednesday, February 11th, 2009

14: Gary and Dennis' Sister

Gary freaks out after learning that Dennis has made plans for his marriage to his younger sister, after they begin dating.

Wednesday, February 18th, 2009

15: Gary's Ex-Brother-in-Law

Gary reluctantly takes financial advice from Allison's brother, after receiving an notice from the IRS about an audit.

Wednesday, March 11th, 2009

16: Gary Uses His Veto

When Gary vetoes Louise from taking Chinese, Allison uses her veto to put a stop to Louise taking golf lessons.

Wednesday, March 18th, 2009

17: Gary Hooks Up Allison

When Allison breaks up with Krandall, she begins showing up at Gary's house, forcing Gary to find her someone new.

Wednesday, April 8th, 2009

18: Gary and the Trophy

After a bowling teammate quits before the championships, Gary rushes to find a replacement.

Wednesday, May 6th, 2009

19: Gary and His Half Brother

Gary's half-brother has returned from the war and needs a place to stay. The full house finds Gary spinning out of control as he finds himself playing parent to both his children and a sibling.

Wednesday, May 20th, 2009

20: Gary Fixes Allison's Garbage Disposal

Gary sets out to repair Allison's garbage disposal but find themselves inside her bedroom fixing their lust for sex.
Season 2
Wednesday, September 23rd, 2009

1: Gary Has a Dream

When Tom is unaffected by low scores on a career aptitude test, Allison decides that Gary needs to set a better example for their son. Gary calls an old buddy who works at a radio station, and ends up getting offered a job an offer that Gary misinterprets.

Wednesday, September 30th, 2009

2: Gary Promises Too Much

After Allison's new boyfriend offers to take Louis to New York for his birthday, Gary tries to outdo him but shouting out a promise he could never keep.

Wednesday, October 7th, 2009

3: Gary's Demo

Desperate to get the job as a radio sportscaster, Gary attempts to convice Sasha into listening to his demo tape, while Louise comes up with a way to protect Tom from the school bully.

Wednesday, October 14th, 2009

4: Gary Shoots Fish in a Barrel

Gary is determined to prove that he can handle a one-night stand without getting attached.

Wednesday, October 21st, 2009

5: Gary on the Air

When the radio station's normal sports announcer gets arrested, Sasha agrees to let Gary take over, giving Gary his first big break. Meanwhile, it's her school's volunteer week, and Louise participates by making a video consisting of well-wishes for Uncle Mitch and the rest of his team in the Marine Corp.

Wednesday, November 4th, 2009

6: Gary Tries to Do It All

Trying to juggle two kids and two careers, Gary overextends himself.

Wednesday, November 11th, 2009

7: Gary and Allison's Friend

After her new "friend" Sophia prefers Gary's company over hers, Allison feels jilted.

Wednesday, November 18th, 2009

8: Gary Apologizes

After making a disastrous attempt to prepare a Thanksgiving feast for Sasha, Curtis, Jack and the kids, Gary turns to Allison for help.

Wednesday, November 25th, 2009

9: Gary Keeps a Secret

Gary tries to keep the secret of letting Louise attend a popular girls party from Allison, while Sasha contemplates having more than a working relationship with Gary.

Wednesday, December 9th, 2009

10: Gary Gives Sasha His Full Attention

Gary and Sasha's first date is interrupted by Allison, so Sasha starts to really notice the bad sides of dating a divorced man.

Wednesday, December 16th, 2009

11: Gary Is A Boat Guy

Gary buys a boat to help Tom impress a girl, but his scheme does not go as planned; Gary must turn to Allison's boyfriend for help.

Wednesday, January 13th, 2010

12: Gary Feels Tom Slipping Away

Worrying that Tom may be hanging out with the wrong guys at school, Gary and Allison take it upon themselves to probe into Tom's personal life. Meanwhile, Sasha flirts with professional surfer Laird Hamilton.

Wednesday, January 20th, 2010

13: Gary Has to Choose

Because his relationship with Sasha has gone to the next level, Gary must now decide if he should put his career on the line to date his boss or if it's not worth it. Meanwhile, Allison tries to teach Tom a lesson in responsibility.

Wednesday, February 10th, 2010

14: Gary Lowers the Bar

After Sasha gives Gary an awesome Valentine's Day gift, he tries to outdo her by giving her the perfect gift. Meanwhile, Allison tries to bond with Tom and Louise.

Wednesday, March 3rd, 2010

15: Gary's Big Mouth

Gary turns to wrestling in order to settle a fued between him and the wrestling coach, after he fails to help Tom make the team.

Wednesday, March 10th, 2010

16: Gary Tries to Find Something for Mitch

When Mitch returns home from overseas, Gary tries to help him figure out what he'll do for a living. Meanwhile, Curtis and Charleen hire Allison as their wedding planner.

Wednesday, March 17th, 2010

17: Gary Unmarried?

Gary discovers that he and Allison's divorce papers were never filed, and he uses this information as a way to reclaim some of the things Allison kept. Allison's sister Rachael gives Mitch a makeover while she is in town visiting.