update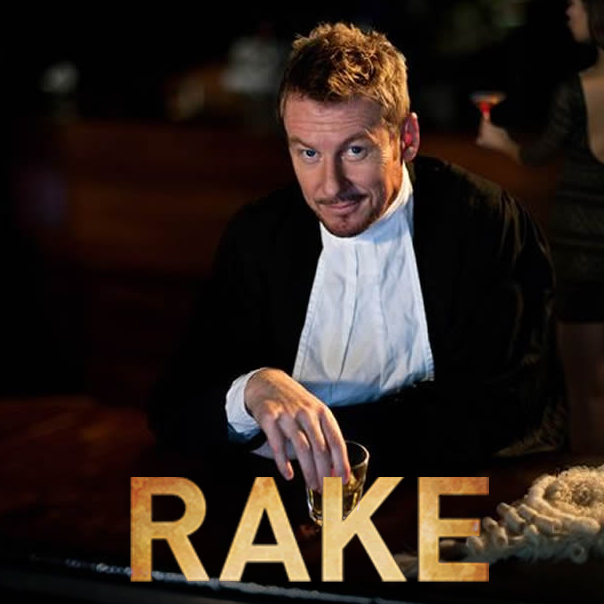 Season 0
not specified

0: NO DVD EXTRAS!
Season 1
Thursday, November 4th, 2010

1: R v Murray

Cleaver's lover/friend/confident Missy, a high class call girl, has left without a trace, and tax lawyer David Potter is in hot pursuit, Scarlet, his best friend Barney's wife, confides in him that she wants to leave home, and his 15-year-old son Fuzz draws him into a conspiracy to cover up his activities with his new girlfriend. But on the work front, Cleaver is presented with a case he can't resist... to defend a cannibal.

Thursday, November 11th, 2010

2: R v Marx

Cleaver's gambling debts are mounting, but on the upside, and much to the chagrin of tax lawyer David Potter (Matt Day) who's been in constant pursuit, Cleaver has managed to get the case against him adjourned once again.

Thursday, November 18th, 2010

3: R v Dana

Consumed by remorse after sleeping with his best friend's wife Scarlet, and facing his ninth appearance before the Bar Association, Cleaver gets a needed distraction defending a famous chef charged with bigamy. And to add insult to injury, as he and Barney commiserate at a favorite bar, Missy arrives once more with David Potter. The bigamy case is going well...that is until Cleaver discovers his client had left out some very important details. As Cleaver receives another late night phone call from Missy, they're both left wondering what it is they can't let go of.

Thursday, November 25th, 2010

4: R v Lorton

Cleaver takes on a case defending a once famous but now homeless artist who is accused of murdering a 15-year old male prostitute. Cleaver's guilt about Barney and Scarlet sees him make a drunken spectacle of himself in front of Missy and David. But Missy is struggling to keep up her charade with David as he considers running for public office. To add to Cleaver's woes, he and Wendy discover that Fuzz is dating his very young and attractive English teacher. At Barney's insistence Scarlet relents and makes up a name for the man she slept with...a name that implicates Cleaver.

Thursday, December 2nd, 2010

5: R v Chandler

Cleaver prepares to defend family friend Dr. Bruce Chandler, when a very incriminating DVD finds its way to the local police. Meanwhile, Barney won't speak to him, and ex-wife Wendy blames him for Fuzz's predicament, so Cleaver turns to gambling and cocaine, scoring another beating from Mick Corella's stand-over man. Then a homeless Scarlet arrives on his doorstep, followed closely by Missy railing at the realities of partner David's new political life. And when Wendy arrives looking for Fuzz, Cleaver is left reeling. A call from Joe Sandilands has Missy scurrying back to dependable David, while Cleaver seeks solace in another line of coke.

Thursday, December 9th, 2010

6: R v Langhorn

Unable to resist her charms, Cleaver agrees to defend an old flame - now a successful radio shock jock Eddie Langhorn - who's charged with inciting racial hatred. Meanwhile, his tax case catches up with him and he's placed on remand. Then he learns his father has had a stroke. Scarlet, acting as prosecutor on the Langhorn case, is stumped by Cleaver's impressive defense, but Barney comes to her rescue. Cleaver despairs when he realizes his client has conned him but allows himself a glimmer of hope when Missy arrives unannounced once more. But she's come to tell him that she and David are getting married!

Thursday, December 16th, 2010

7: R v Tanner

As Barney (Russell Dykstra) starts to rebound from his recent marriage woes, Joe Sandilands (Geoff Morrell) is publicly outed as one of the MPs who patronise brothel Club Jules. Meanwhile, seeking relief for a hang-over, Cleaver (Richard Roxburgh) gets hit over the head during a botched robbery at a local pharmacy. So too does one of the hapless robbers when his accomplice takes a wild swing at a CCTV camera and misses, badly injuring his mate.

Thursday, December 23rd, 2010

8: R v Corella

Cleaver is forced to defend his loan shark Mick Corella on murder charges, and it means working with Barney again. But hope of dodging his back taxes is fading fast
Season 2
Thursday, September 6th, 2012

1: R v Mohammed

Never out of the headlines for long, Cleaver Greene is caught in an affair with the Premier of New South Wales.

Thursday, September 13th, 2012

2: R v Fenton

Cleaver's affair with the Premier proves costly when her husband begins a campaign of harassment against him. David Potter sues Cleaver for defamation, and after the clown punch-up at Max's birthday party, he's persona non grata to Barney as well.

Thursday, September 20th, 2012

3: R v Wooldridge & Anor

Missy's novel based on her life as a prostitute has caused a sensation. At her book signing she reveals to David that she's now engaged to the infamous founder of an on-line leaks site. Meanwhile, Cleaver's roving eye has led him to stray again, this time with Michelle, who tells him she's making a short film for Tropfest. He discovers she's not yet 16, and is horrified, but it's too late. Michelle is soon charged with accidentally killing a fellow actor while filming a scene, and blackmails Cleaver into defending her.

Thursday, September 27th, 2012

4: R v Floyd

Missy and Joshua Floyd are Australia's most newsworthy couple: the bestselling author of a controversial memoir, and the founder of an on-line leaks site currently facing treason charges. A bitter Cleaver, having been ditched by Barney, represents a 'mammophile' peeping tom for the incompetent solicitor Lincoln Lincoln.

Thursday, October 4th, 2012

5: R v Turner

Missy is on trial for murdering her fiancé. The only way Cleaver can save her is to expose the conspiracy by the security apparatus Joshua humiliated. Assisted by a mysterious smoking man, he follows the money trail to ASIO, the CIA and towards information that may bring down the international banking system and several governments. Kirsty is furious that Cleaver is spending so much time with Missy, but when Col threatens to express that disapproval in the usual manner, Cleaver recognises that Col has a secret. Delirious after a mosquito-induced broken arm, Barney confesses to Scarlet that he has met someone else. Hurt and confused, Scarlet allows an innocent lunch with Harry-Sorry-David to progress down a primrose path that, with some help from Cal McGregor, will lead to perdition. Can Cleaver maintain professional standards long enough to have Missy acquitted? Will ASIO and the CIA allow him to win?

Thursday, October 11th, 2012

6: R v Alford

When a piercing scream splits the dawn silence of a leafy, suburban arcadia Cleaver and Barney are soon defending an IT lecturer accused of severing his neighbour's penis with garden shears. Cleaver and Barney wade into the unfamiliar swamp of Rotarians, golf and backyard barbecues to uncover the truth behind the 'bobbitting'. Barney and Nicole have failed in their attempts to end their affair, despite Nicole's approaching wedding. And even incurious Cleaver works out that the emotional rollercoasters of both Nicole and Barney are moving in sync. Only one thing could worsen their situation... Cleaver deciding to help. Wendy is falling for Roger, the husband of Fuzz's ex-lover, while Fuzz has a surprise new girlfriend. When Cleaver attempts to cure Missy's depression at a dinner with his family, he ends up being everyone's target. Scarlet and David are firmly on Cal McGregor's hook, but David's colleagues push him to sacrifice Scarlet to save himself. Poised between political oblivion and the dangled promise of the Opposition leadership, David, typically, prevaricates. Cal will happily fire a bullet at Scarlet in the hope it also takes out David, even better if he can wing Cleaver too. Scarlet realises there is only one lawyer devious and unethical enough to get her out from under the sword of Damocles.

Thursday, October 18th, 2012

7: Greene v Hole

Scarlet and David's affair is front page news, and Scarlet faces the disapproval of the private school mothers. Barney and Nicole agree to be 'just friends' but their definitions of friendship differ somewhat. Cleaver and Missy set out to attend his father's funeral, but end up at the service for a retired travel agent. Keith Nankervis's funeral convinces Missy that life's meaning is to be found in marriage and children. However Cleaver is seeking redemption elsewhere. He attempts to recover his father's estate from swindler Lane Hole, using the talents of tabloid TV reporter Polly Nesbitt – promiscuous, unethical and a chaotic force of nature. Has Cleaver met the female version of himself? And what dark paths will he be prepared to go down to get revenge?

Thursday, October 25th, 2012

8: R v Greene

Cleaver is in prison, charged with the manslaughter of Lane Hole's sweet, elderly neighbour. He is bailed out by Missy, flush with funds since optioning the rights to her story to Hollywood. Polly Nesbitt moves on him, but has her own agenda. Kirsty will allow Cleaver to retain his extremities, if she and Col are not implicated in his trial and he pays every last cent he owes, now. Barney warns Cleaver that he will go down for manslaughter but advises he is likely to beat a murder charge. Cleaver goads Cal McGregor into having the charge upgraded, but Cal didn't get to be Attorney-General without a few devious tricks of his own. Cleaver will need the help of all his friends and several enemies if he is to escape a hefty stretch behind bars.
Season 3
Sunday, February 9th, 2014

1: Episode 1

Cleaver Greene languishes in prison surrounded by enemies and friends. Many former colleagues from Macquarie St and the bench are also inside, courtesy of corruption scandals.

Sunday, February 16th, 2014

2: Episode 2

Cleaver outsmarts the appeals judges, but life outside is not good. He is a legal pariah, jobless, homeless and phoneless, and while he has been inside, his world has been sliding towards chaos.

Sunday, February 23rd, 2014

3: Episode 3

At Malcolm's funeral Cleaver meets Mal's sister Felicity, a honey blonde with an acid wit; and baulks at being Scarlet's junior in the case of a gambling-addicted client.

Sunday, March 2nd, 2014

4: Episode 4

A murder brings Felicity back into Cleaver's life. He knows he needs Barney, despite everything that's happening in Barney's life; and he can't say goodbye to Wendy or Missy.

Sunday, March 9th, 2014

5: Episode 5

Cleaver is retained for a low rent tawdry sex offence, but the Royal Commissions that have decimated David's front bench mean that even barrel-bottom Cleaver Greene is getting lots of briefs.

Sunday, March 16th, 2014

6: Episode 6

Roger bans Cleaver from Wendy's, and Fuzz has returned with a Congolese wife, a Cleaveresque attitude, and (according to the AFP) a suitcase full of stolen blood diamonds.

Sunday, March 23rd, 2014

7: Episode 7

Siege veteran Cleaver leads Wendy, Fuzz and Prue out of Roger's hostage crisis, but is accidentally shot in the buttock.

Sunday, March 30th, 2014

8: Episode 8

Something is seriously awry in Cleaver's world. His practice is booming. Barney is thriving. And he is falling in love with Felicity. But does fate have some nasty surprises in store?
Season 4
Thursday, May 19th, 2016

1: Episode 1

Cleaver's descent to earth lands him straight into the clutches of a one-time mentor and now powerful criminal on the run, Edgar Thompson. Meanwhile Barney is adrift above the Pacific.

Thursday, May 26th, 2016

2: Episode 2

Cleaver's been hiding out in the country posing as a writer, but his cover's blown when Barney appears on Australian Story, complete with images of his best friend. It isn't long before Thompson's goons arrive on the scene.

Thursday, June 2nd, 2016

3: Episode 3

Wendy reluctantly takes Cleaver in when he's evicted, while Barney is reeling from the costs of his rescue. David and Scarlet's romance is slowly being scuttled by her children; and Missy is desperate for drugs.

Thursday, June 9th, 2016

4: Episode 4

Thompson has Cleaver in the frame for drug trafficking, but Wendy comes to the rescue. David is desperate to save his relationship with Scarlet, and Nicole is scrolling through her ex-husband posts.

Thursday, June 16th, 2016

5: Episode 5

Barney & Cleaver are back on speaking terms and share a case; Cleaver rescues Missy who's been enjoying a cocaine-hazed few days with Cal McGregor, and appeals to Wendy's better nature to take her in.

Thursday, June 23rd, 2016

6: Episode 6

Cleaver defends David and Barney sees it as a betrayal; Fuzz gets Missy drugs and then she seduces him. Wendy has a date with an old flame; and a free David announces he's standing for the Senate.

Thursday, June 30th, 2016

7: Episode 7

After David's acquittal Cleaver and Nicole worry about Barney, but then Cleaver gets himself disbarred and Wendy kicks him out. But Jack is determined to get him out of Wendy's life forever.

Thursday, July 7th, 2016

8: Episode 8

Cleaver considers a career change but David throws a spanner in the works. Cleaver's determined to win Wendy back from Jack, but Jack is scheming to get rid of him for good. Will it work? Fuzz has some surprising news.
Season 5
Sunday, August 19th, 2018

1: Greene v The World

After taking up residency in Canberra as a Senator in Federal Parliament, Cleaver has old foes and new. A terrorist gas attack on New Parliament House causes the seat of government to move down the hill to its old home.

Sunday, August 26th, 2018

2: Greene v The United States

Incriminating multimedia and a missing US Defence Secretary puts Cleaver firmly in the sights of the Secret Service as it comes to light that the suspected terrorist attack may have been caused by something much more benign.

Sunday, September 2nd, 2018

3: Evans v Greene

After mislaying his suit at a fancy-dress party Cleaver is not only forced to do the walk of shame, but to speak to the house.... dressed as a zebra; and he becomes the prime suspect in an assassination attempt.

Sunday, September 9th, 2018

4: Gold and Greene v Red

A new PM is sworn in on the eve of Anzac Day, and Cleaver is served with a summons in the defamation case Evans vs Greene ahead of a heated debate over the sell-off of the Aussie ice cream icon - the Oz Ripple.

Sunday, September 16th, 2018

5: Greene v Diaries

It's a new week and a new Prime Minister. Indigenous Liberal Greg Peters has come to the fore to lead the country with his own agenda; just as there's panic in the Capital as ministerial diaries are to be published.

Sunday, September 23rd, 2018

6: Greene v The Unflushables

After a 21-week term Peters is out as PM and Morrow is in; Cleaver's own plumbing issues shed light on the true cause of the explosion at Parliament House; and an intended hit gone wrong results in a Senate resignation.

Sunday, September 30th, 2018

7: Greene v Mid-Winter

War is looming in the South China Sea; a cabinet reshuffle is on the cards, and the plumbers handled! The move back to New Parliament House is on, but not before the Mid-Winter Ball; and a feud is buried for political gain.

Sunday, October 7th, 2018

8: Greene v The Reckoning

Morrow has been toppled, aided and abetted by his half-brother Joe, Cal McGregor is now PM. Following an international incident and a monumental cover up, will the capitol implode whilst our heroes chose to explode?