update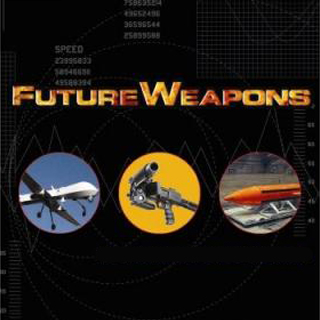 Season 1
Wednesday, April 19th, 2006

1: No Place to Hide

Future Weapons showcases advanced weapons that leave the enemy defenseless and with no place to hide, such as the most advanced jet fighter known to man and a sophisticated gun that is able to shoot around corners.

Wednesday, April 26th, 2006

2: Stealth

Future Weapons showcases advanced weapons that use stealth technology to their advantage, such as the Predator unmanned aerial drone and a newly developed sniper rifle that is effective at ranges up to two miles.

Wednesday, May 3rd, 2006

3: Maximum Impact

Future Weapons shows some of the most powerful conventional weapons that are in today's military arsenal, including an automatic gatling gun, a thermobaric bomb with power that rivals nuclear weapons and a rocket launcher that is able to fire multiple rockets at a target.

Wednesday, May 10th, 2006

4: Future Shock

What weapon is the soldier of the future going to use? The EMP bomb? Who can destroy any electronic component. The LRAD? Who can take down its target with a low frequency noise or a laser who mounted on a plane, can incinerate other planes? Your question are going to be answered in this episode of Future Weapons.

Wednesday, May 17th, 2006

5: Smart Weapons

Artillery has always been one of the most important piece of weaponry you can have on a battlefield but accuracy is often a big trouble. The US Army is testing a new projectile who can correct it's direction and adjust itself. Its name is Excalibur. It can hit its target from 25 miles away, to within 10 yards. Mack is going head to head with Thor. A missile system that allow helicopters to strike ground targets within seconds. To show us the helicopter superiority on a battlefield, we will see what the Apache Longbow can do during the night against any enemy.

Wednesday, May 24th, 2006

6: The Power of Fear

The MOAB (Short for Massive Ordnance Air Blast), is the biggest conventional bomb ever made. It can penetrate bunker and underground concrete command and control centers. With its explosive charge, it's capable of taking out two whole city blocks. Do you really want to see this bomb coming toward you? After seeing this episode, your response will be -- No.
Season 2
Monday, January 15th, 2007

1: Search & Destroy

In this episode of "Future Weapons", we discover the AS50 semi-automatic sniper rifle, the Vulcan and Aardvark mine destroyers, the SMAW-NE shoulder-launched thermobaric munition and the Fire Scout unmanned aerial vehicle.

Monday, January 22nd, 2007

2: The Protectors

In this episode of "Future Weapons", we discover weapons that defeat the opposition, including the BOOT BANGER car bomb neutralizer, the amazing Dragon Skin body armor, the THAAD high-altitude aerial defense missile, and the M32 40mm multiple grenade launcher.

Monday, January 29th, 2007

3: No Escape

In this episode of "Future Weapons", weapons that are incredibly accurate and lethal, including the Gate Crasher wall-breaching device, the F-22 Raptor stealth fighter, the MP7 A1 personal defense weapon and the ATACMS tactical missile system.

Monday, February 5th, 2007

4: Mission Invisible

In this episode, Mack shows us weapons that strike with the unseen power of stealth, including the Krakatoa modular explosive projectile system, the USS Texas attack submarine, the B-2 Spirit multi-role bomber, and the .416 Barrett sniper round.

Monday, February 12th, 2007

5: Front Line

In this episode of Future Weapons, Richard test some of the best front line weapons. The CV22 Osprey, XM307, Land Warrior, Striker.

Monday, February 19th, 2007

6: First Strike

During this episode, Richard test the Marine Corps' Expeditionary Fighting Vehicle, the "rockets in a box" NLOS-LS missile system, the Bangalore Blade "breakout" weapon, and HK 416 modular assault rifle.

Monday, February 26th, 2007

7: Predators

In this episode, you'll see the real predators of our battlefields. The Q-4B Global Hawk spy plane, the latest precision-guided aerial munitions (GBU-39 SDB and Laser JDAM), the Dragon Fire II mortar, and the powerful MK46/MK48 machine guns from FN Herstal.

Monday, March 5th, 2007

8: Top Guns

Discover some of the most powerful weapons in the word, the F/A-18E/F Super Hornet strike fighter, Barrett's M468 assault rifle, the M777 lightweight howitzer, and the aircraft carrier that is almost untouchable – the USS Dwight D. Eisenhower.

Monday, March 12th, 2007

9: Smart Destroyers

In this episode of Future Weapons Richard shows us The Protector - an unmanned attack boat, the Intelligent Munitions System - the mine that thinks for itself, the super accurate Archer howitzer, and the Squad Mission Support System robotic vehicle.

Monday, March 19th, 2007

10: Close Quarter Combat

In this episode of Future Weapons Richard shows us the Kriss - a powerful submachine gun, the anti-tank AT4-CS, the super armored Grizzly, and the Auto Assault shotgun.

Monday, March 26th, 2007

11: Immediate Action

In this episode of Future Weapons Richard shows us the Crow gun system, a clever and fast way of destroying anti-personnel mines with a Dragon, the Boomerang sniper detection system, and how to become a real life 007 using high- tech robotics.

Monday, April 2nd, 2007

12: Future Combat

In this episode of Future Weapons Richard shows us the Active Denial System, a non-lethal way of protecting troops, the Crusher unmanned ground combat vehicle, and the US Army's Future Combat Systems that integrates soldiers and technology like never before.

Monday, April 9th, 2007

13: Massive Attack

In this episode of Future Weapons Richard shows us the USS San Antonio, the AC130 Spooky gunship, an Electromagnetic Rail Gun, and the sniper computer that makes you super accurate and even more lethal.
Season 3
Saturday, November 17th, 2007

1: Firepower

The third-season opener includes a device that disarms terrorist bombs, a squad weapon for ambush protection, a surface-to-air missile and the Army's latest sniper rifle.

Thursday, November 29th, 2007

2: Non-Lethal Special

Examining the Taser and its applications for military use. Also: a vehicle-stopping device that uses a high-tech net to trap suicide bombers.

Thursday, December 6th, 2007

3: Close Protection

First up is the top-secret scanning device that will stop terrorist attempts to smuggle liquid bombs and guns on to passenger jets. Next, Mack takes command of the newest rapid-fire naval gun as he tries to take out waterborne suicide bombers. Back on land, he wields the very latest security detail carbine when he goes head to head with the Roswell SWAT Team during an exercise to protect a VIP from assassins. Then he gets to test the newest remote-controlled weapons station for armored personnel carriers. Featured Weapons: - OPTOSECURITY LIQUID THREAT TECHNOLOGY - BAE SYSTEMS 57mm Mk110 NAVAL GUN - LWRC M6 A2 PSD - WAVE REMOTE-CONTROLLED WEAPONS STATION

Thursday, December 13th, 2007

4: Israel Special

FutureWeapons travels to the Middle East to uncover the cutting-edge weapons under design for the Israeli Defense Forces. Mack demonstrates an amazing weapon that will blow open the door of a terrorist hideout and if you want to take out the whole building, Mack has another trick in his arsenal. Next, he goes on an action-packed mission with a crack Israeli team carrying an array of the very latest weapons and surveillance technology to rescue hostages. Featured Weapons: - ELBIT SYSTEMS VIPER PORTABLE COMBAT ROBOT - HYDRO-NOA MENNY D4 DOOR BUSTER - HYDRO-NOA SHARON BREACHING KIT - CORNER SHOT 7.62 mm ASSAULT PISTOL RIFLE - IWI MICRO TAVOR ASSAULT RIFLE - RAFAEL SIMON 150 RIFLE-LAUNCHED GRENADE - RAFAEL MATADOR SHOULDER-LAUNCHED MISSILE SYSTEM

Thursday, December 20th, 2007

5: Guns

FutureWeapons goes big on guns starting with the rapid-fire cannon that's fast becoming a huge hit with the U.S. armed forces. Next up, Mack takes a helicopter ride where he unleashes a firestorm with the lightweight Dillon Aero Gatling gun. On an Arizona firing range, he tests a new multi-caliber combat weapon that's lighter and tougher than any other weapon in its class. In the finale, Mack checks out a new breed of personal defense weapons that have the stopping power -- and amazingly, the accuracy -- of much bigger weapons. Featured Weapons: - ATK MK44 BUSHMASTER AUTOMATIC CANNON - DILLON AERO M134D GATLING GUN - MAGPUL MASADA ASSAULT RIFLE - KNIGHT'S ARMAMENT PERSONAL DEFENSE WEAPON

Wednesday, March 12th, 2008

6: Future Warrior

Future weapons tests an amazing state-of-the-art weapon that can be converted from assault rifle to sniper rifle in seconds; the family car that can withstand bombs and bullets and even fight back; the unmanned ground vehicle being developed to fight alongside troops in the field and the latest portable spy in the sky that gives you a bird's eye view of the enemy.

Wednesday, March 19th, 2008

7: Hard Target

Future weapons set out to test yet another group of advanced new weapons. The first is a new super light armor for rubber raiding craft; then they test out new ammo for the Milkor multiple grenade launcher, which is able to reach out to at least half a mile. Then they test the latest generation of UAV attack plane: and finally they test out an assault rifle round that's capable of reaching out to at least 1200 yards and yet it's still able to be supersonic at that distance.

Wednesday, March 19th, 2008

8: Israel Special 2

Future weapons heads back out east to check out some of the latest weapons be tested and put to use by the Israeli armed forces. First they'll take a look at anti-missile shield system called the iron fist; then they'll take a look at a newly developed battle tank called the Merkava IV. Then they'll go test the destructive power of a Delilah cruise missile; then they'll go test out a new air defense system that is very capable of taking out many different kinds of missiles.

Wednesday, March 26th, 2008

9: Kill Zone

Future weapons get to preview a new revolution in air warfare; they also take a look at the amazing optic sight for assault rifles. Also they take a look at a massive assault rifle that can fire .50 caliber rounds.

Thursday, April 24th, 2008

10: Alaska Special

Future weapons set out to test a few weapons on how they operate in arctic conditions; which include the Stryker Mobile Gun System, the M56E1 Smoke Generator and the Arctic Warfare Super Magnum Sniper Rifle.