update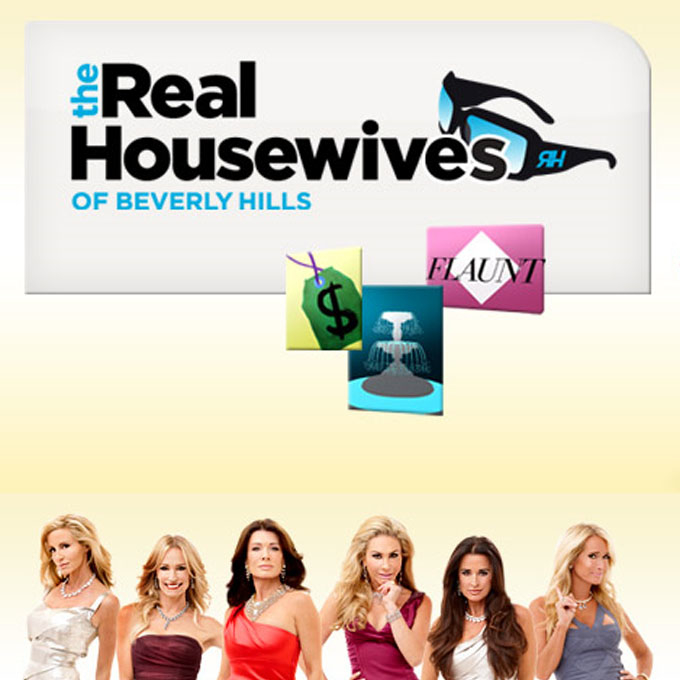 Season 0
not specified

1: Real Housewives with Arsenio Hall

Sunday, November 22nd, 2015

2: The Real Housewives Of Beverly Hills Uncensored

Featuring never-before-seen footage and behind-the-scenes dish from season one as the cast reveals their take on all the 9021-oh-my moments.

Wednesday, June 10th, 2020

3: Watch with Dorit and Garcelle 10.6

Real Housewives of Beverly Hills stars Dorit and Garcelle react and give commentary on an episode from this season of "Real Housewives of Beverly Hills".

Wednesday, June 17th, 2020

4: Watch with Dorit and Garcelle 7.18

Real Housewives of Beverly Hills stars Dorit and Garcelle react and give commentary on a classic episode of "Real Housewives of Beverly Hills."

Wednesday, June 24th, 2020

5: Watch with Luann and Sonja 8.10

Real Housewives of New York City stars Luann and Sonja react and give commentary on a classic episode of "Real Housewives of Beverly Hills."

Wednesday, July 1st, 2020

6: Watch with Erika Jayne and Reza 6.18

Real Housewives of Beverly Hills star Erika Jayne and Shahs of Sunset's Reza react and give commentary on a classic episode of "Real Housewives of Beverly Hills."

Friday, October 2nd, 2020

7: Watch with Kelly and Shannon 10.16

Real Housewives of Orange County's Kelly and Shannon react and give commentary on an episode from this season of Real Housewives of Beverly Hills as they watch it for the first time.
Season 1
Thursday, October 14th, 2010

1: Life, Liberty and the Pursuit of Wealthiness

Welcome to Beverly Hills, where pint-size puppies are served breakfast in bed and a three million dollar home is scoffed at. In the premiere episode, Adrienne, whose family owns the Palm Casino Resort and the Sacramento Kings, decides to take the rest of the ladies on a private jet to get VIP treatment and sit courtside at a Kings game. The ladies include Lisa, a witty British restaurateur; former child actresses (and sisters) Kim and Kyle Richards, who are also Paris Hilton's aunts; Kelsey Grammer's soon to be ex-wife Camille, and Taylor, a beauty from Oklahoma with big Beverly Hills dreams. These ladies live big and when they fight, they fight big. They may be living in the lap of luxury, but with all that wealth comes even more drama.

Thursday, October 21st, 2010

2: Chocolate Louboutins

It's Easter weekend in Beverly Hills but that doesn't mean that there is any less drama. Adrienne is on her way to Vegas for a shoot with a hot male model but she reluctantly decides to takes her husband Paul. Meanwhile, Kyle and Kim start squabbling at their family's vacation home in Palm Desert when Kyle accuses Kim of having no life outside her children, an accusation that just might be true. The conflict escalates back home in Beverly Hills as the sisters celebrate Kim's daughter's birthday at a posh spa.

Thursday, October 28th, 2010

3: Plenty of Baggage

The glam of Beverly Hills meets the glitz of Las Vegas as Adrienne invites the ladies and their husbands to a Jay-Z concert at her Vegas casino resort, the Palms. Camille's husband, Kelsey Grammer, is in New York rehearsing a Broadway play, so Camille relishes this weekend trip with the girls until she and Kyle start butting heads. Unfortunately for those two, what happens in Vegas does not stay there – and the fight continues back home.

Thursday, November 4th, 2010

4: It's My Party and I'll Spend If I Want to

After spending $50,000 on an over-the-top tea party, to celebrate her daughter Kennedy's fourth birthday, Taylor is upstaged by her husband who brings in an even bigger birthday present. Meanwhile, Camille discusses her marriage while relaxing in her Hawaii home and Lisa receives a heartwarming birthday surprise.

Thursday, November 11th, 2010

5: I Would Never Say That

Camille invites the women to New York for the premiere of Kelsey Grammer's Broadway musical, but things are off to a very rough start. Adrienne receives some bad news from home and Kyle is still worried about the fallout from her and Camille's Vegas show down. But in true Beverly Hills style, the women seem to pull themselves together and put the past behind them – that is until they all sit down together for dinner and the claws come out once again.

Thursday, November 18th, 2010

6: The Art Of War

Still in New York, the women are all reeling over the past evenings meltdown and Kim continues to add fuel to the fire by refusing to stand up for her sister. It's the day of Kelsey's premiere and everyone's nerves are fraught, but it's a glamorous evening and it seems like the women do their best to sweep their problems under the rug – at least while they are in New York.

Thursday, December 2nd, 2010

7: My Mansion Is Bigger Than Your Mansion

There is way too much tension among these Beverly Hills beauties, so Lisa decides to lighten the mood and set Kim up on a date with a millionaire friend of hers – so where does a standard date in Beverly Hills begin? How about a $55 million dollar home, one of the most expensive homes in the country. Meanwhile, Camille decides to unwind by going shopping. After receiving news that her husband Kelsey was nominated for a Tony Award, she quickly goes on a shopping spree, trying on gorgeous – and outrageously priced dresses.

Thursday, December 9th, 2010

8: Charity Cases

Kyle and Mauricio's seemingly perfect marriage is put to the test as they debate whether or not to take the kids on a romantic trip to Napa Valley for a charity bike ride. Taylor's also giving back, and reveals some deeply personal insights into her past at a charity poker tournament. A surprising new twist in Camille's marriage to Kelsey is also revealed.

Thursday, December 16th, 2010

9: The Dinner Party From Hell

Camille throws a glamorous dinner party at her Malibu home and, in addition to the housewives, she invites a few special guests. The guests, however, bring up a sore subject and sparks fly between all the women in an explosive showdown, as Camille and Kyle's issues are once again exposed.

Thursday, December 23rd, 2010

10: Payback's a Bitch…Just Ask Your Husband

Lisa holds a charity event at her restaurant Villa Blanca and the ladies attend to show their support. Camille, however, is still dealing with the fallout between her and Kyle. Taylor also holds a big event – a Roaring Twenties party. It's the first time Camille and Kyle are face to face since the last blow up so everyone is anxious to see if they can put the past behind them.

Thursday, January 6th, 2011

11: How To Behave

In an attempt to patch things up between herself and Kyle, Camille invites her to a potentially awkward afternoon of tennis and swimming. Lisa's houseguest Cedric reveals a tragic past no one ever knew about, and Kyle throws an off-the-charts "white party" for Mauricio's 40th birthday. It's fun and games until Taylor's problems with her husband Russell take center stage.

Thursday, January 13th, 2011

12: Turn, Turn, Turn

With Kelsey in New York for so long, Camille is starting to realize there are cracks in their marriage, while Taylor looks for ways to resolve some of her own marital strife. It's another emotional event for the Richards' family as Kyle's oldest daughter Farrah graduates from college (the first in the family to do so). But Kyle is upset that her nieces Paris and Nicky choose a trip to Europe over the family milestone.

Thursday, January 20th, 2011

13: Unforgivable

Taylor's birthday is coming up and everyone is excited to celebrate at a huge party on a fabulous Beverly Hills hotel rooftop. Unfortunately for the ladies, no one can escape the drama. Kim and Kyle finally go to blows after years of pent up family frustration. A lot of things are said and their sisterly bond may be broken forever. Meanwhile, another bond is breaking as Camille gets word from her husband that he wants to end their marriage.

Thursday, January 27th, 2011

14: Reunion (Part 1)

Host Andy Cohen referees Part 1 of a two-part reunion installment, as reconvened 90210 ladies Taylor, Camille, Adrienne, Kim, Kyle and Lisa cast light on the frantic antics of Season 1.

Tuesday, February 1st, 2011

15: Reunion (Part 2)

Andy Cohen presides over the conclusion of a two-part reunion, which features the Beverly Hills wives recalling the diva dramas of Season 1.

Tuesday, February 8th, 2011

16: The Lost Footage

Unseen moments from the first season.

Tuesday, February 15th, 2011

17: The Dinner Party From Hell - Producers Cut

The extended version of the Dinner Party from hell with unseen footage and new interviews.
Season 2
Monday, September 5th, 2011

1: Back to Beverly Hills

The Beverly Hills bombshells are back for a second season of over the top glitz and glamor. In the first episode, the ladies attend a sumptuous dinner party at Adrienne's home to celebrate Camille's guest-starring role on a major sitcom. However, tensions arise and true feelings begin to show, revealing what could be a very big divide in the ladies friendships.

Monday, September 12th, 2011

2: Blame it on the Altitude

After a very tough year and a very public divorce, Camille must say goodbye to her gorgeous Colorado home, so she invites the ladies to hit the slopes in style. Dressed like snow bunnies from head to toe, the ladies let loose skiing and then head back to the house to relax in the hot tub. But after a day of laughter and fun, Taylor opens up to her friends about some very serious problems in her marriage.

Monday, September 19th, 2011

3: Rocky Mountain Highs and Lows

Adrienne's family is forced to make some very serious decisions that could potentially move their NBA team to a rival city. She heads to Sacramento for what could be the team's last home game ever and invites Kim along for the ride. However, Kim seems to be a little off, and the issue that has been on everyone's mind since last year is finally addressed when Adrienne questions her sobriety.

Monday, September 26th, 2011

4: Gossip Girls

Adrienne, Paul and Kim attend the last game of the season; Kyle throws a charity cocktail party.

Monday, October 3rd, 2011

5: $25,000 Sunglasses?!

Adrienne throws a lavish barbecue, Beverly Hills style. She invites her friend Brandi, and while Brandi and Camille seem to bond instantly over their very public and very ugly high-profile divorces, the other ladies are shocked by this newcomer's numerous social faux pas. They begin to wonder what she's doing on their turf and if she will fit into their social circle.

Monday, October 10th, 2011

6: Let the Games Begin

Taylor's friend Dana hosts a game night, but the attempt at light-hearted fun spirals seriously out of control when Kim suspiciously spends most of the night in the bathroom and Brandi makes some outrageous accusations as to why.

Monday, October 17th, 2011

7: Game Night Gone Wild!

The game night drama continues, and tensions are still running high when the ladies attend Camille's charity lunch.

Monday, October 24th, 2011

8: The Opposite of Relaxation

When Adrienne throws a spa day, things are anything but relaxing for Kim, Kyle, and Brandi.

Monday, October 31st, 2011

9: Otherwise Engaged

The engagement party for Lisa's daughter is the social event of the season, featuring camels, snakes and circus performers. However, Kim's not in attendance and busy hiding a secret from Kyle.

Monday, November 7th, 2011

10: Your Face or Mine?

The cause of Kim's erratic behavior is revealed at Paul's night of beauty treatments. Meanwhile, spirits at Kyle's séance reveal insights into the past and future and she finally learns what Kim has been hiding from her.

Monday, November 14th, 2011

11: Tempest in a Tea Party

Lisa's elegant tea party is the unexpected setting for a heated confrontation when Taylor reveals her true feelings toward Lisa and the women finally discuss with Taylor the real issues behind her troubled marriage.

Monday, November 21st, 2011

12: The Great Divide

Friendships are re-evaluated in the aftermath of Lisa's tea party

Monday, November 28th, 2011

13: Adrienne's Fashion Show

Still angry from accusations repeated at the tea party, Taylor fears running into Camille at Adrienne's glamorous backyard fashion show.

Monday, December 5th, 2011

14: Malibu Beach Party From Hell

Brandi tries to throw a nice party for the women at a Malibu beach house, but the tension between Taylor and Camille reaches a boiling point.

Monday, December 12th, 2011

15: A Book, a Bachelorette, and a Breakdown

Lisa and Taylor descend on Las Vegas for Pandora's bachelorette party (complete with Chippendales!), while Adrienne takes the other ladies to her casino for their own wild time.

Monday, December 19th, 2011

16: Uninvited

When Taylor's husband threatens a lawsuit against Camille, the women worry they could be next. Through tears, concern and anger, they debate turning Taylor away from Kyle's annual white party.

Monday, January 2nd, 2012

17: Leis and Lies in Lanai

The gang heads to Hawaii for Mauricio's birthday -- but will Kim actually make it to the island?

Monday, January 9th, 2012

18: A Day Late, an Apology Short

When Kim finally arrives, things get heated in Hawaii.

Monday, January 16th, 2012

19: Night of a Thousand Surprises

New drama and old faces pop up at the launch party for Lisa's new lounge at Sur, and a disheveled Kim tells Kyle the truth about her new boyfriend Ken.

Monday, January 23rd, 2012

20: The Real Wedding of Beverly Hills

Taylor reveals the unvarnished truth about her marriage and Lisa's daughter Pandora is married in a glamorous "million dollar" ceremony at Vanderpump Manor.

Monday, January 30th, 2012

21: Reunion (Part 1)

Host Andy Cohen reflects on some of the season's most talked-about moments with the 90210 Housewives and the ladies discuss the dramatic confrontation between Camille and Taylor at the Tea party; Adrienne's outrage over Lisa's "Maloof-hoof" comment; Kim's revelations to Kyle at the Sur party and Brandi's outrageous accusations at Game Night.

Monday, February 6th, 2012

22: Reunion (Part 2)

Housewife friend, Brandi Glanville, joins the cast to defend her controversial comments from the season; Taylor delves deeper into the secrets from her troubled relationship and Camille dishes about the new man in her life.

Monday, February 13th, 2012

23: Reunion (Part 3)

Kim Richards exclusively reveals to Andy Cohen, "I am an alcoholic" and discusses life after rehab. Later in the show, housewife friend Dana Wilkey also appears to recount with her recollection of Game Night followed by the husbands who field viewer questions.

Thursday, February 16th, 2012

24: The Lost Footage

A special featuring the jaw dropping fight between Brandi Glanville and Kyle Richards where tensions boiled over at The Malibu Beach Party from Hell. That and other clips originally left on the cutting room floor are sure to surprise, astonish and amuse.
Season 3
Monday, November 5th, 2012

1: Down and Left Out in Beverly Hills

The brassy, bold beauties of Beverly Hills are back for a third season of wealth, luxury... and lots of problems. In the first episode, Lisa and Adrienne's friendship has soured, with both expecting apologies for accusations and barbs made previously. When Lisa doesn't invite Adrienne to the exclusive anniversary party for her restaurant, Adrienne is more than miffed. And theirs is not the only friendship that will be tested in this season of wild outbursts, vehement backbiting, and unrivaled glamour.

Monday, November 12th, 2012

2: The Higher the Heel the Closer to God

Kyle's adorable daughter Portia turns four and has a carnival-themed party featuring flying elephant rides, llamas and unicorns. Kyle's husband Mauricio arrives late, however, because he and Adrienne's husband Paul have agreed to help Taylor with a charity event - by walking a mile in women's high heels! It's all fun and games until they return, and Adrienne realizes Lisa has avoided her by leaving the party early.

Monday, November 19th, 2012

3: Dont Sing for Your Supper

New housewife Yolanda invites the ladies to a dinner party at the spectacular Malibu home she shares with her husband, 16-time Grammy-Award winning music producer David Foster. Taylor is annoyed when David won't allow the women to participate in an after-dinner sing-along, and the tension between Lisa and Adrienne intensifies until they agree to meet after the party and discuss their issues.

Monday, November 26th, 2012

4: Uh-Oh, Somebody's Crying!

Lisa and Adrienne's tension comes to a head; Kim suggests a group trip; Kim and Brandi begin to forge a bond.

Monday, December 3rd, 2012

5: Girls Gone Ojaild

The ladies are having some fun; golf cart race; a mud filled spa; drunken gymnastics; arm wrestling contest.

Monday, December 10th, 2012

6: She's Gone Too Far

Kyle surprises her daughter; Lisa has a food-tasting at one of her restaurants; a battle erupts when Brandi reveals personal information about Adrienne.

Monday, December 17th, 2012

7: Oy Faye

Kim plans a trip to Vegas, but doesn't invite Kyle; Brandi's revelation continues to impact the ladies; at a dinner party, Kyle's friend Faye drives Brandi to tears.

Monday, January 7th, 2013

8: Vanderpump Rules

Taylor invites a psychic into her home; a lawsuit doesn't go in Taylor's favor; Brandi confronts the woman who her ex-husband had an affair with; Scheana picks up shifts at Lisa's restaurant.

Monday, January 14th, 2013

9: Moroccan Madness

Kim's life coach signals for Kim to take the first step and reach out to Kyle in order to improve their bond. Adrienne and Paul decide whether or not to sue Brandi for the hurtful things she's said. Another dinner party goes bad, and ends up in a rumble.

Monday, January 21st, 2013

10: Home Is Where the Art Is

Adrienne, Paul, Kyle and Mauricio discuss Brandi's actions; Yolanda decorates a mansion for her ex-husband; a psychic finds ghosts in Kim's home; Brandi invites the ladies to Las Vegas.

Monday, January 28th, 2013

11: Stars and Strips

Kyle's daughter graduates from sixth grade; Brandi and the ladies go to Vegas; at dinner, the women learn new things about each other.

Monday, February 4th, 2013

12: Kim Nose Best

In Las Vegas, Brandi gets the women to try pole dancing; the ladies have concerns about Kim getting a nose job; a feud erupts during the final dinner in Vegas.

Monday, February 11th, 2013

13: Game of Scones

Kyle and Lisa discuss their relationship; Lisa throws a tea party, bringing Adrienne and Brandi together for the first time since their fight.

Monday, February 18th, 2013

14: White Party Pooper

Kim celebrates her post-surgery nose by throwing a backyard party, yet dramas unfold when Taylor says she'll be a no-show. Then, Kyle hosts a party, where a confrontation ensues about a purported lawsuit against Brandi.

Monday, February 25th, 2013

15: The Real Housewives of Paris (Part Un)

The ladies fly to Paris without Taylor, but Kim raises suspicions when she arrives late and exhibits increasingly bizarre behavior. Elsewhere, Lisa and her husband take a side trip.

Monday, March 4th, 2013

16: The Real Housewives of Paris (Part Deux)

The women delight in their Paris trip, but dramas erupt when Kim arrives late to a cooking class. Later, Kyle confronts Lisa on top of the Eiffel Tower.

Monday, March 11th, 2013

17: No Business Like Clothes Business

The ladies' trip to Paris wraps up with a boat ride down the Seine River, and an unlikely bond forming between Kim and Brandi. Back in Beverly Hills, Lisa begins planning her housewarming party/vow renewal with flamboyant party planner Kevin Lee, and Kyle scurries to prepare for her boutique opening. In a changing room during the big event, Kyle and Kim discuss Kim's erratic behavior in Paris, and Kyle wonders if she'll ever be able to trust Kim's sobriety.

Monday, March 18th, 2013

18: A Vodka Shot Through the Heart

Adrienne celebrates her new vodka line with a showy bash, yet her relationship with Paul begins to splinter. Elsewhere, it's a crescendo of dramas at Lisa's big party when Brandi confronts Marisa and runs afoul of Faye.

Monday, March 25th, 2013

19: Finale

While Lisa prepares to renew her vows after thirty years of marriage, her housewarming party plummets downhill. Faye picks a fight with Lisa, and when all the ladies get involved, Lisa realizes Kyle will never have her back. Kyle is not safe from Kim's ire either, but luckily Lisa and Ken's vow renewal ceremony interrupts the drama for one lovely moment. And when a tearful Adrienne shows up, on the very day her separation has been announced, some of the women stand behind her, while some are not as sympathetic.

Monday, March 25th, 2013

20: Reunion (Part 1)

In the Reunion Part One, the women gather with Andy Cohen to discuss the year, settle old scores, and clear the air. . .but Adrienne Maloof's decision not to attend sparks the initial controversy -- and leads to a shocking announcement. Other surprises are revealed in this hour: Yolanda felt unwelcome when she joined the group, Taylor admits to drinking too much, and Lisa and Kyle's touchy relationship becomes even more dramatic when Yolanda, Kim, and Brandi step in with their take on the battle.

Monday, April 1st, 2013

21: Reunion (Part 2)

The ladies discuss the drama and relationships of the season.

Monday, April 8th, 2013

22: Secrets Revealed

The Bravo vaults are opened and the audience is treated to never-before-seen footage of the Housewives both at the Reunion and out-and-about in Beverly Hills. Kyle takes a nervous Lisa for her first mammogram; Yolanda and Brandi's friendship is explored in further depth, and Taylor has a meltdown directed at her onetime friend Adrienne. And in unseen footage from the reunion, the ladies discuss the actions of Faye.
Season 4
Monday, November 4th, 2013

1: A Catered Affair to Remember

Kyle throws a cocktail party at her home and hires Lisa's staff at SUR to cater it; Lisa struggles to keep the peace.

Monday, November 11th, 2013

2: Faint Chance

Support for Lisa on ''Dancing With the Stars''; Yolanda faces surgery; Kyle offends new friends; Brandi's mother visits; Kim and Kyle question Lisa's faint.

Monday, November 18th, 2013

3: Life's a Witch

Carlton hosts the ladies for lunch in her Gothic mansion; Lisa is teased by her friends; Kyle upsets Carlton by asking too many questions.

Monday, November 25th, 2013

4: Irked at Cirque

Kim invites the ladies to a circus school in Hollywood; Brandi and Kyle battle it out; Joyce makes an accusation that baffles the ladies.

Monday, December 2nd, 2013

5: Star of the Family

Yolanda's mother and brother visit from Holland; Carlton takes her ailing cat to get acupuncture; Kim, Kyle and Kathy attend the high school graduation of Kim's daughter; Brandi reveals a secret about Carlton.

Monday, December 9th, 2013

6: Palm Springs Breakers

The ladies travel to Palm Springs for a girls' bonding trip; Kyle is surprised when Carlton confronts her about a list of issues; Brandi reveals that she and Carlton made out; Carlton finally reveals she is a practicing Wiccan.

Monday, December 16th, 2013

7: Escape to Bitch Mountain

Brandi wants Kyle and Yolanda to resolve their Paris issues; Kim feels belittled by Lisa trying to quiet her; Kim and Carlton bond as they commune with a group of squirrels; Brandi learns her beloved dog has gone missing.

Monday, December 23rd, 2013

8: She Hearts You, She Hearts You Not

Kim sends her problem dog to boarding school; Yolanda causes the group to split into two; Brandi insults Joyce.

Monday, December 30th, 2013

9: Guess Who's Coming to Dinner?

Yolanda and David celebrate their anniversary; Kim rides in a racecar; Carlton shops with her mother-in-law; Brandi and Joyce avoid each other, until they're forced to come face-to-face.

Monday, January 6th, 2014

10: Catfight on the Catwalk

Kim's dog returns from boot camp and Carlton gets a tattoo. Meanwhile, Kyle hosts a fashion show, but tension rises when the feuding Joyce and Brandi must share the catwalk. Also: Kyle visits Jamie Lee Curtis.

Monday, January 13th, 2014

11: Luaus and Lies

Kim throws a luau for her daughter; Kim accuses Lisa of missing her daughter's party; Joyce and Brandi try to settle their problems civilly.

Monday, January 20th, 2014

12: Tough Break

Brandi takes Yolanda to her hometown; Brandi and her estranged father reach an understanding; Joyce organizes a self-defense class.

Monday, January 27th, 2014

13: The Curse of Carlton

Carlton hosts a risqué pool party. Meanwhile, Kim attends a Hollywood autograph show; and Yolanda invites the ladies to her home, but tensions rise when Lisa cancels at the last minute.

Monday, February 3rd, 2014

14: The Birthday Witch

Kyle and Lisa plan to host a combined birthday celebration for their husbands. Lisa wants Brandi to speak with Scheana from SUR. Kyle and Carlton have an altercation. Joyce questions Carlton about a spell.

Monday, February 10th, 2014

15: Trail of Doubts

Kim sits down with Lisa and Ken to talk about their issues. Brandi discloses some information to Kyle and Kim. Carlton hosts a party for her husband's clients.

Monday, February 17th, 2014

16: Turning Down the Crown

Joyce and Kyle plan on not inviting Carlton on their upcoming girls trip. Brandi avoids Lisa at Gigi's party. Carlton refuses Kyle's peace offering. Kyle ends up revealing private information to the group.

Monday, February 24th, 2014

17: Lines in the Sand

All of the housewives, excluding Carlton, fly to Puerto Rico. Joyce takes some time to visit her family. Brandi and Yolanda end up confronting Lisa. Kyle questions her friendship with Lisa. An altercation occurs during dinner.

Monday, March 3rd, 2014

18: The Kids Are Alright

The ladies continue their trip activities by golfing, shopping, and possibly getting arrested. Brandi has a surprise for her parents. Kim and Yolanda say goodbye to their daughters as they depart for college. Lisa sits down with Carlton to explain why she departed Puerto Rico early.

Monday, March 10th, 2014

19: Are You My Friend?

The ladies are invited to an event at The Beverly Hills Hotel, where they're together for the first time since Puerto Rico. Kim takes the opportunity to apologize to Ken. Yolanda, Brandi, and Kyle try to fix things with Lisa.

Monday, March 17th, 2014

20: Reunion (Part 1)

Part 1 of 3. The 90210 ladies reunite to discuss Season 4's dramatic twists and turns. Included: Tension rises between Joyce and Brandi, and the "dream team" of Yolanda, Lisa and Brandi is explored. Andy Cohen hosts.

Monday, March 24th, 2014

21: Reunion (Part 2)

Part 2 of 3. The Beverly Hills ladies reunite. Topics include beauty regimens; children; Brandi's difficult year; Kim's feelings about Lisa; and Kyle and Carlton's broken relationship.

Monday, March 31st, 2014

22: Reunion (Part 3)

Conclusion. The Beverly Hills wives reunite. Included: The ladies discuss their problems with Lisa, and the husbands join the discussion.

Monday, April 7th, 2014

23: Secrets Revealed

Previously unseen footage from Season 4 is featured. Included: Kim gives Brandi acting lessons; Lisa and Joyce connect over dinner; Kim receives tips about plumping her lips; and Kyle gets a tutorial on how to be a TV presenter.
Season 5
Tuesday, November 18th, 2014

1: Guess Who's Coming to the White Party?

The ladies all come face-to-face at Kyle's annual White Party and the over-the-top event is bigger and better than ever now that Mauricio's real estate agency is selling houses upwards of $50 million.

Tuesday, November 25th, 2014

2: Who Stalked J.R.?

Kim and some hunky movers help Brandi move into her new house; Kyle and her family fly in a private plane to Lake Tahoe; Yolanda surprises David with a very revealing dinner; Kim and Brandi don disguises to spy on Brandi's ex-boyfriend, J.R.

Tuesday, December 2nd, 2014

3: Pay Attention to Me!

Lisa Vanderpump throws Lisa Rinna a private birthday dinner at PUMP, and Lisa Rinna's husband shows up just in time with just the right gift. Brandi is settling into her new home, but is still dealing with old drama from her ex- husband. Kim is looking nowhere but forward as she and her daughter, Brooke, go dress shopping for a very special occasion. Lisa Rinna meets up with a friend from way back, Emmy-winning soap actress Eileen Davidson.

Tuesday, December 9th, 2014

4: Livin' La Vida Housewife

The two Lisas bond as Vanderpump invites Rinna to watch her receive a plaque on the Palm Springs Walk of Stars. Before jetting off for a family trip to Spain, Kyle fears that her coughing sister Kim will make her ill. But all is heavenly when Kyle arrives in Mallorca and settles into her 100-foot-long private yacht. Yolanda joins Kyle for fun in the water and sightseeing in the gorgeous town. But the perfect vacation is ruined when Yolanda gets a phone call with horrible news about her daughter Bella.

Tuesday, December 16th, 2014

5: Star Sighting

Kyle returns home early from Spain to attend Kim's daughter's wedding, and Eileen returns to work after a long break to reprise her role of Ashley Abbott on The Young and the Restless. Meanwhile, Lisa Vanderpump, with pal Lisa Rinna in tow, receives a star on the Palm Springs Walk of Stars. Back at home, Yolanda deals with the fallout from her daughter's DUI.

Tuesday, December 23rd, 2014

6: Medford, 90210

Yolanda and Eileen meet for lunch and bond over their love of family, discovering a surprising connection between their children. Lisa Vanderpump returns from Palm Springs to engage in some hanky panky with her pet swans. Lisa Rinna travels to her hometown of Medford, Oregon to visit her ailing parents and goes through her childhood home for the last time. Kyle hosts a casual BBQ, complete with private chef, where Eileen gets a chance to meet all the ladies. Brandi tries to get an answer from Lisa Vanderpump about her housewarming party, but quickly learns that Lisa will not be pushed around.

Tuesday, December 30th, 2014

7: Breaking Branches

An unexpected guest shows up at Brandi's housewarming party; Lisa Rinna hosts "Access Hollywood Live;" Eileen experiments with a new form of exercising; Lisa Vanderpump hosts a charity event at PUMP, where Brandi makes an unusual offer

Tuesday, January 6th, 2015

8: Wining and Dining

Brandi and Lisa Vanderpump finally meet one on one to address their rather shaky relationship over lunch. Yolanda is plagued by trust issues. Eileen and Brandi trade marriage stories, but their get-together soon takes a turn for the ugly. Afterwards, Yolanda decides to host a dinner party.

Tuesday, January 13th, 2015

9: Live and Learn

Kyle and Yolanda both have common concerns about their daughters attending college. In other developments, Lisa Vanderpump discovers her son's aspirations. Lisa Rinna shoots a film with husband Harry Hamlin and magic man Penn Jillette. Brandi sizes up her former husband's new reality show.

Tuesday, January 20th, 2015

10: House of Cards

The women visit a spa in Santa Barbara, Calif., but the afternoon turns tense; Eileen invites everyone to her Malibu home for a night of poker; Kim's erratic behavior puts everyone on edge, leading to a confrontation between Brandi and Kyle.

Tuesday, January 27th, 2015

11: It's Just a Scratch

Drama continues at Eileen's poker party when Kyle and Brandi feud over Kim. Elsewhere, Lisa Vanderpump returns from vacation; Lisa Rinna presides over a jewelry party; and Kyle receives shocking news about Kim.

Tuesday, February 3rd, 2015

12: Drama Queens

Lisa Vanderpump's adopted son, Max, decides he wants to take a DNA test to discover his heritage; Brandi and Kyle trade accusations while visiting Kim; Brandi shows up uninvited to Kyle's gay mixer where insults are exchanged.

Tuesday, February 10th, 2015

13: Sister Act

Fallout from drama at Kyle's mixer finds the women scrutinizing Brandi's influence over Kim; the ladies attend Eileen's movie premiere; Lisa Vanderpump's son receives his genealogy test results; and the Richards sisters gather to discuss their problems.

Tuesday, February 17th, 2015

14: Surprise!

Eileen organizes a table read for her husband's latest Hollywood script, inviting the actresses: Kim, Kyle, and the two Lisas. Kim and Kyle act like everything is okay between them, but after the read, emotions run high, leaving everyone wondering what lies ahead for Kim. Brandi agrees to a 21 day cleanse of no alcohol, but attending Lisa Vanderpump's surprise birthday party may have her second guessing her decision to stay sober.

Tuesday, February 24th, 2015

15: Welcome to Amsterdam?

The ladies come together for Yolanda's scavenger hunt around Beverly Hills and are forced to put aside their differences and work together as teams. Embarking on a group trip to Amsterdam, several of the ladies attend David Foster's annual charity gala in Canada where Kim confronts Lisa Rinna over talking behind her back. When the women arrive in Amsterdam, more anger flares between the Richards sisters.

Tuesday, March 3rd, 2015

16: Amster-Damn!

Tensions soar in Amsterdam when Kim and Lisa Rinna clash, leading to a fiery dinner that leaves Kyle fleeing the scene. Elsewhere, the ladies enjoy local "space cakes" before an unforeseen tantrum ruins the fun.

Tuesday, March 10th, 2015

17: Amster-damn Slap

The women split into two groups to explore Amsterdam; Eileen confronts Lisa Rinna about her lack of support; all of the unresolved issues come to a head while the women are at dinner on a riverboat; Brandi playfully slaps Lisa Vanderpump

Tuesday, March 17th, 2015

18: Confessions of a Housewife

Dramas surround Brandi. Here, Lisa Vanderpump refuses Brandi's apology for slapping her; Brandi receives disturbing news about her father; and gossip swirls that Brandi has talked about Kim needing an intervention.

Tuesday, March 24th, 2015

19: The Party's Over

In the Season 5 finale, the ladies attend an excessive party hosted by old gal pal Adrienne Maloof. Here, Lisa Vanderpump confronts Brandi about a slap in Amsterdam, Kyle gets angry with Lisa Rinna, and Kim wants answers from Brandi.

Tuesday, March 31st, 2015

20: Reunion (Part 1)

Part 1 of 3. The 90210 ladies reunite. Included: Yolanda addresses her health issues and defends her daughter; and Brandi and Lisa Vanderpump clash.

Tuesday, April 7th, 2015

21: Reunion (Part 2)

Part 2 of 3. The Beverly Hills ladies reunite, airing their grievances while reflecting on good times. Included: Eileen sounds off about Brandi turning from fan to foe; Kim addresses her issues with the soap stars; and dramas revolve around Kim and Kyle.

Tuesday, April 14th, 2015

22: Reunion (Part 3)

Conclusion. The Beverly Hills ladies reunite. Here, Kim reveals that she received threatening texts, and deep issues plague Kyle and Kim. Also: the housewife with the dirtiest mouth.

Tuesday, April 21st, 2015

23: Secrets Revealed

Previously unseen clips of the 90210 ladies are presented. Included: Eileen primps in her hotel room and mulls over winning an Emmy; Kyle's daughter wants to pursue an acting career; the women snoop into Yolanda's past; and Kim confronts Lisa Rinna.
Season 6
Tuesday, December 1st, 2015

1: Life's a Pitch

As always, fun, excitement and gossip permeate the rarified air of Beverly Hills. Lisa Vanderpump has been tapped to throw out a first pitch at Dodger Stadium, while Kyle buys $75,000 sunglasses for her store. Unfortunately, real life always has a way of rearing its ugly head. Kyle wonders how to deal with her troubled sister Kim, currently in rehab, and Eileen suffers a loss in her family. In the midst of her Lyme disease struggle, Yolanda shows up for Lisa Rinna's birthday dinner, but her appearance draws mixed reactions.

Tuesday, December 8th, 2015

2: Ciao, Tuscany!

Kyle and Lisa Vanderpump are enjoying a fabulous time zooming through Italy in a Ferrari and taking in the tranquil countryside when family problems interrupt. Meanwhile, back in Beverly Hills, Yolanda takes drastic measures to improve her health and Eileen and Lisa Rinna are stunned by her condition.

Tuesday, December 15th, 2015

3: Horsing Around

Kyle receives bad news about Kim after returning from her European vacation. Also: Lisa Rinna and Lisa Vanderpump jet off to find a perfect mini-horse for a birthday present; Eileen tries to juggle motherhood and her career; Ken's birthday bash is held.

Tuesday, December 22nd, 2015

4: The M Word

Kyle reflects on her career when her 7-year-old daughter, Portia, expresses an interest in acting; Lisa Vanderpump invites the women over to show off the mini-horses; Lisa Rinna makes a shocking suggestion about Yolanda's health.

Tuesday, December 29th, 2015

5: Will Power

The women are intrigued with Yolanda's friend Erika, whose short skirt and flashy Cartier ring leave a memorable impression. Lisa Vanderpump pays an emergency visit to her veterinarian's office. Eileen inadvertently references Lisa Rinna's comment about Yolanda's illness in front of the other women -- including Yolanda. Later, on the eve of getting her breast implants removed, Yolanda makes a startling announcement to her children.

Monday, January 4th, 2016

6: Hamptons, 90210

The women travel to The Hamptons to celebrate Lisa Vanderpump on the cover of Bella Magazine, but Lisa's feathers are ruffled when she feels slighted by her friends. Yolanda's ongoing battle against Lyme disease finds her in Cleveland--and under the knife. Kyle is devastated by news about Kim.

Tuesday, January 12th, 2016

7: Pretty Mess

Adventures in the Hamptons continue. Eileen continues to reel about being interrogated by Lisa Vanderpump, Erika Jayne's videos are viewed, and Bethenny Frankel invites everyone to dinner. Yolanda, meanwhile, misses the fun as she recovers from surgery.

Tuesday, January 19th, 2016

8: Going Deep

Kyle hosts a book signing at her new Hamptons pop-up shop for pal Bethenny Frankel. Also, Eileen shares a secret from her past; Erika picks up a recovering Yolanda in her private plane; Kyle consults Faye Resnick for help in dealing with sister Kim.

Tuesday, January 26th, 2016

9: Busted BBQ

Lisa Vanderpump takes a tour of the space Ken wants for a new restaurant. Meanwhile, Eileen flies to Italy to spread her sister's ashes; and Kyle hosts a barbecue, where dramas sizzle over Yolanda's claims, plus a 20-year grudge rears its ugly head.

Tuesday, February 2nd, 2016

10: Backwards in Heels

A joint anniversary bash with a burlesque theme is planned by Kyle and Lisa Vanderpump, but dramas spike when it's discovered Faye Resnick is on Kyle's guest list. Also, Lisa Rinna continues to feel guilty about a past discussion.

Tuesday, February 9th, 2016

11: Please Welcome Erika Jayne!

Kyle and Lisa Vanderpump try cryotherapy with Yolanda. Meanwhile, Erika invites the women to see her perform at an over-the-top San Diego club, and Lisa Rinna is accused of throwing Kyle and Lisa Vanderpump under the bus.

Tuesday, February 16th, 2016

12: Hearing Problems

The ladies have brunch at Kathryn and Donnie's San Diego home, but emotions run high when Kyle's sister Kim is brought up and Kathryn reveals pain from her past. Eileen gets an Erika Jayne makeover, while Kyle meets with an old friend who has some advice for dealing with her sister. Then, the shadow of Munchausen Syndrome casts a dark cloud over Erika's sexy outdoor pool party as tempers reach their boiling point.

Tuesday, February 23rd, 2016

13: Spinning a Web

The ladies take a spin class to raise funds for charity, but flying allegations mark the follow-up lunch. Here, Yolanda targets Kyle for spreading gossip and then confronts Lisa Vanderpump. Meanwhile, Kathryn tries to gain Erika's trust.

Tuesday, March 1st, 2016

14: Not Easy to Love

Yolanda hosts a dinner party attended by a music guest; Eileen is upset because Lisa Rinna won't come clean about her feelings; Erika is leery of Kathryn who betrayed a confidence to Lisa Vanderpump; Kyle and Kim come face to face after nine months.

Tuesday, March 8th, 2016

15: Objection Your Honor

Erika hosts a dinner party to introduce her husband, Tom, to the ladies, and Kathryn receives positive news during a hearing test. The ladies get their hands dirty doing charity work. Yolanda is criticized for hanging out with Kim and Brandi. Lisa Rinna shocks Eileen by revealing her thoughts about some of the ladies.

Tuesday, March 15th, 2016

16: Hearing Is Believing

The ladies shop for diamonds in support of Camille's cancer charity. Meanwhile, Lisa Vanderpump rallies her pals for a march; trust issues surround Lisa Rinna and Yolanda; and Erika's private jet is used for a trip to New York for Yolanda's Lyme Gala.

Tuesday, March 22nd, 2016

17: Lymes in the Sand

At a glittering gala in New York, Yolanda receives a Lyme disease awareness award, which erases any doubts Kyle had about Yolanda's illness. Days later, the women travel to Dubai and attempt to live in a culture where they must dress modestly and not curse. After marveling at the city and their unbelievably over-the-top hotel rooms, the ladies gather for an evening full of doubts from Lisa Rinna, who did not attend the Lyme gala.

Tuesday, March 29th, 2016

18: Dubai Daze

After a full day of travel, the ladies finally step outside and see what Dubai has to offer. They drive through the sand dunes, shop at the local souk market and experience a traditional Arabian Nights dinner with meat from animals they didn't consider edible. Even though Yolanda stayed in Beverly Hills, there are still lingering feelings from the Munchausen fallout, leaving some ladies to feel deserted.

Tuesday, April 5th, 2016

19: Goodbye, Dubai

A Dubai vacation continues with the ladies basking in retail therapy. Also, Lisa Vanderpump tries to apologize to Eileen atop the Burj Khalifa skyscraper; Kathryn receives a birthday makeover; and the ladies have a luxury yet tense dinner on a yacht.

Tuesday, April 12th, 2016

20: Who Do You Believe?

The aftereffects of Dubai linger as the ladies head to a party at Kyle's desert home. Old tensions are renewed when Lisa Rinna comes face to face with Kyle's sister, Kim. The ladies react to the shocking news of Yolanda's divorce, as Yolanda talks openly to Erika about the end of her marriage for the first time.

Tuesday, April 19th, 2016

21: Reunion (Part 1)

The gripping three-part reunion begins with Yolanda revealing the difficulties she faces relapsing with Lyme disease. Although she does leave the couch early, Yolanda stays long enough to defend her daughter from Brandi's "alcoholic" comment and attempts to create some peace within the group. Kim declares she has more "pride" than Lisa Rinna in the roles she chooses and Brandi and Lisa Vanderpump getting into an argument that suggests little future for their onetime friendship.

Tuesday, April 26th, 2016

22: Reunion (Part 2)

The reunion picks up with Yolanda taking some of her friends to task for questioning her health issues. Tears are shed and apologies are made. Old wounds are opened when Kyle's sister Kim Richards returns to talk about her difficult year that's been splashed through the tabloids. When Eileen confronts Lisa Vanderpump about not understanding her, Lisa breaks down in unexpected tears.

Tuesday, May 3rd, 2016

23: Reunion (Part 3)

As the reunion wraps up, the women relive the fun of Dubai, and also the outrageous interpersonal drama that occurred there. While many of the ladies have nice things to say about each other, Lisa Rinna and Lisa Vanderpump remain at an impasse. The housewives are also surprised when a viewer from Encino, California (none other than Brandi!) voices her opinions of the season via video.

Tuesday, May 10th, 2016

24: Secrets Revealed

When the Beverly Hills vault is opened, Erika Jayne's latest sexy video is revealed, as is the hard work that goes into preparing for a big show. Eileen's "inner Erika" comes out on a shopping trip, while Lisa Rinna comes clean about using a strap-on. Kyle is frustrated by a spending spree Portia went on by mistake, and Yolanda's daughter, supermodel Gigi Hadid, shares a common interest with Erika's husband, Tom.
Season 7
Tuesday, December 6th, 2016

1: Stronger Than Ever

Lisa Vanderpump introduces the group to her friend Dorit, whose permanent houseguest is Boy George. Erika celebrates her 45th birthday in style with a 1970s-inspired Studio 54 party and receives more than one birthday surprise. Lisa Rinna and Eileen awkwardly come face to face with Lisa Vanderpump for the first time in months.

Tuesday, December 13th, 2016

2: The Buddha Bentley Birthday

Erika auditions dancers for her new music video "Xxpensive." Dorit's extravagant birthday party provides a few surprises, both planned and unplanned. At the party, Lisa Vanderpump shows Lisa Rinna and Eileen exactly where they stand.

Tuesday, December 20th, 2016

3: Going Commando

Kyle and Lisa Rinna cross paths in New York City while traveling with their daughters. Back in Beverly Hills, Lisa Vanderpump surprises Ken with a $25,000 watch on his birthday, and Eileen continues to struggle with the loss of her mother. Later, over drinks with the group, Erika's short dress leads to quick peeks and judgments passed.

Tuesday, December 27th, 2016

4: Pantygate

Dorit questions whether Erika's wardrobe malfunction was intentional, while Lisa Rinna dominates the fashion world with a 24-hour garment selling marathon. Erika explores a future in acting with Eileen. And when Dorit employs a risky maneuver to confront Erika, the ladies worry they won't be able to escape a challenge they've taken on together.

Tuesday, January 3rd, 2017

5: Amnesia Appetizers

Lisa Vanderpump and Kyle talk female rejuvenation with a plastic surgeon, while Lisa Rinna and Erika meet Eden, daughter of hairstyling icon Vidal Sassoon. Dorit hosts a dinner party where she and her husband PK question Lisa Rinna and Eileen's grieving decisions. When confronted, Dorit remembers nothing, leading to flared tensions at a luncheon at Camille Grammer's new Malibu house.

Tuesday, January 10th, 2017

6: Compromising Positions

Despite having disastrous parties in the past, Kyle cautiously hosts a game night for all the women, which leads to compromising positions and plenty of laughs. Lisa Rinna and Kim reunite and their feud is reignited, while Dorit and Eileen exchange angry words.

Tuesday, January 17th, 2017

7: It's Expensive to Be Me

After her explosive encounter with Kim at Kyle's game night, Lisa Rinna vents to Eden. Erika records the music video for her new song before jetting off to Mykonos, Greece, with Kyle. Lisa Vanderpump's son Max begins a quest to find his biological parents, while Dorit tries to find common ground with Lisa Rinna and Eileen.

Tuesday, January 24th, 2017

8: Boys, Blades and Bag of Pills

Lisa Rinna reveals the recipe for her favorite smoothie while Eden is suspicious about Kim Richards' sobriety. Erika Jayne performs in Greece for her biggest crowd ever and Dorit shocks the ladies by having Boy George perform at her husband's birthday party.

Tuesday, January 31st, 2017

9: Harry's Meat and Gatsby's Fete

Eileen is thrilled when Erika nails her reading at The Young and the Restless. Lisa Rinna throws a barbecue, but Harry ends up doing most of the work. Kyle hopes Lisa Vanderpump will show up at her Great Gatsby party, but it's Eden who causes a scene there when she voices her true feelings about Kim.

Tuesday, February 7th, 2017

10: Hostile Hacienda

As the women pack for their trip to Mexico, Eden stops by Lisa Vanderpump's house to tell her what Lisa Rinna said about Kim's sobriety. With Lisa Rinna in NYC to see her model daughter walk at Fashion Week, the ladies in Mexico discuss her shocking comments.

Tuesday, February 14th, 2017

11: Backed Into a Corner

Tensions run high at Mauricio's party in Mexico, as Kyle demands to know exactly what Lisa Rinna said about her sister Kim. Eden seeks her mother's advice regarding Kyle and Kim. Erika advises Rinna to come clean with Kyle, but Rinna maintains she's done nothing wrong. The Mexico trip wraps up with a wild boat ride and a dance to remember.

Tuesday, February 21st, 2017

12: Feeding a Need

After a tear-filled Mexico trip, Lisa Rinna confronts Eden over the "near death" accusations. Lisa Vanderpump buys her son Max a condo, and the scripted show inspired by Kyle's childhood becomes even more of a reality. Lisa Rinna is honored with an award from her favorite charity, but Dorit has increasing suspicions about what she sees as erratic behavior from Rinna.

Tuesday, February 28th, 2017

13: Cake Therapy

Erika flexes her acting muscles as she rehearses for her upcoming soap role with Eileen. Lisa Vanderpump and Ken visit their new dog rescue center. Later, Kyle throws a cake tasting for Wilson Phillips singer Carnie Wilson, where Lisa Rinna makes a startling—and very public—confession to Kim.

Tuesday, March 7th, 2017

14: Sweet Georgia Jayne

Kyle hosts a party at her store where Lisa Vanderpump's invitations to Hong Kong get out of hand. The ladies gather at Villa Rosa for lunch, where Dorit tries to chip away Erika's icy personality. After lunch, Erika flies back home to Georgia to see her mother and reconnect with her roots.

Tuesday, March 14th, 2017

15: Hong Kong Fireworks

The women head to Hong Kong, where Lisa Vanderpump's effort to stop animal cruelty continues. Meanwhile, Erika confides in Kyle about visiting her mother in Georgia, and past conflicts explode aboard a historic junk boat, pitting Dorit against Lisa Rinna against Erika.

Tuesday, March 21st, 2017

16: Big Buddha Brawl

Tensions continue to rock Dorit and Erika in Hong Kong. Lisa Rinna and Eileen pick a side as Lisa Vanderpump and Kyle watch in shock. Also: The ladies visit the Buddha, but the madness continues at an explosive dinner.

Tuesday, March 28th, 2017

17: From Dogs to Diamonds

Still in Hong Kong, Lisa Rinna defends her scandalous accusations about Dorit. The ladies' hearts are warmed when they visit the SPCA to see the dogs that Lisa Vanderpump has helped rescue. Later, back in Beverly Hills, Erika shoots her scenes for The Young & the Restless before everybody heads to Villa Rosa for a spectacular Diamonds and Rosé party.

Tuesday, April 4th, 2017

18: Diamonds Under Pressure

Lisa Rinna and Erika's unresolved issues with Dorit come to a head at Lisa Vanderpump's Diamonds and Rosé party, which is filled with fabulous food, glittering ponies and lots of tension. When Dorit's efforts to defend herself fall on deaf ears, her husband PK joins the fray. Eden shocks the women by unleashing an epic tirade on Lisa Rinna.

Tuesday, April 11th, 2017

19: Reunion Part I

The climactic reunion begins with Erika addressing the claims that she has an icy demeanor, while new housewife Dorit defends her parenting skills. Meanwhile, wounds have not fully healed between Lisa Vanderpump, Lisa Rinna and Eileen; and tensions escalate when Dorit's divisive husband PK joins the ladies on the couch.

Tuesday, April 18th, 2017

20: Reunion Part II

Drama continues to run high as Erika, Eileen and Lisa Rinna stand their ground against PK's attempts to explain himself. The women share insights into their various careers and laugh at the over-the-top ways they greet each other. However, things take a turn when Eden and Kim Richards join the ladies. Simmering issues quickly come to a head and it all becomes too unbearable for one of the ladies.

Tuesday, April 25th, 2017

21: Reunion Part III

As the reunion comes to a close, all the harsh feelings force the women to evaluate the bonds they have forged over the years. Lisa Vanderpump gets surprisingly emotional when discussing her son and her crusade to save dogs. Lisa Rinna and Kim Richards attempt to see eye-to-eye, while Kyle decides to dive into the fray.
Season 8
Tuesday, December 19th, 2017

1: Don't Cry Over Spilled Wine

Kyle and Lisa Vanderpump charter a private jet to take the ladies to Las Vegas for a group birthday celebration; Dorit's new friend hits it off with Lisa Vanderpump over drinks; familiar faces Adrienne Maloof and Camille Grammar join the festivities.

Tuesday, December 26th, 2017

2: Diva Las Vegas

Teddi's job as an accountability coach leads to questions amongst the group; Lisa Vanderpump takes Erika to task for not responding whenever she reaches out; Kyle and Dorit confront Lisa Rinna while on a Ferris wheel overlooking the Las Vegas strip.

Tuesday, January 2nd, 2018

3: Bad Guys

Erika revisits her past as she writes her memoir; Lisa Vanderpump helps PK throw a lavish birthday dinner for Dorit; Teddi starts to question Dorit's character when Dorit speaks badly about Lisa Rinna; Kyle vacations with her family in Croatia.

Tuesday, January 9th, 2018

4: Lights Out!

Lisa Rinna and Erika fly to Tokyo to support Amelia and Delilah's latest modeling gig; Dorit agrees to model for Lisa Vanderpump's magazine; when the power goes out at Kyle's dinner party, the darkness brings out the worst in one housewife.

Tuesday, January 16th, 2018

5: Unfashionably Late

Kyle laments not being able to share her newfound success as a television producer with her sisters; Dorit re-launches her swim-wear line; Erika is shaken by unexpected news; Lisa Vanderpump advises Dorit to make things right with Camille.

Tuesday, January 23rd, 2018

6: Wham, Glam, Thank You Ma'am

Dorit searches for the perfect birthday gift for PK; Lisa Rinna worries about her daughter's upcoming move to New York City; Lisa Vanderpump confides in Kyle about the lawsuit brought against her and Ken; Teddi's spa day doesn't provide relaxation.

Tuesday, January 30th, 2018

7: Birthday Fever

Kyle worries when she ends up late for a double date with Teddi and their husbands; Lisa Rinna hustles her way into two new acting gigs; Dorit shocks her husband with an extravagant 50th birthday party on a yacht; a wine glass creates conflict.

Tuesday, February 6th, 2018

8: Petty Mess

Lisa Rinna returns to her roots on "Days of Our Lives"; Lisa Vanderpump receives news about the lawsuit, but Kyle and Dorit do not react to it the way she hopes; Kyle and Lisa Vanderpump address their latest issues in front of everyone.

Tuesday, February 13th, 2018

9: That Was Weird

Dorit reveals to Erika what was said about her after her unexpected departure; the ladies descend upon New York for Fashion Week; Lisa Rinna helps her daughter get settled in New York City; private information about Lisa Vanderpump goes public.

Tuesday, February 20th, 2018

10: The Big Apple Bites

Dorit attempts to come clean with Lisa Vanderpump; Erika meets with her publisher to give an update on her book; Kyle gets wind of what Dorit has been saying about her from Teddi; an altercation arises on what should be Dorit's big night.

Tuesday, February 27th, 2018

11: Thank You, Thuck You

With front-row seats to New York Fashion Week, Dorit tries to get back into Lisa Vanderpump's good graces; Kyle wants an apology from Lisa; Lisa Rinna's daughter feels homesick; Teddi persuades Lisa Vanderpump to do the unthinkable.

Tuesday, March 6th, 2018

12: Gag Gift

Erika's Hollywood journey comes full circle; the women attend Camille's charity event, where Teddi's motives are brought into question; Dorit tries to repair her relationship with Lisa Vanderpump; Camille attempts to silence Dorit once and for all.

Tuesday, March 13th, 2018

13: Crying Shame

Erika and Lisa Rinna meet up with old friend Eileen Davidson for drinks; Kyle must decide whether to stay in her current house or move; Erika strikes a pose for her book cover; Teddi drops a bomb that could damage Lisa Rinna's friendship with Dorit.

Tuesday, March 20th, 2018

14: Heaven Knows

After her explosive encounter with Erika, Teddi worries about seeing her at Lisa Rinna's luncheon. Kyle's séance conjures up some unexpected guests, but the group gets a bigger shock when Erika reveals information about her past. Lisa Vanderpump is struck by sudden tragedy at home.

Tuesday, March 27th, 2018

15: Dames, Dogs and Danke

Lisa Vanderpump's documentary about dog abuse in China premieres at a film festival; Dorit races to finish her swimwear collection on time, then suffers the consequences when she becomes sick on the way to the girls' trip to Berlin.

Tuesday, April 3rd, 2018

16: Holy Schnitzel

A peaceful horseback ride through the German countryside takes a dangerous turn for Kyle and Lisa Rinna. The ladies get emotional while visiting the Eisenman Holocaust Memorial and Berlin Wall. The group gets into the Oktoberfest spirit when they spend the night dancing at a Berlin beer hall.

Tuesday, April 10th, 2018

17: Better Latex Than Never

As the Berlin trip concludes, one of the ladies can't seem to be on time to any of the scheduled events; surprisingly, it's not Dorit. "Pretend amnesia" rears its ugly head again, and Erika is surprised to hear how Teddi truly feels about her. Kyle's still upset with Dorit but chooses to ignore her own feelings for the sake of the trip. Dorit stresses over final preparations for her fashion show—and fears she won't be able to pull off her big comeback.

Tuesday, April 17th, 2018

18: The Runaway Runway

Dorit launches her swimwear line with a glamorous fashion show; Camille shares life-changing news; Lisa Rinna worries about Delilah being homesick in New York; Kyle expresses her feelings about Dorit.

Tuesday, April 24th, 2018

19: Reunion (Part 1)

The women dive into unresolved issues; Erika discusses the public's reaction to her book; Lisa Rinna explains the reason behind her behavior; Lisa Vanderpump, Kyle and Dorit discuss their friendship, and hurt feelings come to a head.

Tuesday, May 1st, 2018

20: Reunion (Part 2)

Strong emotions persist as Dorit and Teddi struggle to sort out a year of misunderstandings; Kyle reveals the devastating details of her house burglary last Christmas; Camille Grammer joins the ladies and brings an unexpected gift for Andy.

Tuesday, May 8th, 2018

21: Reunion (Part 3)

Andy explores the reasons behind Lisa Vanderpump's falling-out with Dorit; as the ladies relive their trip to Berlin, they question why Lisa Vanderpump was so upset with Kyle for not remembering her grandmother's name; Kyle gets emotional.

Tuesday, May 15th, 2018

22: Secrets Revealed

In never-before-seen footage from Beverly Hills, Teddi goes shopping for a new sports car with her husband and is shocked by its high speed – and its high price tag! Dorit and her bestie, Boy George, are curious about Teddi's job. Erika and Camille are slightly mortified when Lisa Rinna makes a questionable joke about Lisa Vanderpump. Kyle plans to build a new beach house in Mexico. Camille's search for the perfect gift for Dorit takes her to the Museum of Sex in New York City.
Season 9
Tuesday, February 12th, 2019

1: Lucy Lucy Apple Juicy

Erika is excited when Lisa Rinna introduces actress Denise Richards to the group; Lisa Vanderpump struggles to come to terms with her grief after a personal tragedy; Dorit is concerned that Teddi will twist information about her family's dog.

Tuesday, February 19th, 2019

2: Eat Your Heart Out

Kyle and Lisa Vanderpump visit a cosmetic dermatologist in the hopes of lifting Lisa's spirits, as well as some other body parts; Dorit suggests a girls' trip to the Bahamas; Lisa Rinna hosts a pastry party.

Tuesday, February 26th, 2019

3: Sun and Shade in the Bahamas

In the Bahamas, newcomer Denise quickly discovers that fun in the sun, sand and surf comes with plenty of conflict for the rest of the women; Lisa Rinna suspects Kyle and Teddi were used in a scheme to exact revenge on Dorit.

Tuesday, March 5th, 2019

4: Bahama Drama

Lisa Rinna and Denise comfort Dorit, who struggles to make sense of the gossip surrounding her dog; Lisa Vanderpump is accused of spreading the dog story; Erika and Teddi put their rocky past behind them; Kyle buys jewelry after last year's burglary.

Tuesday, March 12th, 2019

5: The Proof Hurts

Denise shares exciting news with Lisa Rinna; Kyle and her family drop Sophia off at college; in Erika's chapel, Teddi confesses her involvement in the dog drama, but Lisa Vanderpump insists that Teddi is not as angelic as she makes herself out to be.

Tuesday, March 19th, 2019

6: Fifty Shades of Shade

Erika pushes Dorit to take her sex appeal to the next level during a photo shoot; Denise lets it all hang out at dinner with Lisa Vanderpump and Kyle; Lisa Rinna helps Camille plan her 50th birthday bash, but tensions run high at the celebration.

Tuesday, March 26th, 2019

7: Eat, Drink, and Be Married

Kyle, Dorit and Teddi shop for a wedding gift for Denise, who scrambles to pull off her big day in record time; Lisa Rinna comes face to face with an old flame, who dated her and Denise at the same time; Lisa Vanderpump dreads seeing Teddi.

Tuesday, April 2nd, 2019

8: Showdown at Villa Rosa

Denise and Aaron begin their life together by nesting at home; Dorit deals with the repercussions of the dog fiasco; a monster argument breaks out between Kyle and Lisa Vanderpump culminating in Lisa and Ken demanding that Kyle leave their house.

Tuesday, April 9th, 2019

9: A Wolf in Camille's Clothing

As Lisa Vanderpump's birthday approaches, she and Kyle deal with raw emotions in the aftermath of their falling out; Denise is caught between her loyalty to the group and her friendship with Lisa Vanderpump; Lisa Rinna and Teddi discuss a tweet.

Tuesday, April 16th, 2019

10: A Supreme Snub

After throwing a bridal shower for Camille, Kyle finds out she is being blamed for Lisa Vanderpump's absence; Lisa Rinna and Teddi get into a political argument with Camille; Denise gives Dorit a shoulder to cry on; Erika prepares for her tour.

Tuesday, April 23rd, 2019

11: Do You Really Want to Hurt Me?

Denise meets with Lisa Vanderpump to mediate the situation between Lisa and the others; after kicking off her tour, Erika returns to join the others at the Culture Club concert, where Lisa Rinna meets an idol, and Kyle and Teddi have run-ins.

Tuesday, April 30th, 2019

12: The Ultimate Ultimatum

Lisa Vanderpump gives Dorit an ultimatum that could end their friendship forever; unresolved tension between Kyle and Dorit comes to a head at Teddi's dinner party; Denise gets her first taste of Camille's insincere ways.

Tuesday, May 7th, 2019

13: Grilling Me Softly

The ladies hit the road in Teddi's RV for a camping trip; Erika and Dorit embrace the idea of roughing it; during a fireside chat, Camille lets Teddi know how she really feels about her, and Denise shares a raunchy story that stuns the others.

Tuesday, May 14th, 2019

14: The Show Must Go On

Kyle, Lisa Rinna, Dorit, and Teddi get wild at the L.A. stop of Erika's concert tour, but a major mishap threatens to silence the show; while inviting Lisa Vanderpump to her Hawaiian wedding, Camille finds another opportunity to criticize Teddi.

Tuesday, May 21st, 2019

15: One Wedding and a Polygraph

The women travel to Hawaii for Camille's lavish wedding in paradise; Kyle stands up as a bridesmaid; Lisa Rinna's health may derail her fun time with Dorit; Lisa Vanderpump resorts to drastic measures to prove her innocence in the dog drama.

Tuesday, May 28th, 2019

16: Meet Rinna Jayne

Lisa Rinna, Kyle, Teddi, and Dorit discover an article that exposes Camille's duplicity; while planning a Halloween bash, Kyle faces her worst fear; Dorit and Teddi battle the urge to confront Camille; Lisa Rinna makes a move that shocks everyone.

Tuesday, June 4th, 2019

17: A Double Shot of Brandi

Kyle plans a girls' trip to Provence, France; Erika and Lisa Rinna are astonished by Camille talking out of both sides of her mouth; Denise spends a wild night with Brandi Glanville; tragedy strikes as Kyle, Lisa Rinna and Teddi head to the airport.

Tuesday, June 11th, 2019

18: Pardon Our French

Kyle, Erika, Dorit, Teddi, and Lisa Rinna arrive at a chateau in Provence, France, for a wine-tasting adventure; Denise and Camille must stay behind when a wildfire forces them to evacuate their homes; Kyle opens up about something deeply personal.

Tuesday, June 18th, 2019

19: Thirst Impressions

In Provence, France, an excursion features wine and laughs; Teddi and Kyle overindulge, leading to a night of revelations, tears, and chaos; Denise and Camille return to their homes for the first time since wildfires upended their lives.

Tuesday, June 25th, 2019

20: Un Petit Hangover

The morning after their drunken tirade, Lisa Rinna encourages Kyle and Teddi to do damage control; Denise copes with her family's displacement; Dorit reveals her first window display; Camille reveals her true feelings about Dorit.

Tuesday, July 9th, 2019

21: Hurricane Camille

When Kyle hosts a party, Camille is eager to settle the score with Teddi, Dorit and Lisa Rinna; Denise loses her cool; Kim updates Kyle on where she stands with Lisa Rinna; Kyle reveals she had an encounter with Lisa Vanderpump.

Tuesday, July 16th, 2019

22: Reunion (Part 1)

The women gather to settle their grievances, but Lisa Vanderpump is a no-show, setting Kyle off; Denise reflects on her roller-coaster year; Erika and Lisa Rinna reveal some naughty secrets about their husbands; Dorit calls out Teddi's betrayal.

Tuesday, July 23rd, 2019

23: Reunion (Part 2)

Teddi finds herself in the hot seat as Andy holds her accountable for her role in Puppygate, which ultimately led to a rift between Dorit and Lisa Vanderpump; unresolved emotions between Camille and the rest of the ladies come to a shocking climax.

Tuesday, July 30th, 2019

24: Reunion (Part 3)

The reunion concludes with the fallout over Camille's storm-off; Teddi and Denise face a volatile foe; Kyle reflects on the end of her friendship with Lisa Vanderpump; Lisa Rinna, Dorit, and Erika debate Lisa Vanderpump's behavior this season.
Season 10
Wednesday, April 15th, 2020

1: The Crown Isn't So Heavy

Kyle's new clothing line brings the women of Beverly Hills together for New York Fashion Week, where Dorit quickly realizes Kyle's lack of experience in the fashion world could turn into a runway disaster. Erika takes Lisa Rinna, Teddi and Denise on a revealing trip down memory lane. Denise, who is trying her best to ignore legal issues with her notorious ex-husband, introduces the group to her longtime friend Garcelle Beauvais.

Wednesday, April 22nd, 2020

2: To Live and Text in Beverly Hills

While Kyle tries to attract buyers for her new fashion line in New York City, Erika gets big news that has her moving there; Dorit's move into a new house is marred by negative press about her finances.

Wednesday, April 29th, 2020

3: First Impressions, True Confessions

Kyle wraps shooting on her latest film and plans a Welcome Home party for all the ladies, including her newest friend Garcelle. Erika's singing lesson brings up a painful childhood memory. Teddi doesn't take kindly to Sutton's criticism. Denise's husband inadvertently bewilders Kyle's guests, while Lisa Rinna's party game leads to hurt feelings, tears and a dramatic exit.

Wednesday, May 6th, 2020

4: All's Fair in Glam and War

After an awkward invitation, Lisa Rinna and Garcelle opt out of Teddi's fitness and wellness retreat, which is far from relaxing for the other ladies. Kyle and Erika question Dorit's all-about-me behavior. Denise is upset when her backyard dinner party takes an R-rated turn in front of her kids. The ladies are shocked when Kyle becomes inexplicably emotional.

Wednesday, May 13th, 2020

5: Let the Mouse Go!

Lisa and Teddi butt heads over Kyle's emotional meltdown; Garcelle celebrates a milestone in her sons' lives, while Lisa struggles to stay in the shadows as her daughters launch their clothing line; Dorit and Sutton get into a cat-and-mouse game.

Wednesday, May 20th, 2020

6: Read Between the Signs

Erika is left seeing stars at her astrology party when old resentments flare up between Kyle, Teddi and Dorit; Denise's simmering frustration boils over in front of a speechless Lisa Rinna; Garcelle questions a new friend's priorities.

Wednesday, May 27th, 2020

7: Santa Denise

What promises to be a relaxing trip to Santa Barbara instead opens old wounds for Dorit, Erika, Teddi and Kyle. After feeling judged as a mother, Lisa Rinna turns the tables on Denise, forcing her to examine her own history of risqué behavior. Meanwhile, Garcelle weighs the pros and cons of being a working mom as she prepares to leave town for a job.

Wednesday, June 3rd, 2020

8: Mind Your P's and BBQ's

Garcelle is honored for her work with a local charity, but her acceptance speech isn't charitable to one guest. The ladies feel mom-shamed when Denise shows up to Kyle's kid-friendly barbecue without her kids. Lisa, Erika and Teddi are annoyed when Aaron mansplains to them – a situation Dorit knows firsthand is problematic for husbands in this group.

Wednesday, July 8th, 2020

9: Until We Leave Again

Denise and Aaron's hasty departure from Kyle's barbecue leaves the other ladies confused and unsettled. Kyle helps Kim through a delicate medical procedure, while Lisa and Erika have a distinctively Beverly Hills "procedure" of their own. Garcelle moves into her new house. Aaron awkwardly comes face to face with Erika and Teddi at Sutton's trunk show.

Wednesday, July 15th, 2020

10: Black Ties and White Lies

Garcelle finds herself in a tough spot during a business meeting. Lisa questions Denise's motives when Denise's behavior is filled with shades of grey. With Dorit's help, Kyle throws a black and white charity gala full of familiar faces from years past. Erika tries to avoid being "mansplained" to again, while Camille's road to reconciliation is bumpier than she expected.

Wednesday, July 22nd, 2020

11: Kiss and Tell All

Lisa invites Dorit and the others on a glamorous Roman getaway; Denise tries to make nice with Erika, but gets an ice-cold shoulder instead; Garcelle digs into Sutton's past, while Brandi drops a bomb on Kyle and Teddi.

Wednesday, July 29th, 2020

12: Roman Rumors

After rumors about Denise begin to swirl, Lisa attempts to save the group's Roman holiday from turning into a disaster; when Teddi questions Denise about talking behind their backs, the confrontation leads to shocking revelations.

Wednesday, August 5th, 2020

13: There's No Place Like Rome

The Rome getaway continues as the women process Brandi's claims against Denise; Kyle and Dorit try to work through their constant clashes; Garcelle, Denise, Erika and Lisa tour the city in luxury Ferraris; Denise throws out an accusation at dinner.

Wednesday, August 12th, 2020

14: That's Not Amore

While a Vespa ride reminds Kyle and Dorit just how much fun they can have together, Denise calls out Lisa for betraying their friendship; a tearful Lisa joins Denise, Garcelle and Sutton to find redemption at the Vatican.

Wednesday, August 19th, 2020

15: Sex, Lies, and Text Messages

Kyle and Dorit surprise Teddi with a baby shower, but Brandi reveals a few surprises of her own. Denise and Garcelle lament over how they think Lisa has changed – but Lisa has a very different take on things. Erika leaves LA and jets off to Broadway.

Wednesday, August 26th, 2020

16: Denise and Desist

Denise is a no-show at Dorit's housewarming party and fails to keep plans with Garcelle twice in one week. The group hops on a private jet to celebrate Erika's Broadway debut, while Lisa and Denise try to salvage their 20-year friendship.

Wednesday, September 2nd, 2020

17: Reunion (Part 1)

The ladies come together for a virtual sit-down to rehash a season of incredible highs and shocking lows, as they confront their issues and tackle viewers' burning questions. Kyle and Garcelle waste no time airing their grievances, and their unresolved tension finally reaches its boiling point when Kyle drops a shocking accusation. Dorit and Sutton recount their awkward exchange at Lisa's daughters' clothing line launch event, but Dorit's apology falls on deaf ears as Sutton challenges the motivations behind her comment. Frustrations come to a head when Erika and Lisa bring Denise to task for refusing to have an honest conversation and accuse her of manipulating the truth.

Wednesday, September 9th, 2020

18: Reunion (Part 2)

Kyle must answer for her attitude towards Dorit and Erika; Teddi reflects on the joys and fears of parenthood during a pandemic. a defiant Denise comes under fire for her connection to Brandi Glanville.

Wednesday, September 16th, 2020

19: Reunion (Part 3)

Denise finally tells the women the truth about her friendship with Brandi; a defensive Garcelle is questioned for not supporting Erika's Broadway debut; Erika and the others voice their crushing concerns about Denise's marriage.

Wednesday, September 23rd, 2020

20: Secrets Revealed

In never-before-seen footage from Season 10, the story behind Denise's "Bravo, Bravo, F---ing Bravo" moment is finally revealed. Dorit faces mediation for her highly publicised lawsuit. Garcelle's new house is threatened by wild fires. Meanwhile, Lisa checks out a swanky Hollywood apartment with her daughter Amelia, and Erika hopes to stay in one piece after Kyle takes her for a spin in a vintage car.
Season 11
Wednesday, May 19th, 2021

1: Dressed to the 90210s

The friends glam it up for a "barbecue" at Dorit's house; Kyle's sister introduces them to Crystal Minkoff; Sutton moves into a rental house; Erika sheds light on a very dark summer; Lisa's abrupt apology leaves Garcelle questioning their friendship.

Wednesday, May 26th, 2021

2: Two Truths and a Lie

Lisa Rinna takes the girls on fun getaway to Lake Tahoe; Kyle and Garcelle attempt to heal the emotional wounds they inflicted on each other; Dorit suggests a revealing game of Two Truths and a Lie, Erika's answers leave her clouded in mystery.

Wednesday, June 2nd, 2021

3: Sutton's Gotta Give

As the Tahoe getaway continues, Sutton and Crystal's colorful disagreement comes to a head — only to go off the rails again when Sutton feels alienated from the group. Garcelle's bold opinion of a Hilton family member shocks Kyle and Kathy. Dorit gets down and dirty during a rare night out on the town, while Lisa and Erika prank a prankster.

Wednesday, June 9th, 2021

4: Overexposed

While in Lake Tahoe, Crystal bares it all — but Sutton is not having it. Meanwhile, a latenight admission from one of the women strikes Kyle as odd; Dorit makes certain denials that no one takes at face value; and Lisa's persistence brings Garcelle to her breaking point. Erika stuns her friends with news about her husband, leaving them confused and completely in the dark.

Wednesday, June 16th, 2021

5: The Divided States of Erika

Election night takes a turn when Kyle and Dorit's past issues resurface. Erika's shocking announcement is the topic of conversation at Sutton's Paris-themed luncheon, as the women seek answers trying to make sense of it all. Meanwhile, Crystal opens up about a difficult period in her life, and Lisa gets a thrill playing with her hubby's firehose.

Wednesday, June 23rd, 2021

6: The Liberation of Erika Jayne

Erika reunites with the ladies for the first time since filing for divorce and explains how she came to such a tough decision. Crystal invites everyone over to make Chinese dumplings, but she and Sutton must first confront their lingering issues from Lake Tahoe. Kyle and Dorit reach a truce, while Garcelle meets with a dating coach to dream up Mr. Right.

Wednesday, June 30th, 2021

7: Defining Women

With rumors swirling about her divorce, Erika reveals new details about why she left her husband. A group outing on the town goes up in flames when Kathy unintentionally reignites a dying spark. Meanwhile, Lisa Rinna confronts tabloid rumors of her own, Dorit adds a special piece of art to her collection, and Garcelle's son has strong thoughts about her love life.

Wednesday, July 7th, 2021

8: The Good, the Bad and the Ugly Leather Pants

Harry Hamlin's homemade Bolognese sauce spices up Lisa's gathering, but Crystal's non-apology pushes Sutton to her boiling point. Meanwhile, Garcelle's birthday surprise has her wishing big and Kathy has unexpected news for Kyle about their sister, Kim. As Erika settles into her new home, Dorit says "I do" to her latest design venture.

Wednesday, July 14th, 2021

9: A Pretty Meltdown

Sutton and Crystal continue stirring the sauce at Lisa's Bolognese lunch, as they lay all their lingering issues out on the table. Amid bombshell news tied to her divorce, Erika unexpectedly melts down to Kyle and Garcelle begins to question the truth. Meanwhile, the group is forced into quarantine and Lisa uses the time at home to dig up hidden treasures for her daughters to finally enjoy.

Wednesday, July 21st, 2021

10: Affairs and Accidents

Kyle opens her home in La Quinta to the group for a desert getaway, but Erika cannot escape the fallout from her messy divorce. When Lisa questions certain new reports in the media, Dorit offers insights from her own experience. Sutton and Crystal connect with Erika through stories of family loss. Meanwhile, Kathy heats things up in the kitchen – and, with a little help from her friends, cools down in front of a fan.

Wednesday, August 4th, 2021

11: Ice Queen of the Desert

Kyle puts on her detective hat to help solve a mystery involving one of the women in La Quinta, while Sutton reveals her secrets for navigating a difficult divorce. Meanwhile, Dorit and Lisa worry about how their friend will fare in her own split. Crystal, Garcelle and Erika find solace on a desert hike, but the peace is shattered when Garcelle reveals details of their private conversation to the entire group.

Wednesday, August 11th, 2021

12: Circle of Distrust

Garcelle is in the hot seat when a distraught Erika leaves the trip early, but she refuses to roast alone. On their last day in the desert, the women wake up to a stunning exposé that leaves Kyle, Lisa and Dorit with questions. Meanwhile, Sutton calls an emergency meeting among the group – but not everyone makes the guest list.

Wednesday, August 18th, 2021

13: Season's Grillings

Shockwaves from an unexpected news article continue to spread as the ladies try to piece together the truth. Meanwhile, Garcelle serves up a very Haitian holiday meal for her family. When Kyle gathers the ladies for Christmas dinner, holiday cheer turns to jeer as the women press for answers, and Erika realizes that not everyone has her best interests at heart.

Wednesday, August 25th, 2021

14: Lips Unsealed

Erika and Lisa help Kyle celebrate her birthday, but the festivities are short-lived when Erika shares more information about her marriage. When Crystal hosts a launch party for Lisa's lip line, tensions between the ladies come to a head, leaving the glossy gathering in need of a touch up. Meanwhile, Kyle and Kathy have a heart-to-heart about their past issues.

Wednesday, September 1st, 2021

15: The Dinner Party from Hell: Part Two

Kyle assesses the progress at Sutton's new home, while Dorit hopes her new business venture is the right fit for her family. Crystal invites Erika, Garcelle and Kathy over for a dinner where duck is served, but beef is on the menu. Kathy puts her staff to work arranging an evening to remember, but when Erika and Sutton face off, it quickly becomes a night the ladies would rather forget.

Wednesday, September 8th, 2021

16: Threats and Promises

Kathy's dinner party ends abruptly, following a flurry of accusations hurled amongst the women. In the fall out, Garcelle accuses Lisa of never having her back, and Sutton unloads on Kyle for pushing her too far. While Crystal is sympathetic to Erika's reaction, someone close to Dorit takes a more critical approach toward her friend.

Wednesday, September 15th, 2021

17: A Tale of Two Accidents

At Kathy's spa day, Erika reveals a shocking story about her family, leaving the group with questions. Meanwhile, Crystal works on her big-ticket basement renovation and Garcelle moves one step closer to finding Mr. Right. Dorit's wedding dress launch is anything but happily ever after, as Sutton and Erika come face-to-face and Garcelle has to answer for a provocative comment.

Wednesday, September 22nd, 2021

18: Del Mar by the Shade

When the group caravans down the coast for a relaxing girls' weekend, Kyle and Kathy find themselves in the luxurious presidential suite — while Sutton's vacation takes a turn for the worse. New questions arise about Erika at a glamorous picnic on the beach, and she is later devastated by news about her family. Meanwhile, Dorit and Lisa push Garcelle to tears when they question her investment in their friendships.

Wednesday, September 29th, 2021

19: Over-poured and Over-board

The trip to Del Mar continues with a tour of local wineries and the ladies getting a taste of another shocking story from Erika. After Crystal and Lisa soak up a unique fitness experience, Sutton questions Kyle and Dorit on their "alleged" naivete. Later, a sunset cruise heads for choppy waters as Garcelle suggests a game that puts the women in the hot seat.

Wednesday, October 6th, 2021

20: New Year, Old Grudges

Erika heads to dinner with close friends Kyle, Dorit and Lisa, but her mood goes from glad to mad when questions arise. At Crystal's Chinese New Year party, everyone is excited to usher in a change of fortune, but old issues between Lisa and Garcelle threaten to ruin the fun. In the spirit of the night, Sutton offers a warm gesture to Erika, but gets a cold shoulder in return.

Wednesday, October 13th, 2021

21: Reunion, Part 1

As the reunion kicks off, Erika faces viewers' hard-hitting questions head-on and reveals surprising facts about her life. Crystal reluctantly admits a commonality she shares with Sutton, while Kyle brings up a burning complaint about her former tenant. Garcelle defends her passive-aggressive jabs at Dorit – and then shocks Lisa with an alarming accusation.

Wednesday, October 20th, 2021

22: Reunion, Part 2

Erika surprises the ladies when she divulges juicy new details about her difficult marriage and divorce. Dorit acknowledges that talking too much has gotten her into trouble in the past. Lisa reveals new details about her daughter's very public breakup. Meanwhile, Kathy breaks down while reminiscing about her and Kyle's mother.

Wednesday, October 27th, 2021

23: Reunion, Part 3

The reunion continues with emotions on high, as Kyle and Kathy discuss the years they spent apart and their eventual reconciliation. Crystal reflects on her struggles with Sutton and the heartbreaking racism she encountered this year. Erika expresses her hurt over what she describes as Kyle and Dorit "mocking" her life.

Wednesday, November 3rd, 2021

24: Reunion, Part 4

As the reunion concludes, Lisa sounds off on her support of Erika and expresses remorse about how she's treated friends in the past. Garcelle and Sutton hold Erika accountable for the threatening comments she made this season. Erika fires back at the onslaught of tough questions and finally shares what her future holds.
Season 12
Wednesday, May 11th, 2022

1: The Break-in

After Dorit survives a harrowing robbery at home, Kyle brings the ladies together to rally around their friend. While Sutton and Crystal finally see eye-to-eye, a very public diss leaves Lisa seeing red. Erika is excited for a fresh start following a difficult year, but that does not stop Garcelle from asking tough questions.

Wednesday, May 18th, 2022

2: Receipt Offender

Dorit and PK try to pick up the pieces following their traumatic home invasion. While Sutton and Crystal's new friendship continues over cake tasting, Lisa lets Kyle know someone has left a bad taste in her mouth. At Harry's party, the glamorous Diana Jenkins makes a rich first impression. The evening is spoiled, however, when issues rise to the surface. Garcelle is dismayed to discover that Erika has not let go of their past grievances.

Wednesday, May 25th, 2022

3: There's Sutton about Crystal

Kyle invites her friends to the desert for the launch of her new store. Sutton apologizes to Dorit for seeming unsympathetic following her traumatic home invasion. Garcelle urges the women to be up front with each other. While Erika and Diana point out that all their problems share a common denominator, Crystal winds up triggered by a past offense and Lisa feels they're all missing the point.

Wednesday, June 1st, 2022

4: The Crystal Conundrum

Crystal talks through her differences with the group, but the conversation takes an unexpected detour when she brings up old wounds - a stunning revelation that leaves Kyle completely confused.

Wednesday, June 8th, 2022

5: In Hot Water

Kyle and Garcelle attempt to get to the bottom of the alleged dark comments Sutton made a year ago, but Crystal refuses to divulge what was said; Lisa suffers a devastating loss.

Wednesday, June 15th, 2022

6: High Cries and Misty Demeanors

As the Mexico getaway continues, Dorit struggles to work through her robbery-related anxiety while Lisa sees signs of her mother flying all around her. Kyle and Garcelle are convinced they're being manipulated by Crystal, who is also hearing from Erika that she needs to stand up for herself. Sutton snaps at Diana, pushing their new friendship to the breaking point.

Wednesday, June 22nd, 2022

7: Ship-Faced

The women set sail aboard Dorit's luxury yacht in Mexico, but Erika goes overboard with her partying and winds up three sheets to the wind. Diana admits to Kyle that her temper is still burning hot at Sutton. Garcelle springs a surprise on Lisa, who turns the tables with a stunning admission of her own. Crystal vows to stop holding onto the past.

Wednesday, June 29th, 2022

8: It Takes a Villain

Crystal unpacks the outcome of the Mexico trip with Rob and Jeff, and Dorit finds comfort in her mother, who is in town for an extended visit. Meanwhile, Erika works on growing a new business venture. A text message sends shock waves through the group, leaving Kyle to wonder who will attend Garcelle's upcoming birthday party. At the celebration, Sutton comes face to face with Diana and her pointed questions reveal a side of the newcomer no one has seen before.

Wednesday, July 6th, 2022

9: Calamity Jayne

Erika lands in hot water with Garcelle over some choice words; Kyle tries to atone for some words of her own; Lisa is amused by Diana's new look; Crystal tries to help Dorit with her ongoing anxieties.

Wednesday, July 13th, 2022

10: So You Say

Erika seeks forgiveness from Garcelle for her past indiscretions; Crystal gets involved in Sutton's love life; Kyle is left reeling by an accusation she does not agree with; Dorit finds comfort in Hanukkah traditions.

Wednesday, July 20th, 2022

11: The Weight of Words

Dorit fangirls over Jamie Lee Curtis, who is a special guest at Kyle's charity luncheon; an eye-opening social media post throws attention on Crystal; Sutton comes to the conclusion that some friendships are not meant to be.

Wednesday, July 27th, 2022

12: Beverly Hills Blackout

Diana apologises to Garcelle for acting out at her birthday party; Lisa has a frank conversation with Erika about her recent behaviour; Kathy's prank annoys but doesn't surprise Kyle.

Wednesday, August 3rd, 2022

13: Rosé Colored Glasses

Garcelle takes her concerns about Erika to Dorit, then asks a question about Dorit's personal life; Erika makes a stunning revelation; Lisa invites the women to sip on rosé, but her past resentment towards Sutton uncorks itself in a big way.

Wednesday, August 10th, 2022

14: Shameless Not Ruthless

Dorit throws a charity dinner to benefit the homeless, but there is little goodwill between Lisa and Sutton; when Lisa's anger turns to tears, her friends rally to her side in her time of need; Crystal opens up about her health issues.

Wednesday, August 17th, 2022

15: Disco Inferno

As Dorit's charity dinner continues, Crystal addresses troubling rumours she's been hearing; Sutton objects to a hurtful label and drops a bombshell in return; the ladies boogie down at Lisa's disco event where Kathy puts her foot in her mouth.

Wednesday, August 31st, 2022

16: Altitude Adjustment

Kyle charters a private plane and flies the women to Aspen in style, but Dorit packs emotional baggage along with her snow pants; the mountain weather isn't the only thing that's cold as Garcelle and Sutton ice out Erika in a very public fashion.

Wednesday, September 7th, 2022

17: The Girl with the Diamond Earrings

The ladies hit the slopes in Aspen where Dorit proves to be shaky on her skis; Sutton goes snowmobiling but is really revved up about Diana; Garcelle broaches a very touchy subject with Erika at dinner.

Wednesday, September 14th, 2022

18: Rocky Mountain Bye

Kyle plans the perfect Aspen day; Diana and Garcelle pick sides, Dorit finds herself caught in the middle; Crystal and Sutton go hat shopping.

Wednesday, September 21st, 2022

19: We Need to Talk About Kathy

Kathy skips the flight home from Aspen; Erika tells Dorit she's hurt; Crystal's Roaring 20's birthday party.

Wednesday, September 28th, 2022

20: Silence Is Golden

Erika throws a pop-up product launch; Dorit and Crystal question old friendships; Erika and Sutton build a new connection; Kathy faces Kyle to apologize.

Wednesday, October 5th, 2022

21: Not My Sister's Keeper

Garcelle celebrates her success with a big party and makes an even bigger purchase with some encouragement from Sutton and Crystal; Lisa's refusal to accept Kathy's apology leaves Kyle holding the bag for her sister.

Wednesday, October 12th, 2022

22: Reunion, Part 1

A surprise visit from a special guest kicks off the chicest Beverly Hills reunion yet. Dorit revisits trauma from her home invasion. Kyle, Lisa, and Erika challenge Crystal's contradictory statements about Sutton's "dark" comments. Garcelle admits to suspicions of bad deeds from some of the women, and tempers boil over when Kyle comes to Diana's defense.

Wednesday, October 19th, 2022

23: Reunion, Part 2

As the reunion continues, Garcelle and Diana hit a point of no return in their already-frayed friendship. Sutton reflects on her ongoing tension with Lisa, who updates the women on her grieving process. Garcelle discovers the "trashy" truth behind Erika's book review. Meanwhile, as Kyle anxiously anticipates her sister's arrival, Kathy Hilton arrives with tequila in tow.

Wednesday, October 26th, 2022

24: Reunion, Part 3

The reunion concludes as Erika is tasked with answering for her questionable decisions, both legally and otherwise. Kathy finally comes face-to-face with Erika and Lisa to confront their allegations over what went down in Aspen. Kyle gets drawn into the middle of a battle between her friends and her sister. Ultimately, the dynamic between Kathy and Kyle takes centerstage as the fate of their relationship hangs in the balance.