update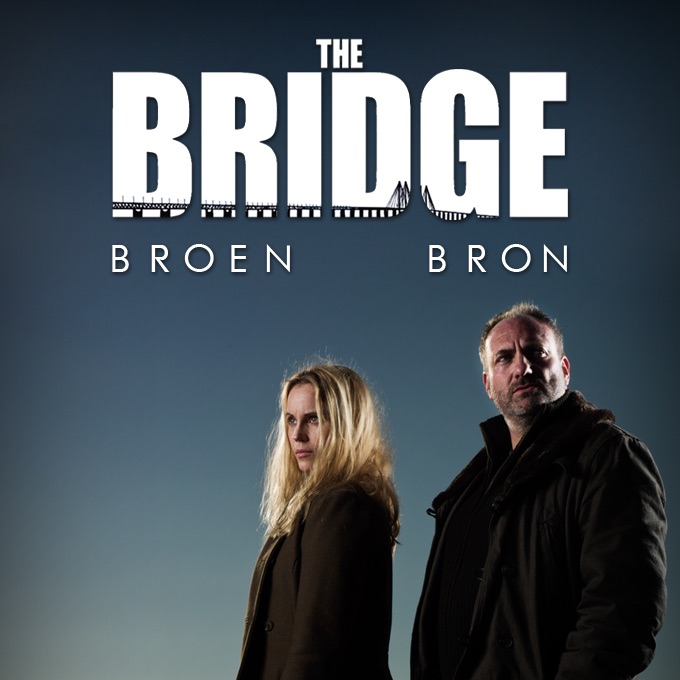 Season 0
Monday, September 21st, 2015

1: Behind the Bridge

The film follows the process from concept to success during the first two seasons. We are involved from the beginning and hear Charlotte Sieling, Niels Sejer and Hans Rosenfeldt talk about the first tentative ideas, the creation of Sofia Helin's character Saga Norén, writing the script and the concept behind the series. We follow the rehearsals and get insight into features around the camera, departments and individuals that together form the basis of the show's success.
Season 1
Wednesday, September 21st, 2011

1: Episode 1

A woman is found murdered in the middle of the Oresund Bridge - on the border between Sweden and Denmark. What looks at first to be one murder, however, turns out to be two.

Wednesday, September 28th, 2011

2: Episode 2

The killer reveals through the media that the murder on the bridge was only the beginning, and his purpose is to draw attention to unpleasant societal truths. Saga and Martin realise they are dealing with a ruthless killer.

Wednesday, October 5th, 2011

3: Episode 3

To draw attention to the increased number of people falling through the cracks of society, the killer kidnaps a homeless man and demands a large ransom from four landlords for his survival. So what is the price of a human being after all?

Wednesday, October 12th, 2011

4: Episode 4

The homeless man's survival depends on the landlords' willingness to pay the ransom. Saga and Martin see that they are dealing with someone who has planned his crimes down to the smallest detail. They wonder if they can catch the murderer off balance by doing something he doesn't expect.

Wednesday, October 19th, 2011

5: Episode 5

The murderer has groomed schizophrenics to commit synchronised violent crimes in Malmo and Copenhagen, to highlight funding cutbacks for mental health care. Saga and Martin get a break in the case, a teenage girl who has run away from home. Could she be the witness that ultimately leads them to the murderer?

Wednesday, October 26th, 2011

6: Episode 6

The failure of integration turns out to be the fourth problem. Copenhagen is in turmoil after a trial in which a group of policemen who assaulted an immigrant causing his death are freed. Another policemen, a witness to the assult who kept quiet, is kidnapped from his home and the search for him leads to riots.

Wednesday, November 2nd, 2011

7: Episode 7

The "Truth Terrorist's" fifth and final problem is our indifference to child labor. A school bus with five children disappears and the offender demands that five companies that indirectly exploit child workers suffer arson attacks. For every company attacked, one child will be spared. Meanwhile, Saga suggests that the evidence is pointing to the offender being a member of the police.

Wednesday, November 9th, 2011

8: Episode 8

Saga and Martin anticipates and hearing a colleague suspected of being "Bromördaren". He proves to have an alibi for all the opportunities for crime, but is he really innocent? The offender is ready, he has succeeded in its aim to point out five problems in society. But Saga have a feeling there will be more. Maybe it's all about personal revenge?

Wednesday, November 16th, 2011

9: Episode 9

Bit by bit in the complex puzzle are in place and the tracks and clues in the investigation leads Saga and Martin to a man who could be the perpetrator. While they come ever closer, it turns out that the case has suddenly become more personal for Martin than he ever could have imagined.

Wednesday, November 23rd, 2011

10: Episode 10

Despite her injury, Saga refuses to give up and will do anything to solve the case. Martin, who is personally involved, is doing everything possible to find the perpetrator in time. It becomes a cat and mouse game where it looks as if the offender will succeed in his personal revenge.
Season 2
Sunday, September 22nd, 2013

1: Episode 1

When the coastguard board a ship headed for the Oresund Bridge, they discover three Swedish and two Danish youths chained below deck.

Sunday, September 29th, 2013

2: Episode 2

While Saga and Martin are quarantined, someone posts a video online where four individuals in masks use signs to claim responsibility for the plague.

Sunday, October 6th, 2013

3: Episode 3

Saga and Martin continue hunting down the eco-terrorists and start profiling them. Martin makes some progress in his meeting with Jens.

Sunday, October 13th, 2013

4: Episode 4

Saga and Martin investigate the killing of the eco-terrorists. Saga rules out suicide. Martin hits it off with his Danish colleague Pernille.

Sunday, October 20th, 2013

5: Episode 5

An important witness has memory loss. The investigation grows and new clues are received. A new attack is carried out.

Sunday, October 27th, 2013

6: Episode 6

A new case of poisoning is linked to Saga and Martin's case. A motor boat is salvaged from the ocean floor.

Sunday, November 3rd, 2013

7: Episode 7

Saga and Martin have a complicated puzzle to solve when a chemical plant is threatened.

Sunday, November 10th, 2013

8: Episode 8

Saga and Martin requestion witnesses and suspect that someone in the group changed the data in the report. Witness Laura wakes up and Martin makes another visit to Jens in prison. Saga tries to find a solution to the problem of cohabitation.

Sunday, November 17th, 2013

9: Episode 9

Police now have a phantom image of the offender. Just as Saga and Martin think that the matter is cleared up, it turns out that the great 'end' points towards Kastrup airport. Martin moved back to Mette and Saga and Martin's friendship put to a severe test.

Sunday, November 24th, 2013

10: Episode 10

Saga and Martin realise the case isn't over and that there is one more perpetrator. But who is Mikkel Host?
Season 3
Sunday, September 27th, 2015

1: Episode 1

A new murder is commited involving a gruesome display of a family sitting at the table. Detective Saga Norén is tasked with the investigation together with a new Danish detective after the incarceration of Martin Rohde.

Sunday, October 4th, 2015

2: Episode 2

Saga and her new Danish colleague continues to investigate the murder of Helle Anker. They try to find Helle's son, but he's vanished without leaving a trace.

Sunday, October 11th, 2015

3: Episode 3

The police are certain that they are on the right track, but will they manage to lure the killer into a trap ? Saga is becoming more and more frustrated and is struggling with her relationships with her mother and her new boss at work.

Sunday, October 18th, 2015

4: Episode 4

Saga is trying to find the links between the killer and the victims, but a hostage drama speed up the investigation.

Sunday, October 25th, 2015

5: Episode 5

Lillian discovers a wound in Hans' mouth, which turns out to be a branding mark. The other two victims are examined again and they also have the same kind of branding mark. The perpetrator is probably branding his victims, but for what?

Sunday, November 1st, 2015

6: Episode 6

Saga and Henrik find a new link between the victims, which points to a new suspect. The investigation becomes more and more demanding, and the police chief increases the pressure on Saga and Henrik.

Sunday, November 8th, 2015

7: Episode 7

Saga and Henrik believe they know who may be the killer's next victim, and the search for the suspect is underway on both sides of the bridge.

Sunday, November 15th, 2015

8: Episode 8

The hunt for the killer becomes more and more intense, Saga and Henrik are confident they know the killer's identity. But they get a new surprise when they detain the suspect.

Sunday, November 22nd, 2015

9: Episode 9

Saga is forced to take time off from the investigation, but Henrik demands that she return. Together they manage to find the link between the victims and the perpetrator.

Sunday, November 29th, 2015

10: Episode 10

Saga and Henrik find a new clue which might lead them to the killer's location. But will they manage to find him in time ?
Season 4
Monday, January 1st, 2018

1: Episode 1

The head of the Danish migration agency is murdered brutally, and the murder is linked to a controversial expulsion case. Investigator Henrik Sabroe needs help from his colleague and friend Saga Norén, but she is in prison for the murder of her mother.

Sunday, January 7th, 2018

2: Episode 2

Henrik's two main clues in the investigation are the left-wing radical group Red October and the refugee Taariq, who has gone underground. On a personal level he tries to realize that he will never figure out what happened to his missing daughters, but then someone begins to show interest in the mystery.

Sunday, January 14th, 2018

3: Episode 3

Henrik and Saga suspect that Taariq and the missing expert on left-wing radicals are hiding something, and collaborate to reveal them. They disagree on how to handle the homeless girls who still refuse to give up their identity.

Sunday, January 21st, 2018

4: Episode 4

Taariq recognizes a car related to the case. He wants to push the owner for money, but is himself accused of robbery. Saga fears that will be more murders and Henrik's efforts for the homeless girls end up in disappointment.

Sunday, January 28th, 2018

5: Episode 5

Saga and Henrik keep searching for a link between the murder victims. Lillian is reprimanded by her superiors. Dan finds out where his ex-wife and son are and causes trouble. The relationship between Saga and Henrik is tested to the limit and may have hit its breaking point.

Sunday, February 4th, 2018

6: Episode 6

Henrik believes he found the connection between all victims and an unexpected finding ends up on the investigation board. At the same time, the crack between him and Saga is greater than ever.

Sunday, February 11th, 2018

7: Episode 7

The inquiry into Tommy continues and Solveig still refuses to cooperate. She talks neither with Saga nor Jonas. The question is how long they can keep her in holding if they do not obtain any evidence. Lillian is still under pressure from the management to find the culprit, and now it seems that there is a leak in the department. In the meantime Saga makes a breakthrough in the search for Henrik's family.

Sunday, February 18th, 2018

8: Episode 8

Henrik and Astrid are trying to get used to being father and daughter again. Meanwhile Saga gets a breakthrough and the murderer is revealed and arrested under dramatic circumstances. The murderer even confesses to the six killings/revenges. But Saga discovers something which doesn't fit. She goes back to the prison in Sweden and talks to the girl who almost killed her, and here she gets a terrible suspicion: there is another killer - and there is still one person left to be a victim!