update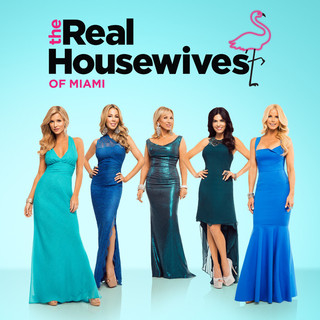 Season 1
Tuesday, February 22nd, 2011

1: Paradise Cost

We meet the ladies of Miami, who can weather the heat, even if it's of the drama variety.

Tuesday, March 1st, 2011

2: Black Ball'd

It's party central between a ladies' luncheon (with transportation issues) and an all-star gala (with an interloper). See the shots from the shindigs here.

Tuesday, March 8th, 2011

3: Optical Delusion

Art-house owner Adriana hosts a gallery opening, but the event begins to fizzle when the artist doesn't complete his paintings in time and her backup entertainment fails to impress.

Tuesday, March 15th, 2011

4: Waterfront & Center

Episode Synopsis: Alexia serves up a full-blown Cuban dinner for the ladies, but vegetarian Lea gripes about the meat on the menu. Meanwhile, Adriana, still wounded from her ill-fated gallery opening, opens up about her various woes. And dramas from the Blacks' past gala come back to haunt Cristy.

Tuesday, March 22nd, 2011

5: Beach Slap

Larsa invites the ladies to a cooking lesson; Cristy and Alexia are in a fashion show for charity.

Tuesday, March 29th, 2011

6: Miami Mamis Know Best

The ladies close out the season with salacious psychic reading, and a surprise luncheon that brings the heat, literally.

Tuesday, April 5th, 2011

7: Reunion

Andy Cohen hosts a reunion instalment featuring the cast of "The Real Housewives of Miami" fielding viewer questions and opining on the dramas of Season 1.
Season 2
Thursday, September 13th, 2012

1: A Tale of Two Miami's

Season 2 opens with a new generation of Miami ladies arriving and upending the lives of Lea, Adriana and Marysol. Here, Lea discovers sightly Lisa Hochstein is her new neighbor. Hochstein, Joanna Krupa, Ana Quincoces and Karent Sierra join the cast.

Thursday, September 20th, 2012

2: Text, Lies and Your Smile Is Fake

Adriana reflects on her inability to open up to her fiancé. Meanwhile, the topic turns to marriage when Karent gives her soap-star boyfriend a massage; Joanna puts the pressure on her paramour regarding their relationship; and Karent confronts Ana about inappropriate texting.

Thursday, September 27th, 2012

3: A Mynt Meltdown

A once outwardly perfect relationship begins to show cracks; Adriana continues to shy away from marriage talk; and Adriana flirts at a nightclub.

Thursday, October 4th, 2012

4: She Beat Me to the Tweet!

Tension flares between Joanna and Romain; Adriana decides to go au naturel for art and excludes Karent from an art exhibition; Ana gives Joanna relationship pointers; Lisa warns Karent about the other ladies.

Thursday, October 11th, 2012

5: Eager Beaver

Joanna tries to mend a struggling relationship. Also Karent receives some advice on how to deal with the mean-spirited people in her life. Meanwhile drama flows when all the ladies attend a noble charity gala; Karent gets a warning about Adriana, and Alexia throws her first bash in months.

Thursday, October 18th, 2012

6: Sexting Candles

Miami's high society anticipates Alexia's big bash; Adriana revs up to confront Karent but will things go smoothly or get out of control; and Joanna discovers that there's a downside to being a supermodel. Also: Hidden E-mails come into play that ensure a lot of drama & controversy.

Thursday, October 25th, 2012

7: Bras and Brawls (Part 1)

Karent can't seem to get on anyone's good side, and the mood just gets uglier when Adriana discovers Karent was making catty remarks about the other ladies. The stress levels are high as Lisa and Lea both gear up for their big charity fundraisers. When the night of Lisa's Lingerie Party arrives, no one is prepared for what happens when the moon is full, Joe Francis is in town, and half-naked Miami socialites start acting as naughty as their underwear.

Sunday, October 28th, 2012

8: Bras and Brawls (Part 2)

Conclusion. Lisa's lingerie shindig continues with a shocking confession, a temper tantrum, a confrontation involving one of Karent's friends and a battle royal that leaves the party in shambles.

Thursday, November 1st, 2012

9: Conflicting Conflict

The Blacks prep for their annual gala, but Lea worries about potential drama among the ladies, so she enlists a psychic to bring positive energy to the group. Meanwhile, Marysol is a no-show for the event, as she visits Ana to have a major conversation.

Sunday, November 11th, 2012

10: A Better or Bitter Place

Alexia hosts a summit dinner in an effort to resolve the dramas that are dividing the Miami ladies. All the women attend, including Lea, who's coping with a monumental heartbreak. Also: Joanna plays in a beach-based volleyball tournament.

Thursday, November 15th, 2012

11: Uncomfortably Public Relations

Lea is advised to patch things up with Marysol, but discord takes center stage when the ladies attend Miami socialite Lisa Pliner's shoe showcase. Marta moves back to Joanna and Romain's home and Karent tries to smooth things over with the ladies by organizing a dinner party.

Thursday, November 29th, 2012

12: Parents Fly South

In a parents-theme edition, Lisa's demanding in-laws arrive; Adriana hosts a party for her fiancé's parents; and Joanna's mother journeys to Miami for a heart-to-heart conversation. Also: Tensions between Marysol and Elaine reach the breaking point.

Thursday, December 6th, 2012

13: Elsa Foretells a Storm

The ladies delight in a Bahamian weekend getaway. New alliances are created, Lea goes wild—and one woman receives shocking news.

Thursday, December 13th, 2012

14: Surrounded By Hot Water

A family emergency impacts Karent. Elsewhere, a special dinner turns explosive when Lea and Marysol address their issues.

Thursday, December 20th, 2012

15: Healing Hole

Stormy conditions are keeping the ladies stuck together on Bimini, but the women try to find some peace and discover that perhaps the island has healing elements after all. When they finally make it back to Miami they return with new found focus and profound motivation to better their lives. Relationships are on the chopping block and it's the moment of truth for all of those with burdens weighing them down.

Thursday, December 27th, 2012

16: Reunion (Part 1)

Hosted by Bravo's Andy Cohen, Part 1 brings Lea Black, Marysol Patton, Adriana De Moura, Ana Quincoces, Joanna Krupa, Karent Sierra, and Lisa Hochstein to rehash this season's drama.

Thursday, January 3rd, 2013

17: Reunion (Part 2)

Hosted by Bravo's Andy Cohen, part two reunites Lea Black, Marysol Patton, Adriana De Moura, Ana Quincoces, Joanna Krupa, Karent Sierra, and Lisa Hochstein to discuss catfights and confrontations on this season. Alexia Echevarria and Elsa Patton join the ladies to rehash the drama.

Tuesday, January 8th, 2013

18: Lost Footage

Host Andy Cohen opens up the Bravo vault to show never before seen footage, from Adriana's dramatic acting gig to Lea's unconventional relationship with her housekeeper, Freida, and much more.
Season 3
Monday, August 12th, 2013

1: Til Lies Do Us Part

Adriana and Lea deal with fallout from a scandal; Lisa's attempt to get the group together falls apart.

Monday, August 19th, 2013

2: Hurricane Adriana

Adriana and Lea's feud comes to a head; Romain has a question for Joanna that may jeopardize their wedding; Lisa has problems with the property she's buying.

Monday, August 26th, 2013

3: Booby-Trapped

Adriana and Lea's feud divides the group; Alexis reveals a secret from her past.

Monday, September 2nd, 2013

4: Black Magic

Romain surprises Joanna, but doesn't show to their first therapy appointment; Marysol visits her psychic and gets shocking news; Lea reveals a secret to Lisa; Frederic confronts Romain.

Monday, September 9th, 2013

5: A Cause for Concern

Lea's annual gala; Alexia struggles to pick a side; Lisa tries to cope with the idea that she needs a surrogate.

Monday, September 16th, 2013

6: A Ple-Thora of Lies

Lisa endures another visit from her in-laws; Adriana and Lea continue to fight; the ladies come together for a birthday party at Lea's house.

Monday, September 23rd, 2013

7: La La Land

Joanna gets help with her wedding; Alexis ex-husband has trouble with the law; Adriana's wedding plans hit complications.

Monday, September 30th, 2013

8: Mama Elsa Comes Home

Joanna and Adriana try to reconcile; Elsa comes home from the hospital; the sex therapist assigns Joanna and Romain homework; Alexia and Peter try to work through their issues.

Monday, October 7th, 2013

9: Birkin Buddies

As Adriana botoxes her prince and makes unreasonable demands on her guests, Marysol and Alexia plot to stop the Brazilian Bridezilla from ruining her dream wedding. Romain and Joanna discover there's more to their sex problems than meets the eye, and Marysol confronts Lea at Alexia's birthday party about not reaching out to Elsa. But Lisa vehemently comes to Lea's defense in a way we've never seen her before.

Monday, October 14th, 2013

10: Brazilian Bridezilla

After six years of romantic bliss, Adriana and Frederic finally get to consummate their marriage license among the eyes of the church. With all eyes on Adriana, wedding bells transform this Brazilian beauty into a blustering Bridezilla. As her bridesmaids try not to sing the blues, Adriana's guests are forced to anxiously wait for the bride-to-be.

Monday, October 21st, 2013

11: The Black Sheep

Lea and RJ take a trip back to Texas with Lisa in tow. Meanwhile, Alexia celebrates her wedding anniversary; Marysol breaks down about her mother's health; and Joanna and Romain announce their wedding date to Romain's parents.

Monday, October 28th, 2013

12: Bridesmaid Breakdown

After Lisa's trip to Texas, she's more committed than ever to tearing down Lea's walls and getting her and Adriana back together. Meanwhile Joanna is feeling the pressure of planning her wedding and takes it out on Lisa in a blowout that makes Lisa question her friendship with her. And after months of feuding, Adriana and Lea finally meet at her ballroom reveal party and hash out their issues, but will it be the happy ending they've all been looking for?

Sunday, November 3rd, 2013

13: Blame It on the Alcohol

It's Joanna's last night being single and the girls go to Vegas to celebrate. Adriana meets resistance when she tries to mend fences with Lea. Everyone is shocked to see Joanna and Adriana start to bond, but when the drinks start to flow, Lisa's erratic behavior starts to get on the ladies' nerves.

Monday, November 4th, 2013

14: Mrs. Zago

Joanna and Romain's wedding has finally arrived. Alexia and Lisa receive some promising news. Adriana starts to see a brighter side of Lea.

Monday, November 11th, 2013

15: Reunion (Part 1)

Part 1 of 2. The Miami ladies reunite to address Season 3's dramas. Included: Joanna and Lisa's friendship is sorely tested; and Alexia's motives are questioned.

Thursday, November 14th, 2013

16: Reunion (Part 2)

Conclusion. There's Miami heat when the wives reunite to discuss the highs and woes of Season 3. Here, Lisa goes on the attack when accusations fly; Marysol talks about Elsa; and a feud involves Lea.