update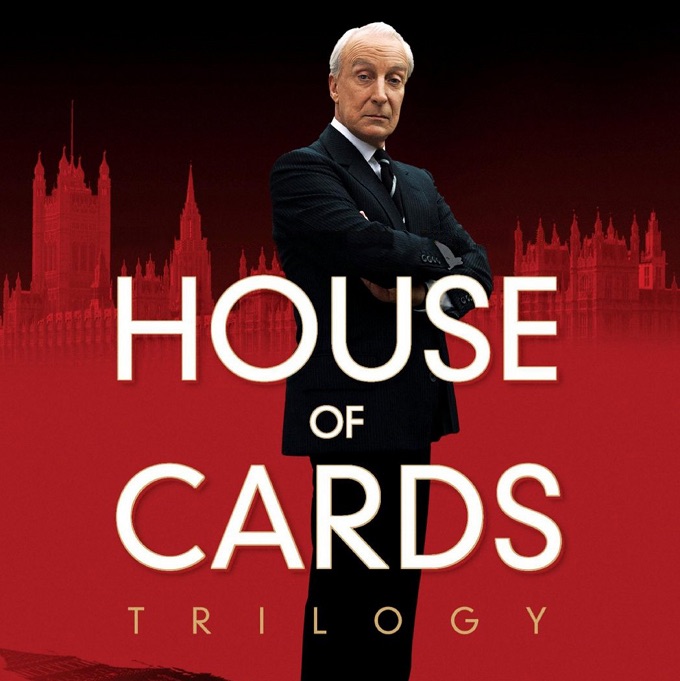 Season 0
Wednesday, November 16th, 2022

1: Michael Dobbs Remembers... House of Cards

Author, politician and member of the House of Lords Michael Dobbs looks back on the TV drama that had 90s Britain hooked on political intrigue and infighting. Based on his best-selling novel, the BBC adaptation of House of Cards introduced television viewers to Francis Urquhart, the chief whip pulling the strings as a Conservative government experiences a leadership crisis that sees reputations and lives destroyed. Lord Dobbs considers the seductive appeal of Urquhart and how Ian Richardson's portrayal of the character helped him instantly become one of the great TV villains. He also recalls how the very week that the BBC first broadcast House of Cards coincided with a real-life political meltdown as Margaret Thatcher was forced from office, and the fact that the latest screening comes after some of the biggest political upsets for decades. Coincidence? To quote Urquhart himself: 'You might think that... I couldn't possibly comment.
Season 1
Sunday, November 18th, 1990

1: House of Cards - Episode 1

Francis Urquhart is the perfect politician. Impeccably diplomatic, charming, admired, trusted and respected by all. He has faithfully served his party without question, but events are about to spark his ambition. When the long-standing Prime Minister departs, the hunt is on to find a replacement. Urquhart is a hard-line Conservative and believes in strong leadership. In his eyes, none of the choices measures up. Naturally, he keeps his opinions to himself, but as Party Whip, his support is valuable, and he is courted by all the candidates. He must tread warily, as supporting the loser could cost him his position. Supporting the winner, however, could land him a Cabinet position.

Sunday, November 25th, 1990

2: House of Cards - Episode 2

The new Prime Minister, Collingridge, tells Urquhart that he is far too valuable in his current post to be offered a ministerial position. Urquhart is furious but hides his contempt of the man under his usual urbane smile. Collingridge, he believes, will not last long and perhaps something can be arranged to hasten his departure. Meanwhile, it might be a good idea to surreptitiously undermine the leader and start maneuvering in his own favor. And, as luck would have it, an inexperienced young journalist, Mattie Storin, is innocently hanging on his every word. He pretends to be helping her learn about Westminster politics, instead he uses her to leak damaging stories about his rivals. As the Party gathers for its annual conference, the scandals begin to break.

Sunday, December 2nd, 1990

3: House of Cards - Episode 3

Collingridge is in deep political trouble and he has no alternative but to step down as Prime Minister. Ironically, he still has great faith in Urquhart, whom he feels is the only man he can trust. However, as the scandals and leaked stories have gained momentum, political journalist Mattie Storin begins to suspect that Collingridge has been framed. But who is the culprit? By now, she is too emotionally involved with Urquhart (her loving "Daddy") to realize how she has been used.

Sunday, December 9th, 1990

4: House of Cards - Episode 4

Urquhart's ruthless scheming has worked. As the leadership election looms, all his leading rivals have been discredited. But even though the obstacles in his way have been erased, there is still no guarantee of his winning. Meanwhile, by the process of reason and elimination, the truth is beginning to dawn on Mattie, though she can hardly bring herself to believe that "Daddy" is not what he seems. As for Urquhart, he has too much to lose now to let sentiment stand in his way. He will go to any lengths to prevent her, or anyone else, from finding out just what he has done to gain power.
Season 2
Monday, November 22nd, 1993

1: To Play The King - Episode 1

Francis Urquhart is now triumphantly installed in No. 10 as Prime Minister, but uneasy at the memory of Mattie Storin, the young journalist he murdered on his way to the top. He is also facing criticism from an unexpected source. The newly crowned King is appalled by his unfeeling, materialistic policies. However, Urquhart has lost none of his relish for the fight.

Monday, November 29th, 1993

2: To Play The King - Episode 2

The King is insisting that politicians should have the interests of the populace more at heart. For appearances sake, Urquhart pretends to take a more temperate stance towards the King's attack on his policies.

Sunday, December 5th, 1993

3: To Play The King - Episode 3

"I am, in fact, extremely angry with His Majesty, and I intend to do him harm." The antagonism between the King and Prime Minister develops into full confrontation as Urquhart accuses the King of trying to organize a bloodless coup against the Government.

Monday, December 13th, 1993

4: To Play The King - Episode 4

Urquhart gives the King an ultimatum which could change the history of the British Monarchy.
Season 3
Sunday, November 5th, 1995

1: The Final Cut - Episode 1

Urquhart's wife, Elizabeth, wants to make provisions for their future and introduces him to Nures, a Turkish Cypriot businessman who reveals the existence of an oil seam in the disputed sea boundary line between the two countries. Nures suggests that Urquhart might be able to influence the British judge who will be chairing the international arbitration panel in return for a handsome consultancy fee, which could be used to set up an Urquhart Trust as their own private pension plan. Tom Makepeace, the Foreign Secretary, is angry with Urquhart for taking all the credit for the Cyprus peace plan. Also keen on winning power is the ultra right wing Home Secretary John Rayner. Urquhart is involved in an unexpected motorway crash and taken to hospital. While recovering from a head wound, the past he thought dead and buried in Cyprus emerges to haunt him.

Sunday, November 12th, 1995

2: The Final Cut - Episode 2

In the House of Commons, the Chancellor of the Duchy of Lancaster announces the release of war documents relating to the war in Cyprus in the 1950s. A young Greek Cypriot girl accosts Urquhart, asking for help in tracing the war graves of her uncles who were helping the resistance movement. At the public records office they discover a record of the incident but the names and map references have been blacked out. Urquhart promises to help her. Meanwhile, Claire Carlsen arrives to justify her bid for the job of Urquhart's Parliamentary Private Secretary. She admits to him that she is having an affair with Tom Makepeace, but stresses she wants to be on the winning side, Urquhart's side. News comes through that Sir Clive Wading, the judge chairing the international arbitration panel, has decided in favor of the Turkish side, so Elizabeth and Urquhart toast their pension plan. Urquhart precipitates Makepeace's resignation.

Sunday, November 19th, 1995

3: The Final Cut - Episode 3

Urquhart's bad dreams are worsening and Elizabeth is worried about him. He is making bad decisions, such as appointing Geoffrey Booza Pitt as his Foreign Secretary to replace Makepeace. Claire is shocked when Makepeace announces he is breaking off their relationship. Urquhart is complacent, but even he is stunned when Makepeace reveals that he is standing for the Party leadership. Claire arouses Maria's suspicions when she tells her that Urquhart is unable to help her trace her uncles' graves and suggests that Maria go to Makepeace for help. Geoffrey and Claire are running Urquhart's leadership campaign, but he has only a small majority of MPs backing him. Urquhart seeks to avert the gathering disaster by announcing the happy news of the consolidation of the Cyprus Peace Treaty through the agreement of the sea boundaries. Elizabeth meets Nures again and learns that the first half of a substantial consultancy fee has been paid into a Swiss bank account. Makepeace attacks Urquhart in the House about the cover-up on the Cyprus war graves.Then the leadership ballot results prove disastrous for Urquhart. He knows he needs a miracle to save him. A flash of inspiration; he will leak information about the oil find and persuade the Greek Cypriots that they have been deliberately swindled.

Sunday, November 26th, 1995

4: The Final Cut - Episode 4

The news of the Cyprus oil find has rocked Greek Cyprus and serious civil unrest has broken out. When the news breaks that the British High Commission has been seized by rebels and the High Commissioner held hostage, Urquhart launches a strong-arm offensive. A swift triumph restores Urquhart's political standing at home and leaves Makepeace floundering. Meanwhile, Claire learns the truth about her boss's war record. After the Army rescues the High Commisioner and the Greek Cypriot President from captivity, Urquhart again orders strong-arm tactics when a convoy carrying them back to the capital is halted by a group of schoolgirls flanked by soldiers. The incident ends in tragedy; some schoolgirls are killed. As the headlines scream for his resignation, Urquhart's fate is sealed. Elizabeth reassures Urquhart everything will be all right in the end. But, when the end finally comes, no one is more surprised than Urquhart.