update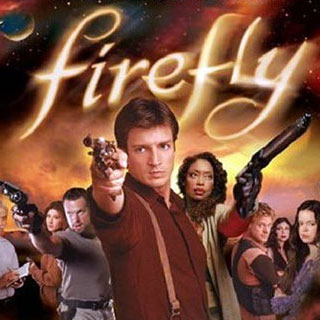 Season 0
not specified

10: Joss tours the set

Tuesday, December 9th, 2003

12: Firefly Easter Egg - Adam Baldwin As Jayne Sings "Hero of Canton"

Adam Baldwin sing the song "Hero of Canton" from the episode "Jaynestown". He even wears the knit cap that Jayne wears in the episode "The Message". The duration of this hidden chapter from the Firefly DVD set is 2 min 36 sec

Tuesday, December 9th, 2003

5: Here's How It Was: The Making of 'Firefly'

Making of explaining the ideas of the show and showcasing how different scenes where filmed

Tuesday, December 9th, 2003

6: Serenity: The 10th Character

Explains the design and visual effects around the spaceship central to the series

Wednesday, September 7th, 2005

4: R. Tam Sessions

Five short vignettes, sequenced out of chronological order, depict excerpts of counseling sessions between River Tam, played by Summer Glau, and her unnamed therapist, played by Whedon, while she is held at the Alliance Academy.

Friday, September 30th, 2005

1: Serenity

In the future, when a passenger with a deadly secret. Six rebels on the run. An assassin in pursuit. When the renegade crew of Serenity agrees to hide a fugitive on their ship, they find themselves in an awesome action-packed battle between the relentless military might of a totalitarian regime who will destroy anything - or anyone - to get the girl back and the bloodthirsty creatures who roam the uncharted areas of space. But, the greatest danger of all may be on their ship.

Friday, July 28th, 2006

2: Done the Impossible

"Done the Impossible" is a documentary fan film of the TV series "Firefly". Its main focus is on the fans themselves, and how they came to love the show and, ultimately, played a part in getting the film "Serenity" made.

Friday, August 1st, 2008

7: Firefly Reunion: Lunch with Joss, Nathan, Alan and Ron

Firefly Reunion: Lunch with Joss, Nathan, Alan and Ron

Friday, August 1st, 2008

8: Alan Tudyk's Audition

During the casting process actors sent in videotaped auditions of themselves. Here is Alan's first take on one of Wash's key scenes from the Pilot Episode

Friday, August 1st, 2008

9: Joss sings the Firefly theme

Joss Whedon not only wrote the "Ballad of Serenity" he sang and played guitar on a preliminary version of it to convey his personal take on the theme son.

Friday, August 1st, 2008

11: Gag Reel

Sunday, November 11th, 2012

3: Browncoats Unite

Before the San Diego Comic-Con of 2012, the cast of Firefly unite after 10 years to discuss the lasting impact of one of the most short-lived, yet somehow massively influential and beloved shows of all time. Several cast members not present are interviewed and added to the presentation.
Season 1
Friday, September 20th, 2002

1: The Train Job

The Serenity crew is coerced into pulling a train robbery. When they discover the stolen cargo is actually medicine intended for refugees, they are forced to reevaluate their priorities.

Friday, September 27th, 2002

2: Bushwhacked

The Serenity crew drifts upon the ruins of a colony ship and goes on a salvage mission. The expedition turns from bad to worse when the entire crew massacred… except for one.

Friday, October 4th, 2002

3: Our Mrs. Reynolds

Mal unwittingly marries a beautiful village girl during a job in the backwater. But the surprises don't end there.

Friday, October 18th, 2002

4: Jaynestown

When the Serenity crew travels to a planet to strike a smuggling deal, Jayne discovers the populace worships him as a hero; Inara makes a man out of a magistrate's 26-year-old virginal son; Book's nerves fray as he tends to River.

Friday, October 25th, 2002

5: Out of Gas

When Serenity's life support system fails, Mal orders the crew off the ship — but he stays behind.

Friday, November 1st, 2002

6: Shindig

On a mission to transport some goods on the planet Persephone, the Serenity crew attend a ball where Mal finds himself at odds with one of Inara's "clients."

Friday, November 8th, 2002

7: Safe

Things go terribly wrong during a job on an outer planet; both Simon and River are kidnapped by the locals in need of a doctor, while the rest of the crew finds themselves in need a doctor of their own.

Friday, November 15th, 2002

8: Ariel

On return to Ariel, Simon hires the crew out to smuggle River into a hospital so Simon can figure out what the Alliance did to her.

Friday, December 6th, 2002

9: War Stories

Tensions begin to run high on board the Serenity when Wash finds himself feeling threatened by the closeness between Mal and Zoe.

Friday, December 13th, 2002

10: Objects in Space

A bounty hunter named Jubal Early sets his sites on capturing River Tam and manages to sneak aboard the Serenity in deep space.

Friday, December 20th, 2002

11: Serenity

In desperate times, the crew of Serenity is transporting passengers to another planet, only to discover that one of them has smuggled something strange in their cargo.

Monday, June 23rd, 2003

12: Heart of Gold

The Serenity goes to the moon of Deadwood to answer a distress call from Inara's old friend who runs a brothel.

Monday, July 21st, 2003

13: Trash

Mal has to make a tough choice in whether he should trust Saffron when she offers the Serenity crew an opportunity to make a lot of money on a risky job.

Monday, July 28th, 2003

14: The Message

What starts out as a nice day at a space station goes very wrong when Mal and Zoe receive the corpse of their old war buddy in the mail.