update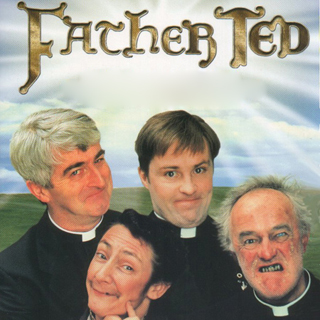 Season 0
9: Interview with Writers Part 1

10: Tedfest 2007: A Very Ted Weekend

11: Comedy Connections

12: Comic Relief with Ted & Dougal

13: Tedfest 2007: Two Tribes go to War

14: Interview with Writers Part 2

17: Fundraising with Father Dougal

Friday, March 22nd, 1996

8: Ardal O'Hanlon Interview

Excerpt from Pebble Mill. Hosted by Sarah Green.

Tuesday, December 24th, 1996

1: A Christmassy Ted

Christmas Special Ted, Dougal and a host of other misfit priests become lost in Ireland's largest lingerie department, and an ecclesiastical scandal seems inevitable. Fortunately, Ted's Vietnam-style leadership brings the priests safely out, and for his services to the Church Ted is awarded a coveted Golden Cleric. However, he uses his acceptance speech to wreak verbal revenge on each and every person who has done him down over the years. Meanwhile, Mrs Doyle fears redundancy when the Parochial House gets new technology in the form of a tea-making machine. Needless to say, everything turns out for the best...well...sort of.

Friday, March 14th, 1997

2: Comic Relief with Ted & Dougal

Ted and Dougal are enlisted to host the annual Comic Relief telethon. Ted is baffled as to why Comic Relief would select two unknown Irish priests for the job. Dougal theorises that God planned the event as an opportunity for Ted to atone for stealing money from a charity. Ted decides God may forgive him if they succeed in raising the target of £8 million.

Monday, June 16th, 1997

7: Hosting Comic Relief

Saturday, January 1st, 2011

3: Unintelligent Design

A rare opportunity to poke around inside the heads of Father Ted creators Graham Linehan and Arthur Mathews and find out who they admire and where they draw their inspiration from. Every comedy writer has been influenced in some way by what came before, and they are certainly no different. By revealing what makes up their own comedy DNA, they show what inspired them to create Father Ted and the rest of the Craggy Islanders. There are clips from some comedy classics that you would expect - such as Fawlty Towers, Only Fools and Horses, Seinfeld and The Simpsons - as well as weird stuff from the real world which inspired some of their favourite characters. They discuss the comedians and stand-ups, the priests, politicians and Irish beauty pageants which have directly influenced their comedy world, as well as their obsession with the feature film

Saturday, January 1st, 2011

4: Small, Far Away - The World of Father Ted

On the 15th anniversary of its launch, this documentary follows Father Ted creators Graham Linehan and Arthur Mathews as they return to Craggy Island on a road trip across Ireland, taking them back to some of the key filming locations from the series. Father Ted captured a specific Irish humour rarely seen on screen and its impact doesn't seem to have faded. The show is revealed as a product of a pair of ambitious writers, a brilliant cast and the gently confident producer Geoffrey Perkins, whose suggestion of turning a one-off mock documentary into a sitcom helped make it the much-loved show it is today. Ardal O'Hanlon, Frank Kelly, Graham Norton and many others pitch in with their reminiscences of the show, the passion it inspired and their memories of the late, great Dermot Morgan.

Saturday, January 1st, 2011

15: Father Ted: Unintelligent Design

Father Ted creators Graham Linehan and Arthur Mathews discuss who they admire and where they draw their inspiration from. In this special they show what inspired them to create Father Ted and the rest of the Craggy Islanders. They talk about the comedians and stand-ups, the priests, politicians and Irish beauty pageants which have directly influenced their comedy creation.

Saturday, January 1st, 2011

16: Small, Far Away - The World of Father Ted

On the 15th anniversary of its launch, this documentary follows Father Ted creators Graham Linehan and Arthur Mathews as they return to Craggy Island on a road trip across Ireland, taking them back to some of the key filming locations from the series. Father Ted captured a specific Irish humour rarely seen on screen and its impact doesn't seem to have faded. The show is revealed as a product of a pair of ambitious writers, a brilliant cast and the gently confident producer Geoffrey Perkins, whose suggestion of turning a one-off mock documentary into a sitcom helped make it the much-loved show it is today. Ardal O'Hanlon, Frank Kelly, Graham Norton and many others pitch in with their reminiscences of the show, the passion it inspired and their memories of the late, great Dermot Morgan.

Saturday, June 3rd, 2017

5: Ted Fest 2007 - A Very Ted Weekend

Ted Fest Weekend 2007

Saturday, June 3rd, 2017

6: Ted Fest 2007 - Two Tribes Go To War

A stand off between two islands fighting for the right to be called Craggy island
Season 1
Friday, April 21st, 1995

1: Good Luck, Father Ted

Ted gets his chance to be on television when he is to be interviewed by a magazine programme. 'FunLand', the most pathetic travelling fair ever invented, has come to Craggy Island, and while Ted is distracted with Father Jack, Dougal seizes his moment of glory.

Friday, April 28th, 1995

2: Entertaining Father Stone

The world's most boring priest comes to stay, and he just won't go away. After his worst ever birthday party, Father Ted prays for deliverance from Father Stone, but a sign from God wasn't what he expected.

Friday, May 5th, 1995

3: The Passion of Saint Tibulus

The local cinema is showing a film condemned by the Church for its X-rated and blasphemous depiction of Saint Tibulus. Bishop Brennan is dispatched to the island to ensure that the priests take to the picket line in protest. But their defiant stand only gives more publicity to the film, which becomes an overnight success. It is left to Father Jack to stop the Bishop from sending them packing.

Friday, May 12th, 1995

4: Competition Time

It's the 'All Priests Stars In Their Eyes Lookalike Competition', and showbusiness personality Henry Sellers, a former alcoholic, has landed on the island to host the festivities. Father Ted is determined not to go as Mother Teresa again, but he isn't the only one to think of Elvis. It takes some quick thinking to beat Father Byrne's team from nearby Rugged Island.

Friday, May 19th, 1995

5: And God Created Woman

A blossoming romance between Father Ted and steamy novelist Polly Clarke threatens to come between a group of visiting nuns and their favourite priest. Among other things, Ted delivers an entire service in a matter of milliseconds, and becomes involved in an armed robbery.

Friday, May 26th, 1995

6: Grant Unto Him Eternal Rest

After an overdose of floor polish, Father Jack finally bites the dust, and Ted and Dougal discover they've been left a fortune in his will...providing they allay his fear of being buried alive by spending a night with him in the crypt.
Season 2
Friday, March 8th, 1996

1: Hell

Ted, Dougal and Jack go on an all-expenses-spared holiday to Kilkelly Caravan Park. They meet a young couple, and are soon in trouble with the police. Entertainment comes in the shape of St Kevin's Stump and the Magic Road. Father Jack goes missing; Father Noel Furlong and his youth group turn up to put the final nail in the coffin of the holiday.

Friday, March 15th, 1996

2: Think Fast, Father Ted

The roof of the Parochial House is leaking, and Ted decides on a raffle to raise the funds, with a car as the prize. Unfortunately, an accident with a cyclist puts something of a dent in the vehicle. A similar car is borrowed from the Dancing Priest in order to save the raffle; however, the priests must then win in order to return the car. Despite this intrigue, the roof does not get repaired.

Friday, March 22nd, 1996

3: Tentacles of Doom

The Holy Stone of Clonrichert is to be upgraded to a class 2 relic, and unfortunately this entails three Bishops visiting the island - Father Jack must be housetrained quickly. Only one of the bishops dies - Ted therefore considers this to have been a relatively successful visit.

Friday, March 29th, 1996

4: The Old Grey Whistle Theft

Ted goes on a picnic, Mr Benson's whistle is stolen and Dougal learns an important lesson about true friendship. Ted narrowly avoids incriminating himself to save Dougal's worthless hide

Friday, April 5th, 1996

5: A Song for Europe

Fathers Ted and Dougal enter A Song For Europe with My Lovely Horse. The tune is stolen from the b-side of a Norwegian song that didn't even win A Song For Norway but the lyrics are all their own work. Somehow they get through to Eurovision and score.... nil points.

Friday, April 12th, 1996

6: The Plague

Rabbit-phobic Bishop Brennan pays a visit to investigate reports of Father Jack sleepwalking naked. Unfortunately Dougal has overrun the house with rabbits, and a Terry & June-style farce ensues as Ted and Dougal attempt to keep Father Jack in bed, and the ever-multiplying rabbits away from the bishop.

Friday, April 19th, 1996

7: Rock A Hula Ted

Ted is asked to compere the 'Lovely Girls' competition while Dougal is left in charge of the house. Father Jack is mistaken for Bob Geldof and Dougal manages to give the house away to a feminist rock star called Niamh Connolly. Ted has to get the house back, but how will this affect his dinner plans with the winner of the 'Lovely Girls' competition?

Friday, April 26th, 1996

8: Cigarettes and Alcohol and Rollerblading

Ted and co. enter a giving-things-up-for-Lent contest and soon discover that abstinence is easier preached than done. Father Jack sobers up for the first time in years, but Dougal and Ted find their resolve wavering. To strengthen their vows Ted calls in a nun to supervise them. She turns out to be a sadist of the first water, and the results are inevitable.

Friday, May 3rd, 1996

9: New Jack City

After discovering Father Jack is suffering yet again(!) from "hairy hand syndrome," Ted is delighted to send Jack, by "doctor's orders," to St. Clabberts Old Folks Home (otherwise known as 'Jurassic Park'). Unfortunately, Jack's replacement happens to be one of the nastiest priests ever - Father Fintan Stack. Along with his disregard for the church, Stack has a rather irritating habit of playing jungle music loudly at 3 o'clock in the morning, and a plan is hatched to get Jack back to sort out Stack.

Friday, May 10th, 1996

10: Flight into Terror

Ted and co. end up being crammed in a plane along with every other priest who has appeared in their lives after a visit to the Shrine of Kinlettle. In a fit of the usual stupidity, Dougal manages to empty the fuel tanks on the plane. To make matters worse, there are only two parachutes to go around many more priests, so Ted devises a way for the priests to compete for the parachutes. Unfortunately, Jack has other plans for the parachutes.
Season 3
Friday, March 13th, 1998

1: Are You Right There, Father Ted?

Ted finally escapes to a new posting at Castlelawn Parochial House, Dublin, with civilised company and frequent jaunts to Paris. Unfortunately a slight misunderstanding over some expenses sends Ted back to his old compadres on the island. After a spot of lad's housecleaning results in Ted being mistakenly tarred as a racist, Ted holds a celebration of Chinese culture to clear his name (though 'Kung Fu Fighting' might not have been an inspired choice of soundtrack). Just when it looks like a happy ending might be in store, a mix-up over some soft furnishings and Nazi memorabilia leaves the Chinese community with a sweet'n'sour taste in the mouth.

Friday, March 20th, 1998

2: Chirpy Burpy Cheap Sheep

Ted gets mixed up in a web of intrigue and double-cross when he bets the Parochial House heating budget on Chris, the burping sheep. The lads bring Chris to stay at the house in an attempt to improve his chances at 'King of the Sheep 98', but can Ted quell his burping in time for the great day?

Friday, March 27th, 1998

3: Speed 3

Ted and Dougal turn detective to discover who's behind the bumper crop of hairy babies on Craggy Island. However when justice is done on the culprit he takes a terrible revenge. Dougal's moonlighting stint as island milkman is marred by a bomb set to go off if the milk float drops below 4 mph. Does 'The Poseidon Adventure' hold the key to his rescue, or would Father Jack's pet brick come in more useful?

Friday, April 3rd, 1998

4: The Mainland

A perfectly routine trip to the mainland results in Dougal almost dying from malnutrition, Mrs Doyle being chucked in the clink, Ted nearly being beaten up by Victor Meldrew, and Father Jack joining Alcoholics Anonymous. A chance encounter with old friends Noel Furlong and the St. Luke's Youth Group in some spooky caves spells spelaeological trouble for our heroes.

Friday, April 10th, 1998

5: Escape from Victory

It's the All-Priests Over-75s Five-A-Side Football challenge, and disaster looms when Ted's star player is nobbled by a bottle of Dreamy-Sleepy Nighty Snoozy-Snooze. Fortunately a pair of fake rubber arms and a remote-controlled wheelchair put our lads in with a chance of beating Dick Byrne this year. As long as they can fool the referee...

Friday, April 17th, 1998

6: Kicking Bishop Brennan Up The Arse

A lost bet with Dick Byrne means Ted has to kick Bishop Brennan up the arse. On cue, Len arrives with PA Father Jessup, the world's most sarcastic priest. Elaborate preparations, a camera, a skirting board, a set of watercolours and some psychological warfare on Ted's part ensure a successful outcome... or do they?

Friday, April 24th, 1998

7: Night of the Nearly Dead

Jumper-wearing pop sensation Eoin McLove comes to visit. Unfortunately his presence leads hundreds of infatuated middle-aged ladies to surround the house, and the usual hilarious mix-ups ensue. But McLove's easy-going stage persona masks a terrible secret..

Friday, May 1st, 1998

8: Going to America

Ted performs a genuinely unselfish act, and is rewarded with the offer of a parish in California - his wildest dreams come true. However, parting from his long-time companions at the Parochial House proves tricky. Unless Ted can break the news of his departure tactfully to Dougal, Jack and Mrs Doyle, he won't be going to America...