update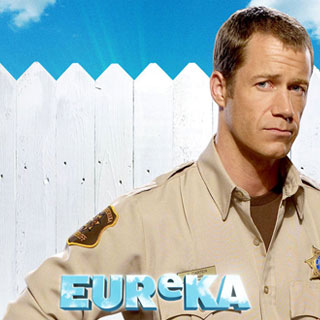 Season 0
not specified

1: Hide and Seek Prologue

A mysterious presence in the woods outside town first sparks fear, then prompts an investigation which quickly involves all of Eureka's eccentric denizens.

not specified

2: Hide and Seek Webisode 1

Video of a beast outside Eureka spurs Carter and Taggert into action.

not specified

3: Hide and Seek Webisode 2

Carter, Lupo and Taggart search the woods for the beast

not specified

4: Hide and Seek Webisode 3

Allison Blake has a frightening run-in with the creature.

not specified

5: Hide and Seek Webisode 4

An autopsy of the creature leads to a shocking discovery.

not specified

6: Hide and Seek Webisode 5

Carter follows the latest clues to a fateful confrontation.

not specified

7: Hide and Seek Webisode 6

Carter finds the "missing link" to the mystery monster.

not specified

8: Hide and Seek Webisode 7

Carter finds the "missing link" to the mystery monster.

Friday, July 9th, 2010

9: Lets All Go to Eureka

See the characters from America's smartest little town like you've never seen them before, as you get ready for the all-new season of Syfy's original series, Eureka. And this year, "the equation has changed." Yes, Eureka is going through a major transformation, and as you'll see, its inhabitants might never be the same.
Season 1
Tuesday, July 18th, 2006

1: Pilot

After a strange accident sidelines Eureka's sheriff, U.S. Marshal Jack Carter takes over the investigation into the mysterious phenomenon that led to the death of a resident. Carter learns about the secret purpose of the town while trying to re-establish a connection with his angry and bitter daughter, Zoe. He develops a friendly working relationship with government liaison Allison Blake and meets some of the more eccentric residents of Eureka.

Tuesday, July 25th, 2006

2: Many Happy Returns

Carter and the other citizens of Eureka attend the funeral of Susan Perkins. Much to their surprise, Ms. Perkins makes a return to Eureka as a woman who is very much alive!

Tuesday, August 1st, 2006

3: Before I Forget

Jack Carter accidentally shoots Henry while suffering from short-term memory loss, meanwhile a visit from a noted scientist may hold clues into to his sudden memory loss.

Tuesday, August 8th, 2006

4: Alienated

Spencer is apparently abducted by aliens and then returned to earth the next day inside a crop circle. Also, the town is visited by the congressman whose committee is responsible for its government funding.

Tuesday, August 15th, 2006

5: Invincible

After a lab accident, Global Dynamics researcher Carl Carlson is expelled from Eureka due to lack of results. Later, it is discovered that the accident has unlocked hidden abilities in Carl. Meanwhile, Jack does his best to avoid a physical.

Tuesday, August 22nd, 2006

6: Dr. Nobel

After Fargo and Spencer accidentally activate a doomsday device, Carter must help Dr. Irwin Thatcher, an aging scientist, to shut down the device.

Tuesday, August 29th, 2006

7: Blink

Carter investigates an unusual car accident. Meanwhile, Stark is under stress to produce results on a project.

Tuesday, September 5th, 2006

8: Right as Raynes

When the return of Eureka's star pupil causes problems all over town, Stark is forced to make a hard choice. Carter attempts to track down Zoe who has run off with the former resident.

Tuesday, September 12th, 2006

9: Primal

Fargo invents a device that bridges the gap between computers and human brains

Tuesday, September 19th, 2006

10: Purple Haze

Strange behavior is affecting the whole town except Sheriff Carter and Zoe. The father and daughter team must find the cause while Stark makes a decision that could affect the world.

Tuesday, September 26th, 2006

11: H.O.U.S.E. Rules

S.A.R.A.H - the artificial intelligence that runs Carter's house takes him and a group of residents hostage in an intervention to keep Carter in Eureka. Meanwhile her root program B.R.A.D activates and turns the situation deadly.

Tuesday, October 3rd, 2006

12: Once in a Lifetime

Stark is given a chance to try the top-secret Artifact. Once it's tested, Eureka warps into the future and ends up in 2010, where the town is different.
Season 2
Tuesday, July 10th, 2007

1: Phoenix Rising

A man bursts into flames. Elsewhere, Carter and Deacon are reaccustoming to the timeline restored in "Once in a Lifetime."

Tuesday, July 17th, 2007

2: Try, Try Again

Carter requests Stark's help after Fargo accidentally activates a personal force field, which causes mayhem.

Tuesday, July 24th, 2007

3: Unpredictable

An isolated deep freeze trigger causes a chain reaction of sudden weather changes in Eureka.

Tuesday, July 31st, 2007

4: Games People Play

After receiving a hit to the head, Carter finds that he is in a parallel Eureka. He discovers that the residents of the parallel Eureka are disappearing.

Tuesday, August 7th, 2007

5: Duck, Duck Goose

Space debris threatens Eureka's existence after it accumulates into a large cloud. Carter investigates in an effort to avert potential disaster.

Tuesday, August 14th, 2007

6: Noche de Sueños

A toxic spill seems to cause Eureka's residents to share their dreams. Initially the situation is amusing, but turns dire after the dream sharing is discovered to have a lethal attribute. The situation becomes more complicated, when Carter finds out that the spill is not the cause.

Tuesday, August 21st, 2007

7: Family Reunion

A man who turns out to be Fargo's grandfather has been cryogenically frozen for 50 years. He is awakened from his slumber by accident with no recollection of how he was frozen. In addition to that, it seems that he is the father of lots of technologies at Eureka.

Tuesday, August 28th, 2007

8: E=MC...?

An experiment about the big bang theory seems to be the cause for Eureka's finest to become dumber and dumber, including everyone involved in the experiment. When it comes to the verge of destroying Global Dynamics, the fate of the town lies in the hands of Jack Carter and the team of scientists he assembles, amongst them the newest member of the town, an anti-social genius.

Tuesday, September 4th, 2007

9: Sight Unseen

Strange happenings and spreading radiation at Global Dynamics lead to speculations that an abandoned research project concerning invisibility might have been revived. When Sheriff Carter accidentally becomes involved, the effects of invisibility threaten his life.

Tuesday, September 11th, 2007

10: God is in the Details

Zoe and her friends lose their voices, but whatever is causing the symptoms has an even worse effect on Allison and her only hope comes from an unusual source.

Tuesday, September 18th, 2007

11: Maneater

Eureka's air-conditioning system develops a fault, causing sexually tense situations, when the female residents suddenly become attracted to Carter due to bacteria.

Tuesday, September 25th, 2007

12: All That Glitters

The town along with its residents mysteriously start to deconstruct. The prime suspect is an artist who couldn't get along with Stark when he was working at Global Dynamics.

Tuesday, October 2nd, 2007

13: A Night at Global Dynamics

Carter and Stark must work together as an aggressive virus is sweeping across Eureka, while Kevin's life is in danger.
Season 3
Tuesday, July 29th, 2008

1: Bad to the Drone

Eureka is threatened by an intelligent drone with "issues" after an anti-missile test. Meanwhile, Eva Thorne, nicknamed "The Fixer" after dismantling and rebuilding several corporations, arrives in Eureka to evaluate Global Dynamics' expenditures.

Tuesday, August 5th, 2008

2: What About Bob?

Sheriff Carter and Allison investigate the disappearance of a scientist from a sealed biosphere. Meanwhile, "The Fixer" attempts to make Eureka's ventures more profitable.

Tuesday, August 12th, 2008

3: Best in Faux

The town's annual dog show gets into full swing complete with exploding robotic canines. Meanwhile, Sheriff Carter experiences an isolated earthquake, Zoe contemplates quitting the accelerated physics program, and Allison starts fitting her wedding dress.

Tuesday, August 19th, 2008

4: I Do Over

On Allison and Stark's wedding day, Sheriff Carter finds himself stuck in a time loop, causing him to experience the same lousy day over and over again. Meanwhile, Sheriff Carter's sister, Lexi visits Eureka.

Tuesday, August 26th, 2008

5: Show Me the Mummy

When an Egyptian tomb is opened at Global Dynamics, strange things start to happen, leading Fargo to believe it is the mummy's curse. The mummy, however, has disappeared, and Carter investigates.

Tuesday, September 9th, 2008

6: Phased and Confused

A mysterious "superhero" who can walk through walls is causing a ruckus in Eureka. Meanwhile, Zoe and her friends become stranded with Zane Donovan in an abandoned subterranean facility.

Tuesday, September 16th, 2008

7: Here Come the Suns

The town's mayoral race is disrupted when Zoe's science partner inadvertently causes a second sun to appear over Eureka.

Tuesday, September 23rd, 2008

8: From Fear to Eternity

When a potentially world-altering scientific discovery from Eureka's past finally comes to light, can anyone be trusted with it? The question is far from rhetorical for Carter: Zoe's life is in immediate danger and Eva Thorne knows why.

Friday, July 10th, 2009

9: Welcome Back, Carter

A new sheriff arrives in Eureka that turns out to be a robot that can change into human form (with mixed results). The town really needs the new sheriff as the town's gravity seems to be acting up.

Friday, July 17th, 2009

10: Your Face or Mine?

Deputy Lupo stands in as the acting sheriff while Carter undergoes his annual physical, but she's not acting like herself.

Friday, July 24th, 2009

11: Insane in the P-Brane

Tess Fontana (Jaime Ray Newman) shakes things up in Carter's world when she's brought in by Allison to re-open Section Five.

Friday, July 31st, 2009

12: It's Not Easy Being Green

A bowling tournament brings a rival science team from Area 51 to town, leaving Carter investigating practical jokes that escalate in scope and destruction as the competition progresses.

Friday, August 7th, 2009

13: If You Build It...

Teenagers construct an odd building in a Eureka field while asleep.

Friday, August 14th, 2009

14: Ship Happens

Henry's 20-year-old project returns with more on board than it left with.

Friday, August 21st, 2009

15: Shower the People

Jack investigates the deaths of scientists who drowned in less than liquid circumstances. Meanwhile, Allison's baby shower goes green.

Friday, August 28th, 2009

16: You Don't Know Jack

It's a busy day for Global Dynamics and Eureka as Allison's labor begins during a sonic cleaning of the company, and the townspeople exhibit Alzheimer's disease at the same time.

Friday, September 11th, 2009

17: Have an Ice Day

Tess hopes her first day in charge of Global will be uneventful; the arrival of an Arctic ice core brings a new Ice Age to Eureka

Friday, September 18th, 2009

18: What Goes Around, Comes Around

Zoe prepares to leave for college. Tess receives a job offer in Australia. A magnetic disturbance hovers above Eureka.
Season 4
Friday, July 9th, 2010

1: Founder's Day

Dr. Grant, a former resident of the town, causes serious alarm with his unexpected return. His romantic interest in Allison Blake also causes significant friction with Sheriff Jack Carter.

Friday, July 16th, 2010

2: A New World

As the Founder's Day festivities continue, Carter and the others must accustom themselves to the new time line and how Dr. Grant fits into it. Unfortunately, re-acclimatization needs to occur on a steep learning curve.

Friday, July 23rd, 2010

3: All the Rage

Dr. Isaac Parrish, the brilliant director of the Non-lethal Weapons Lab, is feeling a little undervalued these days. Then all his latent hostility goes viral, infecting everyone with such fury that no one is safe, especially Fargo.

Friday, July 30th, 2010

4: The Story of O2

As Eureka celebrates Space Week, Dr. Ramsey unveils his cutting edge invention that could allow colonization of Mars. Unfortunately, a slight malfunction may cause it to incinerate Eureka before the dream is realized. Equally bad is that Eureka's go-to guy for crisis intervention has just gone to Boston to visit his daughter at Harvard.

Friday, August 6th, 2010

5: Crossing Over

Claudia Donovan visits Eureka to see if Fargo's promises of wondrous devices are true, but she finds herself in the middle of a mystery suitable for Warehouse 13 when objects begin to appear randomly around the town and GD, and it must be solved before there are deadly consequences.

Friday, August 13th, 2010

6: Momstrosity

Carter's camping trip with Kevin becomes a little scarier than ghost stories by the camp fire when a malfunction with the AI at Global Dynamics may turn some of them deadly. Elsewhere, Henry thinks about telling Grace the truth.

Friday, August 20th, 2010

7: Stoned

Love is in the air as Carter gets fed up with Grant's pursuit of Allison, Zoe conceals her love and Henry courts Grace. But all the emotions may have to be put on simmer when people in town start turning to stone.

Friday, August 27th, 2010

8: The Ex-files

The gang begins seeing visions of people from their pasts, while the town seems to be collapsing around them. Meanwhile, Dr. Grant gets involved with a mysterious faction.

Friday, September 10th, 2010

9: I'll Be Seeing You

Dr. Grant attempts to return to 1947 but when Carter intrudes, they both wind up stuck in the past under the threat of altering present-day Eureka once again.

Tuesday, December 7th, 2010

10: O Little Town

Carter can't get into the Christmas spirit especially with the town surrounded by a force-field. Fargo organizes the GD holiday party, and Allison is full of holiday cheer.

Monday, July 11th, 2011

11: Lift Off

Zane pesters Jo for details she does not want to reveal. Carter problem-solves at Andy and S.A.R.A.H.'s wedding. Elsewhere, Zane's actions make him and Fargo unexpectedly airborne.

Monday, July 18th, 2011

12: Reprise

Carter's duties expand to babysitting when Allison attends a medical conference, and Fargo finds his groove when a certain song is played. Meanwhile, a rocket scientist appears at Café Diem.

Monday, July 25th, 2011

13: Glimpse

Jo receives a technical boost to her crime-fighting ability with lenses that predict security breaches. Allison's headaches won't go away so Carter plans a vacation. Fargo, meanwhile, deals with an onslaught of volunteers when he announces a space mission with room for civilians.

Monday, August 1st, 2011

14: Up in the Air

Jack deals with a bank robbery which may relate to the sudden gravity issues besetting the citizens of Eureka. Meanwhile, Fargo's rivalry with Isaac Parrish is boosted when he learns Holly and Parrish went on a date.

Monday, August 8th, 2011

15: Omega Girls

When Zoe comes home for a visit, Jo faces an angry woman who doesn't accept her fumbling explanations about Zane. This all fades to background noise, however, when they find everyone in Eureka unconscious and must find a way to work together so they can revive the town and beat Beverly before she gets hold of valuable data. SYFY has this & "Of Mites and Men" Listed as episode 16 and does not have #17 "Clash of the Titans Listed"

Monday, August 15th, 2011

16: Of Mites and Men

Global Dynamics deals with two threats—a visit from Senator Wen and robotic bugs that can consume everything—it's unclear which is the bigger one. Meanwhile, Allison refuses to acknowledge any deficit with which the implants may have left her. SYFY has this & "Omega Girls" Listed as episode 16 and does not have #17 "Clash of the Titans Listed"

Monday, August 22nd, 2011

17: Clash of the Titans

The Eureka atmosphere becomes toxic when Department of Defense auditor comes to assess the team's relationships.

Monday, August 29th, 2011

18: This One Time at Space Camp...

The Astraeus candidates go through their final interviews while Carter and Allison appeal their relationship audit.

Monday, September 12th, 2011

19: One Small Step...

When an explosion in the Astraeus lab accidentally sends Andy to Titan the team must devise a plan to save him before it's too late! Eureka

Monday, September 19th, 2011

20: One Giant Leap...

In the season finale - It's chaos in Eureka when an energy beam rips through main street but the Astraeus launch must go on...with or without Eureka intact.

Tuesday, December 6th, 2011

21: Do You See What I See

The quaint town of geniuses is transformed into animated versions of themselves. Sheriff Carter and Allison Blake are secretly planning the perfect holiday surprise for their kids. But a mysterious kaleidoscopic wave of color crashes over Eureka, leaving the entire town and its inhabitants animated.
Season 5
Monday, April 16th, 2012

1: Lost

The Astraeus crew returns to Eureka four years later and must adapt to a myriad of changes, including a more oppressive version of Deputy Andy.

Monday, April 23rd, 2012

2: The Real Thing

Carter and Andy are jailed for trying to steal a piece of equipment to complete a device that Kevin has assembled to search for the Astraeus crew. Meanwhile, Holly comes up with a dangerous theory.

Monday, April 30th, 2012

3: Force Quit

Carter and Jo continue their search for the missing Astraeus crew. A surprising source confirms the new theory of the disaster, and offers to help them rescue the crew. Meanwhile, back at the lab, lives are at risk as more of the crew comes closer to the truth of their situation.

Monday, May 7th, 2012

4: Friendly Fire

When a smart fire experiment gets out of control, Carter and team discover that the Astraeus victims may be the cause. Meanwhile, Fargo deals with Holly's death, Grace struggles to maintain her relationship with Henry, and Allison fights her feelings about Jo.

Monday, May 14th, 2012

5: Jack of All Trades

Jack starts to swap bodies uncontrollably, which puts both his body and his consciousness in awkward situations. Meanwhile, Warren Hughes returns to GD to evaluate Astraeus crew members' reactions to their abductions. Elsewhere, Zane's quest for answers from the Matrix reveals disturbing results for both him and Fargo.

Monday, May 21st, 2012

6: Worst Case Scenario

It's disaster drill day at GD and everyone must participate in order to see how well they would do in a disaster. Unfortunately the computer conducting the drill makes the simulation a reality. Elsewhere, Fargo undergoes risky interfaces with the Matrix to confirm Zane's findings.

Monday, June 4th, 2012

7: Ex Machina

Fargo is convinced that Holly is still inside of the Matrix computer, but the DOD is determined to wipe its hard drive clean -- losing Dr. Marten forever.

Monday, June 11th, 2012

8: In Too Deep

Carter's romantic surprise for Allison turns deadly when they're trapped in a sinking marine lab with time and oxygen quickly running out.

Monday, June 18th, 2012

9: Smarter Carter

While under the influence of a smart drug, Carter becomes a genius like everyone else in town and starts to change the laws of physics. Unfortunately, his condition soon endangers all of Eureka, including Allison's brother who is in town just to meet his new brother-in-law.

Monday, June 25th, 2012

10: The Honeymooners

Jack and Allison's perfect honeymoon is interrupted when sabotage is discovered in Eureka. Elsewhere, Holly faces another hurdle to remain intact.

Monday, July 2nd, 2012

11: Mirror, Mirror

The Department of Justice arrives to investigate Grace, while Henry struggles with his conscience and Eureka is cut off from the world by a malfunctioning experiment that threatens to eradicate the town's populace.

Monday, July 9th, 2012

12: Double Take

The people of Eureka are being kidnapped and replaced by body-doubles one by one unless Allison, Fargo and Zane can figure out how to avoid capture and save their town.

Monday, July 16th, 2012

13: Just Another Day

In the series finale, wormholes randomly materialize around Eureka as the Department of Defense is set to shut the town.