update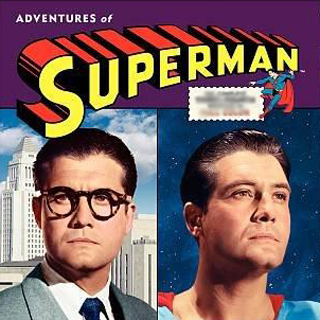 Season 0
not specified

7: The Color Era

A documentary on the transition from filming the series in black and white to color (although all the seasons aired in black and white).

not specified

8: Faster Than a Speeding Bullet

The special effects of "Adventures of Superman".

not specified

9: Look, Up in the Sky! The Amazing Story of Superman

Excerpts from the new documentary produced by Bryan Singer and Kevin Burns.

not specified

10: Superman: Brainiac Attacks

The original Movie Trailer.

not specified

11: Superman's Pal: Jimmy Olsen

Jack Larson celebrates his series character along with co-star Noel Neill and Author/Historians Jim Beaver, Gary Grossman, Michael J Hayde and Jan Henderson.

not specified

13: Savings Bonds

not specified

14: The Special Effects

Saturday, July 13th, 1940

16: The Pony Express

George Reeves plays Bill Cody in this 1940 Warner Bros. Technicolor Historical Short.

Friday, November 23rd, 1951

1: Superman and the Mole-Men

When underground beings explore the surface world from a deep oil well and inadvertently cause a panic, only Superman can prevent a tragedy.

Monday, May 5th, 1958

12: Justice League Heroes

Video Game Trailer

Thursday, August 18th, 2005

2: Stamp Day for Superman

Special Episode promoting Savings Bonds.

Thursday, August 18th, 2005

3: First Lady of Metropolis

Lois-centered featurette about the classic George Reeves superhero show.

Thursday, August 18th, 2005

4: The Color Era

An extra discussing the colorization of Adventures of Superman.

Thursday, August 18th, 2005

5: The Special Effects of Adventures of Superman

An extra discussing the special effects of Adventures of Superman.

Thursday, August 18th, 2005

6: Kellogg's Commercials

A series of commercials by Kellogg's for Adventures of Superman.

Thursday, August 31st, 2006

15: Hollywoodland

A detective (Adrien Brody) uncovers unexpected links to his own personal life as he probes the mysterious death of "Superman" actor George Reeves (Ben Affleck) in 1959. A possible affair between the actor and Toni Mannix (Diane Lane), the wife of a studio executive (Bob Hoskins), might reveal the truth.
Season 1
Friday, September 19th, 1952

1: Superman on Earth

Journey with Superman from Krypton to Metropolis, as he joins that Daily Planet staff and meets the fiery Lois Lane.

Friday, September 26th, 1952

2: The Haunted Lighthouse

A terrified Jimmy Olsen calls for help, and Superman speeds to an isolated island where strange things happen in the fog-shrouded night. Commentary available by TV Producer/Author Gary H. Grossman.

Friday, October 3rd, 1952

3: The Case of the Talkative Dummy

As Superman hunts for kidnapped armored-car drivers and a stolen fortune, Jimmy, locked inside a falling safe, hurtles to his doom.

Friday, October 10th, 1952

4: Mystery of the Broken Statues

Lois Lane is kidnapped while on the trail of a suave but deadly criminal mastermind and a hidden priceless gem.

Friday, October 17th, 1952

5: The Monkey Mystery

Searching for stolen defense secrets, Clark Kent encounters a brutalized woman, a slain organ-grinder -- and a monkey dressed as Superman.

Friday, October 24th, 1952

6: Night of Terror

Superman races to find Lois Lane and Jimmy Olsen who wait, helplessly bound, as a sadistic hit man prepares to execute them.

Friday, October 31st, 1952

7: The Birthday Letter

Superman is implicated in the abduction of a young girl who is thought to have information concerning hidden counterfeit plates.

Friday, November 7th, 1952

8: The Mind Machine

Bravely testifying against a mobster, Lois Lane will die unless Clark Kent finds the weapon that will soon destroy her mind.

Friday, November 14th, 1952

9: Rescue

Trapped in a mine filling with deadly gas, Lois Lane is beyond the reach of rescuers -- and Clark Kent doesn't know!

Friday, November 21st, 1952

10: The Secret of Superman

An insane scientist, using powerful experimental truth drugs on Perry White, Lois Lane and Clark Kent, learns Superman's true identity.

Friday, November 28th, 1952

11: No Holds Barred

When a crooked wrestling promoter paralyzes honest athletes, Superman steps in to reverse the damage and rescue an innocent captive.

Friday, December 5th, 1952

12: The Deserted Village

As Clark Kent pursues the monster killing the few people left in Lois Lane's hometown, the girl reporter becomes its next victim.

Friday, December 12th, 1952

13: The Stolen Costume

After a burglar steals Superman's costume from Clark Kent's closet, a mobster threatens to reveal the Man of Steel's secret identity. Commentary available by TV Producer/Author Gary H. Grossman.

Friday, December 19th, 1952

14: Treasure of the Incas

Lois and Jimmy follow a trail of murder that could lead to ancient riches -- or to their own deaths.

Friday, December 26th, 1952

15: Double Trouble

Unwittingly involved in a hunt for stolen radium, Jimmy is kidnapped and locked in a deathtrap by a fanatical doctor.

Friday, January 2nd, 1953

16: Mystery in Wax

Lois Lane, chloroformed while investigating strange disappearances, is held prisoner in Madame Selina's wax museum of the living dead.

Friday, January 9th, 1953

17: The Runaway Robot

Captive Lois Lane will be murdered by gangsters unless inventor Horatio Hinkle uses his unique radio-controlled robot to rob banks.

Friday, January 16th, 1953

18: Drums of Death

Aided by his ace reporters, Perry White flies to Haiti to search for his sister, the prisoner of a voodoo cult.

Friday, January 23rd, 1953

19: The Evil Three

Perry White and Jimmy Olsen face death at the hands of three crazed murderers in a crumbling bayou hotel. Commentary available by Producer/Writer Chuck Harter.

Friday, January 30th, 1953

20: The Riddle of the Chinese Jade

Lois Lane is held hostage by the armed criminal who has stolen a priceless antique and left two people to drown.

Friday, February 6th, 1953

21: The Human Bomb

On a windswept narrow ledge high above the ground, Lois Lane is chained to a dynamite-wielding daredevil ready to die.

Friday, February 13th, 1953

22: Czar of the Underworld

A killer sabotaging the filming of a crime exposé stalks Clark Kent and Inspector Henderson on a Hollywood studio soundstage.

Friday, February 20th, 1953

23: Ghost Wolf

After discovering human footprints that turn into wolf tracks, Lois Lane and Jimmy Olsen are trapped in a raging forest fire.

Friday, February 27th, 1953

24: Crime Wave

While hunting down an anonymous crime-boss, the Man of Steel is lured into a lighting-powered deathtrap that stops his heart. Commentary available by Producer/Writer Chuck Harter.

Monday, August 10th, 1953

25: The Unknown People (1)

Clark Kent and Lois Lane visit the world's deepest oil well in Silsby, when strange humanoid creatures appear and terrorize the townspeople.

Monday, August 10th, 1953

26: The Unknown People (2)

Convinced the Mole Men are peaceful beings, Superman must save them from a vengeful mob determined to kill the armed visitors.
Season 2
Friday, September 18th, 1953

1: Five Minutes to Doom

Beat the clock: The race is on to stop an innocent Death Row inmate's date with the electric chair.

Friday, September 25th, 1953

2: The Big Squeeze

A powerful ally: the Man of Steel assists an ex-con blackmailed into returning to his criminal past.

Saturday, October 3rd, 1953

3: The Man Who Could Read Minds

Swami says: send for Superman! Jimmy and Lois suspect a nightclub mind reader is linked to a theft ring.

Saturday, October 10th, 1953

4: Jet Ace

Look up! Superman rescues a pilot on a test flight gone wrong and later frees him from kidnappers seeking military secrets.

Saturday, October 17th, 1953

5: Shot in the Dark

An amateur shutterbug snaps some incriminating photos, one of which suggests Clark is you-know-who!

Saturday, October 24th, 1953

6: The Defeat of Superman

Superman is rendered powerless by a kryptonite trap. This sounds like a job for...Lois and Jimmy?

Saturday, October 31st, 1953

7: Superman in Exile

Beware of Superman! A nuclear incident leaves him glowing with radioactivity and lethal to anyone he's near.

Saturday, November 7th, 1953

8: A Ghost for Scotland Yard

Man or spirit? A magician believed dead may have resurfaced in a vendetta against his earthly foes.

Saturday, November 14th, 1953

9: The Dog Who Knew Superman

The nose knows. A dog rescued from a well by Superman keeps showing up at Clark Kent's office.

Saturday, November 21st, 1953

10: The Face and the Voice

Looks like him. Sounds like him. But he isn't Superman! A lookalike Man of Steel goes on a crime spree.

Saturday, November 28th, 1953

11: The Man in the Lead Mask

Surgically altered fingerprints. Lead masks to block x-ray vision. Will these foil the police and Superman?

Saturday, December 5th, 1953

12: Panic in the Sky

Destination: Earth! Superman saves Metropolis from a plummeting asteroid -- and loses his memory in the process. Commentary available by Jack Larson (Jimmy Olsen) and Noel Neill (Lois Lane).

Saturday, December 12th, 1953

13: The Machine That Could Plot Crimes

Meet Mr. Kelso, the computer that plans split second bank heists...and may know superman's secret, too.

Saturday, December 19th, 1953

14: Jungle Devil

The superhero saves a lost expedition, defeats a fearsome beast and uses his grip to turn coal into diamonds.

Saturday, December 26th, 1953

15: My Friend Superman

Burger, fries and friendship. Not everyone believes a diner owner who boasts of being pals with Superman.

Saturday, January 2nd, 1954

16: The Clown Who Cried

What kind of clown would rob a kids' charity telethon? An imposter clown, that's who!

Saturday, January 9th, 1954

17: The Boy Who Hated Superman

Clark is temporary guardian of a crime-connected youth who secretly plots revenge against the reporter.

Saturday, January 16th, 1954

18: Semi-Private Eye

Sam Spade. Philip Marlowe. Jimmy Olsen? He poses as a trench-coated private eye to stalk kidnappers. Commentary available by Jack Larson (Jimmy Olsen) and Noel Neill (Lois Lane).

Saturday, January 23rd, 1954

19: Perry White's Scoop

Stop the presses! Frustrated by Daily Planet's reporters, Perry White decides to cover a murder story himself.

Saturday, January 30th, 1954

20: Beware the Wrecker

A terrorist bombs Metropolis' transportation systems. His method: armed, radio-controlled toy airplanes.

Saturday, February 6th, 1954

21: The Golden Vulture

Avast, ye scurvy mates! A salvage-boat captain who fancies himself a pirate holds Lois and Jimmy captive.

Saturday, February 13th, 1954

22: Jimmy Olsen, Boy Editor

Great Caesar's ghost! Jimmy Olsen replaces Perry White for a day -- with dizzy and dangerous results.

Saturday, February 20th, 1954

23: Lady in Black

Noises. Unusual people. Jimmy is sure something strange is going on at the apartment of his mom's friend.

Saturday, February 27th, 1954

24: Star of Fate

A mystery from Egypt's past: the antidote to an ancient poison is under the base of the Great Pyramid.

Saturday, March 6th, 1954

25: The Whistling Bird

The bird has the word. A pet parakeet that knows an inventor's secret formula is mysteriously birdnapped.

Saturday, March 13th, 1954

26: Around the World with Superman

Paging Dr. Superman! His x-ray vision helps a surgeon restore a girl's sight, then he flies her on a world tour.
Season 3
Saturday, April 23rd, 1955

1: Through the Time Barrier

An inventor's time contraption whisks the Daily Planet staff to 50,000 B.C. One problem: how to get back!

Saturday, April 30th, 1955

2: The Talking Clue

Sound and fury. Bank robbers have a sudden interest in a young audiophile's collection of recorded sounds.

Saturday, May 7th, 1955

3: The Lucky Cat

Ladders, black cats, Friday the 13th. All harmless -- but someone intends real harm to an anti-superstition society.

Saturday, May 14th, 1955

4: Superman Week

No dinners, no hoopla...just Kryptonite. Two thugs have their own way of celebrating Superman Week.

Saturday, May 21st, 1955

5: Great Caesar's Ghost

He claims to be Caesar. But who's really behind the strange apparition vexing Perry White?

Saturday, May 28th, 1955

6: Test of a Warrior

Great Horse faces his tribe's test of valor -- with help from a spirit named Superman!

Saturday, June 4th, 1955

7: Olsen's Millions

Gee, thanks! An elderly woman rewards Jimmy $1 million because she thinks he rescued her cat.

Saturday, September 10th, 1955

8: Clark Kent, Outlaw

Clark Kent is the man on the inside, posing as an ace safecracker to get the goods on a crime ring.

Saturday, September 17th, 1955

9: The Magic Necklace

Wear the necklace and it protects you from harm. Bullets even bounce off Clark when he wears it!

Saturday, September 24th, 1955

10: The Bully of Dry Gulch

His town. His way. But a bogus gunslinger who rules a Western town is no match for the Man of Steel.

Saturday, October 1st, 1955

11: Flight to the North

Good ol' boy Sylvester is mistaken for Superman.

Saturday, October 8th, 1955

12: The Seven Souvenirs

Is something hidden inside them? Items purchased at a Superman souvenir store may be clues to a crime.

Saturday, October 15th, 1955

13: King for a Day

A royal performance: Jimmy poses as a prince of Burgonia to help thwart an assassination plot.
Season 4
Saturday, February 18th, 1956

1: Joey

A day at the races: Superman fight track corruption and the Daily Planet's racehorse gallops to victory.

Saturday, February 25th, 1956

2: The Unlucky Number

Guess the number of jelly beans in the jar. With superman's help, it's possible to win a fixed contest.

Saturday, March 3rd, 1956

3: The Big Freeze

They'll stop him cold! Thugs think a freezer will keep Superman on ice during a rigged election.

Saturday, March 10th, 1956

4: Peril by Sea

Criminals aboard a submarine aim to torpedo Perry White and his seaside cottage to smithereens.

Saturday, April 21st, 1956

5: Topsy Turvy

Which way is up? An invention that causes the illusion of being upside-down is stolen for villainous use.

Saturday, April 28th, 1956

6: Jimmy the Kid

Who's that guy? Hoodlums kidnap Jimmy and put a tough-talking lookalike in his place at the Daily Planet.

Saturday, May 5th, 1956

7: The Girl Who Hired Superman

Villains have Superman right where they want him when he attends a party for a visiting foreign dignitary.

Saturday, May 12th, 1956

8: The Wedding of Superman

Superman pops the question, Lois says "yes". Is it a dream come true for the smitten femme reporter?

Saturday, May 19th, 1956

9: Dagger Island

Three brothers, one fortune. Its finders keepers as the trio hunt for a hidden family inheritance.

Saturday, May 26th, 1956

10: Blackmail

A $500,000 heist -- and Inspector Henderson is the fall guy when some of the dough is planted on him.

Saturday, June 2nd, 1956

11: The Deadly Rock

Mobsters use Kryptonite to capture the Man of Steel -- or at least a man they think is Superman!

Saturday, June 9th, 1956

12: The Phantom Ring

How do you stop thieves who have the power of invisibility? That's the new challenge facing Superman!

Saturday, June 16th, 1956

13: The Jolly Roger

Shiver me timbers! Pirates hold Clark, Lois and Jimmy on a deserted isle the U.S. Navy intends to destroy.
Season 5
Friday, March 8th, 1957

1: Peril in Paris

Good intentions gone bad. Superman helps a woman escape from behind the Iron Curtain...and inadvertently becomes a jewel smuggler.

Friday, March 15th, 1957

2: Tin Hero

A nose for news: A meek bookkeeper is an ace crime reporter -- with an occasional assist from Superman.

Friday, March 22nd, 1957

3: The Tomb of Zaharan

She's the one. Members of a bizarre cult believe Lois is their ancient queen returned to life.

Friday, March 29th, 1957

4: The Man Who Made Dreams Come True

A bogus seer aims to make his own crooked dream come true - a plan to usurp the rule of a dotty monarch.

Friday, April 5th, 1957

5: Disappearing Lois

She'll get all the dirt. Lois goes undercover, posing as a housemaid to get a story on a notorious criminal.

Friday, April 12th, 1957

6: Money to Burn

Hot news: The arson suspect in a big warehouse fir is...Perry White!

Friday, April 19th, 1957

7: The Town That Wasn't

You can't locate it on a map. What's the secret behind a tiny, mysterious, out-of-the-way town?

Friday, April 26th, 1957

8: Close Shave

A shave, a haircut, a new you, maybe a new life. A barber has an unusual influence on others.

Friday, May 3rd, 1957

9: The Phony Alibi

Dialed in: An inventor's new creation gives crooks the ability to zoom themselves through telephone lines.

Friday, May 10th, 1957

10: The Prince Albert Coat

Oops! A boy gives his grandpa's coat to charity, unaware it holds the man's life savings. Can Superman save the savings?

Friday, May 17th, 1957

11: The Stolen Elephant

And some kids just want a pony. A boy thinks the stolen circus elephant he finds is his birthday gift.

Friday, May 24th, 1957

12: Mr. Zero

He's not from around here: A pint-sized Martian has a power that may be useful to crooks.

Friday, May 31st, 1957

13: Whatever Goes Up

Jimmy Olsen: Scientist. The anti-gravity fluid he creates with his chemistry set draws interest from military men...and criminals.
Season 6
Monday, February 3rd, 1958

1: The Last Knight

A gentlemen's society of armored knights holds many secrets (and holds jimmy and Lois captive, too).

Monday, February 10th, 1958

2: The Magic Secret

Ready, Aim...A crimelord kidnaps Lois and Jimmy, using them as bait to lure our hero into the line of fire of a Kryptonite ray gun.

Monday, February 17th, 1958

3: Divide and Conquer

Are half powers better than none? To be in two places at one time, Superman rearranges his molecular density.

Monday, February 24th, 1958

4: The Mysterious Cube

Safe from justice? A killer hides inside a bunker made of a strange material even Superman can't penetrate.

Monday, March 3rd, 1958

5: The Atomic Captive

The bomb explodes, a mushroom cloud rises...and Lois and Jimmy are stranded on the test site.

Monday, March 10th, 1958

6: The Superman Silver Mine

The kids can wait. Crooks attempt to claim a silver mine for themselves and keep it from becoming a summer camp.

Monday, March 17th, 1958

7: The Big Forget

An anti-memory vapor can be useful to villains...and perhaps to Clark Kent when he needs to conceal his heroics.

Monday, March 24th, 1958

8: The Gentle Monster

It means no harm. And may bring death to Superman. A newly created robot is powered by Kryptonite.

Monday, March 31st, 1958

9: Superman's Wife

Sorry, Lois. Superman unexpectedly marries a gorgeous blonde policewoman. But why?

Monday, April 7th, 1958

10: Three in One

Superman Arrested! While he's out of the way, three circus performers use their respective skills in a heist.

Monday, April 14th, 1958

11: The Brainy Burro

Jimmy and Lois: bank robbers. They're accused of a theft committed by thugs and a mind-reading burro.

Monday, April 21st, 1958

12: The Perils of Superman

Lois is tied to railroad track! Crooks in lead masks vow vengeance against the Daily Planet staff.

Monday, April 28th, 1958

13: All That Glitters

What if? After a whack to the head, Jimmy dreams he and Lois have the same powers as the Man of Steel.