update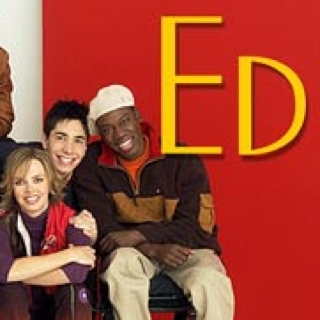 Season 0
Sunday, October 1st, 2000

1: Unaired Pilot
Season 1
Sunday, October 8th, 2000

1: Pilot

Ed Stevens has just been fired for misplacing a comma in a 500 page contract, which cost his law firm employer millions of dollars. When he arrives home to give his wife the bad news, he finds her in bed with the mailman. He decides to pack it all in and head back to his hometown of Stuckeyville, Ohio. When he runs into Carol Vessey, the girl of his high school dreams who is now an English teacher at Stuckeyville High School, he decides to stick around and purchase the local bowling alley, where he sets up a law practice. Ed moves in with his best friend Mike and Mike's wife Nancy who are adjusting to life with a new baby. Still intent upon winning over Carol, Ed dons a suit of armor and enters her classroom carrying flowers and seeking a date. Although she is dating another faculty member, Carol agrees.

Sunday, October 15th, 2000

2: The World of Possibility

Carol's childhood diaries prove useful when the town's premier magician, Stuckeyville Stan, sues a competitor for revealing his secrets; Nancy becomes threatened by the baby's nanny.

Sunday, October 22nd, 2000

3: Just Friends

Ed goes up against his old law firm in a case involving four friends who wrote up a contract on a bar napkin. At the same time, he must pick a manager for Stuckeybowl and deal with being ""just friends"" with Carol. Nancy and Mike fuss over who takes care of the baby at night.

Sunday, October 29th, 2000

4: Pretty Girls and Waffles

Ed defends a secretary being sued over a payroll error; Carol decides that she and Nick have to end their relationship; Mike is reviewed by his superior; Molly selects talent over beauty in casting the school play.

Sunday, November 5th, 2000

5: Better Days

Carol drowns her sorrows over breaking up with Nick with a ""Xanadu"" marathon; Ed represents a jittery bride-to-be who sues her hairdresser over a bad pre-wedding haircut; feeling that her relationship with Mike is in a rut, Nancy decides to spice things up by starting a book club; Ed steps forward and makes yet another bold move to win over Carol's affections, which runs into a snag and causes some misunderstandings.

Sunday, November 12th, 2000

6: Home Is Where the Ducks Are

Carol shocks Ed by announcing that she is leaving Stuckeyville to become a writer; Ed concocts Stuckeyville's first-ever Festival of Ducks to boost the town's reputation; Phil becomes mentor to a young bowler.

Sunday, November 19th, 2000

7: Something Old, Something New

On his first Thanksgiving without his wife, Ed decides to start a new tradition and arranges an unconventional Thanksgiving feast at Stuckeybowl for his friends; Phil schemes to resell store bought turkeys as marked up Corinthian birds; Mike dreads spending the holiday with his father-in-law; Ed represents a young man who was hurt while breaking into a man's cabin (on a dare) and is suing the owner.

Wednesday, December 6th, 2000

8: The Whole Truth

When Molly's grandfather hires Ed to write his will, he ends up revealing a shocking secret;; Mike has a new rival at the doctor's office; Phil hosts an open-mike night at Stuckeybowl.

Wednesday, December 13th, 2000

9: Your Life Is Now

The return of former high football star, Troy McCallum, brings out feelings of resentment in both Ed and Carol. Meanwhile Ed tries to help high school student Warren, whose nerd vs. jock conflict mirrors his own.

Wednesday, December 20th, 2000

10: Losing Streak

Ed's visiting parents show their disapproval of his new life in Stuckeyville; Ed defends two men being sued for pulling a prank involving a lottery ticket; Carol becomes coach for the school's losing junior varsity basketball team; Shirley and Kenny stake out a vandal at Stuckeybowl.

Wednesday, January 17th, 2001

11: Opposites Distract

Ed locks horns with a sassy new D.A. while defending a man charged with breaking the law by putting dimes in parking meters; Molly chides Carol for taking Ed's attention for granted; Phil searches for his own personal catch phrase; Nancy must decide whether she wants to accept a promotion at work.

Wednesday, January 24th, 2001

12: Hook, Line, and Sinker

Ed handles a case involving a man being fired if he doesn't make a fish ""sing""; Mike believes the Burton's new nanny has a crush on him; the Stuckeybowl staff tries to come up with ideas to drum up business.

Wednesday, February 7th, 2001

13: The Music Box

When Carol's music box is stolen from her car, Ed tries to help in apprehending the thief. Though the music box is valuable, Carol really wants it returned for sentimental reasons (her grandfather gave it to her). During the investigation, Carol lets her jealousy of Bonnie get the best of her and the two butt heads. Finally the culprit is found and with Ed's detective work the man is brought in for questioning. Unfortunately the man has an alibi. Ed investigates the alibi and learns that the man lied. Confronted by Ed, the thief admits that he stole the music box because he was desperate for money because he lost everything while supporting his sick mother. He refuses to admit that in court however until Ed promises to talk the DA into waiving jailtime and putting him on probation. When Bonnie learns about the deal, she becomes furious that Ed used their relationship to his advantage, but she does end up waiving jailtime anyway, to Carol's dismay. Later that night, Ed and Bonnie

Wednesday, February 14th, 2001

14: Valentine's Day

Ed represents a priest who is being fired for not increasing the church's congregation; Phil turns love-doctor and tries to make an ordinary man into a ""love machine""

Tuesday, February 20th, 2001

15: Loyalties

As Ed and Bonnie grow more comfortable in their relationship, Carol grows more uncomfortable so Ed suggests that they all go out for dinner. Not wanting to be a third wheel, Carol brings an escort along. But dinner is a disaster for everyone when a misundering with her escort forces Carol to betray Molly's confindence and Bonnie drops a bombshell on Ed: she's accepted a job in Washington, DC; Big Rudy, the former owner of Stuckeybowl decides he wants the bowling alley back and resorts to dirty tricks to get what he wants-even enlisting Phil's help. In court Ed represents a singer/songwriter suing her band for the rights to her songs after she was kicked out.

Wednesday, February 28th, 2001

16: Live Deliberately

A brush with death inspires a local man to change his life and do things he's never done before such as scale a wall, bowl naked, and go out with Molly. Meanwhile, Ed tries to recapture his youth by doing things he did when he was 18, and Warren becomes inspired by Thoreau's call to ""simplify"".

Wednesday, March 28th, 2001

17: Exceptions

Ed and Carol finds themselves on opposite sides when he represents a gym coach who is flunking one of her best students; Dr. Jerome continues to humiliate Mike; Shirley starts working as Ed's legal clerk.

Wednesday, April 4th, 2001

18: The Test

Ed's old high school girlfriend, Kara, tests her husband's fidelity by hiring a friend to come on to him, When the husband fails the test by sleeping with the woman, Ed helps Kara in the divorce settlement. Meanwhile Carol tries to stop the forced retirement of the school's music teacher due to budget reasons. Also Nancy tests the nanny to determine if she's trustworthy.

Wednesday, May 2nd, 2001

19: Window of Opportunity

Ed is dismayed when a couple decides to marry at Stuckeybowl simply because the man bowled a strike. In court he helps a man get a restraining order against his overzealous brother who is trying to help him stick to his diet; Warren fears that he's missed his chance with Donna.

Wednesday, May 9th, 2001

20: Mind Over Matter

To ensure that Stuckeybowl outlasts him, Ed seeks to have it declared an historical landmark. Meanwhile in court, he reprresents a man overcharged for a placebo pill; Jeff causes friction between Molly and Carol.

Wednesday, May 16th, 2001

21: Mixed Signals

Ed represents a golfer suing a fan who shouted out while he was making an easy putt-thus costing him the win; Warren can't decide whether to ask reliable Donna or dream-girl Jessica to the prom.

Wednesday, May 23rd, 2001

22: Prom Night

At the same time Ed receives a visit and a job offer from his old collegue, Carol invites him to the Stuckeyville HS junior prom; To avoid the embarrassement of not having a date, Warren seeks out an escort service; Phil attempts a string of comical practical jokes to get on a TV show.
Season 2
Wednesday, October 10th, 2001

1: The Stars Align

Ed and Carol's close encounter is interrupted by Bonnie Hane; Ed defends Warren on a charge of criminal negligence after Warren brings a keg of beer to a party and an underage drinker has an bicycle accident on his way home; Nancy quits her job to be a full-time mother.

Wednesday, October 17th, 2001

2: Changes

When a client changes his name and his image, Ed decides to follow his lead; Molly tries to catch the eye of a bowling alley equipment salesman; Mike takes drastic measures to find ""the last straw"" which will end the impasse with Dr. Jerome.

Wednesday, October 24th, 2001

3: A Job Well Done

Carol and the new principal face off on ""The Great Gatsby""; Mike and Nancy debate over whether to try for Baby #2; Phil goes all out to find a missing bowling ball, ""The Devastator"", which magically reappears; Warren reveals to Carol the secret of the class ""Bingo"" game; Molly objects to Ed defending a sleazebag salesman, but Ed maintains that said sleaze has done nothing illegal.

Wednesday, October 31st, 2001

4: Crazy Time

Ed's on the case after a bitter kid's show host talks a young boy into running away; Molly gives up on wooing Jim; Warren comes up with the worst idea ever on how to impress his classmates.

Wednesday, November 7th, 2001

5: Closure

Carol asks Ed to help her friend Sonja, whose husband Andy wants a divorce after discovering that Sonja had advertised herself in a mail-order-bride catalog before they met. Sonja is about to be deported to her native Brazil, since they live in a no-contest divorce state and Andy can get a divorce immediately. As Ed gets more involved in the case, he re-evaluates his own failed marriage and invites Liz to visit him so that they can mend fences. Mike continues to be beleaguered by Dr. Jerome, who refuses to relinquish his practice until Mike reads all the volumes of medical knowledge Dr. Jerome has amassed in his career. He also has a friend pose as a patient who needs an emergency appendectomy but refuses to listen to Mike and walks out of his office. When Dr. Jerome takes Mike along to see a terminally ill patient, Mike realizes that Dr. Jerome isn't such a bad guy after all. Molly and Jim continue to wend their way through the trials and tribulations of dating. After Jim cancels a da

Wednesday, November 14th, 2001

6: Replacements

Carol is infuriated when Dennis cancels the annual budget meeting for all faculty. The entire faculty bands together to get rid of Dennis, including writing his end of the first semester review. Carol convinces the faculty to give Dennis a chance to prove himself. When he later takes Carol to task for her actions, she investigates further, discovering he was fired. Carol writes him a positive evaluation, which Dennis tears up and returns. Frustrated by his continued rebuffs, she kisses him. A young lawyer, Joe Baxter, fresh out of the corporate world and full of energy, requests to join Ed's ""firm"". He observes Ed for a while, and launches his own ""bowling alley practice"" complete with Kenny, Shirley, and Phil-esque characters in his employ, and going so far as to steal Ed's clients. He advertises himself as the world's first bowling alley lawyer. When push comes to shove, Joe cannot deliver in the court room, and Ed happily regains his status. Ed gets involved in the Carol-Dennis tiff

Wednesday, November 21st, 2001

7: The New World

Ed represents Dennis in a minor fender-bender case, but when the other party's lawyer asks for an exorbiant amount of money, Dennis insists they settle in order to close the case; Ed tries to resurrect the annual Thanksgiving Day parade; Nancy declares war on her fellow ""cookie moms"" when she is sabotaged while launching her own cookie line.

Wednesday, December 5th, 2001

8: Goodbye Sadie

Ed represents a teacher who admits to refusing to cast a talented African American in a play--as Abraham Lincoln; Warren gets an image makeover; Molly resists her boyfriend's efforts to get her a new car.

Wednesday, December 12th, 2001

9: Charity Cases

Ed becomes the anti-Claus after a wealthy client gives Stuckeyville a Christmas gift he really can't afford, forcing the bowling-alley bunch to host a frenzied fund-raiser. Meanwhile, Mike fears that he and Nancy are a bad influence on their own daughter; and Carol gets a peek at the other woman in Dennis's life.

Wednesday, January 9th, 2002

10: Small Town Guys

Hoping to turn the case into a First Amendment issue to be heard by the Supreme Court, a celebrity lawyer offers to help Ed defend an ex-classmate being sued by a woman for embarrassing her on the Internet. Mike resorts to extreme measures after Dr. Jerome decides to postpone his retirement. Warren finds that the class clown who laughs first is the one who get the most laughs.

Wednesday, January 16th, 2002

11: Two Days of Freedom

Carol breaks Ed's heart with a lie about her relationship with Dennis, who gives Miss Vessey cause to reconsider romance with him. Meanwhile, a Stuckeyville woman hires Ed to watch over her husband during his very unusual birthday celebration; Phil and Kenny set out to invent a new food; and Warren's first date with Jessica hits a snag.

Wednesday, January 30th, 2002

12: Ends and Means

Ed represents a woman who embezzled money from her insurance company employer to pay for a claimant's liver transplant, and breaches his own ethics to keep her out of jail. Nancy tries and fails at a new career as a substitute teacher, and realizes that she'd like to become a guidance counselor. For once, Phil gets it right when he turns a child's birthday party at the Stuckeybowl into a celebrity roast, which ends up being a bigger hit than Ed anticipated.

Wednesday, February 6th, 2002

13: Youth Bandits

Ed and Carol disagree about the propriety of reuniting Ed's high school garage band to play at the funeral of the band's songwriter; Warren spends a blissfull week dating Jessica and immortalizes the event with an infinity tattoo; Molly tutors Phil in chemistry so that he can pass his G.E.D. exam.

Wednesday, February 27th, 2002

14: Things To Do Today

A beautiful, off-beat woman blows into town and sweeps Ed off his feet, while encouraging him to face his fears and live life to the fullest; everyone gets more than they bargained for when Carol gives her students a journalism assignment to videotape and report a news-breaking story at Stuckeyville High; Ed discovers an unpleasant truth about Jim and forces him to tell Molly, who is devastated by the revelation.

Wednesday, March 6th, 2002

15: Nice Guys Finish Last

Ed helps a wimpy lawyer negotiate with a trucking company that is disturbing Stuckeyville's peace by routing its rigs through town; Carol regrets asking Dennis to critique one of her short stories; Molly rebuffs Jim's attempts to explain his behavior.

Wednesday, March 27th, 2002

16: Wheel of Justice

Ed winds up behind bars and in over his head after his favorite judge displays some outlandish courtroom behavior; Phil runs a boot camp for clowns to find the perfect one for a Stuckeybowl celebration; Mike becomes the object of derision after a marketer takes over the ads for his new private practice.

Wednesday, April 3rd, 2002

17: Lloyd

Ed's fast-talking big brother blows into town and ropes Ed into a risky plan to glam up Stuckeybowl; Nancy's Internet chat buddy turns out to be a little younger, but a lot older-acting than she expected; and Warren finally sees Diane in a new light after he fails to make headway with a college girl.

Wednesday, April 10th, 2002

18: Trust

Mike is sued for sexual harassment by a nurse at his office, and he reluctantly agrees to let Ed represent him. The long-time friends have a short-term but serious falling-out when a deposition reveals that Mike has withheld evidence that could destroy his case, because he didn't trust Ed to trust in his innocence. After her short story is rejected for publication, Carol takes Molly's advice to sharpen her writing skills by freelancing for Stuckeyville's newspaper, only to be dogged by frustration at every turn at the complete lack of anything in Stuckeyville that's even remotely newsworthy. In another one of his harebrained schemes, Phil tries to start a union at Stuckeybowl after Ed refuses to allow him to raid the snack bar refrigerator for a party in his motel room.

Wednesday, April 24th, 2002

19: The Shot

On the 15th anniversary of his missing the foul shot that led to Stuckeyville High's losing the championship, Ed looks to rewrite history by reenacting the moment and making the shot this time around; Molly is torn when Jim offers to leave his wife for her; Phil teaches Shirley how to flirt with a shy delivery guy.

Wednesday, May 1st, 2002

20: Power of the Person

Ed agrees to coach the Stuckeyville High ""Quiz Bowl"" team and clashes with Dennis over a team member who's scholastically challenged; Dennis falls off the wagon; Phil tries to promote a boxing match; Warren sets out on a religious search to find the courage to transform his life.

Wednesday, May 8th, 2002

21: Memory Lane

The news that Dennis and Carol have moved in together has Ed scrambling to find the perfect way to revisit the past and win her back; Dennis decides to run for president of the senior class after disapproving of the frontrunner; Warren embarks on his first real date with Diane, only to find that the feelings they have aren't exactly romantic.

Wednesday, May 15th, 2002

22: Last Chance

Ed wrestles with his nervousness about taking what he believes to be his last chance to tell Carol exactly how he feels after he discovers that she and Dennis are going away for the summer together and that Dennis plans to propose during the trip; Warren and Mark compete for Diane's affection; Stuckeyvillians vie for the title of ""The Most Talented Person in Stuckeyville"".
Season 3
Wednesday, September 25th, 2002

1: Human Nature

Ed is forced to defend the scam artist who manipulated Mike into betting and losing $3,000 on a baseball game; Carol, still furious at Ed for kissing her before she left on her trip with Dennis, finally makes a decision about her romantic future; Kenny bowls a perfect game, then bids adieu to Stuckeyville to pursue new adventures; and Ed hires a new supervising manager for Stuckeybowl.

Wednesday, October 2nd, 2002

2: Miss Stuckeyville

Ed is shocked when Carol announces her engagement to Dennis; Mark agrees to go on a diet if Diane enters the Miss Stuckeybowl pageant; Diane's participation in the pageant pits Carol against Ed; Phil and Eli continue to clash.

Wednesday, October 9th, 2002

3: The Road

Overwhelmed by Carol's wedding preparations, Ed decides to take to the road for awhile, but finds the peace and quiet more than he can bear; Eli and Phil duke it out on the basketball court for the right to use Ed's office while he's away; Dennis makes Nancy prove her mettle before hiring her as a guidance counselor by assigning her to turn around a multi-cut slacker; Carol plays passive-agressive games with Dennis over plans for their upcoming nuptials; Carol tries to connect with Ed, but he won't admit his true feelings.

Wednesday, October 16th, 2002

4: Charlotte and Wilbur

Carol's father returns from Florida in time for his birthday party, unaware that she's engaged. When she finally springs the news on him, he's hurt that she's marrying someone he's never even met. At his birthday party, he gives Carol and Dennis the cold shoulder and refuses to speak to her or accept her apology. When she goes to his house to explain, she is shocked to discover that her father remarried a year earlier without telling her. Carol goes ballistic until she finds out that her father may be sick. When she asks him, he denies it. Finally, he visits her and they talk about how they have tried to protect each other ever since her mother died. He finally admits that he's scared and asks Carol to come with him to his doctor's appointment, where they get good news. Warren freaks out about the unfairness of the SAT system and mounts a one-man protest he calls ""Pencils Down!"". After several fruitless attempts to be taken seriously and enroll anyone else in his boycott, he finally fa

Wednesday, October 30th, 2002

5: The Divorce

Ed represents a pair of squabbling morning radio hosts who want to split up after a twenty year friendship; Mike and Nancy find that their preemptive marriage counselor is more of a hinderance than a help; and Molly knocks some sense into Ed and Carol to prevent them from destroying their friendship.

Wednesday, November 6th, 2002

6: May the Best Man Win

Jennifer Bradley breezes back into Ed's life claiming that she needs his legal advice; Ed accepts Dennis's sarcastic offer to be his best man; Carol's impending marriage is making Molly feel neglected.

Wednesday, November 13th, 2002

7: The Wedding

The families converge for the wedding, and Carol begins to have second thoughts after talking to her father about her parents' courtship; Warren enlists the help of Carol's sister Stella in writing a song for the bride, and the two hit it off better than Warren could have dreamed, leading him to seek out Eli for advice about women; Ed decides not to attend the wedding, but Carol begs him to reconsider; Jennifer encourages Ed to break up the wedding and he decides to go for it and ride up to the church on a white steed, but the horse he ends up with has other ideas; Dennis makes a painful decision to tell the truth at a crucial moment.

Wednesday, November 20th, 2002

8: Trapped

Tired of the continuing Carol/Ed saga, the pair's friends trap them in Stuckeybowl until they finally work things out, one way or another.

Wednesday, December 11th, 2002

9: Makeovers

Lloyd returns to Stuckeyville, and his new scheme is selling makeup for men. When he's prosecuted for being part of a pyramid scheme, Ed doubts Lloyd's claims that he knew nothing about it, creating friction between the brothers. After Mark's father has a heart attack and Mark gets bad news about his own health at his annual checkup, Mike and Warren convince him to have gastric bypass surgery. Ed and Carol smooth over the rough patch in their relationship and become friendly again.

Wednesday, December 18th, 2002

10: Neighbors

When a new lawyer arrives in Stuckeyville and encourages neighbors to sue each other, Ed hatches a scheme worthy of Phil to get Stuckeyvillans back together again; Carol urges Molly to become a candidate for Stuckeyville High principal, now that Dennis is teaching in Minneapolis; Mike prepares to take over Ed's crown as the Stuckeyville Recliner Rally champion; inspired by Mark's upcoming surgery, Phil connives with Eli to become the ""Jared"" of a local sandwich shop.

Wednesday, January 8th, 2003

11: Frankie

As Ed takes the case of a injured high school football player who's suing another player for unnecessary roughness, he meets an enthusiastic law school graduate eager for a job; Eli helps Warren and Diane give Mark his last great meal before surgery; Molly does her best to be the coolest principal ever.

Wednesday, January 15th, 2003

12: Partners

Ed and Frankie represent a man who is suing his sister for ""outing"" him, even though he insists he's not gay; Carol goes looking for love in all the wrong places; by attempting to drive away all his patients, Dr. Jerome drives Mike crazy until Mike uncovers Dr. Jerome's real motivation in trying to drive him out of business.

Wednesday, January 22nd, 2003

13: Hyenas & Wildebeests

Carol decides to be objective after debating whether she should avenge Rich Keenan's cruel high school hoax on Molly by writing a negative review of his restaurant in the ""Stuckeyville Progress"". As it happens, she sincerely hates the food and writes a scathing review, which prompts Rich to sue her for maliciously ruining his business. Ed and Frankie represent her in a bench trial before a judge who doesn't care for Ed, but who manages to be objective nonetheless. Although Carol wins the case, she is forced to deal with the aftermath of a secret that's revealed during the proceedings. Phil's latest lamebrained scheme to increase business at Stuckeybowl by attracting a younger crowd gives rise to ""Extreme Bowling"", an idea Ed quickly vetoes before it burns the building down. Molly is stymied about how to help a young geek from being harassed by other students until she devises an ingenious scheme to ensure his popularity, while all kinds of sparks fly between her and the boy's single f

Wednesday, February 5th, 2003

14: The Case

Ed takes on his first homicide case when Eli's friend is charged with second degree murder after another friend dies during the drunken recreation of an old high school prank; Frankie and Eli provide the key to the outcome of the trial after damaging testimony nearly sinks the case; Molly develops a crush on Ryan's dad, and tries to mend the relationship between father and son.

Wednesday, February 12th, 2003

15: Blips

Ed becomes concerned about his legacy after taking a longevity test and learning that his life expectancy is ""only"" 83 years; Stella returns to Stuckeyville after breaking up with her boyfriend, who follows her there; hoping to cash in on the royalty market, Phil and Eli compete to create a new birthday song; Frankie and Leon come to a parting of the ways; Warren's high-flying approach to playing Cupid for Stella on Valentine's Day gets him the thank-you of his dreams.

Wednesday, February 19th, 2003

16: Good Advice

Frankie defends Ed when he's sued for breaking a man's thumb while rescuing him from a burning car; Molly contends with Ryan's disapproval as she gets closer to Sean; Warren refuses to let Stella pull away from him after their night together; Carol gives Ed a little relationship advice about giving Frankie relationship advice, and discovers a small truth about herself; Stella chafes as Carol tries to mother her.

Wednesday, February 26th, 2003

17: Captain Lucidity

Ed tries lucid dreaming to figure out if he should pursue a relationship with Frankie.

Wednesday, March 5th, 2003

18: Business As Usual

After Mike and Dr. Jerome get into an ongoing battle over the sign outside their office, Nancy initially brings in Toby to do some conflict management, but is later forced to take matters into her own hands to resolve the dispute; Mark feels responsible when another student's gastric bypass surgery doesn't turn out so well; Ed and Frankie work through the problems of an office romance as they represent an attorney who wants to be released from a contract to marry another lawyer; Carol is shocked and less than thrilled when Ed tells his friends about his romance with Frankie.

Wednesday, March 12th, 2003

19: Babysitting

As Mike and Nancy endure a weekend at a bed-and-breakfast run by a over-enthusiastic owner with her own agenda, Ed babysits for Sarah while Frankie is out of town; when it becomes obvious that Sarah requires a woman's touch, Carol comes to his rescue and sees Ed in a new, more flattering light; Ed and Carol take Sarah's rejection by another toddler personally, and show the world how to host the ultimate playdate; ever the publicity hound, Phil attempts to spark some interest in an ""ebony and ivory"" newspaper story about his friendship with Eli, but Jerry Dobbs is only interested in writing about Eli.

Friday, March 28th, 2003

20: Second Chances

Frankie becomes upset when she learns that Ed has not been entirely forthcoming about his past with Carol; when the gang helps him save his former restaurant from going bankrupt, Eli sadly reflects how his life has changed since his accident; Carol dates the handsome new teacher in town, and finally realizes that it's Ed that she wants; to Nancy's delight, Mike picks up some slick moves from a video about becoming a better lover, but he's not so sure he's ready for the increased responsibilies his new-found skills have brought him; Frankie and Carol each make a romantic gesture to win Ed's heart.

Friday, April 4th, 2003

21: The Movie

When Carol is discouraged after Ed spurns her feelings as ""not real"", Molly becomes the catalyst in helping Ed to rethink his position; Ed helps an old friend achieve his dream of making a movie; Nancy and Mike dip their toes into show business as Mike and Phil pester the star of the movie; claiming that it's never over between Ed and Carol, Frankie flees to Houston to visit Leon; Warren is heartbroken when Stella decides to return to Boston to finish school.

Friday, April 11th, 2003

22: The Decision

Eli, Phil and Shirley take over preparations for Stuckeybowl's 75th birthday party; Carol completely freaks out when Ed tells her that Molly stole her journal and read parts of it to him, but she can't resist asking Molly about his reaction; bored with their friends' dinner parties, Mike and Nancy accept an invitation to a kegger from Stacie and Jenny, coeds they find stranded by the side of the road with a flat tire; over his better judgment, Eli takes Phil's advice to invite Vivian to the party, and gets turned down; while one college party and its hangover are enough for Nancy, Mike decides to take the plunge again by attending ""Luau Night"" after helping Stacie and Jenny study for their chemistry exam, but gets more than he bargained for when he's forced to turn down Stacie's proposition; Shirley comes up with the right person and the right motivation, and Eli finally gets up the courage to approach a pretty woman at the party; Warren's band gets booked to play at the festivities an
Season 4
Wednesday, September 24th, 2003

1: New School

Ed and Carol stumble through the first days of their changed relationship; Mike and Nancy have their hands full with a new puppy and its dishonest breeder; Eli is bewitched by an attractive and talented pie maker.

Wednesday, October 1st, 2003

2: New Car Smell

The first weeks of the new relationship between Ed and Carol are seen through the lens of his cousin Benny, who's filming a documentary for his final film school project; when Carol's lease is up, she and Ed decide to move in together; while mugging for the camera, their friends comment on Ed and Carol, and the nature of romantic relationships in general; as time goes on, and familiarity begins to breed indifference and conflict, Ed learns an important lesson about relationships from his high school driver's ed teacher and Carol gets a crucial insight into Ed from Mike; Molly teaches Warren a lesson about punking one-upmanship.

Wednesday, October 8th, 2003

3: The Dream

Ed & Mike buy a racehorse. Carol faces trouble with the school board and Molly when she suggests to Warren that college may not be for him. Warren pursues his dream of being a TV host on local cable access.

Wednesday, October 15th, 2003

4: History Lessons

Carol hides her old love letters concerning a man from her past from Ed. Ed breaks down and reads the letters and pays the guy a visit to check him out. Mike and Nancy are concerned that their baby will eventually learn of past indiscretions and go down the path of revisionist history. Meanwhile, an academic historian questions the role Stuckeyville's founder played in a Revolutionary war battle that is reinacted every year. Ed tries to help General Stuckey's descendant (the town historian/barber) maintain his family's integrity while saving Stuckeyville's historic reputation.

Wednesday, October 22nd, 2003

5: Death, Debt, & Dating

Mike and Nancy devise a series of bizarre tests to determine which of their friends would make the best guardian for Sarah if anything were to happen to them; Phil creates the perfect farewell of a 21 pin salute for an eccentric customer who breathes his last at Stuckeybowl; Molly meets an adventurous new man who literally sweeps her off her feet and into the air; Ed represents a man being sued by his father for the cost of his undergraduate and dental school tuition after he quits his internship because he hates being a dentist.

Wednesday, October 29th, 2003

6: The Offer

After a former student encourages Carol to interview for a writing job at the magazine where he works, she sets out for New York City, accompanied by Ed; at Molly's request, Warren and Mark escort a new student around school and find that the new kid isn't the only one with something to learn; Carol is sent out to complete a test assignment and does so well that she's offered a full-time writing position; Dr. Jerome and his granddaughter do a little stealth psychological testing on Mike; after some reflection, Carol decides to accept the job offer and relocate to New York City.

Wednesday, November 5th, 2003

7: Goodbye, Stuckeyville

Afraid that their relationship won't survive if they live apart, Ed decides to join Carol in New York and puts Stuckeybowl up for sale; feeling that he's losing his best friend, Mike tries unsuccessfully to make a new one; after Ed's client wins an arbitration that prevents his long-time friend from dissolving their partnership, Ed urges him to think both inside and outside the box to discover a solution that works for both of them; Molly comes to crossroads in her relationships, and realizes that neither Sean nor Ted is the right man for her; even though Ed guarantees that they will not lose their jobs, the crew at Stuckeybowl pulls some pathetic stunts to sabotage the sale until Ed decides to make them Stuckeybowl's new owners; Warren sees Carol off in high style; at their going-away party, Carol realizes that she shouldn't tear Ed away from Stuckeyville, so they agree that she'll go to New York and Ed will rack up frequent flyer miles visiting her.

Wednesday, November 12th, 2003

8: Therapy

Several Stuckeyville stalwarts seek a sympathetic ear to help them resolve relationship roadblocks: Ed sees out a therapist with a unique background to help him deal with his new long-distance relationship; Eli uses his physical therapist as a sounding board about the possibility of a future romance with Jennifer; Molly gets some expert guidance counseling from Nancy about her flirtation with an unlikely suitor.

Wednesday, November 19th, 2003

9: The Proposal

Ed is planning an elaborate proposal in New York, but when Carol returns to Stuckeyville to find out how they stand, he must come up with another plan. Mike's parents visit and his dad drives Mike crazy. Plus he wants to deep fry the turkey. Eli, afraid, that Jenny will date someone else, arranges a charity Thanksgiving dinner at StuckeyBowl and enlists her help.

Wednesday, December 10th, 2003

10: Just a Formality

Ed asks Carol's father for his permission to marry Carol, while Mike and Nancy argue over the needed rennovations to their fire-damaged home.

Wednesday, December 17th, 2003

11: Home For Christmas

With only a few days left until Christmas, Ed's getting ready to move back to New York with Carol, however an unexpected "friend" returns from Ed's past. In the meantime, Mike and Nancy are anxious to get back into their home in time for Christmas, and Mr. Hagadorn's annual Christmas yard display is under attack from a neighbor.

Wednesday, January 7th, 2004

12: The Process

After a disastrous meeting with the wedding planner, Carol wonders if she and Ed shouldn't elope; Ed soon regrets the advice he gives Mr. Mazula when his former teacher asks him to draw up a prenuptial agreement; Nancy and Mike decide that he needs to make more decisions around the Burton household, including planning the engagement party for Ed and Carol; presented with the opportunity to be represented by a literary agent, Carol struggles against time and writer's block to produce three chapters of a novel; when Mike's decision making ability melts down over magazine subscriptions, Nancy steps in to save the day and the engagement party; after Molly helps Carol realize that playing it safe is getting in the way of her writing and her wedding plans, Carol gathers up her courage and removes the obstacles to both.

Friday, January 9th, 2004

13: Back in the Saddle

Ed's ex-wife, Liz is back in town and tries to get Ed to help her get a new restaurant up and going. Meanwhile, Eli is trying to come to grips with his girls 'desires'

Friday, January 16th, 2004

14: Hidden Agendas

Carol is concerned that Liz and Ed still have feelings for each other when Liz returns to town with yet another business proposition for Ed; Mike's eager anticipation of the arrival of Gunter, the foreign exchange student that the Burtons have agreed to sponsor, turns to disappointment when Gunter seems more interested in hanging out with Nancy than playing sports with him; Eli's concern about the closing of the community center prompts him to challenge a radio talk show host, and he does so well that the radio station offers him a tryout when the host gets the flu; Molly urges Carol to talk to Liz after Liz gives Ed an inappropriately expensive watch; Eli continues to use his stint on the radio to advocate for the community center and enlists Ed's help in convincing the City Manager to keep it open; Mike discovers that he couldn't be more wrong about Gunter's interest in women after Gunter tries to kiss Nancy; Liz gives Ed the inside information he needs to help Eli expose the corrupt

Friday, January 23rd, 2004

15: Pressure Points

As Carol and Ed are finally seeing Liz off, they get mugged, leading Ed to question whether he could have prevented it; Russ pays Mike and Nancy a visit after his wife kicks him out for cheating; Phil sets up a ridiculous and elaborate security system in the aftermath of the robbery; Kate offers Eli another gig at the radio station, but Jennifer isn't happy about Eli's spending time away from her; Liz's continued presence in Stuckeyville as a result of the mugging begins to wear mightily on Carol, so Ed asks Liz to leave; after Kate is fired for backing up his decision not to grant a listener's request, Eli devises a scheme to get her rehired, which dovetails nicely with Russ's plan to win back his wife's affections.

Friday, January 30th, 2004

16: Best Wishes

In the days before the wedding, Lloyd is back in town and back in trouble; Nancy and Mike are both under the weather, but not for the same reason; Carol is unhappy, and Ed is impressed, when Stella reconnects with an old flame; Warren's attempt to play a cute trick on a friend fulfills a fantasy from his past, but not in the way he, or anyone else involved, would wish; Shirley and Toby find each other and count the things they have in common; Dr. Jerome finally has something nice to say to Mike and Nancy.

Friday, February 6th, 2004

17: Happily Ever After

Eli takes pity on Phil's latest get-rich-quick scheme; Warren, Mark and Jimmy create a hilarious Ed and Carol tribute video for the rehearsal dinner, but Shirley is the one who really brings down the house with a special song; Mike feels a little lost as the best man in the face of the extensive groomsman experience and contacts displayed by Ed's cousin Mitch; Molly opens the door when a possible opportunity comes knocking; Ed gets a behind-the-scenes inspiration for a wedding day $10 bet from a surprising source; Ed and Carol hatch some truly hairbrained ideas in their quest for the appropriate theme for their wedding until Ed's inspiration leads them to the perfect place to start the next phase of their lives.