update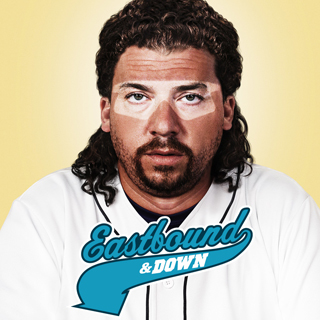 Season 0
Sunday, March 29th, 2009

1: Making Eastbound & Down

A making-of look at the show with cast and crews opinions on working on set.

Sunday, March 29th, 2009

2: Kenny Powers Greatest Hits

Audition tape of Powers displaying his wares to Major League Scouts.

Sunday, March 29th, 2009

3: Schaeffer Motors Commercial 1

A commercial for Ashley Schaeffer Motors with Will Ferrell and others in character.

Sunday, March 29th, 2009

4: Schaeffer Motors Commercial 2

Another commercial for Ashley Schaeffer Motors with Will Ferrell and others in character.

Sunday, March 29th, 2009

5: Outtakes

Outtake reel.

Sunday, March 29th, 2009

6: Deleted Scenes

Fifteen deleted scenes including a funny sequence with McBride and a middle school boy.

Sunday, March 29th, 2009

7: Stevie's Dark Secret

Stevie tells his dark secret of raping a 90 year old who's dating his grandfather.

Monday, July 11th, 2011

8: K-Swiss

Kenny Powers exercises his stock options and becomes the new MFCEO of K-Swiss in this funnyordie short.

Sunday, October 2nd, 2011

11: Season 2 Deleted Scenes

A variety of deleted scenes from Season 2.

Tuesday, December 4th, 2012

13: Season 3 Deleted Scenes

If eight episodes aren't enough, feast on the third season's deleted scenes. With 48-minutes of cuts, there's plenty of laughs to be had.

Tuesday, December 4th, 2012

14: Dinner with the Schaeffers

Will Ferrell's Ashley Schaeffer hosts a dinner party.

Tuesday, December 4th, 2012

15: Season 3 Outtakes

Every Time Someone F'd Up Our Show
Season 1
Sunday, February 15th, 2009

1: Chapter 1

Burned out and broke, former big-league pitcher Kenny Powers returns home to North Carolina to teach PE at the local middle school he once attended. Wreaking havoc at school, around town and at the home of his brother Dustin, Kenny settles into his role as the town's loose-cannon agitator, setting his sights on winning back his high-school flame April, now a teacher engaged to the school principal, Terrence Cutler.

Sunday, February 22nd, 2009

2: Chapter 2

Kenny tries to make extra money by pitching himself as spokesman for a luxury car dealership; Kenny and his driver make an appearance at the middle school dance.

Sunday, March 1st, 2009

3: Chapter 3

Stevie gets a scoop on Kenny's possible competition when he hears of a promising young high school pitcher. Cassie wants to sell off all of Kenny's baseball memorabilia on the computer. Meanwhile, Kenny makes a commitment to a new exercise regimen.

Sunday, March 8th, 2009

4: Chapter 4

Kenny attends a BBQ at April and Terrence's house where his romantic feelings for April intensify. Later, Stevie puts together a DVD of Kenny's greatest moments in the hopes that the major leagues will notice.

Sunday, March 15th, 2009

5: Chapter 5

Kenny decides to give up on his dream of returning to professional baseball. Meanwhile, arrogant car dealer Ashley comes back into the picture.

Sunday, March 22nd, 2009

6: Chapter 6

Kenny gets an offer from a professional team and is forced to say goodbye to his family and teaching job.
Season 2
Sunday, September 26th, 2010

1: Chapter 7

Kenny Powers heads to Mexico to lick his wounds and start a new, more anonymous life. Befriended by a neighboring Mexican family and a sultry bar singer named Vida, Kenny emerges from "the darkest hole I've ever been in" by planning a comeback.

Sunday, October 3rd, 2010

2: Chapter 8

Charros owner Sebastian Cisneros agrees to pull out all the stops in promoting Kenny Powers' return to organized baseball, but Kenny loses motivation after learning a secret about April from an old friend.

Sunday, October 10th, 2010

3: Chapter 9

Puzzled by the Mexican fans' lukewarm reception, Kenny starts a grassroots PR campaign to burnish his image. But it takes a vintage Powers flare-up to bring the fans to their feet. Kenny makes inroads with Vida by inviting her to Sebastian's yacht party.

Sunday, October 17th, 2010

4: Chapter 10

Though Charros fans respond to Kenny, he is warned by Roger about the perils of showboating. Kenny finds he has serious competition in his courtship of Vida. Stevie finds short-lived romance.

Sunday, October 24th, 2010

5: Chapter 11

Kenny considers a new full-time life working in Mexico.

Sunday, October 31st, 2010

6: Chapter 12

Kenny settles his debt with Sebastian; later, he settles a score with Aaron and Hector, and bids adios to Vida. Kenny passes a final test with the Charros team.

Sunday, November 7th, 2010

7: Chapter 13

Kenny confronts his future.
Season 3
Sunday, February 19th, 2012

1: Chapter 14

In the third-season premiere, Kenny finds himself in Myrtle Beach, S.C., as the closer for a minor-league baseball team, but he also has a reunion with April for his son's first birthday in his North Carolina hometown.

Sunday, February 26th, 2012

2: Chapter 15

Kenny tracks down Stevie, who's working at Ashley Schaeffer's car dealership, when he heads north with the baby to find April.

Sunday, March 4th, 2012

3: Chapter 16

Pro scout Roy McDaniel asks Kenny to take a promising Russian pitching prospect under his wing; Stevie takes stock of Shane's status while negotiating his return to Kenny's entourage.

Sunday, March 11th, 2012

4: Chapter 17

Kenny thinks his son, Toby, is cursed, and might be to blame for a recent run of bad luck; and later tries to bond with Shane's puritanical family. Meanwhile, Stevie is racked with guilt.

Sunday, March 18th, 2012

5: Chapter 18

Kenny gets surprise visitors, and tries to regain control of the team by throwing the mother of all Fourth of July parties. Meanwhile, Stevie frets over delivering bad news to Maria.

Sunday, March 25th, 2012

6: Chapter 19

Kenny tries a new pitch while attempting to be a better man and more responsible father; Stevie can't shake his feelings of remorse.

Sunday, April 8th, 2012

7: Chapter 20

Kenny hopes to get back on his coach's good side and return to his spot on the pitching staff, but his bumpy ride on the road to redemption continues. Meanwhile, Stevie tries to make things right with Maria.

Sunday, April 15th, 2012

8: Chapter 21

As Kenny adjusts to the new realities of his life, a twist of fate alters his future with the Mermen.
Season 4
Sunday, September 29th, 2013

1: Chapter 22

In the Season 4 premiere, Kenny Powers is now a family man—with his wife, April, two little kids and a home in the suburbs—but a night out with a former teammate and current TV star has him yearning to get back in the limelight.

Sunday, October 6th, 2013

2: Chapter 23

Kenny visits Guy Young to discuss a career change, and tries to convince Stevie to rejoin the Powers team.

Sunday, October 13th, 2013

3: Chapter 24

Kenny takes his family and friends on a trip to the local water park.

Sunday, October 20th, 2013

4: Chapter 25

Kenny follows through on a threat; Stevie finds Kenny a charity to promote during Guy's goodwill dragon boat race; Toby tries to find the courage to feed his new pet.

Sunday, October 27th, 2013

5: Chapter 26

April gets Kenny to agree to undergo couples therapy; Kenny and Stevie plan a new business venture.

Sunday, November 3rd, 2013

6: Chapter 27

Kenny is rattled when Guy introduces a wild card to the show; Stevie enlists Maria's help to promote Kenny's side business; April is frustrated with ``Famous Kenny.''

Sunday, November 10th, 2013

7: Chapter 28

Kenny's personal life takes a toll on his work; Stevie keeps up appearances in the face of adversity; Kenny learns a valuable Christmas lesson.

Sunday, November 17th, 2013

8: Chapter 29

Kenny returns a favor; Stevie offers revisions to Kenny's life story; April considers making a big decision.