update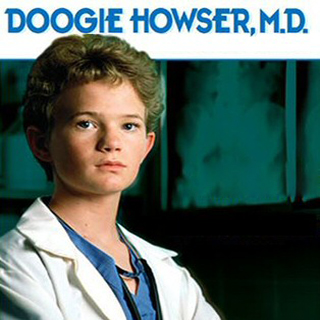 Season 0
not specified

1: Interview With Steven Bocho

Steven Bocho, one of the writers for the series as well as one of the co-creators (along with David E. Kelly), gives his take on things as well and has a few interesting anecdotes about the series. (17:26)

not specified

2: Interview With Neil Patrick Harris

Harris covers not only his career within the context of the show but also how it lead to some problems with type casting and with people thinking of him only in terms of Doogie Howser and not as a serious actor.(16:16)

not specified

3: Remembering the Cast

The now-grown-up Doogie looks back and says very nice things about all of his old castmates (9:17).

not specified

4: Max Casella Interview

not specified

5: Growing up on the Set

A 12-minute interview with the now-adult Neil Patrick Harris, who talks about the problems of being a child actor. He was the same age as Doogie -- 16 in Season 1, 19 in Season 4 -- and had to adhere to child-labor laws, not to mention the horrors of going through puberty in front of America. (He confirms what was obvious to viewers: He didn't reach even the beginnings of adolescence until he was 15, and he grew about four inches in height between Season 2 and 3.) It's an enlightening and amusing segment, particularly when Harris talks about the finer points of following (and evading) the child-labor laws, and the accommodations that had to be made for his minor status.

not specified

6: The Other Dr. Howser

James Sikking spends nine minutes reflecting on his role as Doogie Howser's dad. He talks a lot about his relationship with Neil Patrick Harris, and he covers some of the same territory as Harris (i.e., the challenge of filming with stand-ins for Doogie while Harris was with his law-mandated tutor). He speaks fondly of his time on the show, and seems to be sincere about it. (9:33).

not specified

7: Interview With Lawrence Pressman

not specified

8: Interview With Kathryn Layng
Season 1
Tuesday, September 19th, 1989

1: Pilot

Doogie passes one test to get his driver's license, but he must pass another when he treats a critically ill boy.

Wednesday, September 20th, 1989

2: The Ice Queen Cometh

Doogie freezes in disbelief when he's asked out to dinner by Victoria Burke, the new radiology chief, known in some circles as "the Ice Queen."

Wednesday, September 27th, 1989

3: A Stitch Called Wanda

Out on a date with Doogie, Wanda suffers an appendicitis attack and is rushed to the hospital for emergency surgery.

Wednesday, October 4th, 1989

4: Frisky Business

His parents' trip signals party time for Doogie and friends, whose plans include drinking beer while Doogie is on call.

Wednesday, October 11th, 1989

5: The Short Goodbye

Moving out of his parents' house proves to be an eye-opening experience for Doogie. Meanwhile, a rock star is admitted to the hospital for vocal-cord surgery.

Wednesday, October 18th, 1989

6: Simply Irresistible

After a grueling 48-hour shift amid hothouse conditions, Doogie is tempted to switch loyalties to an upscale pediatrics group eager to woo him away from Eastman.

Wednesday, October 25th, 1989

7: Vinnie Video Vici

Vinnie is no fly on the wall as he observes Doogie's personal and professional life while shooting a documentary on a day in the life of a teenage doctor.

Wednesday, November 1st, 1989

8: Blood and Remembrance

Doogie's hectic schedule prevents him from spending time with Wanda, a situation that renders him more sympathetic to a patient.

Wednesday, November 8th, 1989

9: She Ain't Heavy, She's My Cousin

Vinnie is stuck on a blind date with Wanda's "big-boned" cousin, a girl with a self-image problem not unlike a plastic-surgery patient at the hospital, who's willing to pay through the nose for a perfect body.

Wednesday, November 15th, 1989

10: My Old Man and the Sea

Doogie is invited to spend the weekend in Palm Springs with Wanda and her family—but it's the same weekend that his father picked for their annual fishing trip.

Wednesday, November 22nd, 1989

11: Tonight's the Night

Doogie and Wanda are pressured by peers to get intimate; and Doogie has trouble leaving work problems at work as he deals with an unwed teenage mother.

Wednesday, November 29th, 1989

12: Every Dog Has His Doogie

At the hospital, the homeless are being turned away to make room for paying patients; and Doogie bucks the system by arranging surgery for a youngster's pet dog.

Wednesday, December 13th, 1989

13: Doogie the Red-Nosed Reindeer

Doogie feigns illness to get out of working the night shift on Christmas Eve so he can go to a party.

Wednesday, January 3rd, 1990

14: Greed Is Good

Greedy friends and family have a hand out as Doogie makes the finals of a quiz show offering cash and prizes galore.

Wednesday, January 10th, 1990

15: Attack of the Green-Eyed Monster

Jealousy comes between Doogie and Wanda, and it also brings a silence between Dr. and Mrs. Howser.

Wednesday, January 17th, 1990

16: It Ain't Over Till Mrs. Howser Sings

A scare involving the results of her mammogram has Katherine intent on reviving her '60s singing career at a nightclub's open-mike night.

Wednesday, January 31st, 1990

17: Tough Guys Don't Teach

Teaching a safe-sex class in high school isn't intimidating for Dr. Doogie, but one of the students is a beefy bruiser who wants to fight Doogie after class.

Wednesday, February 7th, 1990

18: I Never Sold Shower Heads for My Father

Vinnie doesn't understand his father's urgency to involve him in the family shower-head business.

Wednesday, February 14th, 1990

19: Doogie's Awesome, Excellent Adventure

Doogie is just about as cool as a guy can get, thanks to fashion advice from the super-cool Griffin, who also thinks it's cool when Doogie "borrows" his father's BMW.

Wednesday, February 28th, 1990

20: Use a Slurpy, Go to Jail

An embittered gang member holds Vinnie and Doogie hostage during a botched convenience-store holdup in which Doogie is left to ponder prejudice.

Wednesday, March 14th, 1990

21: Whose Mid-Life Crisis Is It Anyway

When Doogie's dad decides to retire, discouraged that his research failed to make a splash in medical journals, Doogie prescribes an attitude adjustment.

Sunday, March 25th, 1990

22: Vinnie's Blind Date

Vinnie's date with Doogie's young patient takes a romantic turn, but Vinnie fears it won't last if a cornea transplant restores her vision.

Wednesday, March 28th, 1990

23: And the Winner Is...

Doogie and McGuire put their friendship on the line while competing for the Resident of the Year award.

Wednesday, April 4th, 1990

24: Breaking Up Is Hard to Doogie

After sitting in on a marriage-counseling session, Doogie and Wanda wonder if their relationship will improve with age; McGuire defends Spaulding's honor to a boastful rival.

Wednesday, April 25th, 1990

25: The Grass Ain't Always Greener

Now free to date other women, Doogie enjoys a few evenings with a trendy philosophy student before realizing that something's missing - Wanda.

Wednesday, May 2nd, 1990

26: Frankly, My Dear, I Don't Give a Grand

Vinnie is nervous about his "first time" with Janine; Doogie feels unexpected emotions over Wanda's announcement.
Season 2
Wednesday, September 12th, 1990

1: Doogenstein

Doogie's heavy third-year residency duties make him fear he's missing out on his youth.

Wednesday, September 19th, 1990

2: Guess Who's Coming to Doogie's

Former gang member Raymond Alexander begins working at the hospital but his past may come back to haunt him.

Wednesday, September 26th, 1990

3: Ask Dr. Doogie

Doogie becomes famous after doing some public service announcements.

Wednesday, October 3rd, 1990

4: C'est la Vinnie

Vinnie and his pregnant French teacher get stuck in an elevator.

Wednesday, October 10th, 1990

5: Car Wars

Doogie wants to buy a classic car. A mentally ill patient turns down treatment.

Wednesday, October 17th, 1990

6: Doogie Sings the Blues

Doogie treats a once popular singer who is trying to make a comeback.

Wednesday, October 24th, 1990

7: Academia Nuts

Vinnie asks to "borrow" one of Doogie's old school papers. Meanwhile, Doogie treats a wealthy hypochondriac.

Wednesday, October 31st, 1990

8: Revenge of the Teenage Dead

Vinnie makes a zombie horror movie

Wednesday, November 7th, 1990

9: Nautilus for Naught

Doogie and a hospitalized model realize they have something in common -- being judged by how beautiful or young they look

Wednesday, November 14th, 1990

10: Don't Let the Turkeys Get You Down

After Janine breaks up with him, Vinnie is not very thankful on Thanksgiving.

Wednesday, November 28th, 1990

11: Oh Very Young

Doogie rethinks his position on May-December relationships when he finds himself the victim of age discrimination.

Wednesday, December 5th, 1990

12: TV or Not TV

Vinnie tries to get help getting into film school from a TV network executive who's been admitted to the hospital.

Wednesday, December 12th, 1990

13: A Woman Too Far

Doogie weighs his relationship with Wanda against an attractive nursing student.

Wednesday, January 2nd, 1991

14: Presumed Guilty

Doogie wrecks his father's car and tries to cover it up.

Wednesday, January 9th, 1991

15: To Live and Die in Brentwood

Wanda wants time alone after a family member dies.

Wednesday, January 23rd, 1991

16: Air Doogie

Doogie joins the hospital basketball team in order to fit in.

Wednesday, January 30th, 1991

17: A Life in Progress

An AIDS-infected artist brings out everyone's true feelings about the disease.

Wednesday, February 6th, 1991

18: My Two Dads

Vinnie joins Doogie and David on a camping trip.

Wednesday, February 13th, 1991

19: Nobody Expects the Spanish Inquisition

Grandpa Howser causes problems as Doogie's parents try to renovate the kitchen.

Wednesday, February 20th, 1991

20: Fatal Distraction

Doogie and Wanda face more strains when he goes to a party with another woman.

Wednesday, March 13th, 1991

21: The Doctor, the Wife, Her Son and the Job

Doogie's mom gets a job. Unfortunately for Doogie, it's at his hospital.

Wednesday, March 20th, 1991

22: Planet of the Dateless

Two weeks of volunteer work in Mexico makes Jack reevaluate his life.

Wednesday, April 3rd, 1991

23: Doogie's Wager

Vinnie awaits word of whether he's accepted to film school.

Wednesday, April 24th, 1991

24: A Kiss Ain't Just a Kiss

Problems are bound to occur when Doogie kisses Janine

Wednesday, May 1st, 1991

25: Dances with Wanda

Doogie takes a still-grieving Wanda to the prom then introduces her to a young heart patient to rekindle her spirit for living
Season 3
Wednesday, September 25th, 1991

1: The Summer of '91

Doogie grouses to a psychologist about still being a virgin but plans to see Wanda before she leaves for Chicago.

Wednesday, October 2nd, 1991

2: Doogie Has Left the Building (1)

Doogie ponders a decision affecting the life of a young patient. (Part 1 of 2)

Wednesday, October 9th, 1991

3: Doogie Has Left the Building (2)

Life at Doogie and Vinnie's pad resembles one big beer commercial, but what Doogie really needs is a listening ear. (Part 2 of 2)

Wednesday, October 16th, 1991

4: It's a Damn Shaman

A Laotian family's religious beliefs jeopardize Doogie's care of a disabled youth.

Wednesday, October 23rd, 1991

5: The Cheese Stands Alone

A seductive classmate proves more temptation than Vinnie can handle, especially when Janine grows distant.

Wednesday, October 30th, 1991

6: Lonesome Doog

Doogie is a portrait of anxiety when Wanda comes home from art school and strikes up several new friendships.

Wednesday, November 13th, 1991

7: When Doogie Comes Marching Home

Doogie plays a Civil War doctor as he and Vinnie collaborate on a screenplay.

Wednesday, November 20th, 1991

8: Doogstruck

While driving to visit Wanda, Doogie's car breaks down in the desert where he meets a soul mate.

Wednesday, November 27th, 1991

9: Room and Broad

Doogie's parents want him to pay room and board; Spaulding's father doesn't want a pacemaker.

Wednesday, December 4th, 1991

10: Doogiesomething

Doogie and Wanda's efforts to be friends are put on hold after Wanda calls long-distance for advice on a new guy.

Wednesday, December 11th, 1991

11: Truth and Consequences

Doogie takes a liking to a homely librarian only after he learns she's scheduled for plastic surgery; a youth counselor's lies trap him in a kind of prison.

Wednesday, December 18th, 1991

12: It's a Wonderful Laugh

Doogie discovers the healing power of laughter after an argument with Vinnie and while treating a troubled kidney patient.

Wednesday, January 8th, 1992

13: Dangerous Reunions

Katherine relives the past with her visiting first love; Raymond starts hanging out with pals from the 'hood.

Wednesday, January 22nd, 1992

14: Mummy Dearest

The examination of a mummy brings rumblings of a curse from the staff and has Doogie contemplating the limits of modern medicine.

Wednesday, February 5th, 1992

15: Double Doogie with Cheese

Vinnie bets that Doogie can't last in a "mindless" fast-food job.

Wednesday, February 12th, 1992

16: The Show Mustn't Go On

An egotistical actor observes Doogie's hospital procedures to give his TV series a shot in the arm.

Wednesday, February 19th, 1992

17: If This Is Adulthood, I'd Rather Be in Philadelphia

After months of dating Cecilia, Doogie discovers what she's been hiding a 4-year-old son, who stirs Doogie's paternal instincts.

Wednesday, March 11th, 1992

18: What You See Ain't Necessarily What You Get

After taking Spaulding out for her 30th birthday, Doogie wonders if there's more fun in store for the two of them.

Thursday, March 19th, 1992

19: My Father, My Self

While Doogie considers a career specialty, he learns that another doctor has been invited to join his father's practice.

Wednesday, April 1st, 1992

20: Educating Janine

Janine's parents split a seam when Janine forsakes college for a job in fashion.

Wednesday, April 22nd, 1992

21: Sons of the Desert

Spring break in Palm Springs is just what the doctor orders for Vinnie, who pursues a jealous vendetta against Janine, and Doogie, who weighs a fellowship in trauma surgery.

Wednesday, April 29th, 1992

22: That's What Friends Are For

Doogie is anything but popular after he encourages Wanda to accept her dad's new gal and Vinnie to accept being short.

Wednesday, May 6th, 1992

23: Thanks for the Memories

Cherished memories get lost in the aging process for a patient who relies on Doogie to help him remember; and Vinnie takes a video journey of self-discovery.

Wednesday, May 13th, 1992

24: Club Medicine

The Drs. Howser spend a father-son trip at a Honduran operating theater, where Doogie gives a thumbs-down to a wisecracking surgeon.
Season 4
Wednesday, September 23rd, 1992

1: There's a Riot Going On

The 1992 L.A. riots find trauma surgeon Doogie overwhelmed.

Wednesday, September 30th, 1992

2: Look Ma, No Pants

Katherine can't stop playing mother to Doogie even after he dates her boss, whom he brings to the house for skinny-dipping.

Wednesday, October 7th, 1992

3: Doogie Got a Gun

After the family is robbed, Doogie considers buying a gun, but he's haunted by memories of shooting victims he's treated.

Wednesday, October 14th, 1992

4: Doogie Doesn't Live Here Anymore

Doogie hunts for new digs—a Venice Beach loft; and Vinnie must also find a new home when his parents divorce.

Wednesday, October 21st, 1992

5: The Patient in Spite of Himself

A med-school project has Doogie and a fellow doctor posing as patients, being poked, prodded and probed to learn how to empathize with patients.

Wednesday, October 28th, 1992

6: To Err Is Human, to Give Up Isn't a Bad Idea

Doogie faces his first solo surgery fearing he's not perfect; and Vinnie faces his first time voting.

Wednesday, November 11th, 1992

7: Doogie, Can You Hear Me?

A hearing-impaired patient charms Doogie, who speaks her language by signing but may not be listening. She also offers creative inspiration for Vinnie's Chaplinesque film.

Wednesday, November 11th, 1992

8: Nothing Compares 2 U

Doogie's ego takes a beating when a winsome nurse chooses Vinnie over him. Raymond also comes up short when comparing himself to other technicians.

Wednesday, November 18th, 1992

9: Do the Right Thing... If You Can Figure Out What It Is

Doogie's heart tells him to do one thing, his head another in choosing the best candidate for a heart transplant. Vinnie's dilemma involves a vulnerable Janine.

Wednesday, November 25th, 1992

10: The Big Sleep... Not!

Doogie holes up at the hospital on Thanksgiving Eve for some R&R, as does a new mother who feigns illness to get away from her family.

Wednesday, December 9th, 1992

11: Will the Real Dr. Howser Please Stand Up

Doogie spots evidence of child abuse when his dad's friend brings in his injured son for care.

Wednesday, December 16th, 1992

12: The Mother of All Fishing Trips

Doogie's mom makes a poor substitute as Doogie's fishing partner when Dr. Howser throws his back out and is at home being cared for by Vinnie.

Wednesday, December 30th, 1992

13: Roommate with a View

Doogie learns a lesson about trusting the unknown from a free-spirited model sharing his loft, as does a kidney-transplant candidate.

Wednesday, January 6th, 1993

14: Spell It M-A-N

A nurse Doogie's dating retaliates against his braggadocio by spreading rumors about him; Vinnie gets a new film-school dormmate.

Wednesday, January 13th, 1993

15: It's a Tough Job... But Why Does My Father Have to Do It?

Vinnie can't adjust to the masseuse his father is dating; Doogie's dad is asked to replace a doctor who expired while on duty.

Wednesday, January 20th, 1993

16: The Adventures of Sherlock Howser

Doogie as Sherlock Holmes and Vinnie as Dr. Watson play out Doogie's confusion over Michele.

Wednesday, January 27th, 1993

17: Love Means Constantly Having to Say You're Sorry

Laura makes Vinnie feel he's "become a man," but he reacts with adolescent jealousy to men around her. Meanwhile, a traveler's illness puzzles Doogie.

Wednesday, February 3rd, 1993

18: You've Come a Long Way, Baby-Sitter

Some things are better left unexplored, like Doogie's crush on his old baby sitter or Vinnie's dream of having a star read his script.

Wednesday, February 24th, 1993

19: Love Makes the World Go 'Round... Or Is It Money?

A deposit error dumping $16,000 in Vinnie's account tests his integrity; and Doogie must prove his integrity to a girl with a crush on him.

Wednesday, March 10th, 1993

20: Dorky Housecall, M.D.

Doogie bemoans his friendship-only status with Michele but finds inspiration on how to deal with it from an acerbic cartoonist patient.

Wednesday, March 17th, 1993

21: Eleven Angry People... and Vinnie

Jury member Vinnie tries to look beyond the letter of the law, as does Doogie, who uncovers a bogus doctor at Eastman.

Wednesday, March 24th, 1993

22: What Makes Doogie Run

Doogie sees his gift of genius as more of a curse than a blessing as he seeks inspiration outside the world of medicine.