update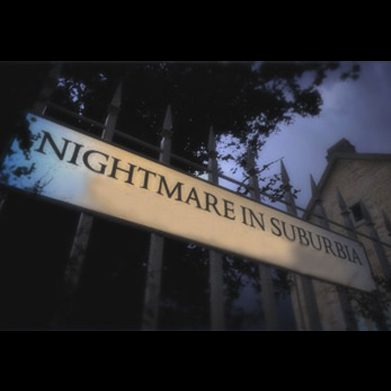 Season 1
not specified

2: The Stiletto Goddess

not specified

5: Living with the Enemy

not specified

4: Kidnapped

When 15-year-old Jenna Baldwin went missing, her parents and the police thought she'd run away. Was it teenage rebellion or something much more sinister?

not specified

3: Your Money and Your Life

not specified

6: The Night of Betrayal

Durham couple George and Christina Button lived a happy life, but Christina was secretly mounting up debts. Was murder the only way to pay them off?

not specified

7: Burning Jealousy

A look at the horrific arson attack on the Bimpson family home in Liverpool 2008. Burns from petrol-fuelled flames killed three-year-old Francesca the night before Christmas Eve.

not specified

8: The Tomb in the Terrace

In January 2000, two men walking down a lane in Sheffield found a holdall and were horrified to discover it contained the grizzly remains of a man's body. It was so decomposed that South Yorkshire Police's forensics team were unable to discover its identity.

not specified

9: The Good Samaritan

21-year-old Jane was abducted from a supermarket car park when she tried to help a stranger. Her abductor, Robert English, drove her blindfolded to a caravan in the countryside and subjected her to a number of sexual assaults. Finally allowed free, Jane amazingly recalled enough detail for the police to track down the caravan and ultimately her abductor.

not specified

10: The Internet Stalker

Matthew Pyke and his girlfriend Joanna ran an internet forum site together. One of the users known only as David from Germany or Eagle_the_Lightening became obsessed with Joanna and started making regular unannounced visits to their home. No one could have predicted that his jealousy would escalate into the murder of Matthew. With barely any details to identify David or locate him, the Police were then faced with the task of tracking him down.

not specified

11: Two Stolen Lives

On 5 March 2002, Kim Newson was babysitting at her friend's house in Lincoln. Just after 2am, the pregnant 18-year-old walked the short distance home to her flat. She was never seen alive again. During police inquiries officers visited Stephen Hughes who lived in the flat below Kim's; he claimed to have heard her return home that night with a friend. When his flat was later searched in connection with a burglary police found Kim's birth certificate, with what appeared to be a bloody footprint on it. Further examinations by the forensic team revealed the horrific truth about what had happened to Kim in Hughes' flat.

Sunday, October 5th, 2008

1: Death for Dinner

Kate & Lee Knight celebrate their seventh wedding anniversary. What Lee doesn't know is that Kate has laced her husband's curry & red wine with antifreeze.
Season 2
not specified

1: A Walk in the Dark

rachel moran - kingston on hull

not specified

2: For the Love of Money

not specified

3: The Tomb in the Terrace

not specified

4: The Good Samaritan

not specified

5: The Internet Stalker

not specified

6: Two Stolen Lives

not specified

7: Unknown
Season 3
not specified

1: The Perfect Murder?

When Kate Wakefield found love in her 50's with Adrian Prout, she thought she'd met the man of her dreams. Their marriage started off as a happy affair but it sadly descended into arguments and domestic violence. When Kate disappeared in November 2007, Adrian claimed that she must have gone to stay with a friend but the reality was much darker. Adrian had in fact murdered Kate, fearing he would lose his beloved farm and business if they were to divorce. Although her body has never been found, Adrian was found guilty of murder in January 2010.

not specified

2: Blood on His Hands

Colette left home to walk the short distance to her boyfriend's house, a 20-minute route to the home in Willow Brook. October 30 1983. She was usually picked up by her boyfriend but his car but it was off the road at the time. He phoned Colette's mum Jacqui asking 'where's Colette' that's when the panic set in at 8pm and her nightmare began. The next day Colette's body was found by Police officers. Her naked body found dumped just off a lovers' lane, Thurlby Lane in a muddy field a mile and a half away. The killer remained undetected despite him chatting with a landlady on the night of the murder who noticed he had blood on his hands.

not specified

3: Killing the Truth

Samantha Gillingham was bought up in a middle class family but her world was turned upside down when her father Russell moved his mistress into the family home. A year later Sam's mother Carole disappeared, apparently unable to remain in the marriage. Ten years later, Sam's received news that her father Russell was missing presumed dead after falling overboard from a yacht in Guernsey, leaving her devastated. However, when detectives discovered Russell alive and well, they started to unravel a darker truth about the family's past and the mystery surrounding Carole's disappearance.

not specified

4: Till Death Us Do Part

Collette and Christopher Daffin were the picture of the average couple, married for 16 years they had two sons and lived in a suburb of Chesterfield. When Collette was tragically killed in a hit and run traffic collision her family were heart broken. but police investigations over the following two days would uncover the terrible truth about their daughters death.

not specified

5: Watching the Detectives

Tati Rodgers lived in Wrexham and was due to join friends for a post New Years lunch in January 2010, but failed to turn up. For the next fourteen months there was no trace of Tati, but police had a number one suspect who they believed could be responsible for her disappearance. They were also sure Tati had been killed. Convinced that the young woman had been buried in nearby fields, the police employed unique tactics to lure their prime suspect back to the possible location of her body, Lukasz Reszepondek.

Monday, July 18th, 2011

6: Burning Jealousy

A look at the horrific arson attack on the Bimpson family home in Liverpool 2008. Burns from petrol-fuelled flames killed three-year-old Francesca the night before Christmas Eve.
Season 4
not specified

1: The Cruellest Cut

Greenford, London, where 28-year-old Geeta Aulakh was murdered in 2009.

not specified

2: Confessions of a Killer

A look at the shocking murder of 65-year-old Maureen Cosgrove, who was killed by her daughter's partner in her £800,000 home in London in 2009.

not specified

3: The Judas Sisters

A look at the murder of Antoni Robinson, who was killed by his daughters Ashleigh and Holly and their boyfriends for the contents of his safe.

not specified

4: The Body in the Freezer

A look at the shocking death of pub landlady Rebecca Thorpe, who was found murdered in a freezer in the quiet Norfolk village of Snettisham in 2010.

not specified

5: The Enemy Within

not specified

6: In the Dead of Night
Season 5
Tuesday, September 30th, 2014

1: Love, Greed & Betrayal

When Stephen Seddon crashed his hired BMW into a canal, he was seen as a hero after rescuing his elderly parents from drowning. But just months later Stephen's parents were found shot dead. It first appeared to police that his father had killed his wife then taken his own life. Detectives had to use all their skills to solve what the judge would call a 'terrible and unnatural crime.' Stephen stood to inherit £230,000 but appeared to have a cast iron alibi for the time the murder was committed. Detectives had to work extremely hard to gather the evidence to gain a conviction for Robert and Patricia's murder.

Tuesday, October 7th, 2014

2: 12 Days of Christmas

During Christmas 2012, 76 year old Patricia Goodband vanished without a trace. Pat's business partner and friend Chris Symons said he'd dropped her off at Milton Keynes train station so that she could visit a friend in the North for New Year. The murderer tried to throw police off the scent by sending texts from her phone. Detectives hunting for clues of Pat's whereabouts hoped to find their answer within her diaries. But it would be another piece of written evidence that would give them their biggest breakthrough.

Tuesday, October 14th, 2014

3: The Babysitter & The Cyber Killer

19 year old babysitter Katy Briscoe was stabbed 23 times and killed. Although, there were no immediate suspects, it was clear that Katy knew her killer and had willingly let them into the house. Detectives discovered that during the six months leading up to her brutal murder, Katy had been lured into a twisted virtual world, where no one was what they seemed and no one could be trusted.

Tuesday, October 21st, 2014

4: Hotel of Horrors

Sasha Marsden was a typical 16-year-old. She enjoyed spending time with her friends and her boyfriend and she was always on her Blackberry messenger. Sasha was studying childcare at Blackpool and the Fylde College and was looking for a part-time job so she could earn some extra money. Little did she know that her new job as a cleaner at a local hotel would lead to her death at the hands of a sadistic killer, but who was responsible?

Tuesday, October 28th, 2014

5: The Sat Nav Killer

When Vitalija Baliutaviciene suddenly disappeared, she left her ten year old son sleeping. Alive or dead, the question of what had happened to Vitalija remained a total mystery. But by closely investigating modern technology, detectives found a breakthrough that would identify her abductor and offer an unprecedented and disturbing insight into his mind. Their investigation took them on a journey of obsessive jealousy.

Tuesday, November 4th, 2014

6: The Camper Van Killer

When William Collis and his wife Georgina Ryder failed to return from a long camping holiday in Europe friends and family became suspicious. When detectives started to investigate, they found that all was not as it seemed in the couple's marriage.As detectives pushed their inquiries they uncovered a web of lies, deception and a grisly murder. But who had murdered Georgina Ryder and what was their motive?