update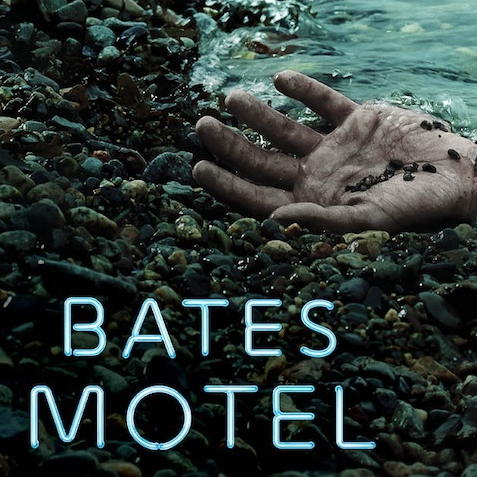 Season 0
Monday, March 3rd, 2014

1: After Hours: Season Premiere

A live half-hour special event brings the highly engaged "Bates Motel" community to life as fans interact with the show's stars and creators sharing behind-the-scenes analysis and exclusive content. Series stars and producers share their insights into the first episode and answer fan questions about the upcoming season of "Bates Motel."

Monday, May 5th, 2014

2: After Hours: Season Finale

A live half-hour special event brings the highly engaged "Bates Motel" community to life as fans interact with the show's stars and creators sharing behind-the-scenes analysis and exclusive content.

Monday, March 7th, 2016

3: Catch Up

A recap of the first three seasons leading up to the season four premiere of "Bates Motel."

Monday, February 20th, 2017

4: Quickie Catch-Up

A recap of last season's "Bates Motel" to bring you up to speed before the season 5 premiere.

Monday, February 20th, 2017

5: Season 4 Recap

Fans look back at Season 4.

Monday, April 24th, 2017

6: The Final Check Out

Fans get the chance to say goodbye to Norman and Norma, as the actors answer with questions from social media, as well as EPs and creators, Kerry Ehrin and Carlton Cuse. Additionally, interviews, favorite scenes, and bloopers are introduced.
Season 1
Monday, March 18th, 2013

1: First You Dream, Then You Die

Widow Norma Bates and her shy teenage son, Norman, seek a fresh start in a coastal town filled with secrets; the arrival of an unexpected guest turns the Bates' lives upside down.

Monday, March 25th, 2013

2: Nice Town You Picked, Norma...

When Dylan arrives he immediately begins causing trouble; the Bates' are drawn into the secrets surrounding White Pine Bay.

Monday, April 1st, 2013

3: What's Wrong with Norman

Dylan learns there is more to his new job than he originally thought; Emma and Norman make a shocking discovery.

Monday, April 8th, 2013

4: Trust Me

Norma deals with distractions as her suspicions grow about certain town residents.

Monday, April 15th, 2013

5: Ocean View

Norma receives some much-needed help, while Norman desperately awaits his mother's return home; Emma and Norman follow more clues, leading to a big discovery.

Monday, April 22nd, 2013

6: The Truth

Dylan asks Norman to move in with him; Norma warns Emma that some things are best kept to themselves.

Monday, April 29th, 2013

7: The Man in Number 9

The Bates Motel welcomes its first guest; Norman learns that popular girls come with many complications and Norma hires Emma to work at the motel.

Monday, May 6th, 2013

8: A Boy and His Dog

A mysterious stranger causes problems for Norma; Bradley is not happy when rumors spread at school; Dylan and Remo go on a fateful road trip; Norman takes up a grisly hobby.

Monday, May 13th, 2013

9: Underwater

Abernathy increases the pressure; Bradley and Dylan connect; Miss Watson encourages Norman's active imagination; Emma takes a trip.

Monday, May 20th, 2013

10: Midnight

Romero decides to take action; Norman brings Emma to the dance, but gets a ride home from Miss Watson.
Season 2
Monday, March 3rd, 2014

1: Gone But Not Forgotten

Norman fixates on Miss Watson's death; Dylan becomes involved in White Pine Bay's drug war; Bradley is driven to extremes as she searches for her father's killer; new romantic interests complicate the relationship between Norman and Emma.

Monday, March 10th, 2014

2: Shadow of a Doubt

Norma tries to distract Norman from his current obsession; Bradley needs help escaping from a dire situation; Romero is pressured to make an arrest; Dylan and Remo are kept on edge by a new worker.

Monday, March 17th, 2014

3: Caleb

Norma's brother Caleb arrives at the motel; Norma finds an ally in her efforts to prevent the bypass; Emma holds a memorial for a friend; a townie girl interests Norman.

Monday, March 24th, 2014

4: Check-Out

Dylan questions his loyalty to Norma and Norman; Christine introduces Norma to the town's social scene; Caleb's presence worries Norman; Romero is caught between Zane's war with a rival drug family.

Monday, March 31st, 2014

5: The Escape Artist

Norman shares a family secret with Cody; Dylan is caught in Zane's escalating war; Norma teams up with a mysterious man in an attempt to stop the bypass.

Monday, April 7th, 2014

6: Plunge

Dylan is asked to manage an explosive situation; Norma and Norman's relationship is threatened by a growing secret; Emma lands in a dangerous situation.

Monday, April 14th, 2014

7: Presumed Innocent

Norma's faith in Norman is questioned; Dylan is threatened by a revengeful Zane; Romero receives new evidence in the murder of Miss Watson; Cody and Norman's friendship reaches the breaking point.

Monday, April 21st, 2014

8: Meltdown

Romero digs deeper into the murder of Miss Watson; the conflict between the drug families leaves Dylan facing an impossible choice; Norma refuses to tell Norman the truth about his blackouts.

Monday, April 28th, 2014

9: The Box

Norma is desperate to connect with Norman; Dylan must decide if he should risk his life to save a loved one; Romero hopes a former colleague can help him determine Norman's involvement in a crime.

Monday, May 5th, 2014

10: The Immutable Truth

A tragic event from the past haunts Norman; Norma tries to prevent Norman from making a terrible mistake; Romero and Dylan find a way to end the drug war; Emma makes a decision about her future.
Season 3
Monday, March 9th, 2015

1: A Death in the Family

Norman and Emma make decisions regarding their future. Norma informs Norman of his boundaries. Meanwhile, Dylan's new start is complicated by an unexpected visit.

Monday, March 16th, 2015

2: The Arcanum Club

Norma and Norman focus on Annika's disappearance. Norma learns the truth about the Arcanum Club, while Caleb and Dylan meet a new neighbor.

Monday, March 23rd, 2015

3: Persuasion

Norman's relationship with Emma weakens his bond with Norma. Meanwhile, Romero asks Norman some hard questions as he meets his re-election competition.

Monday, March 30th, 2015

4: Unbreak-Able

Emma and Norman spend a day away from the motel. Romero looks into two strange deaths in White Pine Bay. Norma returns to school. Caleb and Dylan's hidden secrets unravel.

Monday, April 6th, 2015

5: The Deal

Norma turns to Romero for guidance when she finds herself in an unexpected position of power. Meanwhile, the fallout of a secret impacts Norman and Dylan; Caleb contemplates a surprising offer.

Monday, April 13th, 2015

6: Norma Louise

Norma contemplates a life outside of White Pine Bay. Emma and Dylan bond while helping Norman. Meanwhile, Romero faces a new threat.

Monday, April 20th, 2015

7: The Last Supper

Norma returns home and Norman agrees to get help. Meanwhile, Dylan learns disturbing news about Emma's health.

Monday, April 27th, 2015

8: The Pit

Romero confronts Norma about newly learned information. Caleb and Dylan take a risky job. Meanwhile, Emma makes a decision about her future with Norman, who is left reeling from a recent discovery.

Monday, May 4th, 2015

9: Crazy

Norman spends the day with a surprise visitor. Norma attempts to keep secrets from being revealed. Meanwhile, Caleb pays a price for helping Dylan with a good deed at the farm.

Monday, May 11th, 2015

10: Unconscious

Norman's issues push Norma to the breaking point; Emma has an unexpected reaction to good news; Romero picks a side and seals his fate in the town; Caleb's decision brings about major life changes.
Season 4
Monday, March 7th, 2016

1: A Danger to Himself and Others

Norma searches for Norman, who finds himself in unfamiliar surroundings. Dylan waits for news about Emma while Romero gets a surprising proposition.

Monday, March 14th, 2016

2: Goodnight, Mother

Norma and Norman each suspect the other in a terrible deed; Dylan contemplates his future with Emma; Romero makes a choice that drastically impacts the Bates family.

Monday, March 21st, 2016

3: 'Til Death Do You Part

Norma and Romero take a big step together; Norman attempts to accept his new surroundings; Dylan tries to shed old business.

Monday, March 28th, 2016

4: Lights of Winter

Norman and his new friend have an adventure; Norma experiences her first taste of real happiness in some time during an annual festival in White Pine Bay; Dylan becomes caught between two families.

Monday, April 11th, 2016

5: Refraction

Norman tries to confide in Dr. Edwards, but worries he may reveal too much. Also: Norma hires a craftsman to fix a window and Romero uncovers a crime that threatens his new life.

Monday, April 18th, 2016

6: The Vault

Norman uncovers painful truths as his therapy progresses; Norma works to prevent a secret from being revealed; Romero assists an old friend despite the risk to his career.

Monday, April 25th, 2016

7: There's No Place Like Home

Norman returns home after making an unanticipated discovery; Norma takes on new projects; Dylan's search for Emma's mother leads to disturbing results.

Monday, May 2nd, 2016

8: Unfaithful

Norma is torn between Norman and Romero during a holiday outing, Norman comes to the realization that everyone has changed while he was away.

Monday, May 9th, 2016

9: Forever

Norma and Norman attempt to reconnect as they plan for the future; Dylan and Romero decide to take action for Norman's own good!

Monday, May 16th, 2016

10: Norman

Norman plans a special event for his mother; Romero faces pressure due to his actions; and Dylan considers reaching out to Norman, but wants nothing to do with Norma.
Season 5
Monday, February 20th, 2017

1: Dark Paradise

Norman tries to keep up appearances despite a troubling discovery; Dylan and Emma receive a surprise guest.

Monday, February 27th, 2017

2: The Convergence of the Twain

Norman's date doesn't go as planned; Romero's frustrations reach a boiling point; Chick brings Norman a gift.

Monday, March 6th, 2017

3: Bad Blood

Norman helps Chick with a project; Romero makes his move; an apologetic Madeleine reaches out to Norman.

Monday, March 13th, 2017

4: Hidden

Norman learns who he can rely on as he attempts to protect his secrets; Romero struggles to find safety.

Monday, March 20th, 2017

5: Dreams Die First

Norman tries to piece together Mother's movements; in Seattle, Dylan and Emma confront an ugly truth; Sam's girlfriend, Marion, makes an impulsive decision with far-reaching consequences.

Monday, March 27th, 2017

6: Marion

A special guest checks into the motel; Dylan grapples with devastating news; Sam and Madeleine's marriage reaches a crossroads.

Monday, April 3rd, 2017

7: Inseparable

Norman and Mother are brought together as trouble looms large; Romero convalesces with the aid of an old friend; Dylan returns home.

Monday, April 10th, 2017

8: The Body

Mother uses tough love to protect Norman; Sheriff Greene opens a murder investigation; Dylan gets help for his brother.

Monday, April 17th, 2017

9: Visiting Hours

Norman's legal problems worsen; Emma takes care of family business as Dylan finds himself caught between his past and his future; Romero begins his plan for revenge.

Monday, April 24th, 2017

10: The Cord

Norman Bates comes home.