update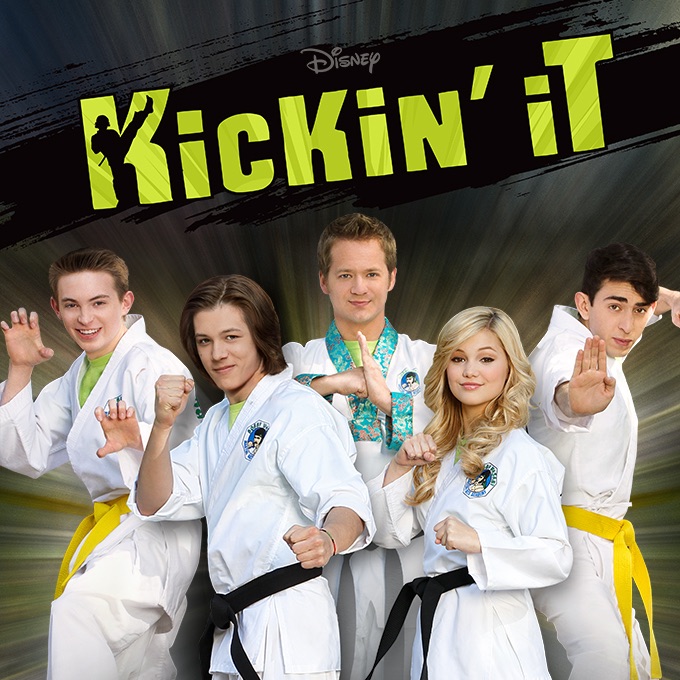 Season 1
Monday, June 13th, 2011

1: Wasabi Warriors

Jack, the new kid at school, makes friends with Jerry, Eddie, Milton and Kim. who all do karate, joins the Bobby Wasabi Martial Arts Academy, and competes against their arch rivals from the Black Dragon dojo.

Tuesday, June 14th, 2011

2: Fat Chance

The kids discover that a school janitor was once a sumo wrestler and try to help get him back into wrestling. Rudy fights with Lonnie from Reptile World for a storage space in the basement of the mall.

Wednesday, June 15th, 2011

3: Dummy Dancing

The crew bands together to obtain an embarrassing video of Eddie before it goes viral on the internet.T Lonnie's pet iguana eats Rudy's prized grain of rice.

Thursday, June 16th, 2011

4: Dojo Day Afternoon

The mall owner's obnoxious son Arthur joins the Bobby Wasabi dojo, After an altercation with Jack, Arthur's dad threatens to turn the dojo into a parking lot if Jack isn't kicked out.

Monday, June 20th, 2011

5: Swords and Magic

The gang helps Milton prepares for a live-action role-playing battle even though they think it's uncool. Jerry tries to impress Kelsey Vargas but keeps lying to her.

Monday, June 27th, 2011

6: Road to Wasabi

Jack recruits the former international movie star Bobby Wasabi to appear at Rudy's birthday party. Rudy takes a job at Reptile World to make ends meet.

Monday, July 11th, 2011

7: All the Wrong Moves

Jerry signs the gang up for the "Hottest Dance Crew Competition" at the mall, but quickly learns they can't dance. Rudy and Marge host an infomercial for Pocket Ninja but Rudy messes up.

Monday, July 18th, 2011

8: Ricky Weaver

Teen pop sensation Ricky Weaver asks Kim her to dance with him in concert, but Jack thinks his intentions are not honourable. Rudy and the rest of the gang form a boy band to open for Ricky Weaver.

Monday, July 25th, 2011

9: Wax On, Wax Off

The dojo wins a life-sized wax statue of Bobby Wasabi just as a heat wave hits town. Kim and Milton turn the mall courtyard into a beach and start charging for chairs and sunblock.

Monday, August 15th, 2011

10: The Commercial

Rudy discovers his natural acting ability and hires Jerry as his manager. Milton's perfect GPA is threatened when a baking assignment leads him to become a crazed tyrant chef.

Monday, October 17th, 2011

11: Kung Fu Cop

Jack falls asleep watching an old Bobby Wasabi movie and dreams he and the gang are in a 70's disco-styled detective movie.

Monday, October 24th, 2011

12: Boo Gi Nights

The Black Dragons discover Jack's secret fear. Rudy meets a catwoman and tries to find out who she really is.

Monday, November 14th, 2011

13: Clash of the Titans

Milton falls for Julie but her uncle, the head of a rival dojo, forbids them from seeing each other. Jerry and Eddie compete to see who is the best rapper.

Monday, November 21st, 2011

14: Badge of Honor

After Milton accidentally stops a robber at the mall, he daydreams about being a Captain America-type hero - and gets his chance. Rudy wants to learn to skateboard, and it's up to Jack and Kim to teach him without killing him.

Monday, November 28th, 2011

15: The Great Escape

Jerry gets detention for a prank pulled by Milton, Milton disguises himself as Jerry and goes to the detention. Rudy has to babysit Phil's goat.

Monday, February 6th, 2012

16: Dude, Where's My Sword?

With Rudy on a road trip, the gang has a wild party in the dojo and Rudy's prized Katana sword goes missing. A roadhouse brawl leaves both Rudy and Bobby felling more alive than ever and Carlotta putty in Rudy's hands.

Monday, February 13th, 2012

17: Breaking Board

Jack's kick accidentally puts Jerry in the hospital. When Eddie and Milton visit Jerry they end up in the maternity ward - and in trouble. Rudy wins a free-food-for-life contest at Falafel Phil's that was rigged to be unwinable.

Monday, February 27th, 2012

18: Reality Fights

The gang is lured into competing in the Martial Arts reality Show, with Rudy as the show's host.

Monday, March 5th, 2012

19: Kickin' It in China

Jack enters the Junior world martial arts championships in China.and competes against his cousin Kai. Milton, Eddie and Jerry get lost after trying to find out the meaning of a fortune cookie they got.

Monday, March 12th, 2012

20: The Wrath of Swan

After Jack turns down Kim's invitation to be her Ball date, she asks Brody, a new kid in school. Rudy helps Eddie with the Explorer Scout's Pinewood Derby.

Monday, March 26th, 2012

21: Rowdy Rudy

Rudy flips a professional wrestler and becomes an internet sensation. Kim helps Milton when he thinks that Julie wants to kiss him.
Season 2
Monday, April 2nd, 2012

1: Rock 'em Sock 'em Rudy

Rudy must fight for his job when he is replaced as Sensei by a futuristic robot, the Wasabitron 3000. Milton and Eddie build their own robot to try to destroy it.

Monday, April 9th, 2012

2: My Left Foot

Milton thinks that Jack should be the new kicker for the Seaford High football team but things turn out otherwise.

Monday, April 16th, 2012

3: We are Family

The gang tries to save up their money to buy a go-cart that they can all share, but Jerry decides to get a job at "Meatball King" in order to buy the go-cart for himself.

Monday, April 23rd, 2012

4: Eddie Cries Uncle

Eddie pretends that one of the Harlem Globetrotter's is his uncle.

Monday, April 30th, 2012

5: Skate Rat

When the gang's regular skate park closes, they ask Rudy to ask his former classmate, who owns a bunch of skate parks, to build one for Seaford High. But the place where it is going to built is the home of a rare rodent. Kim stands up to protect the rodent's home and at first Jack disagrees with her. Luke pretends he is going to protect the rodent but is really going to get rid of it to build the rink to sell his merchandise. Jerry and Eddie become the testers of skating gear to impress some cute girls.

Monday, May 7th, 2012

6: Capture the Flag

The gang helps Rudy avenge Swathmore stealing the flag from his float back when he was in high school. A Swathmore girl challenges Kim to a pageant.

Monday, June 11th, 2012

7: It Takes Two to Tangle

Rudy runs into in an old rival at a San Francisco tournament. Milton flips Jerry and thinks that he has awakened his inner voice, so he decides to become a self-help guru.

Monday, June 18th, 2012

8: Buddyguards

When Jack and Jerry save the lead singer of their favorite band and become his bodyguards, t they find out that one of the band members is out to get him. Rudy, Milton, and Eddie run Phil's restaurant while he is away.

Monday, June 25th, 2012

9: Dojo Day Care

The kids take care of the Principal's baby, but he crawls away, making them scramble to find him.

Monday, July 16th, 2012

10: Indiana Eddie

The gang tries to help Eddie with his dream of becoming an archeologist.

Monday, July 23rd, 2012

11: Kim of Kong

After Jack lets Kim win in a fight, she demands a fair rematch. They fight in a virtual world in an arcade where neither of them hold back.

Monday, September 10th, 2012

12: Kickin' It Old School

Rudy is excited when he learns he may be elected into Seaford High's Hall of Fame, but he then realizes that he has to finish high school first.

Monday, September 17th, 2012

13: The Chosen One

The gang gets to train with the legendary Shaolin Warriors whose Grandmaster decides that Jerry is the chosen one destined to save the temple.

Monday, September 24th, 2012

14: Hit the Road Jack

When Jack is offered a scholarship to the famous Otai Academy in Japan. Kim struggles to say good bye while Rudy is overjoyed. Meanwhile Jerry, Eddie, and Milton hold auditions for Jack's replacement.

Monday, October 1st, 2012

15: A Slip Down Memory Lane

Jack is about to break the record of most boards broken by a person under the age of 15, when he slips and loses his memory.

Monday, October 8th, 2012

16: Wedding Crashers

The gang tries to stop Bobby Wasabi from marrying a woman with a reputation for stealing rich karate stars' fortunes.

Monday, October 15th, 2012

17: Wazombie Warriors

When Kim falls asleep watching a Halloween movie, she dreams that all her friends have turned into zompyres - a cross between zombies and vampires. Kim has to battle through, which is tricky, because she feels she is hurting her dearest friends - especially Jack. Her mission is to travel to Dr. Krupnick's home, (Milton is only one of her friends who isn't a zompyre) who has the only zompyre antidote.

Monday, October 22nd, 2012

18: Sole Brothers

Jack and Jerry both start working at a shoe store in the mall, but run into trouble when Jerry is promoted to manager and Jack isn't.

Monday, October 29th, 2012

19: All the President's Friends

When Milton becomes school president, he becomes the target for an embarrassing takedown.

Monday, November 5th, 2012

20: New Jack City

Jack feels replaced when Carson, an old friend of the gang's and Rudy's star pupil, returns to Seaford.

Monday, November 12th, 2012

21: Karate Games

Jack and Kim are chosen to star in a new action movie. But they discover that they are not just acting in the movie but they are also living it. Their characters are enemies but they are bought together by a kiss.

Monday, November 19th, 2012

22: Kickin' It on Our Own (1)

Rudy leaves the dojo because of a new job that he can't say no to, and Ty and the Black Dragons end up buying it. They demote all the Wasabi Warriors to white belts and the five say good-bye and leave the dojo. When they meet each other again, after three months, they have all grown apart, and Kim has a boyfriend Brett. Ty tells Rudy that in order to gain the dojo back, the two dojos must compete against each other. Milton brings in his Aunt Jillian to get everyone in shape. Later at the tournament, the two dojos are at a tie, and to win the dojo Rudy has to go up against Kofi Kingston. Eventually he beats Kofi, and they win the dojo back. Kim breaks up with Brett telling him she "has feelings for someone else (Jack)". Jack overhears, and the episode ends as Jack and Kim skip practice to go on a date.

Monday, November 19th, 2012

23: Kickin' It on Our Own (2)

Monday, December 3rd, 2012

24: Oh, Christmas Nuts!

Jack, Jerry and Milton are accused of stealing presents when they work with Santa at a mall.
Season 3
Monday, April 1st, 2013

1: Spyfall

After attacking a secret agent in Phil's Restaurant, Jack has to take on the agent's role of protecting a Prince from assassination.

Monday, April 8th, 2013

2: Dueling Dojos

Jack takes a leadership role at the dojo when Rudy reluctantly agrees to babysit a mischievous boy for a few days. Unfortunately, Jerry has trouble adjusting to Jack's new regime.

Monday, April 15th, 2013

3: Glove Hurts

Milton is offered a job after creating a pair of super-strong gloves, but Jack and Jerry question the businessman's motives. Rudy and Sam visit a carnival, and Rudy is mistaken for a performer.

Monday, April 29th, 2013

4: The Sub Sinker

Jerry 'The Sub Sinker' Martinez proudly drives away another substitute teacher.

Monday, May 6th, 2013

5: Meet the McKrupniks

The gang accompanies Milton to a family reunion in Scotland; Rudy and Jerry try to take a picture of the Loch Ness Monster.

Monday, June 17th, 2013

6: Witless Protection

The gang witnesses a robbery and is then placed in witness protection after the crook escapes from prison and comes searching for them.

Wednesday, June 26th, 2013

7: Jack Stands Alone

Frank is blamed for kidnapping the school's beloved pet turtle and is suspended, but Jack believes that Frank is innocent.

Monday, July 1st, 2013

8: Two Dates and a Funeral

Someone buys a date with Kim at a charity auction, but all is not what it seems.

Monday, July 8th, 2013

9: Win, Lose or Ty

Rudy is forced to share his dojo with the Black Dragons.

Monday, July 15th, 2013

10: Sensei & Sensibility

To prove to Rudy that he's capable of moving into his own Sensei position, Jack enters a tournament only to find himself facing Rudy as a competitor.

Monday, August 12th, 2013

11: Gabby's Gold

Kim's gymnastics team quits on her after a humiliating loss, only a week before the big meet against Seaford's arch rivals.

Monday, September 23rd, 2013

12: The New Girl

The dojo recruits a prized female student. Milton and Joan host an intervention for Jerry's pathological lying.

Monday, September 30th, 2013

13: Fawlty Temple

Monday, October 7th, 2013

14: Seaford, We Have a Problem

Jerry accidentally launches himself into space. Murray tries to solve a mystery at the bingo hall.

Monday, October 14th, 2013

15: Temple of Doom

Milton is given the responsibility of looking after the Shaolin temple. Kim then decides to throw a Halloween party at the temple making Milton mad until he is possessed by the spirit of Yoshimi who is looking for his lost love. Meanwhile, Rudy and Sam try to make Bobby like Halloween after Bobby had a traumatizing Halloween experience as a child.

Monday, November 4th, 2013

16: Mamma Mima

Phil is upset with the Wasabi Warriors after they forget his birthday. In order to make it up to him, Jerry, Kim, and Rudy plan to throw him the best birthday party ever. All of his friends will come, including his mother, Mama Mima.

Monday, November 11th, 2013

17: Home Alone in School

After Jack and Kim unknowingly help Jerry pull a prank on Principal Funderburk in his school bathroom from the boiler room, they are all given Saturday detention. Jack and Kim try to explain they did not know, but Funderburks tells them that is the price to pay for being friends with Jerry.

Monday, November 18th, 2013

18: School of Jack

Jack auditions to join a band to compete in a battle of the bands competition.

Monday, November 25th, 2013

19: Queen of Karts

Kim competes in the Seaford 500 Go Kart race but is told she can't race in the boys' division.

Monday, January 13th, 2014

20: How Bobby Got His Groove Back

Bobby Wasabi moves into the dojo. Milton dates a new girl.

Monday, January 20th, 2014

21: Return of Spyfall

Jack and Milton are invited to join an elite team of teen spies who go on secret missions.

Monday, January 27th, 2014

22: Wasabi Forever

Rudy tells the origin story of the legendary Wasabi Code, taking the gang back in time to China where they learn about ancient versions of the Wasabi Warriors.
Season 4
Monday, February 17th, 2014

1: The Boys are Back in Town

Jack and Milton return to Seaford and discover that Rudy has opened an impressive two-story dojo in a new mall and Phil has opened a bowling alley. As they settle in, Jack and Milton receive an urgent message from Funderburk requesting their help one last time in Washington D.C.

Monday, February 24th, 2014

2: Gold Diggers

Rudy inherits a seemingly worthless piece of land, but when Jack and Milton urge him to check it out, and they uncover a hidden gold mine. Meanwhile, Jerry helps Phil complete his bucket list.

Monday, March 3rd, 2014

3: From Zeroes to Heroes

Milton, Jerry, and Joan create their own highly-stylized martial arts video.

Monday, March 10th, 2014

4: The 'Stang

Milton borrows his dad's classic convertible to impress his ex-girlfriend.

Monday, March 31st, 2014

5: Nerd with a Cape

Milton dresses up as an original superhero named Laser Blade for a hero convention and is forced into action when a real crisis arises. When Milton vows to keep his real identity under wraps to avoid the spotlight, Jerry seizes the opportunity and takes all the glory.

Monday, April 7th, 2014

6: RV There Yet?

When Jack and Milton can't stop bickering, Rudy insists on quality bonding time via a road trip. Meanwhile, Jerry and Joan buy a storage locker where they discover a famous piece of sports memorabilia that appears to bring them good luck.

Monday, April 14th, 2014

7: Invasion of the Ghost Pirates

With an impending lunar eclipse, an old Seaford legend surfaces about a ghost pirate returning to seek his revenge on the wharf after a lunar eclipse 300 years ago led to his ship crashing into the shore. Jack makes it clear he doesn't believe in ghosts, but his skepticism is put to the test.

Monday, June 16th, 2014

8: That Amazing Krupnick

When Jack and Jerry learn that Milton is a talented magician, they use his skills to make money as entertainment at birthday parties. But when Milton's tricks fail to impress, Jack and Jerry go out on their own, with Jack performing the most dangerous trick of all time.

Monday, June 23rd, 2014

9: The Battle of Seaford Hill

Seaford is celebrating the bi-centennial of the famous victory at Seaford Hill, which was nearly lost by one of Jerry's ancient relatives. But when Jerry learns that history got it wrong, he sets out to prove that his ancestor was a true war hero.

Monday, June 30th, 2014

10: Fight at the Museum

Milton and Jerry volunteer at the Seaford History Museum in an attempt to win over the same girl but when they discover the museum is being robbed and the girl of their dreams is in danger, they have to work to save her and the museum.

Friday, July 18th, 2014

11: Tightroping the Shark

Spanky doesn't show up to do a stunt to save the pelicans so Jerry steps up to do it to prove he's a stuntman and to save the pelicans. Jerry falls halfway, so Jack tightropes to Jerry, and brings him back. Taylor finally goes on a date with Jerry at the movies.

Monday, July 21st, 2014

12: Full Metal Jack

Jack, Jerry, and Milton form a team to compete in a Commando Paintball Challenge.

Monday, July 28th, 2014

13: Martinez & Malone: Mall Cops!

Jerry quits his job at the bowling alley and joins Joan as a mall cop.

Monday, August 4th, 2014

14: Seaford Hustle

Milton meets Tom, the President of a powerful brotherhood. Kim visits Seaford and Jack envisions himself saving her from the forces taking her away.

Monday, November 17th, 2014

15: Kickin' It in the Office

A documentary crew comes to film the dojo for a day, and Rudy takes advantage to make himself look good. Jack, angry that Rudy won't give him the sensei test, retaliates by convincing Rudy's grandmaster to fake being a fraud, demoting Rudy back to white belt. But Jack discovers that running the dojo is hard work. Meanwhile, after Jerry pranks him one time too many, Milton goes too far with pranks, not only on Jerry, but on the camera crew as well.

Wednesday, March 4th, 2015

16: Bringing Down the House

The gang decides to buy themselves the ultimate gift - a boat. However, when they're short on cash and use money from a fund set aside for the Seaford Boys' Club, their plan backfires and they host a telethon to raise funds.

Wednesday, March 11th, 2015

17: You Don't Know Jack

When Jerry disrespects Jack's authority as a sensei and throws an unauthorized party at the dojo, Jack suspends him from taking his black belt test. A frustrated Jerry makes a wish that Jack never came to the dojo, and when it comes true, he sees what life would be like if Jack had never been a Wasabi Warrior.

Wednesday, March 25th, 2015

18: The Grandmaster

Kim returns from Japan with her sensei, Tomo, who's interested in hiring Rudy for a position at the prestigious Otai. He interviews the gang about their sensei and after hearing about the impact he's had on their lives, Sensei Tomo makes Rudy the offer of a lifetime.