update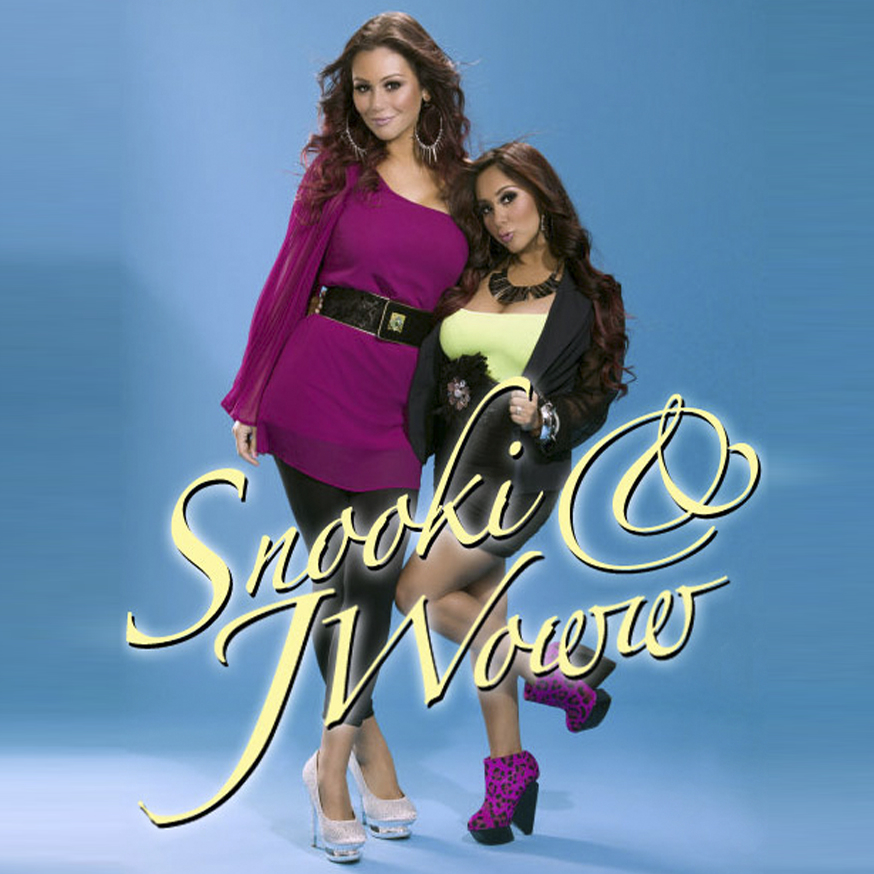 Season 0
Thursday, May 31st, 2012

1: Best Friends Forever

This sneak peek takes a look back at the drama and chaos that brought these two best friends closer together.

Sunday, March 31st, 2013

2: Besties Babies & Big Ass Rings

Saturday, October 12th, 2013

3: The World According to Snooki & JWOWW

Tuesday, January 14th, 2014

4: The Not-Yet-Wed Game

Wednesday, November 26th, 2014

5: Welcome Home, Meilani Aftershow

Wednesday, January 7th, 2015

6: Dear Snooki & JWOWW

Snooki and JWOWW answer fan questions about their experiences on Jersey Shore and Snooki & JWoww.

Wednesday, January 14th, 2015

7: Fashion Fun Fun Fun

Snooki and JWoww share some of their fashion mistakes.

Wednesday, January 28th, 2015

8: It's My Bachelorette Party Aftershow

Wednesday, February 4th, 2015

9: Series Finale After Show

Finale Aftershow
Season 1
Thursday, June 21st, 2012

1: Sorry Neighbors, Cause These Bitches Are Moving In

Snooki and Jenni decide to have one last celebration before their lives become too serious.

Thursday, June 28th, 2012

2: What Did I Get Myself Into?

A fight erupts over a bachelor party when Jionni and Roger come over.

Thursday, July 5th, 2012

3: It Looks Like a Little Meatball

Snooki gets an ultrasound of her fetus. She and JWoww also decorate their home.

Thursday, July 12th, 2012

4: Guess Who's Coming To Dinner

Snooki and Jenni invite their ``Jersey Shore'' roommates over for dinner.

Thursday, July 19th, 2012

5: Sober Party of One

The former roommates razz Snooki for being pregnant and engaged.

Thursday, July 26th, 2012

6: Calm Down Hormonal!

Snooki gets jealous when JWoww makes a new friend at a cooking class; Snooki volunteers at a doggie day care; JWoww and Roger's relationship hits a rough patch.

Thursday, August 2nd, 2012

7: Meet the In-Laws

Snooki and JWoww surprise their significant others by taking them to a drag show. Also: Snooki and Jionni celebrate their engagement with their families; JWoww and Roger's relationship troubles continue.

Thursday, August 9th, 2012

8: Cancun Is Not An Island

The ladies head to Cancun to party it up and enjoy some time in the sun. Snooki finds herself unable to let loose while pregnant, leading to a late night fight in a club.

Thursday, August 16th, 2012

9: Sitting Alone in a Hotel Room Sucks

The girls' friendship is tested on their last night in Cancun. Later, JWoww and Roger's relationship hits another rough patch, while Snooki starts to question her engagement to Jionni.

Thursday, August 23rd, 2012

10: Couples Hell

Snooki and Jionni get into an argument on his birthday over a picture on Twitter. Meanwhile, JWoww and Roger consider the future of their relationship.

Thursday, August 30th, 2012

11: My Baby Is Boring!

The ladies get a taste of motherhood when they care for two pretend babies. Later, Snooki finds out if she's having a boy or a girl.

Thursday, September 13th, 2012

12: The End?

The girls swap boyfriends for a night. Later, they must decide if they are going to stay in Jersey City or move home with their boyfriends.
Season 2
Tuesday, January 8th, 2013

1: New Beginnings

Jionni and Snooki, proud parents to be, prepare themselves for the future and have a baby shower. JWoww starts to become accustomed to living with Roger.

Tuesday, January 15th, 2013

2: Pregnant Problems

JWoww attempts to throw Roger hints that it's time for him to propose while Snooki is unable to cope with her pregnancy.

Tuesday, January 22nd, 2013

3: Last Call at Club Uterus

Snooki ends up going into early labor. JWoww is embarrassed after her father tries to makes a pass at her friends at a family barbecue.

Tuesday, January 29th, 2013

4: Now What?

Jenni and Roger head up north to visit Roger's family in Maine. Snooki and Jionni are putting their new baby knowledge to the test as they adjust to life as new parents.

Tuesday, February 5th, 2013

5: Maine Squeeze

Jenni proves to Roger that she can handle the outdoors. Roger later reveals some private information. Snooki and Jionni are left exhausted while taking care of Lorenzo.

Tuesday, February 12th, 2013

6: The Honeymoon Is Over

Tuesday, February 19th, 2013

7: Turning Over A New League

Tuesday, February 26th, 2013

8: Between a Rock and a Hard Place

Jenni decides to introduce Roger to her mother. Jionni and Snooki spend some romantic time alone.

Tuesday, March 12th, 2013

9: Taking the Plunge

Roger plays some pranks on Jenni prior to his proposal.

Tuesday, March 19th, 2013

10: I'm a Good Fiancé and I'm a Mom!

Snooki and Jenni enjoy a girls night out while Jionni and Roger have a "Dadchelor" party.

Tuesday, March 26th, 2013

11: I Might Not Be Engaged After This

Tuesday, April 2nd, 2013

12: All's Well That Ends Well?
Season 3
Tuesday, October 22nd, 2013

1: We're Back Bitches

Snooki and Jionni disclose their plans for a summer house to Jionni's mom. Jenni persuades Roger to attend couples therapy.

Tuesday, October 29th, 2013

2: Movin on Up!

Jenni and Roger go to couples therapy while Nicole and Jionni move into their shore house. The couples hang out on the pier and Jionni tries to help Roger get "some" from Jenni.

Tuesday, November 5th, 2013

3: Mommy

Snooki and JWoww look for a babysitter for Lorenzo. Jenni and Roger invite Snooki and Jionnoi visit the Pennhurst State School and Hospital.

Tuesday, November 12th, 2013

4: Liars!

Snooki and JWoww go to Atlantic City for the weekend, leaving the men to watch Lorenzo, but Jionni gets a babysitter so they can play paintball.

Tuesday, November 19th, 2013

5: I Want a Veil!

While Jenni and Snooki are shopping for wedding dresses, Jenni comes to the conclusion that she's ready for marriage.

Tuesday, November 26th, 2013

6: Let the Planning Begin!

As Snooki begins to plan her wedding, she's already exhausted. Jenni and Roger attend an adoption fair.

Tuesday, December 3rd, 2013

7: Baby Boot Camp

Jenni wants to see how good of a father Roger will be so Snooki and Jenni put Roger through baby boot camp. Jionni and Roger go on the hunt to purchase a swing set for Lorenzo.

Tuesday, December 10th, 2013

8: Oui Can Cook!

Snooki and Jenni volunteer in a charity dog wash. Jionni and Roger plan a double date.

Tuesday, December 17th, 2013

9: Welcome to the Dude Ranch!

Both couples take a trip to the nearest dude ranch. While Snooki and Jenni would like the trip to be romantic, Jionni and Roger spend their time pranking the girls.

Tuesday, January 7th, 2014

10: What a Drag!

JWoww's dogs have their final exam to be service dogs. Snooki gets the results of her DNA test. The Gay Joeys come over for a drag party while the boys go out fishing.

Tuesday, January 7th, 2014

11: Couples Weekend

Snooki and JWoww decide to have a couple's weekend with their former Jersey Shore roommates; Ron, Sam, and Deena.

Tuesday, January 14th, 2014

12: My Baby Is Growing Up!
Season 4
Wednesday, November 5th, 2014

1: We're Back. And We're Pregnant!

The final season kicks off with a bang when the BFFs become neighbors, have nanny try-outs, and the boys head off to Daddy Boot Camp.

Wednesday, November 12th, 2014

2: That's Not Very Namaste of You

The women go to a pre-natal yoga session. Jionni feels plagued by Lorenzo's 'terrible twos'.

Wednesday, November 19th, 2014

3: And Baby Makes Six

Wednesday, November 26th, 2014

4: Welcome Home, Meilani!

Jenni and Roger adjust to life as parents. Snooki and Jionni think of an elaborate welcome home party for Meilani.

Wednesday, December 3rd, 2014

5: Got Gatsby?

Snooki finds her inner bridezilla while planning a Gatsby-themed bridal shower.

Wednesday, December 10th, 2014

6: I Feel Like A Pregnant Virgin

Wednesday, December 17th, 2014

7: Little Hos On The Prairie

JWoww and Roger try to work through their problems as new parents. Snooki and Jionni have a garden war. JWoww throws Snooki a high tea bridal luncheon with the Joeys. Snooki has a fashion runway with her bridesmaids.

Wednesday, January 7th, 2015

8: Summer's Over...Back to the Basement

JWOWW gets a mommy makeover and takes her family camping. Snooki and Jionni start decorating their house but can't move in until the house is finished.

Wednesday, January 14th, 2015

9: It's Like A Rollercoaster Of Pain

Wednesday, January 21st, 2015

10: Welcome Home, Giovanna

Wednesday, January 28th, 2015

11: It's My Bachelorette Party...I'm Single and Ready to Mingle!

Wednesday, February 4th, 2015

12: I Do. Now What?

Series Finale. This is the last episode.