update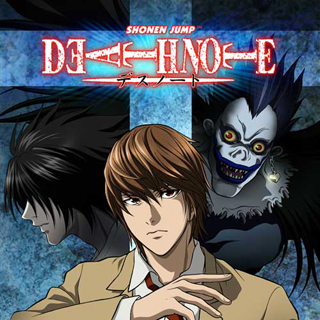 Season 0
Saturday, June 17th, 2006

3: Death Note (Live Action Movie)

A battle between the world's 2 greatest minds begins when Light Yagami finds the Death Note, a notebook with the power to kill, and decides to rid the world of criminals.

Friday, November 3rd, 2006

4: Death Note: The Last Name (Live Action Movie)

Picking up where the first one leaves off, Light joins the task force searching for Kira in an effort to avert suspicion from himself---and get rid of L

Friday, August 31st, 2007

1: Death Note Relight 1: Visions of a God

A special two hour episode of Death Note, mainly a compilation of the confrontations between Light and L, re-edited from Ryuk's perspective with new dialogue and soundtrack along with additional animation that could not be included in the original series. An Unnamed Shinigami comes to Ryuk to question him about his new story in the human world.

Saturday, February 9th, 2008

5: Death Note: L, Change the World (Live Action Movie)

Friday, August 22nd, 2008

2: Death Note Relight 2: L's Successors

A sequel to the previous "Death Note Rewrite." This story continues where the previous left off, continuing the story of Light. As the previous special told Light and L's battles, this story does the same with the conflicts between Light, Mello, and Near

Friday, August 25th, 2017

6: Death Note (Netflix Live Action Movie)

Light Turner finds a supernatural notebook and uses it to mete out death, attracting the attention of a detective, a demon and a girl in his class.
Season 1
Wednesday, October 4th, 2006

1: Rebirth

Light Yagami is a high school genius bored with life in general. Ryuk, a shinigami, is also bored, so he decides to drop his Death Note (a notebook shinigami use to kill humans) on Earth. Light finds this mysterious book and decides to rid the world of all wicked people and rule a utopia as a god.

Wednesday, October 11th, 2006

2: Confrontation

Light falls into the first of many of L's attempts to uncover him from his Kira alter ego.

Wednesday, October 18th, 2006

3: Dealings

Ryuk informs Light that he's being followed and asks Light if he wants to make a trade for his own Shinigami eyes. But at what cost?

Wednesday, October 25th, 2006

4: Pursuit

Light creates a complex plan involving the Death Note and another criminal to try and expose his follower's name and identity.

Wednesday, November 1st, 2006

5: Tactics

After finding the true identity of his follower, Light uses him to deal a major blow to the rest of his enemies.

Wednesday, November 8th, 2006

6: Unraveling

Furthering the Kira investigation, the remaining police force finally meets L.

Wednesday, November 15th, 2006

7: Overcast

Light meets Penber's fiance — an ex-officer who is determined to hunt down Kira.

Wednesday, November 22nd, 2006

8: Glare

Discovering that L has gone so far as to tap his room with cameras, Light comes up with a plan to throw off his suspicions.

Wednesday, November 29th, 2006

9: Encounter

Still suspicious of Light's too-perfect behaviour, L decides to take drastic measures and enters the same university to meet Light face to face.

Wednesday, December 6th, 2006

10: Doubt

L begins to profile Light through a game of tennis and brings up some questions regarding the Kira case hoping to figure out the truth about him.

Wednesday, December 13th, 2006

11: Assault

The Sakura TV station plans to air Kira's homemade videos. Little do they know that the videos will bring more than ratings.

Wednesday, December 27th, 2006

12: Love

After seeing the message "Kira" sent, the task force decide to make a reply and adds Light to the force. Yet while the task force and L try to find the fake "Kira" Light has to find her first or else the existence of the Death Note will be revealed!

Wednesday, January 10th, 2007

13: Confession

The Task Force and Light continue to try and find the second Kira based on the evidence they keep receiving from him. Little do the other officers know that Light wants to find him for the sake of bettering his position as Kira.

Wednesday, January 17th, 2007

14: Friend

Light furthers his plans as Kira after meeting with the very annoying second Kira.

Wednesday, January 24th, 2007

15: Wager

Light tries using the second Kira to find out L's real name. However, L is well prepared for Kira's next move and is able to get one of the Kira is in his custody soon enough.

Wednesday, January 31st, 2007

16: Decision

After renouncing ownership of both Death Notes, Light turns himself into L and is imprisoned.

Wednesday, February 7th, 2007

17: Execution

Getting nowhere fast, L thinks of a new plan to get Misa, Light, and Mr Yagami out of confinement. Meanwhile, Rem finds a new person to play as Kira.

Wednesday, February 14th, 2007

18: Ally

Tensions rise among the Task Force as the Kira investigation continues with the close surveillance of the Yotsuba corporation. But when the Force finds that the police are no longer supporting the case, the members are forced to choose between keeping their jobs or resigning to continue searching for Kira.

Wednesday, February 21st, 2007

19: Matsuda

Matsuda makes the Kira investigation more difficult for the Task Force when he gets himself captured by the Yotsuba corporation.

Wednesday, February 28th, 2007

20: Makeshift

L has bugged the secret meeting in the Yotsuba corporation and the task force is divided between those who want to stop the killing by arresting the 7 members of the Yotsuba corporation and those who want to wait to know who is actually Kira.

Wednesday, March 7th, 2007

21: Performance

The Task Force uses Misa as a way to get closer to the Yotsuba corporation. But things get complicated when Rem tries to communicate with her.

Wednesday, March 14th, 2007

22: Guidance

Thanks to Misa, the Task Force now knows the identity of the new Kira and L plans an elaborate scheme to smoke him out of hiding.

Wednesday, March 21st, 2007

23: Frenzy

L and the Task Force close in on Higuchi who continues to play into their hands. But as the time before Kira's identity is revealed on Sakura TV gets closer, Higuchi gets desperate and makes the deal for shinigami eyes.

Wednesday, March 28th, 2007

24: Revival

While Higuchi is finally captured, Light inadvertently regains his memories as Kira.

Wednesday, April 4th, 2007

25: Silence

L continues to interrogate Rem, while Light manipulates Rem into killing off the greatest obstacles in his way.

Wednesday, April 11th, 2007

26: Renewal

A transmission intended for L's successor shows all of L's findings on the Kira case. Afterwards, Light furthers his plans for a utopia, dividing the world into those who support and those who fear Kira.

Wednesday, April 18th, 2007

27: Abduction

Five years later, two new enemies prepare themselves to challenge Kira. While one tries to find Kira with the help of the newly established group, the SPK, the other takes a more drastic measure by kidnapping someone very close to Soichiro and Light.

Wednesday, April 25th, 2007

28: Impatience

Near collaborates with Light in order to rescue Sayu, who is being held hostage in exchange for the Death Note.

Wednesday, May 2nd, 2007

29: Father

Mortified over allowing the Death Note to fall into Mello's hands in order to save his daughter, Soichiro puts himself into harm's way in order to get it back.

Wednesday, May 9th, 2007

30: Justice

Tensions heat up between Light and Near as Near collects more details on the Death Note. Information insults fly back and forth, and Light is forced to act, in fear that his identity as Kira and L will be exposed.

Wednesday, May 16th, 2007

31: Transfer

Kira's plan to kill Near backfires and suspicions arise in the Japan Headquarters concerning Kira's true identity in Light. Kira realizes he must hand off the Death Note once again and finds a new follower.

Wednesday, May 23rd, 2007

32: Selection

Teru Mikami has always had a sense of justice and brought it upon himself to distinguish between good and evil. Now a grown adult, Teru serves under Kira and uses his newly acquired powers to choose a Kira spokesperson to replace Demegawa.

Wednesday, May 30th, 2007

33: Scorn

Near comes closer and closer to the truth about who is who. He lays traps for Kira as Kira does the same for Near, setting the stage for the mounting final battle.

Wednesday, June 6th, 2007

34: Vigilance

It is confirmed within the task force that Light is up to something in his meetings with Kiyomi. After exhaustive research, Near decides he can move into the final stages of his plan to expose and humiliate Kira.

Wednesday, June 13th, 2007

35: Malice

Light and Near agree upon a meeting place for the final confrontation. A key player is kidnapped and the end results are shocking.

Wednesday, June 20th, 2007

36: 1.28

The Japanese Task Force and the SPK finally meet at YellowBox Warehouse on January 28th. However, a third party has come to the warehouse as well, on Kira's orders to kill everyone else there.

Wednesday, June 27th, 2007

37: New World

The climactic battle between Light Yagami and L's successors finally comes to a close.